K-Beauty retailer Peach & Lily has become our go-to for all things skincare following the launch of its namesake skincare collection, and now it's adding two exciting new face masks to its line-up. The brand kicked off the month of August with the release of its highly-anticipated Overnight Star Sleeping Mask and Pore Proof Perfecting Clay Mask on August 6, which both sold out within hours of launching on peachandlily.com. The Peach & Lily Collection also expanded into a new category and unveiled its first-ever under-eye product: the Cold Brew Eye Recovery Stick. Fortunately, this innovative, vitamin-rich stick formula that instantly cools, de-puffs, and refreshes tired eyes is still in stock!
While Peach and Lily founder Alicia Yoon knew that the skin-perfecting products were sought out by Peach & Lily shoppers, she didn't anticipate them selling out so fast. "We are always in touch with our community via our social media platforms, website, and uniquely a complimentary service we provide with our skin therapists where anyone can email [email protected] about a skincare question and we provide tailored advice," she tells SheFinds. "Through our rich insights from our community, we saw that there was a need for managing a busy lifestyle and waking up effortlessly glowing, starting the day right with de-puffed, bright eyes (with pick-me-up's throughout the day!) and a powerful way to keep pores cleared out without causing skin to feel dry or sensitized. Product development for us always begins with identifying problems surfaced by our community and offering the best solution for these issues."
Both masks now have a growing waitlist and will be restocked. We recommend signing up for email notifications from the brand to stay in the loop on when the Overnight Star Sleeping Mask and Pore Proof Perfecting Clay Mask will be available to shop again.
Keep scrolling to learn how each of these amazing new product works and how to incorporate them into your skincare routine: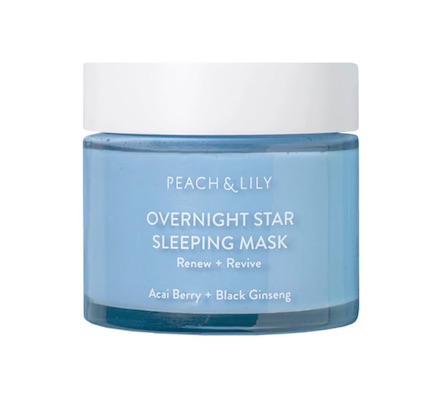 Peach & Lily Overnight Star Sleeping Mask ($43)
The Overnight Star Sleeping Mask repairs while you're sleeping so you can wake up glowing. "The unique bouncy whipped jelly texture luxuriously melts into the skin quickly absorbing and leaving skin feeling incredibly soft and supple—and truly radiant come morning," according to Yoon.
It's packed with deeply hydrating and nourishing ingredients (acai berry extract, black ginseng extract, hyaluronic acid, niacinamide, squalane, jojoba oil, and macadamia seed oil) that will help combat dark spots, firm skin, and moisturize intensively.
Each ingredient also provides rich sources of antioxidants and work together to neutralize any damage to the skin caused by free radicals. "Free radicals are molecules that are highly unstable and essentially try to steal electrons from healthy cells, thereby causing a lot of damage," Yoon explains. "Free radicals can form with excessive sun exposure, pollution, stress and more. Antioxidants are known to help neutralize the free radicals so that they become stable, which helps to combat the free radical damage."
The formula is gentle enough to use nightly and Yoon recommends using the Overnight Star Sleeping Mask in lieu of a moisturizer on days where your skin needs more hydration.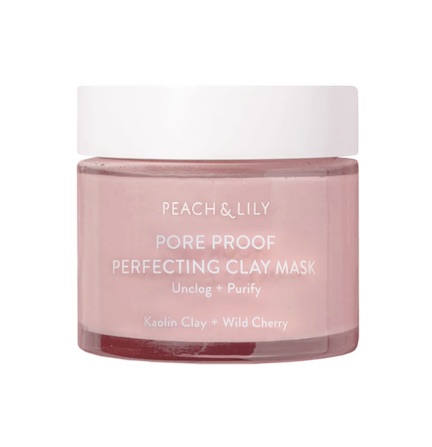 Peach & Lily Pore Proof Perfecting Clay Mask ($43)
If you're already a fan of Peach & Lily's Resurfacing Mask, then your pores are going to loveee the new Pore Proof Perfecting Clay Mask, which uses kaolin clay and bentonite to help draw out the deepest impurities without stripping or irritating the skin. Yoon credits the mask's carefully-curated formula that features a "cocktail of glycerin with a splash of shea butter" for its deep-cleansing-but-not over-drying effect on the skin.
"The magic is while deep-cleaning pores, the mask also deep infuses a beautiful blend of cherry and strawberry extract to help deliver potent antioxidants and vitamins, while licorice helps calm. The result? After using it, skin is left looking much clearer, but is also baby-soft and appears much calmer," Yoon explains.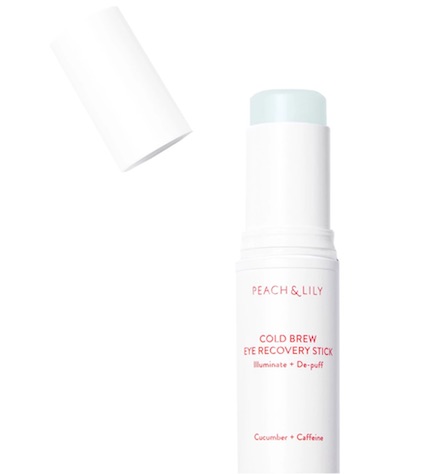 Peach & Lily Cold Brew Eye Recovery Stick ($28)
Get your wallets ready, because this product is still available to purchase on peachandlily.com! The Cold Brew Eye Recovery Stick delivers a cooling feeling and helps de-puff the appearance of the eye area using vitamin C and antioxidant-rich kiwi and cucumber extracts, tightening caffeine, protective green tea, soothing turmeric, and brightening licorice.
"I love that it's a stick so that there is also the benefit of doing eye massages while applying," Yoon says. "There's also a subtle iridescence that's left behind for that immediately brighter, glowy-er look. And it's meant to be applied under and over makeup, during your skincare routine but also whenever skin needs a pick-me-up."