Whether you've never taken a probiotic supplement before or are already taking them, but are shopping around for a new brand to help with weight loss, your options sometimes seem limitless. There are so many types of probiotics on the market that finding one that works for you and your body (and weight loss goals) can be a huge challenge.
But the good news is that scientific studies have confirmed there is at least one strain of bacteria to be on the look out for in your probiotic supplement — and it's one that shows promising outcomes if you're trying to lose weight and burn fat.
This is the one probiotic you should start taking with breakfast to shrink your waistline over 40.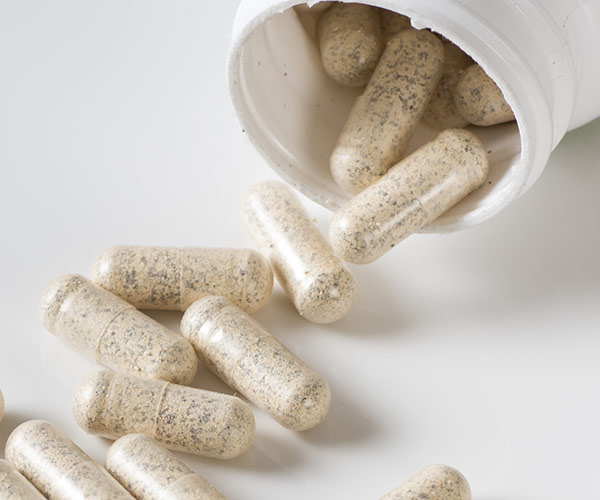 Shutterstock
Probiotics contain live strains of bacteria that help balance the levels of "good" and "bad" bacteria in your gut (the latter is found more in abundance in people who are overweight).

There are a few ways probiotics work to control your weight and help with weight loss.

"It is thought that certain probiotics may inhibit the absorption of dietary fat, increasing the amount of fat excreted with feces," reports Healthline.
Shutterstock
Getting a clearer understanding of the types of bacteria strains that are offered in probiotics will help you choose the best one for weight loss.

There are several strains in the lactobacillus family that are considered the most effective for weight loss. But one stands out above all others: lactobacillus gasseri.
Shutterstock
According to Healthline: "Of all the probiotic bacteria studied to date, Lactobacillus gasseri shows the most promising effects on weight loss. Numerous studies in rodents have found that it has anti-obesity effects."

In one study that followed 210 people, it was found that taking lactobacillus gasseri for 12 weeks helped reduce belly fat by 8.5 percent.
Shutterstock
There is one caveat to taking probiotics for weight loss and belly fat reduction. You will have to continue taking it to experience positive outcomes. Study participants who stopped taking probiotics gained all of their belly fat loss back in just one month.

Instead of thinking of probiotics as a temporary solution, it's best to think of it as a supplement you can continue taking as part of a lifestyle change. And don't forget to include probiotic-rich foods in your diet — like Greek yogurt and kombucha — that can also help provide positive weight loss outcomes.