The first Trolls movie blew us away with its adorable, colorful characters, sweet storyline, and incredible selection of music that the cast reinvented. It's been a few years since we've heard the voices of Anna Kendrick, who played happy Poppy, and Justin Timberlake, who took on grumpy Branch in the first Trolls movie — and, unfortunately, we won't get to see them in action again in Trolls 2 until 2020. Seriously guys, why so long a wait)?
Dressing Up As DJ Suki & Poppy From The Trolls Movie For Halloween
But we can do the next best thing and celebrate Trolls this year with fun, creative, and affordable DIY Trolls Halloween costumes.
These two costumes pay homage to two classic female Trolls characters we love to bits— pink-haired Poppy and orange flame-haired DJ Suki, who is played by one of the coolest women on the planet: Gwen Stefani. Each costume is super affordable and features pieces that you will actually want to own, and will have no trouble repurposing after the holiday is over.
How To DIY An Easy Trolls Halloween Costume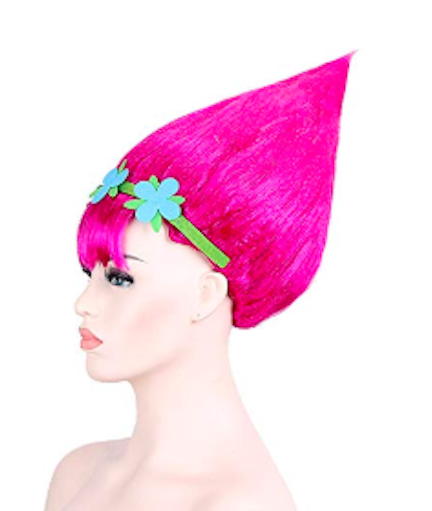 1. Poppy: Major Pink Hair
Line-S Cosplay Pink Trolls Wig ($19)
There's really no way around it: considering the uniqueness of the colors and styles of the Trolls characters hair, if you are creating a look from the Trolls movie, you're probably going to have to invest in a Trolls-type wig. The good news is that most, including this hot-pink wig for Poppy, are really affordable. This wig is made from synthetic fiber and comes with Poppy's adorable blue floral headband already fastened to it, so you won't have to buy a separate accessory or bust out your hairstyling skills.
2. Poppy: Blue Dress
Unbranded Sleeveless T-Shirt Dress ($12-17)
Poppy wears the same pretty blue A-line dress everywhere she goes — and this sleeveless jersey knit dress features a similar shade and shape. Best of all, you'll be able to wear it again in the spring and summer as a casual piece you can pair with sandals or sneakers. Best of all: it has pockets.
3. Poppy Or DJ Suki: Pink Body And Face Makeup
Mehron Makeup Liquid Face & Body Paint ($10)
Depending on how committed you are to getting the perfect DIY Trolls look this Halloween, this bottle of water-based pink body and face makeup is all the makeup you need (make it a few bottles if you plan on covering your whole body). Apply this makeup with a brush or sponge — you may be able to get as many as 20 to 70 applications with it, but of course, that all depends on where you use it. According to reviewers, it's highly pigmented and stays on for a long time, without feeling sticky, but then miraculously washes off with water like a dream.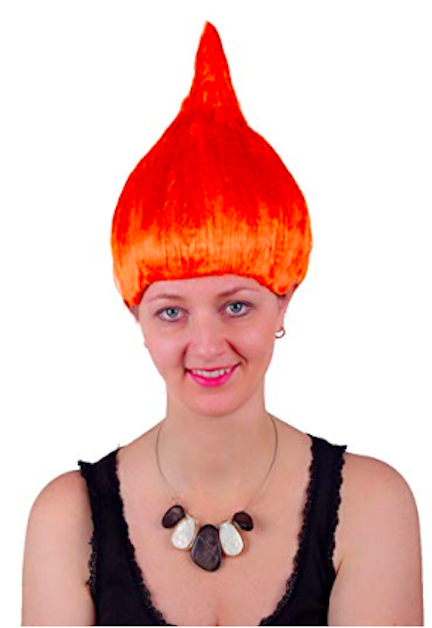 1. DJ Suki: An Orange Wig
Coast Wig Trolls Wig ($12)
DJ Suki is an energetic, fun Troll. Her obsession with music comes across in her choice of outfit and accessories, and her bright orange wig helps her stand out in the crowd (which is kind of important considering she's a DJ working the crowd).
2. DJ Suki: White Headphones
Sony CZ Series Stereo Headphones ($16)
How's this for a Halloween costume accessory that is both true to the character and functional: these white headphones, which DJ Suki never leaves home without propping on her head. These lightweight headphones have a swivel design for travel and enjoy pretty sweet reviewers from more than 4,000 customers.
3. DJ Suki: A Striped Two-Piece Outfit
Caopixx Striped Outfit ($8-18)
DJ Suki's outfit is a striped crop top with bicycle shorts. In order to successfully recreate an animated outfit, it's totally fine to borrow a theme and run with it. This cropped hooded shirt and shorts combo does just that — it's not an exact replica, but it's an outfit you can picture a fun Trolls DJ wearing to a casual party.
SheFinds receives commissions for purchases made through the links in this post.