Everybody knows that the best way to stalk Zara sales is to sign up for their newsletter. The second best way? Look at what they've done in the past. That's how we (pretty much) know exactly what the Zara 2018 Black Friday sale will be. Don't overthink it, guys.
To determine what Black Friday promotion your favorite Spanish retailer will be running on Friday, November 23rd this year, look no further than their 2014-2017 Black Friday deals: it's always 30% off sitewide. Yas! It's that good.
Last year, we correctly predicted that Zara's Black Friday sales would be epic and we're here to do it again. The retailer is usually coy about announcing details (they typically wait until Thanksgiving), but you don't need to wait until then. You can mentally prepare for it now.
Firstly, there is nothing better than a sitewide sale. With sitewide sales you can get the items that you actually want to buy for less, rather than being forced to shop from a random selection of glorified bargain bin items. If you know that a sitewide sale is coming (like in the case of Zara's Black Friday sale) you don't waste money buying something full price when you can hold off for the sale. Genius!
So now that you know that everything at Zara will be majorly discounted on Black Friday, you can plan for it. If you're like me and get *most* of your wardrobe from Zara, post-Turkey Day will be a great opportunity to stock up. Unfortunately, some Zara items do sell out fast, so if there's something you really want now it might not still be in stock next month. But leading up to the date, you can certainly make a wish-list of items to add to your cart and be quick on the draw to check out when Black Friday comes.
Plus, Zara rarely ever puts items on sale (their semi-annual is one of the only other events), so this is sort of a big deal.
READ MORE: The Target 2018 Black Friday Deals Are Going To Be AMAZING
Because we're freaks like that, we made a shopping list for you, just in case. These are items from the "Bestsellers" section that you should absolutely purchase at Zara when they're 30% off for Black Friday. Hot tip: shopping Bestsellers is a great way to surface the best that Zara has to offer without having to thumb through pages and pages of product (they have a lot).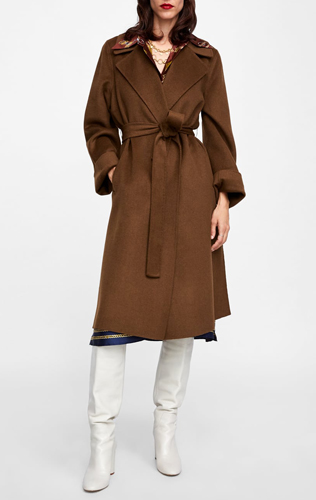 Zara Long Coat (estimated Black Friday price: $104, down from $149)
We wish it wasn't, but winter is here and you likely need a new chic coat. Zara coats are actually decent quality for the under $200 price point. On Black Friday this coat will be marked down approximately $44 to just $104. This stylish tie-waist drape coat is definitely worth $100.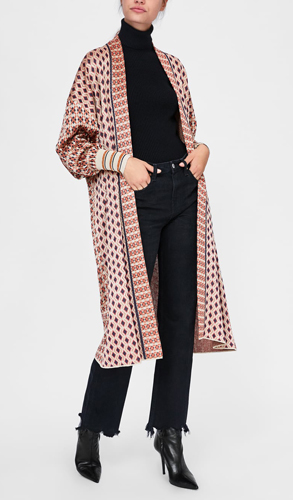 Zara Special Edition Jacquard Coat ($99.90)
For anyone craving that kimono look, this long printed jacquard coat is perfection. This special edition item is so unique, I can't believe it's under $100. On Black Friday, it will be even less. It looks way more expensive than it is and instantly dresses up any all-black ensemble. Voila!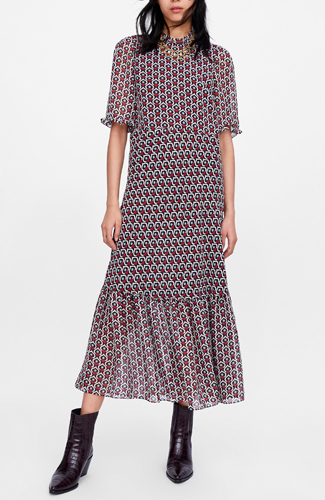 Zara Heart Print Midi Dress ($69.90)
Look closer at this midi dress and you'll notice it has a geometric heart print. We love the ruffle details, to. This is one of those dresses you can just throw on with black ankle boots and a moto jacket and be instantly cool. At the sale, this dress should be under $50. Amazing!
Zara Striped Dress With Pompoms ($119)
I just spotted this maxi on my favorite mommy blogger Lilies and Lambs, and now I absolutely have to have it. The poms and eclectic print give it a boho vibe, but you can easily dress it up with mules and gold statement earrings. On Black Friday this dress should be perfectly priced under $100.