Alright ladies, admit it. We've all been in that awkward date situation when you want to go in for the goodnight kiss (which you should ALWAYS wait for the guy to do first), but at the last second you realize your lips are all chapped and jacked up, so you don't do it. You avoid the situation and bail. Though nobody really wants that to happen (unless the date was terrible), it's kind of hard to avoid, until now.
We're constantly reading articles and tips on the perfect lipsticks to wear for date nights, but that whole concept just doesn't make sense. First of all, no matter what kind of lipstick you choose, it's going to end up crusty and cracked after a long night, since you can't wear chapstick and lipstick at the same time. Am I right? Second, nobody wants to kiss someone who's wearing bright red lipstick or sticky lipgloss and get that stuff all over their face. They just don't. Case closed: guys hate lipstick. But we love it! So what are girls supposed to do?
Our friends over at Nivea found your answer. Nivea's new A Kiss Of Care & Color ($4.49) is all you'll ever need for date nights and beyond. This hybrid lip care stick is literally a lipstick, lipgloss, and chapstick all in one little tube. It comes in five shades, Sheer Pink, Sheer Berry, Sheer Crimson, Sheer Coral and Sheer Caramel, and provides long-lasting moisture. Your lips will be so smooth, soft, and kissable, you'll never want to use lipstick or gloss again. So whether your're going on a hot date this weekend, or you just don't want to bother with lipstick, you NEED to check out Nivea's new lip care stick. You won't be disappointed.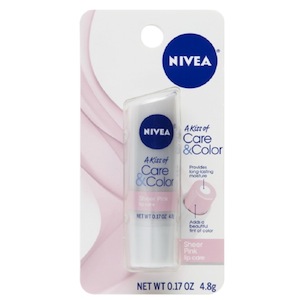 Nivea A Kiss Of Care & Color Lip Care 'Sheer Pink' ($4.49)
For more beauty products,check out: beauty award winners, MAC x Lorde, and OPI x Coca Cola.