Ah, the Internet—the beloved digital sphere where even the most seemingly simple videos have the potential to grow viral, inspiring memes and fan memorabilia. One such video that took the pop culture world by storm this year is the "Salt Bae" phenomenon. If you have no idea what we're taking about, you're not alone. TBH, I had never heard of this "Salt Bae" figure until last week. But, after doing a little Google research, here's a quick rundown. "Salt Bae," A.K.A. Nurses Gökçe, is a Turkish steakhouse owner who posted a video simply called "Ottoman Steak" in January, in which he cuts a piece of meat to juicy perfection. So, what makes a meat-cutting video go viral? With an impeccable flick of the wrist and precise arm form, "Salt Bae" earns his nickname by topping said steak with just the right amount of salt (see the shirt below for a visual), all while wearing a fitted t-shirt with an extremely deep scoop-neck and dark, round shades. You really just have to watch the video to get the full effect of its hilarity. If you're dying to take part in this viral sensation, there's no better time than Halloween to take the plunge. We rounded up everything you need for a "Salt Bae" costume, fake steak and all.
"Salt Bae" is notorious for his iconic look, complete with gelled hair, a mustache, a white t-shirt tucked into black pants with a belt, and sleek round sunglasses. If you want to mirror his outfit perfectly, check out this white Vintage Cotton Scoopneck T-Shirt for $19.99 from J. Crew. Buuuuut, for a much more fun spin on the costume, why not buy a shirt with your Halloween persona printed on it!? This tee even comes in a hoody, perfect for chilly Halloween weather.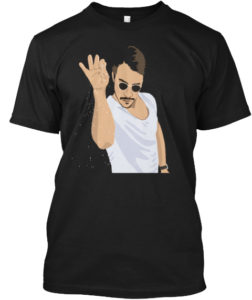 Salta Bae Hanes Tagless Tee ($21.99)
You also need black pants to complete the look. A pair of black jeans will do. If you don't already have some on-hand, take a look at this super affordable pair from H&M. For the finishing clothing touch, wear the pants with a black leather belt, like this Wide Leather Belt for $19.99, also from H&M.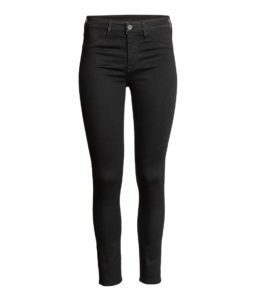 H&M Skinny Regular Ankle Jeans ($9.99)
Next, you need a suave set of sunglasses. You wouldn't want to risk salt penetrating your eyeball when you marinate steak! You can actually re-wear this cool pair from Urban Outfitters once your "Salt Bae" days are over. And, they're currently on sale. Hello, thrifty Halloween shopping.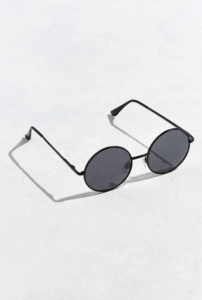 Urban Outfitters Metal Round Sunglasses ($10)
With the outfit out of the way, your props are the next key component to this costume. You're not truly "Salt Bae" unless you actually have a can of salt with you. You never know when something might need a little sprinkle of salt. Fill up a salt shaker from your kitchen, or just carry a small packet in your pocket.
Nu-Salt Salt Substitute ($1.38)
And, of course, you need a plastic piece of meat as the target of your salt-sprinkling. Even though this one is actually a dog toy, it still works. Your canine can use it post-Halloween, so you have some sort of validation for buying a t-bone toy.
Dogmeat™ T. Bone Steak: Small ($6.48)
Don't forget the most important part—keep your arm flexed and ready at all times for salt-sprinkling! You can also draw a fake mustache on your face if you really want to go all out.
For more DIY 2017 Halloween costumes, check out a "cash me outside" girl costume, a Wonder Woman costume, and a Belle costume.
[Photo: YouTube]