Beauty and the Beast fans dream's came true this past March with the release of the live-action remake of the beloved "tale as old as time." Emma Watson naturally did an amazing job playing Belle because she's, like, gorgeous. And, who knew she could sing!? If you're a die-hard Beauty and the Beast fan, this Halloween is the perfect opportunity to bust out a golden gown and dress up as Belle. We rounded up everything you need to DIY a Belle costume, with or without a Beast counterpart. None of us will probably ever look as good as Emma Watson did in this get-up, but we can sure try!
For the main component of the DIY costume, you obviously need a yellow gown. Before you resort to buying one, see if any of your friends happen to have any old yellow prom or bridesmaid dress you could borrow. If not, this bridesmaid dress under $50 is the next best thing without costing a fortune, or this $65 Sienna Dress from Revolve that's waaaaay on sale. You can also look on used clothing websites for cheap, gently used yellow gowns. If you're really feeling adventurous, buy a tulle skirt and wear it under your dress of choice for a more authentic, ballgown-esque feel that Belle herself would approve of.
Strapless Maxi Evening Prom Bridesmaid Chiffon Dress ($48.99)
Next, you need matching yellow gloves. And we're not talking latex dishwashing gloves. You're a princess, after all, so you need the finest satin gloves the Internet can offer…but under $10. Your arms will look classier than ever before in this bright princess necessity from Oriental Trading. Pinkies out, ladies!
Long Yellow Satin Gloves ($9.99)
In the recent version of the film, Emma Watson's character actually wore a gold "Tree of Life" pendant necklace. Conveniently, Macy's carries an exact replica (that's currently on sale!) with small crystal droplets. There's also a simpler version of this movie jewel for $29.99 on Etsy, where you can customize your chain length.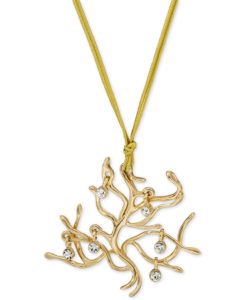 Beauty and the Beast "Tree of Life" Crystal Drop Cord Pendant Necklace ($11.96)
No Beauty and the Beast costume could be complete without a fake enchanted red rose! Nothing screams sophisticated (and boujee) more than holding this prop in one of your satin-cloaked hands.
Single Micro Peach Rose with Leaves ($1.07)
Let's not forget about hair and makeup, too, especially since you're putting the "Beauty" in Beauty and the Beast. Watson wore her hair down in a middle part, slightly curled, and twisted into a bun in the back of her head with some bejeweled accessories. If you're far from a hair styling expert, you can curl the ends and tie your front pieces back with a yellow ribbon that matches your dress. For the finishing touch, add a bold red lip to go with your fake rose. Last item on the agenda is finding your Beast.
For more 2017 DIY Halloween costumes, check out a Wonder Woman costume, a "cash me outside girl" costume, an Eleven from Stranger Things costume, and a fidget spinner costume.
[Photo: Disney]