Things must be going well for Donna Karan International. They've recently launched another line on top of Donna Karan Collection, DKNY, Jeans, Active, intimate apparel, children's apparel, fragrances, sunglasses, and on into men's shirts, ties, and leather goods. The new urban-chic line is called DKNYC – how appropriate.
The company is stressing that it will not be a watered down version of DKNY – but rather a more urban, casual, 'throw things together because I'm a busy woman line of clothing'. And we like. While DKNY fits a reasonable price point, it can be a little 'mom-y'. DKNYC runs in that same price point with most dresses under $150, skirts under $100, and tops under $60. The jackets get a little pricey, but for the most part this line is relatively doable.
What's more New York City than black? This DKNYC sleeveless shift dress with wide elastic belt ($129) is the perfect LBD for the end of summer. Stack that over your newest Wolford tights and strappy sandals and you're set for autumn.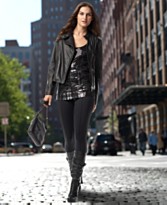 The new line has the fall 'downtown-chic' look down pat. Go biker girl in this black leather jacket for $349 (yes, that's right, leather jackets are back), and sequin top ($59).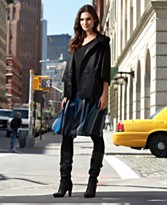 Need something a little more office appropriate — but still sleek and chic? Layer this satin hooded jacket ($179) over black cap sleeve top ($59), and blue striped skirt ($99).
Get yours: macys.com