Lately, Selena Gomez has been slaying the street style game. It's like every picture we've come across of her lately, her outfit is at 100. Today, we're showcasing a particular outfit of hers that we were crazy about… especially the gorgeous pumps she was wearing.
(the beautiful) Casadei 'Blade' pumps
So okay, first thing's first… let's just take a moment to appreciate the glory that is this stunning pair of Casadei 'Blade' pumps. They are a staple. Black pumps that you can transition from day to night with a switch of your outfit. But this pair, in particular, is especially slick and we are obsessed.
So the original pumps are retailed at $750, and you can purchase them here!
But, maybe you have this thing called student loans you're paying or this other horrible thing called bills. Therefore as much as your heart deems these $750 pair of shoes a priority, your head is thinking otherwise. Well, in that case, we've found a similar look-a-like pair that will do it justice.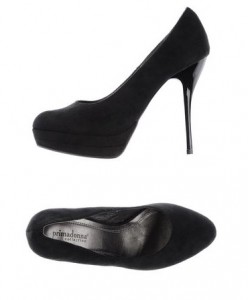 Primadonna pumps ($54)
Retailing at $54, these 'Primadonna' pumps have the same idea as the Casadei 'Blade' pumps in that they both have the oh-so-tiny flamingo-like high heel. While that may seem like the tiniest detail (literally), it really adds a chic feel to a basic staple like black heels.
So whether you're the real deal or faking it till' you make it, one thing's for certain: you'll be wearing the cutest shoes in the room.
And don't forget to check out: VIDEO: You Need To Hear This Cover Of 'Where Are U Now' By Florence And The Machine, These Are The 6 Best Drugstore Mascaras–All Under $8, and Raid Madewell's Sale Section Because They're Offering An Extra 30% Off Sale Items.
[Photos: Splash News]