In college, as T-shirt chair of my sorority (I know, whoa), I had neon Nascar sunglasses made up for the football games, with our sorority on the arm (Go Pi Phi!). The girls and their dates LOVED them; sunglasses just make you feel cooler — it's a law of nature. For my wedding, I went a step further: seeing my little great Aunt Millicent wearing hot pink Wayfarers on the dancefloor was priceless. Do it yourself:
Step 1: Stock up on shades — at wholesale price.
Try colorful faux Ray-Bans. We got ours at a wholesale price ($14 for 12-pack) from Canal Stop. Yep, where the NYC street vendors get theirs.
2) Create some custom art to personalize the shades:
Our brilliant graphic designer Jodi Luby created a tag, printed on 80. lb Natural White paper ($8.50/pack), that said "Eye Candy" on the front and our wedding date on the back side. Peony was our theme, so she created a peony logo to keep all signage consistent.
3) Affix the art with raffia or twine:
I like the look and feel of natural raffia ($3.28) for favor tags – especially if you have an outdoor or country wedding. Plus, it's inexpensive and a little goes a long way. Once they're tagged, place sunglasses in a shallow, open-face basket so guests can take their pick (above, at right).
4) Voila! You have an inexpensive yet totally fun favor:
Our guests seemed to like them! (Photos: the incomparable Jenny Ebert)
More sunglass inspiration from around the web:
This clever bride had sketches done of her bridal party, and gave them sunglasses this way. Source: Once Wed.
Props — likes bikes and shades — are great for bride/groom photos: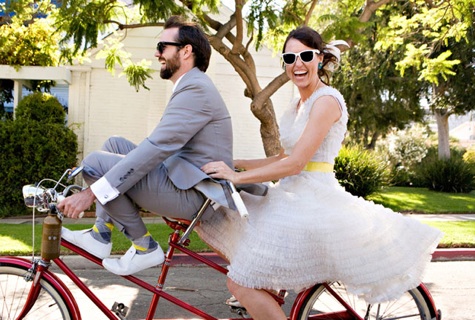 Rebecca and Derek wore bride and groom Ray-Bans (Green Wedding Shoes).
Or try a Kanye West-approved, kid-friendly pair:
Kanye West made shutter shades ($17.99 for 6 pairs) famous — but your guests will make them infamous. (Ring bearer photo courtesy of Style Me Pretty).
Nascar or neon-arm sunglasses are always cool:
Just say 'Yes' to Neon 80's sunglasses ($6.45 for 4 pairs).
As evidenced by our friend Kirsten, and her rockin' bridal party:
Shop our guides to the best strapless wedding dresses, white wedding shoes, and inexpensive wedding dresses.
[Top photo: Style Me Pretty]