You already know that you always go to grab your L.L. Bean Duck Boots whether your town has finally reached those colder temperatures, it's raining, or there's even an unexpected snow day (yikes). However, luckily, you know that your feet will stay toasty warm and protected thanks to L.L. Bean's amazing quality of their boots. If they're not already, duck boots should definitely become your go-to boots for the fall and winter seasons– you'll thank yourself later. And you should be sure that you're not fooled by any duck boot knock-offs or lookalikes, because while they may have the appeal and style of L.L. Bean boots, they're no where close to the same quality.
You can be sure you're getting the best of the best thanks to L.L. Bean, but you should also be sure to take a second glance at your boots' laces when you slip them on for the day. Although you technically could tie your boots in a simple bow and head out the door, you should Eastland knot the laces instead to make your duck boots much easier to slip on and off. Without further ado, let's dive into the few simple steps you'll need to follow to learn how to Eastland knot duck boots before braving the weather..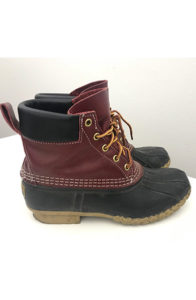 1. If you're tired of straggling laces falling at your feet then all you need to do is take one of your duck boot laces and make about a 1″ loop. Then bring the end point of your lace around the loop you just made.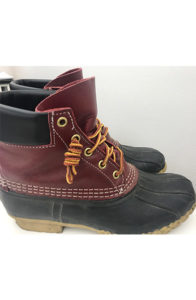 2. Next, just continue to take the end point of your lace and keep on twisting it around the loop you made. This will create a coil effect, which is the main part of the steps you need to follow to make the Eastland knot for your L.L. Bean Duck Boots.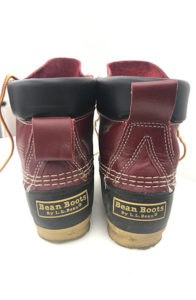 3. Lastly, you can stop twisting the lace around the loop once you realize that you can't wrap the end of the lace around the loop you made anymore. Once you get to that point, take the end of your lace and push it through the loop rather than wrapping it around it again.  And all that's left to do is to evenly distribute the coil you made after wrapping the lace around the knot. This will easily create an Eastland knot for your duck boots. Make sure to pull the end of your lace tight so that your Eastland knot doesn't come undone!
With an Eastland knot, you'll get the ultimate comfort and quality out of your L.L. Bean Duck Boots. According to the L.L. Bean website, the boots are made with full-grain leather for the rain and snow, are triple-stitched, have a supportive steel shank and original rubber chain-tread bottom, and are treated with water-resistant protection. And of course now they have an Eastland knot too!
In fact, there are plenty of ways to tie your laces and care for your different types of shoes. For more styling tricks and hacks, make sure to check out how to bar lace sneakers, how to clean Stan Smiths, and easy ways to clean converse sneakers.
[Photo: instagram.com/___kimber___]