Fashion girls everywhere have traded in their high heels for street style sneakers thanks to brands like Vans and Adidas, and we're honestly living for it. Trendy sneakers that don't sacrifice style for comfort are our favorite. You can even add a different flair to your sneakers by modifying your laces once you choose what pair of shoes you want to wear to complete any of your looks. And while you already know that you can wear sneakers either dressed up or dressed down, you can also tie your laces in a different way than you normally do to make your sneakers easier to put on and much more comfortable. So, what's the solution to do that, you ask? You can simply choose to bar lace your sneakers.
Bar laced sneakers rather than your traditional criss-crossed laces make it so much easier to slip on your shoes, plus you don't have to worry about your laces coming undone throughout the day. Don't worry if you don't know how to bar lace your sneakers— we've got you covered.
Let's dive into how you can straight bar lace your shoes before heading out the door thanks to just a few simple and easy steps….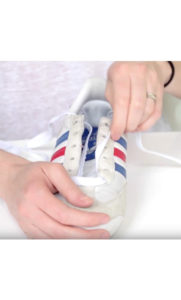 1. Insert your laces into the first sneaker eyelets on both the left and right sides of your sneaker with the laces pointing down. This is how you'll create your first bar lace. You will want to make sure that the laces are pulled through evenly so you can easily bar lace your sneakers from there. You definitely don't want to end up with uneven laces because you'll have to start over when you realize you can't continue to the last eyelets.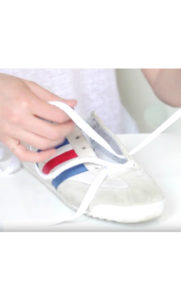 2. Take the lace that came out from under the first eyelet on one side of your shoe and push it up through that same side's second sneaker eyelet. Then, cross that lace over to the opposite side to push it down into the second sneaker eyelet on that side of the sneaker. Voila, this creates your second bar lace.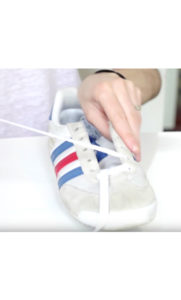 Simply follow these steps until you get to the last eyelets.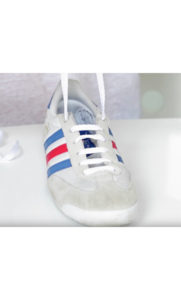 You can also follow a closer look for this step-by-step process on how to straight bar lace your sneakers on our SheFinds YouTube channel here:
And remember, adjusting your sneaker laces is always a good time to clean finally clean those laces too. Sure, cleaning your sneakers and swapping out your laces for ones that look like new probably slips your mind. Odds are, it's not until the moment when you're getting a close view of your sneakers that you realize just how dirty they've become. Luckily, we've got tips on how you can best clean your sneakers before you bar lace them, no matter the type of material they're made of. For more sneaker tips, make sure to check out these articles:
[Photo: instagram.com/vansgirls]