As you already know, fine lines and wrinkles are something that come with age. Many women embrace their aging skin, but some wish to find ways to conceal wrinkles or even reverse aged skin. While lines and wrinkles commonly appear on your face, you should also notice that they're probably appearing elsewhere– especially your neck. So, if you have a beauty regimen that prevents wrinkly skin on your face, you should also make sure to apply the same products to prevent your neck from aging too. If you're thinking of the best ways and products for how to keep your neck from aging then we've got you covered. Yes, that's right, you don't have to spend hundreds, or even thousands of dollars on extensive skincare treatments to get youthful skin.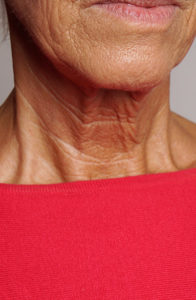 Dermatologist Fredric Brandt tells Real Simple that the oil glands in your neck make your skin start to look older. "The lack of oil glands on your neck can cause dryness, which may accelerate the aging process and make your neck appear more weathered," Fredric says. This combined with how much you turn your neck on a daily basis makes it easy for fine lines and wrinkles to appear. Another dermatologist, Jeanine Downie, further tells Real Simple that you should extend your daily facial anti-aging products down to your neck and chest to prevent further sagging.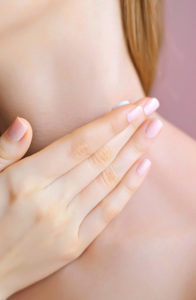 Now, you don't have to necessarily lather harsh ingredients on your face, down your neck, and onto your chest to prevent aging. There are plenty of products that contain natural ingredients that dermatologists actually recommend. Allure has a few recommendations for ingredients you should look for when choosing anti-aging skincare products. Allure recommends retinol or even sunflower and pomegranate oils for fighting wrinkles, and sugar-based scrubs for brightening dull skin.
However, you don't have to spend a fortune on an array of body lotions and serums to keep your skin looking young. You can simply spend some money every now and then on supplements that benefit the appearance and texture of your skin. Dr. Sarah Tonks tells Prevention that there are more ways to keep the skin on your neck looking youthful besides trying out different products. She says that you can actually turn to supplements to help keep your skin from aging quickly. She recommends collagen supplements that contain hyaluronic acid, which helps your skin to absorb water and appear firmer– making you look a lot younger than you are.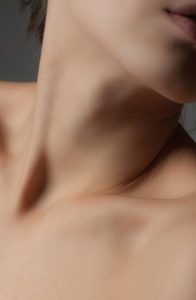 Dermatologist Dr. Cynthia Bailey offers plenty of advice on how to care for wrinkles. Cynthia recommends her top three ingredients that show visible results when trying to reverse aged skin. She notes that collagen can't be added from a product because it has to be made within your own cells. However, the three ingredients she recommends using on older skin are retinoids, glycolic acid, and Vitamin C.
It's never too late, or too early, to make your skin look more youthful. The sooner you start the better since you can stop aging in its tracks. For more anti-aging skincare tips, make sure to check out cheap drugstore serums dermatologists swear by.
[Photos: Shutterstock]