Tie-dye is everywhere this season, and while the print is fun, it can easily make you look like a hippie from yesteryear at a Grateful Dead concert.
The key to getting the look right is to choose polished pieces with the print–stay away from low quality t-shirts. Make sure that you anchor the bright print with neutral pieces. If you want to mix the prints, either stay within the same color family, or pair a bright tie-dye piece with a more neutral one. This outfit is great for the weekends, but if you want to wear it to work, just swap out the shorts for a khaki skirt or pants. Here are the pieces you need to get the look: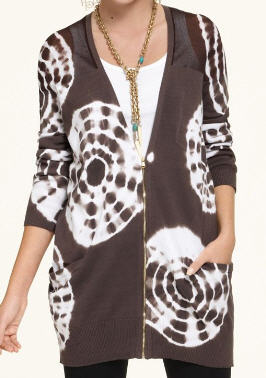 We love the big tie-dye print on this Rachel Rachel Roy Tie Dye Cardi ($109). The cardigan has cool details like a zipper and a sheer panel that makes it modern and sophisticated.
A bag like this ASOS Tie-Dye Hammock Bag ($33.82) is a great way to wear the trend. This bag is good for the weekends and it adds a pop of color to your outfit.
Sometimes a khaki short can make you look like a park ranger, but these MICHAEL Michael Kors Paperbag Waist Shorts ($59.50) are polished enough to dress up or down.
This Banana Republic Timeless Tank ($17.50) is a customer favorite for a reason. It's made of a soft pima cotton that's great for layering or wearing alone.
If you aren't a fan of Jackie O's go-to Bernardo Miami flip flops, these Bernardo Morocco Flat Sandals ($139) are a good option. They are super chic and will match everything.
See more of our how to wear posts, and then check out our guides to the best shorts for your shape, the best floral dresses, and the best flat sandals.