I remember the worst sunburn I ever had like it was yesterday. Two summers ago, I was vacationing in Florida with my parents and cousins. Although I applied my SPF 50, I stayed out in the ocean way too long without reapplying. That night, I had the worst sunburn of all time – it was painful AND my skin had started bubbling. Once it healed, my shoulders were spotted with cursed sunspots everywhere. I had so many sprinkled on my shoulders that I began to question which were sunspots and which were beauty marks that I was born with. I was in search of the best dark spot remover and couldn't find anything that worked until I found Dr. Williams.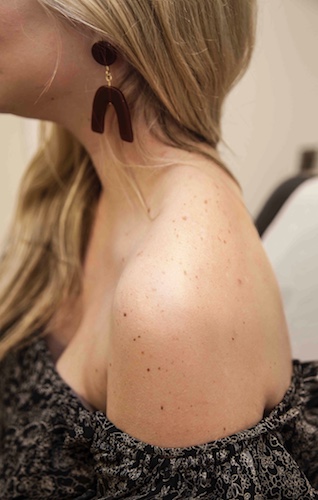 Dr. Estee Williams, a magnificent dermatologist nestled in a small office across from the East side of Central Park, suggested the Lumenis M22 Laser for treatment of my pesky sunspots. The Lumenis M22 Laser is an intense pulsed light (IPL) device, very similar to a laser, that ultimately zaps your sunspots so that they slowly flake off in a period of 5-7 days after first getting darker like coffee grounds.
In case you missed the memo, May was Skin Cancer Awareness Month and June is Acne Awareness Month – and even though we should be diligent about our skin every month of the year, acne and skin cancer are two very real problems people struggle with. The best way to deal with any of these issues is to be preventative. However, the Lumenis M22 Laser can help if you're a little bit past preventative stage. Although my main reason behind trying the treatment was purely cosmetic, this laser can aid in the discovery of cancerous spots, eliminate acne and redness and so much more. "Benefits include clear skin, being able to do skin self-exams at home more easily and enabling a doctor to more easily find a skin cancer," Dr. Williams said.
I have never had a laser treatment before so I went in not sure what to expect. Dr. Williams used a dermatoscope to show me the difference between my beauty marks or "moles" and actual sunspots. Dr. Williams explained that sunspots occur from "chronic sun exposure over many years" while beauty marks are "noncancerous growths of melanocytic pigment-producing cells." This means that "all cells originated from one original nevocytic cell and share identical DNA" while sunspots are a "cluster of cells that have made extra pigment under the influence of the sun and grew thick."
However, the best way to avoid skin cancer is to APPLY SUNSCREEN DAILY. "The most consequential mistake people commonly make with their skin is underestimating the importance of sunscreen every single day," Dr. Williams says. "Radiation is invisible and has nothing to do with the season or the weather."
I was shocked at how quickly I was in and out of her office. The treatment barely cost me the duration of my lunch break – I still had enough time to grab Sweetgreen after. During treatment, Dr. Williams applied cool ultrasound gel that you normally use for expecting mothers across my shoulders to give my skin a little protection from the laser. After putting protective goggles on my eyes, she began the treatment. I braced for impact but was surprisingly pleased to discover that the laser didn't hurt per se it just felt mildly uncomfortable. Although my eyes were closed underneath the protective goggles, the sound from the laser sounded like an old 1850's camera people used to use for portraits. Immediately after, Dr. Williams showed me where she treated me with the laser and subsequently where the redness began to show up. Although I could see a little redness, it didn't hurt. Dr. Williams applied some cortisone cream and sunscreen and I was out the door walking to the subway through Central Park.
Not even a day later I started noticing how the laser was working as the best dark spot diminisher. My sunspots had begun slowly flaking off and my skin even felt smoother, like butter. I'm only a week and a half out and extremely impressed with the results. Needless to say, if you're interested in trying out this innovative laser, Dr. Estee Williams is your go-to!
Shop Dr. Williams' picks for drugstore acne and sunscreen products to help protect your skin!
Neutrogena Sheer Zinc Lotion SPF 50 ($12.99)
La Roche Posay Duo Acne Treatment ($36.95)
Elta MD UV Clear Broad-Spectrum Sunscreen SPF 46 ($28.97)
More On SheFinds:
-This Is The Best Sunscreen For Acne According To Celebrity Esthetician Shani Darden
-These Are 5 Beauty Products You Need For Memorial Day Weekend
-This Is The Best Light Pink Nail Polish That Looks Amazing Year Round
SheFinds receives commissions for purchases made through the links in this post.