Leather is on everyone's mind these days, especially in the form of skirts. We have seen our fair share of flared leather skirts, but how about Olivia Palermo's sexy, sleek choice? The petite socialite wore a J Brand Ready-To-Wear Maxine Zip-Front Leather Skirt ($1,095) with a $30 Old Navy sweater, and we suggest you splurge on both. They basically even out right? Not only is this skirt on sale (hurry!) but it has also been worn on the impeccably stylish Ellie Goulding and Ali Larter recently.  How much leg will your zipper show?  Shop it quickly before the sale alert gets out!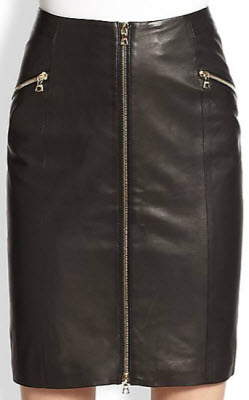 J Brand Maxine Zip-Front Leather Skirt ($1,095)
Looking for more celeb style to stalk? Check out Melissa McCarthy's floral dress, Kourtney Kardashian's flattering sweats and Alessandra Ambrosio's booties.
[Photo: Splash News]