I like to think of myself as an emotive person. I laugh hard and I often wear my feelings on my face. As such, my skin isn't line-free. Don't get me wrong, things could be worse, but I'm only 35!
I have some lines on my forehead that are becoming especially noticeable, so I decided to take action. I'd heard and read great things about Prai Beauty's 24K Gold Wrinkle Repair Cream (and honestly, I'm a sucker for anything that has 24K gold in the name), so I decided to give it a try. It's formulated with good-for-skin ingredients like Sunflower Seed Oil and NULASTIC™ SILK, so even if it didn't help my wrinkles, it certainly couldn't hurt.
I've been slathering this thick, rich cream on my face before bed every night this week and shockingly, I'm really noticing a difference. I'm a fan of more substantial night creams, so the texture of this one is really pleasant to me. I love the feeling of massaging it into my skin for a few seconds. Despite its thickness, this cream isn't greasy or oily at all. And it really absorbs quickly into the skin.
As for the benefits, after four days I can definitely say that my skin is softer and smoother to the touch when I wake in the morning. And those forehead lines? They're not completely gone, but they are definitely not the first thing I notice when I look in the mirror anymore. They've really become less visible in just a few days.
I saw this before and after on Prai's website and I feel really hopeful: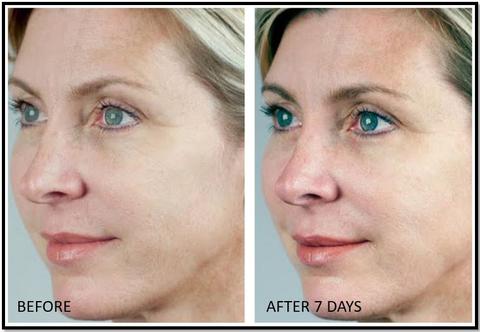 This wrinkle cream isn't crazy expensive like some others out there, but it's already delivering results. I can work with that!