10 Mistakes Couples Make When Trying To Plan An Eco-Friendly Wedding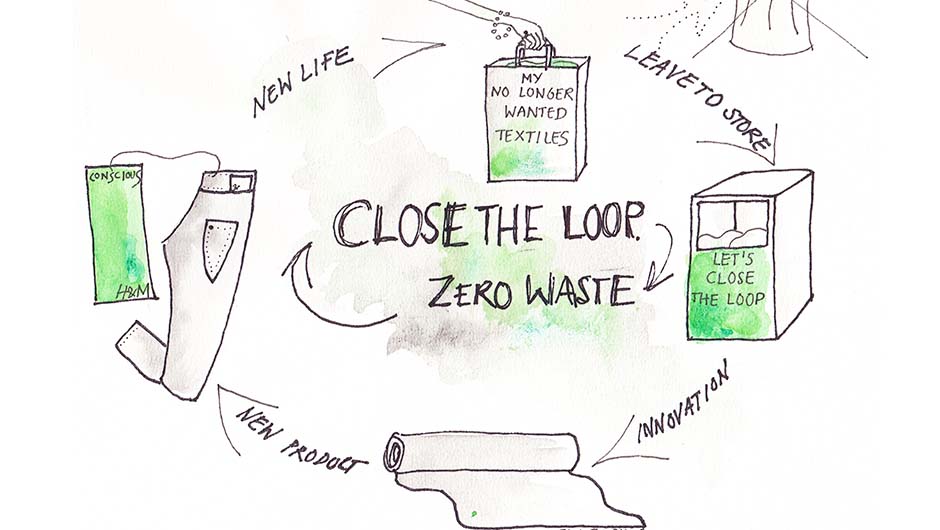 H&M Introduces A New Denim Line That's Totally Eco-Friendly
H&M is launching a brand new denim collection called Close The Loop and it's made using recycled cotton from unwanted clothing collected in their stores, as part of the H&M Garment Collecting initiative. Close The Loop will launch in September and be comprised of 16 new denim styles for women, men and children. Since 2013, over 14,000 tons of unwanted clothing (from any brand) has been collected globally through their program! Karl-Johan Persson, CEO of H&M, said in a press release, "Creating a closed loop for textiles, in which unwanted clothes can be recycled into new ones, will not only minimize textile waste, but also significantly reduce the need for virgin resources as well as other impacts fashion has on our planet." As stated in the press release, "H&M wants to create a closed loop for its textiles, in which the fabrics from unwanted clothes can be recycled into new ones. The aim is to reduce the environmental impact of the fashion industry, by limiting waste that goes to landfill and saving on natural resources used in the production of fabric." Check out a few of the pieces for women below! Don't miss the innovative pair of jeans that will charge your iPhone and how to iron a shirt without an iron! [Photos: H&M]
Celebrate Earth Day By Shopping The 75%-Off Sale At Our Fave Eco Site, Rodale's
Earth-friendly living has definitely come a long way in the last few years and we have retailers like Rodale's to thank for that. Never heard of them? We hadn't either, but now that we've been put on we're obsessed. Let's just say Rodale's makes living an environmentally-aware life so easy--and stylish! They've got earth-friendly products for your home, garden and even the little ones, but we're most impressed with their amazing dresses. We're talking beautifully printed and draped silk pieces, all made from sustainable materials. Even better, there are so many gorgeous picks on sale for up to 75% off! We highlighted four of our faves in the pic above, but you definitely need to head over to Rodale's right now to check out their complete selection. SHOP THE RODALE'S SPRING SALE NOW! Be sure to check out the longline bikini trend, cool spring collabs and Reese Witherspoon's plaid shirt. [Photo: Red Silk Printed Dress ($99.99, down from $350); Silk Pleated Dress ($89.99, down from $865); Dragonfly Print Dress ($153.99, down from $350); Carefree Crossover Dress ($89.99, down from $150)]
What You Need Right Now: 5 Ways To Celebrate Earth Day In Recycled Style
With so many different brands on the market, it's easy to buy clothes and accessories without really getting to know a company's mission. We've done the groundwork to find five amazing companies that create covetable pieces using recycled materials, so all you need to do is shop 'em. Here are the brands we're loving this Earth Day. CHECK OUT THE EARTH DAY PICKS NOW
10 Ways To Make Your Beauty Routine More Eco-Friendly, No Grungy Products Required
I'll skip the Earth Day lecture and get straight to the point: You know all those beauty products cluttering up your bathroom counter? Turns out those products are pretty bad for the environment... and your wallet.  According to Cosmopolitan, consumer product packaging accounts for approximately 1/3 of all landfill waste. And if you are beauty junkie--like me--your addiction is resulting in a ton of unnecessary trash. Now before you start panicking, I'm not asking you to throw out all your precious cosmetics and move to a hippie commune. Luckily, there are some simple ways to go "green" without dramatically changing your lifestyle--or pairing down your beauty arsenal. And if you think being more eco-friendly means shelling out tons of cash on organic beauty products, you'll be happy to know that being eco can actually save you money. Companies like MAC and Zoya actually reward you when you are environmentally conscious. Intrigued? Click through the slideshow to learn more about these programs and to start trying my cheap and easy tips for making your beauty routine more eco-friendly. Who said it's not easy being green? Shop these eco-friendly nail polishes and beauty products. And don't forget to check out Gucci's Green Carpet Challenge handbags.
Forget Boring And Brown–You'll Actually Want To Wear This Eco-Friendly Clothing
We all strive to reduce our carbon footprint--we take public transportation, turn the lights off, don't leave the water running. But did you know that your clothing could be more eco-friendly, too? Words like conscious, organic, and upcylced are becoming more and more common in the fashion world. And believe it or not, there is a ton of really cute eco-friendly clothing out there. We're talking everything from flirty dresses to colored skinny jeans made from earth friendly materials. So in celebration of Earth Day--which is Monday, BTW--take some time to explore all the eco-friendly clothing options out there. We pulled together a few of our favorites in the slideshow, so check it out For eco must-haves, check out eco-friendly nail polish and eco-friendly beauty products.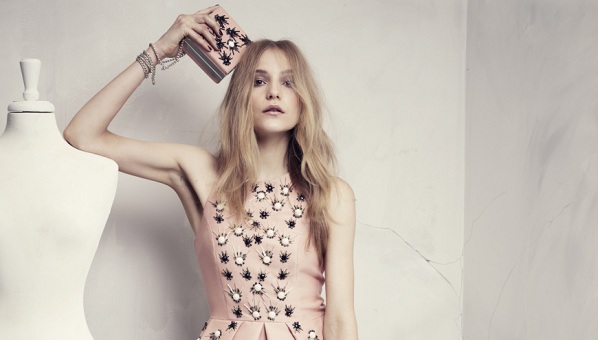 Eco Never Looked So Elegant–Check Out H&M's New Conscious Exclusive Collection
Remember back in February when Helen Hunt wore H&M to the Oscars? We're guessing it was just the preview to H&M's new Conscious Exclusive collection which features a range of partywear pieces for women and men, all made from eco-friendly fabrics. Now before you balk at eco-friendly, check yourself. The H&M Conscious Exclusive collection is actually quite beautiful. There are dramatic gowns, playful party dresses and tailored suiting separates all done in H&M's signature on-trend style. If we didn't say so, you'd never be able to tell everything in the collection is made from organic cotton, recycled polyester, recycled polyamide or TENCEL. So if you've got somewhere to go this spring or summer, make H&M your first stop when shopping for something to wear. The Conscious Exclusive collection will be available in stores and online on April 4. Click through the slideshow to see a few of our favorite looks from the line. In other exciting news, Net-A-Porter launched beauty, Monique Lhuillier launched footwear and Kate Spade's Saturday collection is shoppable.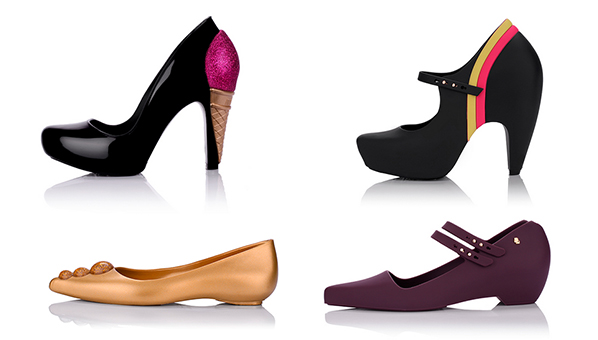 This Is What Karl Lagerfeld's Version Of A Jelly Looks Like
Earlier this year we told you about Karl Lagerfeld's 4-piece capsule collection of jellies for Melissa Shoes. Well, the sketches have finally come to life. You can now see the first 4 designs of Karl's "Kollection" (we didn't realize he was a Kardashian) on the Melissa + Karl Lagerfeld website. We love that line isn't too serious--Lagerfeld has a sense of humor about the collection, which features a black jelly pump with a glittery ice cream cone on the heel. Once the collection hits, you'll be able to pick your favorite "flavor" of glitter. Click through the slideshow to see Karl's collection for Melissa, which launches March 26. Would you wear the jelly heels designed by the Chanel creative director? Want more fashion news? Check out Matthew Williamson's leather handbags, Selena Gomez's D&G tote and Stella McCartney's new eyewear collection.
Celeb Fave Itzy Ritzy Has a Special Coupon Code Exclusively for MOMfinds Readers
[slideshow] Itzy Ritzy believes it is absolutely possible to be a modern, stylish mom whether you're packing your tot a tasty snack in their snazzy snack pack, ferrying them around in an attractive, eye-popping car carrier, or yes, even covering up while breast-feeding in the park. Their products are a fave of celeb moms like Jennifer Garner, Angelina Jolie, and Nicole Richie, and they've been featured on "The Today Show", "Good Morning America" and Parents magazine. (more…)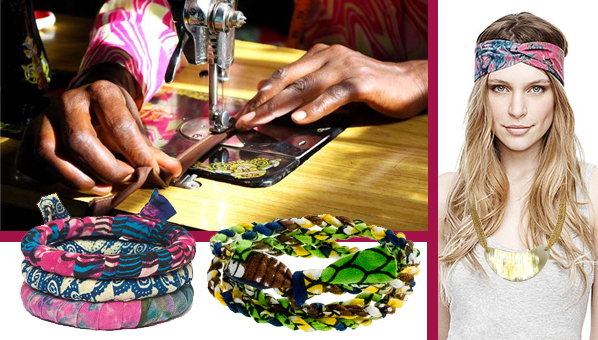 Everyone Is Collaborating With Indego Africa – And Here's Why
In the past year, J.Crew, DANNIJO and Nicole Miller have all partnered with the non-profit organization Indego Africa to create some seriously cute, on-trend jewelry, clothing and home decor. From brightly-colored woven bangles to a pair of printed short shorts from Nicole Miller's collab, everything in the line is priced under $70. But what is Indego Africa, exactly? Indego (Independence Development Governance) Africa is a design-driven, non-profit social enterprise that partners with for-profit, women-owned businesses in Rwanda to export, market, and sell their products online and in boutiques. The organization's goal is to create a sustainable way for women to achieve financial independence for themselves and their families. So why not join in on this summer's tribal trend in the most socially responsible way by shopping Indego Africa collabs and products? We've made it extra easy by rounding up our favorites here: SHOP OUR PICKS Be sure to check out our shopping guide to tribal jewelry, our favorite printed flats, and today's best find of the day.
That's The Bees Nees! Shop The New Layette Collection From Burt's Bees Baby
Can't get enough of Burt's Bees eco-friendly bath and beauty products? Well brace yourself, because you're in for a treat. We just got word that Burt's Bees is expanding and they've got moms and babies in mind! To begin, Burt's Bees just launched an adorable layette collection. Not only are all the baby clothes and accessories soft and adorable, but they're all made from earth-friendly organic cotton. Take a look: [slideshow] (more…)
JUST IN: Gucci's "Sustainable Soles" Line Of Biodegradable Jelly Flats & Wedges
Gucci, known for their luxe (but not very PETA-friendly) leather goods, has taken a step in the eco-friendly direction with a line of biodegradable rubber flats. "Sustainable Soles" includes skittle-colored ballet flats and wedge jellies made biodegradable plastic. The rubber flats are perfect for those rainy days where you don't want to pull on hot, sweaty rain boots. Gucci's creative director Frida Giannini designed the line, which features interlocking G's made of recycled polyester. Now, that's a departure from the iconic leather logo. SHOP THE SUSTAINABLE JELLY FLATS NOW For more eco-friendly finds, check out Olivia Wilde x Alternative Apparel's Haiti bag, see the first photos of Topshop's first-ever eco-friendly line, and Vivienne Westwood's Ethical Africa collection.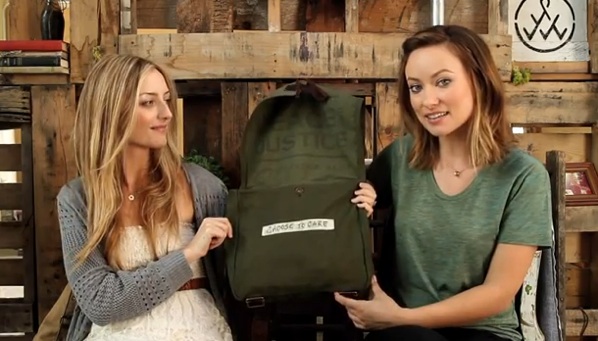 Olivia Wilde x Alternative Apparel's 'Message' Bag Benefits Haiti: Shop Now
Olivia Wilde has just teamed up with Atlanta-based brand Alternative Apparel on a rugged, military green messenger bag that benefits the Academy for Peace and Justine, a school in Port-au-Prince, Haiti. Wilde, who vacationed in Haiti as a child and remembered it as "the definition of paradise," felt compelled to do something for the country after the devastating earthquake of 2010. She chose Alternative Apparel because she already "lived" in their sweatshirts and maxi dresses, and felt that their environmentally ethically production practices aligned with her own values. Long story short, the charitable (and utilitarian!) bag is here: Get it now: Olivia Wilde x Alternative Apparel's The Message Bag ($138). For more ethical fashion, shop these Wayuu Taya hand-woven bags, Topshop's first eco-friendly collection, and Rebecca Taylor's recycled dresses.
Wayuu Taya's Hand-Woven Bags Are A Karmic Best Find
Earth Day was in the spring, but if you're looking for a way to shop ethically this summer, our current obsession are Wayuu Taya bags. Hand-woven in Colombia, these intricate bags benefit the local women's center there. Because of the ancient weaving practice, each bag is different. Which means nobody else on the beach will have the same summer tote as you. Shop now: Get it: Mochilla hand-woven cotton shoulder bag ($180). Get it: Mochilla hand-woven cotton shoulder bag in "Brick" ($180). [Top Image: Mama's A Rolling Stone] For more handbags news, this can't-be-lost clutch, Max Mara's new Hollywood bag, Rag & Bone's first ever handbag.
Green Pastures: Topshop's First Eco-Friendly Line Is Launching Today
Go green! Just last week Topshop announced the upcoming launch of their first eco-friendly line, with a Reclaim To Wear collaboration. Today you can shop the 8-piece capsule collection, of color-blocked dresses, ombré denim, sweaters, denim bags and high-low hem dresses, available online and in stores. Made entirely from discarded materials (like surplus stock and leftover fabrics), this collection is anything but trashy. Shop sustainably, with prices starting at $50. Shop the eco-friendly finds here  For more sustainable fashion, check out H&M's Conscious Collection, and shop our guides best vegan shoes and handbags.
Topshop To Launch First-Ever Eco-Friendly Collection On June 15
Following in the tootsteps of other fast-fashion retailers like H&M, who released their Conscious Collection last year, Topshop has announced the launch of their own eco-friendly capsule collection. The Telegraph is reporting that the high street favorite has teamed up with Reclaim To Wear (more info here) on an "upcycled" collection made entirely from discarded materials (like surplus stock and product run-offs), which will launch exclusively online June 15: Topshop x Reclaim To Wear The 8-piece collaboration includes a paneled, color-block maxi dress, ombré denim, a high-low hem dress, and other on-trend pieces that are good for your fashion karma, too. For more Topshop news, get the latest on their Blushing Bride collection. Also, check out the re-issue of Kate Middleton's blue Issa engagement dress, and Lady Gaga's new tour t-shirts.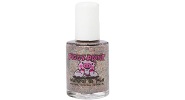 Finally! Treat Your Daughter to a Mommy & Me Manicure… The Safe Way
If your daughter is always bugging you about why you can get manicures and she can't (mine!), now she can! No, I'm not suggesting you paint her nails with that chemical-laden crap polish at the salon. Get her some Piggy Paint nail polish! We're huge fans of this non-toxic, odorless nail polish because it doesn't contain any of the nasty chemicals that make regular nail polish so scary (think: formaldehyde, toluene, phthalates, biphenyl A, ethyl acetate and acetone). It goes on smooth, stays chip-free for days and comes off easily with a non-toxic remover. (more…)
Honest Kids Juice Boxes Have Half the Sugar of Most Kids' Drinks? Sign Me Up!
My dentist recommends that I only let my daughter drink water and milk, but the truth is, that's impossible. Okay, not impossible, but highly unlikely. Is there a kid out there who doesn't like juice? Luckily, I found the perfect compromise: Honest Kids thirst quenchers. They're delicious little juice boxes, but instead of being loaded with sugar and other mystery ingredients, they're USDA Organic, contain half the calories and sugar of most children's drinks and they have 100% of the daily recommended allowance of Vitamin C. Not bad, right? And of course it doesn't hurt that they're yummy! (more…)
It's Earth Day! Celebrate With These 20 Eco-Friendly Goodies Every Mom Should Own
Earth Day is April 22--today!--so to commemorate the day, we decided to share a few of our favorite eco products for moms and their little ones. From all-natural bath goodies to bamboo clothing, you should totally give every one of these products a try. Star moms like Jessica Alba and Jennifer Garner already have! [slideshow] (more…)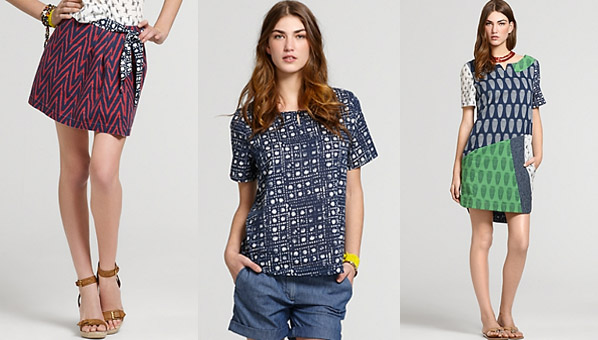 Save The Planet One Outfit At A Time With These 10 Eco-Labels We Love
This coming Sunday (April 22), we celebrate Earth Day and thank this lovely planet for all its provided us, as well as take action in maintaining it (that is, unless, the world ends this year—so we might as well be reeeally grateful). So for starters, we can appreciate our dear Mother Earth with a cute outfit that's eco-friendly and eco-fashionable. There's plenty of designers who create some pretty amazing apparel, accessories, and jewelry that wouldn't even come close to the typical first thought of what a "green" garment would be like (think itchy hemp and plain old cotton basics). We compiled our top 10 eco-fashion labels below that you can shop now, which range from luxury jewelry and undergarments to swimwear and pastel-colored high heels: SAMANTHA PLEET The Brooklyn-based designer has been making clothes with organic materials since 2006 while keeping the design process entirely local in NYC. Her designs have captured the hearts of stylish indie darlings, including Victoria Legrand from Beach House and Au Revoir Simone. Now, she's made an exclusive collection with Anthropologie, titled Treasure by Samantha Pleet, which includes draped and printed frocks and midi dresses. MELISSA This Brazilian footwear line prides itself on creating stylish and comfortable footwear—made of plastic. Yes, plastic. Sure, this is a different take on our usual collection of leather brogues and suede heels but these fashionable pairs promote the use of recycled and sustainable materials. Plus, the line's trademark composition molds to your feet and absorbs odor. A great selection is available on Yoox.com, which include ballet flats, open-toe heels, and sandals. BY NATALIE FRIGO Who knew that eco-friendly jewelry could be look so beautiful? This NYC jewelry line By Natalie Frigo boasts handmade pieces whose stones are ethically sourced and conflict-free, this means that you can flaunt your bling without the worry if the stones were forcefully mined in unsafe or illegal conditions. The metalwork and details are also recycled or reclaimed. VIVIENNE WESTWOOD The Brit-eccentric designer Vivienne Westwood creates her second collaboration in partnership with the International Trade Centre's Ethical Fashion Program of the United Nation, which support rural African villages. Her collection boasts rucksacks, totes, and shoulder bags handmade in Kenya and made of recycled materials and organic cotton canvas. We like how the designs are so original and almost give off a vintage vibe. Thanks, Viv! ONLY HEARTS Our favorite from this NYC-made clothing line is the Night Shirt (above, middle, $75), which is totally in line with this season's pajama-style trend. Other underpinnings include delicate-like panties, chemises, pants, tanks, and cardigans—all made from 100% organic cotton, which means that these super soft threads (imported from Peru) will help you rest easy at night for more reason than just comfiness. SIDNEY GARBER This family-run, luxury jewelry line is a favorite from the iconically fashion-foward Olsen twins (the girls love the cuffs!). So it makes us happy to know that the collection of earrings, rings, necklaces, and bracelets are not only so in style that they caught the eye of an Olsen, but the pieces that make up these beautiful items are responsibly-sourced and proceeds benefit organizations who help support the arts in American and better the lives of children and young adults, such as the Child Mind Institute. MAR Y SOL The process behind this sustainable accessories-and-home line takes place both in New York and Madagascar, where the products' natural materials are sourced from the island's forests. Artists in New York design the collection, followed by artisans in Madagascar crafting these beach-friendly handbags above through proper living wages provided by Mar Y Sol. Following this type of unique business model allows families in Madagascar to be financially independent as well as boost the island's economy. LEMLEM Liya Kebede (whose resume also includes actress, model, and former World Health Organisation's Goodwill Ambassador for Maternal, Newborn and Child Health) provides her hometown Addis Ababa in Ethiopia, with work opportunities to handcraft her collection apparel and accessories, which so far has pleased the buyers of J. Crew, one of Lemlem's retailers. These brightly colored and preppy-style items help preserve the art of weaving (a tedious craft), as well as increase employment and economic independence in her native land. OLGA OLSSON The London-based designer is inspired by her global travels while designing her eponymous, eco-friendly, and luxe swimwear collection. Produced in a small atelier in Brazil, where all of the swimsuits' materials, from fabrics to trims, are locally sourced. Her signature label tags are also recyclable and reusable, which are hung onto the bathing suits with a traditional "wish bracelet" from Bahia's Salvador. Her ethical designs have attracted a celebrity clientele, including Sienna Miller, Natalia Vodianova, and Kate Moss. TOMMY HILFIGER The classic American designer has supported the organization Millennium Promise and the Millennium Villages Project since 2009. This year, Hilfiger created an African-inspired collection, which includes a Millenium Promise Wrap Skirt ($118), Millennium Promise Short Sleeve Top ($78), and Millenium Promise Patchwork Dress ($158), where 100% of its proceeds help benefit African communities. The campaign is fronted by Katie Holmes (whose celebrity style has turned heads with her floral jeans and nautical top), which, in our opinion, is a perfect match. We'd love to see Suri sporting some of these geo-printed garments! Read more fashion and beauty news: DVF x Current/Elliot, MAC's nautical nail polish, and Liberty London x Doc Martens.
The Perfect Springtime Activity With the Kids? Grow a Real Vegetable Garden With Kiwi Crate's New Garden Crate
Did you catch Good Morning America this morning? They had this awesome segment on steals and deals and featured a, well, good one from one of our favorite new sites, Kiwi Crate. Subscribers who sign up before April 18 at kiwicrate.com will receive Kiwi Crate's special new Garden Crate, which comes with everything your child needs to plant, grow, observe and cook his/her own beans and squash. The Garden Crate is actually part of a partnership with Weelicious blogger Catherine McCord in hopes that growing their own veggies will actually help kids eat more of them. Cool, right? (more…)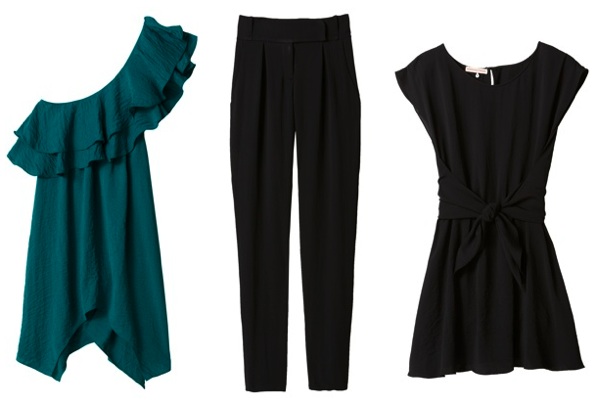 Celebrate 'Earth Month' In A Rebecca Taylor Dress Made Of Recycled Bottles
If you sometimes forget to recycle or occasionally indulge in a 20 minute hot shower, April is the month to redeem yourself of your eco sins. "Earth Month," as it is lovingly known, is a time to adopt more earth-friendly habits -- even if that just means buying 1 re-usable grocery tote (there are so many chic ones!) or some other piece of sustainable fashion. Rebecca Taylor is the latest designer to "go green," with a collection of dresses made from recycled fibers, like PET bottles, that hits this month. The limited edition 5-piece capsule collection is not just eco-friendly. Rebecca Taylor said in a statement: We wanted to create ethereal yet bold designs that are easy to wear with a conscience The pieces, which range from an asymmetric dress to skinny pants, are priced $135-$250 and will hit RT boutiques and select department stores in April. SEE THE COMPLETE COLLECTION NOW And for the eco-junkie, here's how it work: The recycling process turns PET bottles into quality fibers with 89% reduction in water and 67% reduction in oxygen. This also significantly reduces the amount of chemicals used, and produces a low percentage of CO2 emitted, according to the release.  For more earth-friendly finds, shop our guides to the best vegan bags, paraben-free beauty and eco-friendly shoes.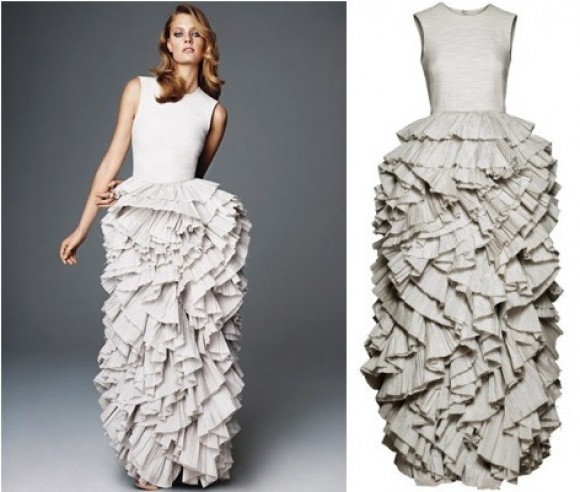 Shop H&M's First Eco-Friendly Wedding Dress! (You'll Never Guess How Much It Costs)
Another one of your fave mall destinations is adding wedding attire to their affordable fashion roster. Just last week, we gave you a sneak peak at Bebe's brand new bridal collection. Now, H&M is introducing formal attire as a part of their annual "Conscious Collection" - including a gorgeous $299 wedding dress. This affordable, earth friendly gown boasts a sculpturesque, raw-edged ruffled skirt, and a sumptuous silk and organic cotton construction. (more…)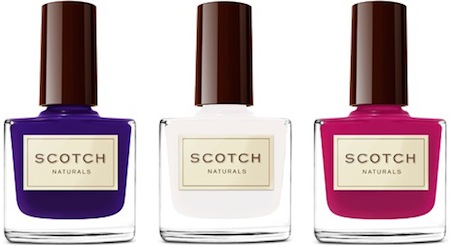 Nail Polish Without The Noxious Fumes? Sign Us Up!
Floral-scented fingers are preferable to ones that smell like acetone, but isn't that why we have perfume? The spate of scented polishes coming across our news feed has left us wondering — why do our nails have to smell like anything at all? (more…)
Jeans That Make The Air Cleaner: Like You Needed An Excuse To Buy More Denim
Stylist-to-the-stars Helen Storey (past clients include Prince, Madonna, and Michael Jackson) is on a mission to join art and science. Her latest effort? Jeans that purify the air. (more…)

Meet Jessica Alba's New Baby: The Honest Company
No, Jessica Alba didn't give birth to baby #3, but the actress did just launch The Honest Company, an e-commerce site for eco-minded families.  Fed up of trying to find eco-friendly products for her family that promised more than just biodegradable packaging, Alba created the company to provide families with a range of safe, sustainable and affordable products for baby and the home. (more…)
Resolved to Be More "Green" In 2012? Start With a Love Bottle
I made a bunch of resolutions at the beginning of 2012 and one of them was to be less wasteful. My daughter is at that age where she observes everything, so I want to set a good example about reusing and recycling as much as possible. (more…)
Top 5: The Best "Green" Holiday Gifts For Your Composting, Solar Panel-Pushing Eco-Freak Friends
Buying eco-friendly is not only good for the Earth, but it's also an extra thoughtful way to show you respect your friends' wishes and lifestyle. We're not saying you should have solar panels installed on your house, but try to be considerate when shopping for families who do. Check out these oh-so-eco, but so-not-boring eco-friendly holiday gifts for the earth-friendly people in your life. [slideshow] (more…)
Craving Something Pumpkin-y for Fall? You Have to Try This…
Forget the gorgeous fall foliage and the switch to sweater weather--I'm more excited about the first appearance of a Pumpkin Spice latte or an iced pumpkin doughnut. Mmm. (more…)
Calling All Eco-Minded Mamas! Check Out Your New Vegan–Yes, Vegan!–Diaper Bag
I have nothing against animals, but I must admit I like my leather handbags. That being said, I can appreciate a good animal-friendly design and that's exactly what Nest Children's Dexter diaper bag is. Yes, that gorgeous navy blue bag above is really a diaper bag. And yes, it also happens to be vegan. Pretty sweet, huh? (more…)
The Latest Reason to Love Petunia Pickle Bottom…
The folks at Petunia Pickle Bottom have been busy, busy, busy because in addition to their gorgeous diaper bags they've added a bunch of chic travel accessories for the busy mom. Our latest obsession?  Their new Faraway Fold-Out Travel Tote, which starts out as a dainty wristlet that you can hang on your stroller or stash in your diaper bag.  Time to check out at the grocery store?  Voila!  It opens up to a roomy tote complete with a small front pocket for your keys, smart phone and cash. (more…)
A Sweet Eco-Friendly Gift for Natalie Portman's New Son (Yes, She Finally Gave Birth!)
A very big congratulations to Natalie Portman!  According to People, the actress welcomed her baby boy yesterday.  No word yet on his name, but I'm hoping that it's nothing too "unique".  And if she names him Luke, nerds everywhere will rejoice.  No matter what his name is, here's a unique, eco-friendly baby gift I think the eco-conscious mama and baby will love. (more…)
Natalie Portman Turns 30 Today, Celebrate Her With A Pair Of (Actually Cute) Vegan Shoes
From left: Natalie Portman, and a pair of Beyond Skin Vegan Espadrilles ($142.97, down from $259) Notorious vegan and birthday girl Natalie Portman (she turns 30 today!) recently told Q100, an Atlanta radio station that she's put her veganism on hold for the duration of her pregnancy, so as to protect the health of her baby (no Big Mac's for her, though, she's just adding eggs and milk to her diet for the time being). However, we highly doubt that Portman, who has designed her own line of vegan shoes, is giving up her commitment to animal-free clothing and accessories. So in her honor, we've rounded up our favorite picks of vegan shoes for spring. See our top choices below, or shop all vegan shoes at Endless.com here right now. (more…)
Found: Naomi Watts' Envirosax Reusable Tote
See, not all celebrities carry thousand dollar designer handbags.  Check out Naomi Watts toting son, Kai, and an adorable Envirosax Cookie Monster reusable tote in NYC yesterday. (more…)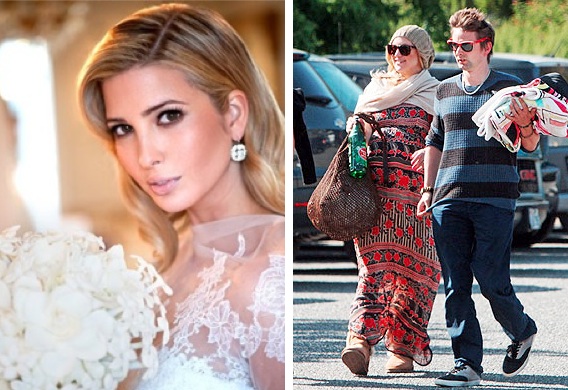 Midday Catch Up: Ivanka Trump's Eco-Friendly Bridal Line, Kate Hudson's Maxi Maternity Dress, More
From left: Ivanka Trump and Kate Hudson with fiancé Matt Bellamy Ivanka Trump Launches Line Of Eco-Friendly Bridal Jewelry Donald's daughter launched her new green collection as part of her fine jewelry line. A Pregnant Kate Hudson Takes A Stroll In Her Printed Maternity Maxi Dress Fiancé Matt Bellamy accompanied her to her son Ryder's baseball game. For more non-baby, non-bridal news, be sure to check out Jackie O.-approved Jack Rogers Sandals, or shop Bloomingdale's under $50 dresses.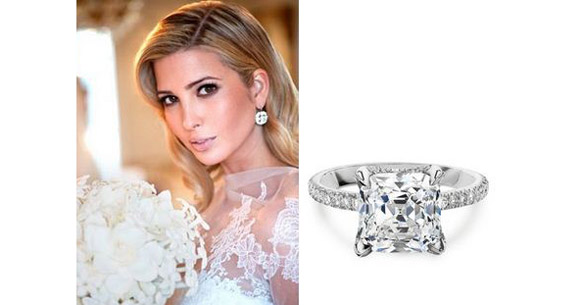 First Photos: Ivanka Trump's Totally Sustainable Bridal Collection
Even if you're not a fan of the Donald, you will love his daughter Ivanka for this one. The mini-Trump just launched a bridal collection under her Fine Jewelry label that is made from entirely sustainable diamonds and recycled platinum. Ivanka, who was recently a bride herself, told WWD, ""Social responsibility is a core value of the Ivanka Trump Fine Jewelry brand. It has been an integral factor of what has fueled growth since the collection launch." You go girl. (more…)
Happy Friday! $15 Eco- Friendly Maternity Clothes from Kate Quinn Organics
If you thought Kate Quinn Organics only made children's clothes, you were wrong. In addition to their adorable, eco-friendly baby and toddler clothes, Kate Quinn Organics also makes stylish, eco-friendly maternity basics. Think comfortable maternity clothes done in the softest organic cotton you've ever felt. Sounds nice, right? Well it gets even better because right now you can score these eco-friendly maternity clothes for just $15. Really! Take a look: Pleated 3/4 Sleeve Tee ($15, down from $56) (more…)
Don't Miss The Kate Quinn Organics $10 Sale!
Only dress your baby or toddler in the best eco-friendly kids' clothes? Then hurry over to the Kate Quinn Organics because they're having a killer sale. Tons of new spring items--from baby bodysuits to toddler tees--are marked down to just $10. You have to act fast, though. Lots of the cutest styles are already sold out so get shopping! Get Your Deal: katequinnorganics.com Sign up for our newsletter to get even more finds delivered right to your inbox. Click here to email Jeanine, the author of this post.
Impress All the Other Moms at Your Playdate with These Eco-Friendly Toys
This month, we've covered all-natural baby shampoos, eco-friendly diaper bags and organic kids' snacks, so it's about time we talked toys. Eco-friendly toys, of course. Now you're probably thinking, BORING! But wait, because  toys made from earth-friendly, recyclable materials don't have to be dull. Just check out these 8 amazing eco-friendly toys we found that we promise your kids will love. [slideshow] During April we'll be highlighting luxurious, eco-friendly products for you and your baby every day. Follow the eco-friendly tag to see all our best "green" finds. Find more of the best kids' toys in our buying guides. Sign up for our newsletter for even more finds delivered right to your inbox. Click here to email Courtenay, the author of this post.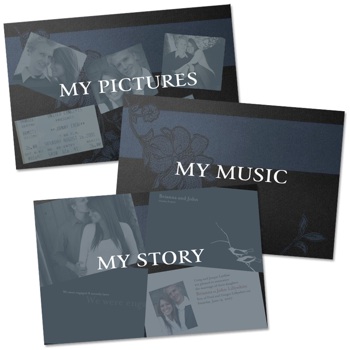 The Only Wedding Invitations That Are Truly Eco-Friendly Are Paperless: Go Digital Now
If you're trying to make your wedding as green as possible - you have to consider MyInvitationLink.com, an eInvitation site with more than 30 customizable templates to choose from. As a greenie, I love the idea of a wedding invitation that saves trees and money. If you'd prefer formal paper wedding invitations, consider these for your save the dates or invites for engagement parties, showers or bachelorettes. (more…)
You Can Have It All! Cute, BPA-Free Children's Dinnerware from Smiling Planet
By now, we've all heard or read about the dangers of BPA and as such, there are lots of BPA-free baby feeding options. Sadly, though, it seems like when products lose the BPA, the good looks seem to go, too. But not so with Smiling Planet. This adorable line of children's dinnerware is made from 100% recycled medical grade plastic and each dish is tested to ensure it's BPA-free. All the pieces are also free from lead and phthalates, and use completely non-toxic inks. And it gets better: the plates and bowls are dishwasher safe and believe it or not, they're not much more expensive than other leading BPA-free brands. We love all the safety features, but the insanely cute designs are really what win us over. Here is a sampling of a few of our favorites. [slideshow] Price: starting at $13 Start Shopping: urthchild.com During April we'll be highlighting luxurious, eco-friendly products for you and your baby every day. Follow the eco-friendly tag to see all our best "green" finds. Sign up for our newsletter for even more finds delivered right to your inbox. Click here to email Courtenay, the author of this post.
Before You Schedule Those Spring Playdates, Stock Up on These Organic Kids' Snacks
Buying organic produce (or most of it, anyway) is a no-brainer, but what about other snack food for your kids? When you can't fill them with plain fruits and vegetables, it's a good idea to look for wholesome, organic snacks for food-on-the-go. Start with these to make your kids and your conscience happy at the same time. [slideshow] During April we'll be highlighting luxurious, eco-friendly products for you and your baby every day. Follow the eco-friendly tag to see all our best "green" finds. Sign up for our newsletter for even more finds delivered right to your inbox. Click here to email Courtenay, the author of this post.
Green Up Your Nursery with these Earthy Bamboo Mobiles
Inspired to go green on Earth Day?  Take baby steps with some eco-friendly nursery decor like this gorgeous bamboo mobile.  The pieces are laser cut from sustainably harvested bamboo, and the nature-inspired designs (choose from four different sets) will never go out of style. Price: $46 Get Yours: laylagrayce.com Find the best baby cribs and everything you need for your dream nursery in our buying guides. Sign up for our newsletter to get even more finds delivered right to your inbox. Click here to email Farah, the author of this post.
Celebrate Earth Day With These Children's Books About Loving Mother Earth
Books don't have to be preachy to teach kids the value of preserving the planet. Check out these books--some old, some new--that are good discussion-starters for Earth Month. Even the youngest child can learn to give thanks for the earth with Earth Day ($10), an alphabet book that talks about everything from apricots to zinnias with bright and whimsical illustrations. (more…)
Happy Earth Day! Here Are 10 Eco-Friendly Kid's Brands You Should Know About
Even though we've been featuring our favorite "green" finds all month long, we decided to go all out today because it's Earth Day. So allow us to present 10 brands doing amazing, eco-friendly things. From baby clothing to toys, here's proof going "green" really isn't that hard. 1. Kicky Pants. All of the adorable baby clothes Kicky Pants makes are made from bamboo, which is an eco-friendly, sustainable crop that grows without fertilizers or pesticides. 2. Little Twig. These luxurious baby bathing products only contain organic ingredients, plus they're paraben-, sulfate- and phthalate-free. (more…)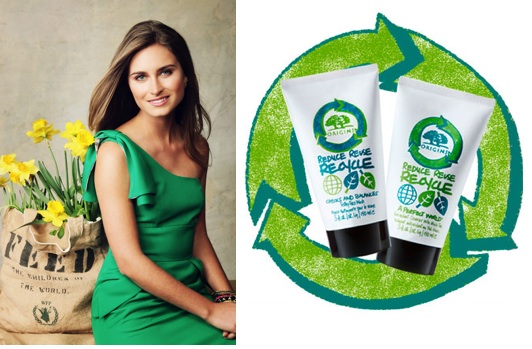 Earth Day 2011 Roundup: The Lazy Girl's Guide To Using Your Green To Go Green
Lauren Bush for Gilt.com and Origins skincare are both having green-themed sales in honor of Earth Day Didn't get a change to plant a tree today? We know you're busy, so we've rounded up some ways you can put your consumerism to good use. Alright, we admit it, we feel kind of hypocritical telling you to go out and purchase consumer items on Earth Day, but honestly, if you're in the mood to spend some green today, why not do so on products that are well, green. Gilt Groupe has a selection of eco-themed products for sale today, curated by Lauren Bush. Juicy Couture will donate $1 for every pair of "Peony" sunglasses (which are made from 55% renewable plant material) they sell. Elizabeth Arden is giving away a free eco-friendly tote for every purchase of a product from their Green Tea line, plus free shipping when you enter the code "GREEN." Origins is offering a free eco-friendly facial cleanser with any purchase of $30 or more, plus free shipping. Net-a-Porter's Runway to Green Collection is featured on the site today, which donates 10% of the proceeds to major environmental causes. Lavanila will plant one tree through the Nature Conservancy for every person who "likes" the brand's Facebook page.
Make The Switch! Order Some Eco-Friendly Laundry Detergent Before Your Next Laundry Day
There's probably not a mom out there who doesn't love smell of Dreft, but let's face it: it may be mild on your baby's skin, but on Mother Nature? Not so much. There are, however, eco-friendly laundry detergents that are milder on the planet and get your kid's clothes just as clean. Here are 4 to try for yourself. Seventh Generation is a leading brand in enviornmentally-friendly products and their baby detergent ($25) is made from plant-derived ingredients. It's also free of fragrances, dyes and optical brighteners. (more…)
Celebrate Easter With These Eco-Friendly Easter Basket Stuffers
Since Easter is in April and April is Earth Month, it follows that eco-friendly easter basket treats are in order. Here are some Easter basket stuffers that are sure to make the children happy without making a big impact on Mother Earth. [slideshow] During April we'll be highlighting luxurious, eco-friendly products for you and your baby every day. Follow the eco-friendly tag to see all our best "green" finds. Sign up for our newsletter for even more finds delivered right to your inbox. Click here to email Courtenay, the author of this post.
3 Of Our Favorite All-Natural Baby Shampoos (Because It's Too Early to Put Chemicals In Your Kid's Hair)
Like a lot of moms, I didn't have my "ah ha!" moment until after I had already been using some pretty crappy stuff to wash my daughter's hair. For the first few months I used Johnson's and then I got educated and found out there's all kinds of gross chemicals in that stuff. So although it means spending a few extra bucks, I now only use all-natural shampoo on my daughter's hair. And the difference is remarkable. If you can believe it, your baby's hair will be even softer and smell even more amazing. Yes, I know this says baby wash, but you can use Lavanila's Healthy Baby Wash ($16) on your baby's hair, too. And it's foaming so there's no risk of dripping. (more…)
Rest Easy By Putting Your Little One to Bed In a Pair of These Eco-Friendly Kids' Pajamas
Before you dress your little one for bed, remember that even the sweetest kids' pajamas might be made with chemicals and dyes. Don't want that stuff rubbing off on your child's skin? Then invest in a few pairs of these eco-friendly kids' pajamas instead. They're all made from luxe organic cotton and they're snug-fitting to meet safety requirements. Proof that eco-friendly PJs don't have to be boring, these stretchy Hanna Andersson PJs ($38) are available in 3 vibrant hues. (more…)