You Can Slim Down In These J.Crew Pants For Less Than $80
Here's What's Coming To J.Crew This Month—Yas!
Net-A-Porter Has So Much Cute J. Crew And Madwell Clothing On Sale For Crazy Cheap Right Now
Our secret place to score J. Crew and Madewell for crazy cheap right now? Net-A-Porter! I know it sounds odd, but Net-A-Porter is currently having one of their semi-annual sales, which means there's loads of goodness marked down up to 50% off. Including tons of cute J. Crew and Madewell scores! I'm talking shoes, tees, jeans and pretty tops starting at just $28. Snag some of this goodness ASAP before it's gone! J. Crew Everyday cotton shirt ($49, down from $70) J. Crew Off-the-shoulder striped cotton-jersey top ($56, down from $80) J. Crew Foster sequined gingham canvas ballet flats ($84, down from $140) Madewell Cold-shoulder cotton-piqué top ($49, down from $70) Madewell Cropped frayed mid-rise flared jeans ($91, down from $130) Don't miss our favorite colorblock swimsuits and Nordstrom's half-yearly sale. [Photo: Net-A-Porter]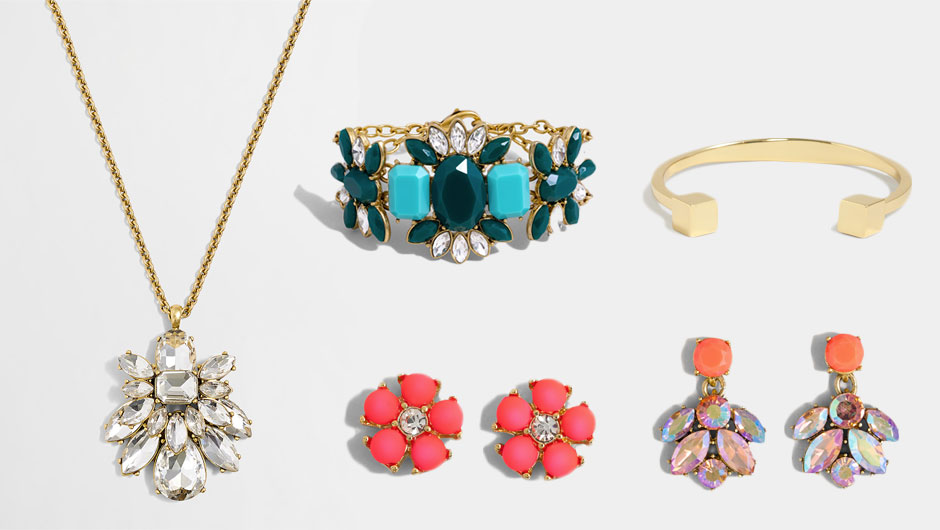 Drop Everything–J. Crew's Cult Jewelry Is On Sale For Just $9 #SpringStockUp
SHEfinds receives commissions for purchases made through the links in this post. If you're feeling bad because you don't have a ton of money to spend on a new spring wardrobe, turn that frown upside because I have amazing news. For starters, you don't need a ton of new dresses and sandals to freshen up your closet for spring. In fact, you don't really need any new clothes or shoes at all--just use jewelry! And everyone knows, few places do affordable jewelry better than J. Crew. Now before you start stressing over their prices being too steep, don't! We found an insane goldmine of gorgeous J. Crew jewelry for crazy, insanely cheap over at J. Crew Factory. I'm talking gorgeous, attention-grabbing pieces for just $9! Don't believe me? Check out all the stunning jewelry I found for $21 or less below. FACTORY ZIGZAG CRYSTAL EARRINGS ($9.99, down from $16.50) FACTORY CRYSTAL BASKETWEAVE BRACELET ($14.99, down from $29.50) FACTORY FLOWER STUD EARRINGS ($11, down from $22.50) FACTORY GOLDEN CUFF BRACELET ($11, down from $22.50) FACTORY CHEVRON CRYSTAL PENDANT NECKLACE ($18, down from $36.50) FACTORY CRYSTAL CLUSTER DROP EARRINGS ($13, down from $26.50) FACTORY MULTI-JEWELED BRACELET ($14.99, down from $34.50) FACTORY CRYSTAL BEETLE PENDANT NECKLACE ($19.50, down from $39.50) FACTORY CRYSTAL DOT STUD EARRINGS ($9.99, down from $22.50) FACTORY STONE CENTERPIECE BRACELET ($19.99, down from $29.50) FACTORY BEADED MOON TASSEL PENDANT NECKLACE ($21, down from $42.50) FACTORY PINBALL STUD EARRINGS ($9, down from $18.50) SHOP THE J. CREW FACTORY JEWELRY SALE NOW  Don't miss Forever 21's huge spring sale and how to wear a trench coat.
Today Only! Get An Extra 30% Off Spring Sale Styles At J.Crew
SHEfinds receives commissions for purchases made through the links in this post. What's better than a J. Crew sale? A J.Crew sale-on-sale! Today only, both in store and online, all J. Crew spring sale items are 30% off their sale price, and final sale items are 50% off! Use the code SHOPSALE at checkout to reap your deep discount. Happy hunting! SHOP NOW Faux-leather pleated mini skirt ($89.99, down from $129.99 — plus an extra 50% off with code SHOPSALE) Don't forget to check out: Shop All Of Gigi Hadid's Favorite Items #YoureWelcome and Here's The Code You Need To Access Shopbop's Friends & Family Sale Before Everyone Else [Photo: J.Crew]
Today Is The Last Day To Save 25% Off Over 800 Spring Styles At J.Crew
SHEfinds receives commissions for purchases made through the links in this post. There are over 800 spring essentials on sale at J.Crew! Today is the last day to save 25% on all your warm-weather necessities. Plus, take an extra 30% off sale styles with code NEWNEW at checkout. Now is the time to save on shirts, jeans, dresses, shoes and more. Drapey Chambray Shirtdress ($73.50, down from $98) SHOP ALL SPRING STYLES Don't miss your chance to win a $1,000 shopping spree at DL1961 and shop this gorgeous suede jacket for $75! [Photo: J.Crew]
The Clearance Section At J. Crew Factory Is Loaded With Bright March Must-Haves
If you're craving a little more color in your winter-to-spring wardrobe, get over to J. Crew Factory ASAP. Not only do they have tons of bright transitional items like ballet flats and dresses, but they're all seriously on sale! I'm talking up to 65% off original prices! Shop our picks below: FACTORY POCKET SHIFT DRESS ($39.99, down from $98) FACTORY TWO-TONE CLASSIC BALLET FLATS ($48.99, down from $98) FACTORY PENCIL SKIRT IN DOUBLE-SERGE WOOL ($43.99, down from $89.50) FACTORY NEON SERVING TRAY ($9.99, down from $59.50) FACTORY 4-POCKET SHIRT-JACKET IN DENIM ($39.99, down from $89.50) SHOP J. CREW FACTORY NOW [Photo: J. Crew Factory]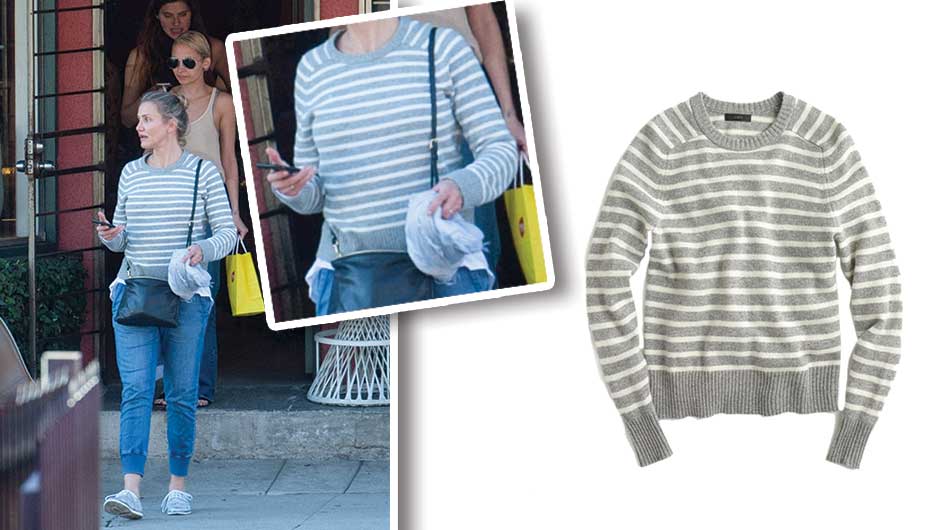 Cameron Diaz's J.Crew Sweater Is Under $35 And There Are Only 2 Sizes Left #Hurry
Cameron Diaz was out and about in Los Angeles shopping with her sister-in-law Nicole Richie. She looked laid back and casual wearing a pair of baggy boyfriend jeans, sneakers and a J.Crew Holly Sweater in Stripe ($34.99, down from $69.50). This sweater is the perfect item to throw on while shopping or running errands. It's only available in two more sizes so buy it before it sells out for good! Shop below. J.Crew Holly Sweater in Stripe ($34.99, down from $69.50) Don't miss Reese Witherspoon's must-have hat and where to buy the necklaces from Beyoncé's "Formation" video! [Photo: Splash News]
J.Crew Socks Are Like Mini Blankets For Your Feet, Seriously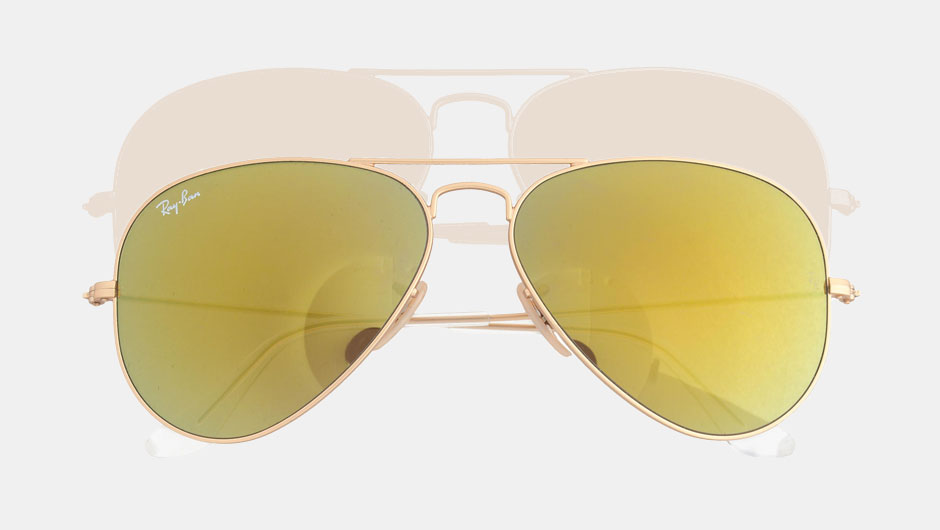 Need A New Pair Of Sunglasses? These Ray-Ban Aviators Are Yours For Under $65
No matter what time of year it is, you can always use a pair of new sunglasses. Currently, at J.Crew, you can take an extra 50% off final sale styles, which obviously means fantastic deals. Take this deal, for instance: you can buy these classic Ray-Ban aviators for just $64.99! Yes, a pair of Ray-Bans for under $150 is truly happening. You can bet this item won't last long, so head over to J.Crew and add them to your shopping cart! Use code SHOPSALE at checkout. Ray-Ban Aviator Sunglasses with Mirror Lenses ($64.99, down from $160) SHOP J.CREW SALE NOW Don't miss 23 different ways to wear ankle boots and shop Bella Hadid's cool black leggings! [Photo: J.Crew]
A Pair Of J.Crew's Best Boots Can Be Yours For Under $85 #NoJoke
This shopping deal is as close as you're gonna get to winning Powerball. Right now at J.Crew sale items are an extra 40%-50% off, which means serious savings. One of my favorite items on sale is one of J.Crew's best-selling boots: the Chelsea Boot. You can buy these boots for less than $85! I know a pair of genuine leather boots for under $100 is unheard of, but this deal is totally legit. Buy yourself a pair below before they're all sold out! Use code MUSTSHOP at checkout. Chelsea Boots ($83.99, down from $238) Don't miss your chance to buy Kate Middleton's favorite coats on sale and see Katy Perry without any makeup! [Photo: J.Crew]
Psst! J.Crew's 'In Good Company' Section Is The Best Place To Find Great Gifts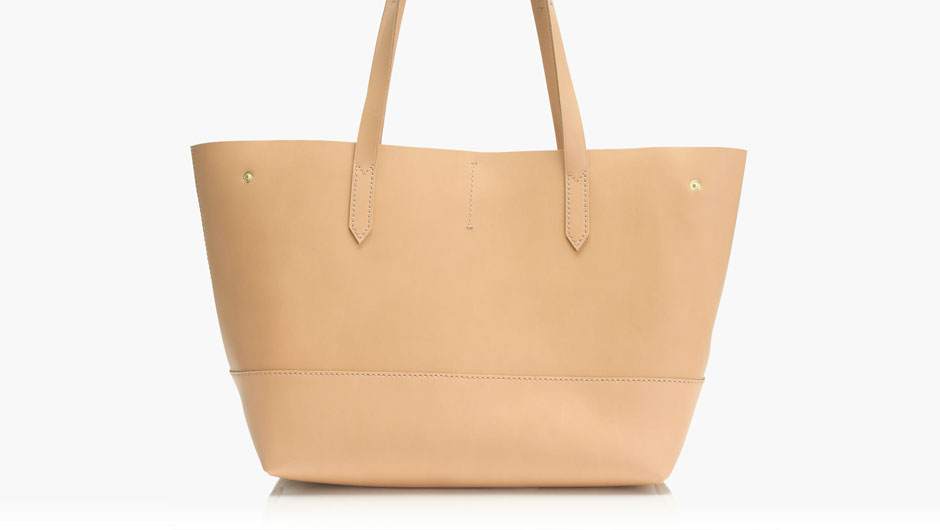 This Must-Have J.Crew Tote Is Under $85, Plus Take 30% Off Your Entire Order
J.Crew has been having a different sale each day this week. Today you can save 30% off your order, plus an extra 40%-50% off sale styles. J.Crew has really great leather totes and one of them is on sale for under $85! The New Uptown Tote is the must-have bag for anyone who commutes because it's the ideal size and super versatile. Use code THURSDAY at checkout. START SHOPPING New Uptown Tote ($83.99, down from $178) Don't miss your chance to save up to 50% off at Loeffler Randall and shop the best beauty gift sets under $50! [Photo: New Uptown Tote]
Just Consider J. Crew The Monogrammed Gift Headquarters This Holiday Season
The easiest way to take a gift from ordinary to extraordinary in an instant? Add a monogram, duh! And when it comes to amazing monogrammed options, few sites do it better than J. Crew. And just in time for the holidays, they just introduced the most epic holiday monogram shop! From oxford shirts to leather handbags, there are so many amazing items that you can now personalize... and for just an additional $10. If you're trying to check people off your holiday gift shopping list, allow us to help. This cashmere hat and the matching gloves would look amazing with your BFFs initials. The gift any mom is sure to love? This universally-flattering cardigan personalized with her initials. And if you need a gift that really wows, look no further than this luxe leather clutch made even more special with a monogram. Feeling inspired? Start shopping then! Monogrammed gifts take a bit longer to ship, so waiting until the last minute is definitely not an option. SHOP MONOGRAMMED GIFTS AT J. CREW NOW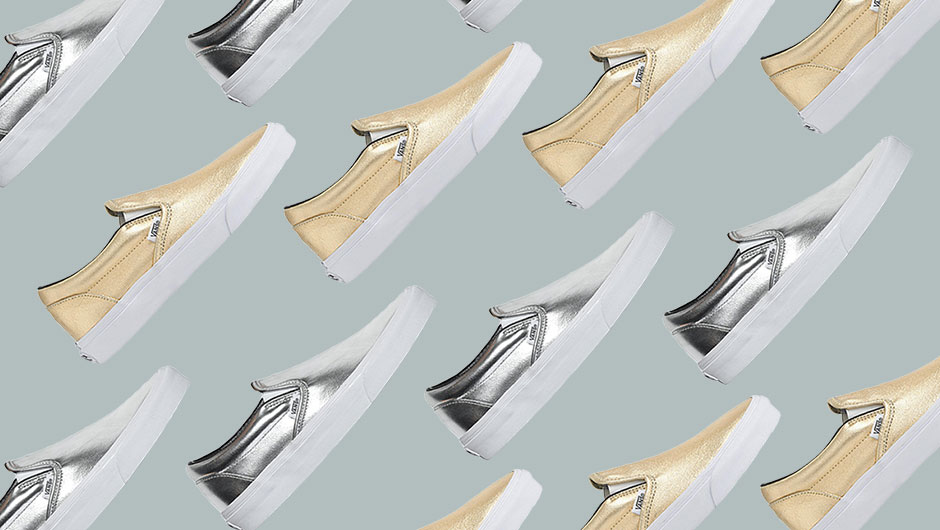 Here's Your Chance To Buy Slip-On Vans, J.Crew Has Them For Just $33
Slip-on sneakers are a must-have for any girl's wardrobe...especially Vans. They are practical, stylish and comfy. If you've been wanting a pair of slip-on Vans, now is your chance to buy them because J.Crew has two awesome pairs on sale for under $35! These definitely won't last long, so buy your size before they are completely sold out! Vans for J.Crew Classic Slip-On Sneakers in Metallic ($33.74, down from $60) Don't miss the best tech gifts to buy every woman this holiday and here is Target's Black Friday promotional strategy! [Photo: Vans for J.Crew Classic Slip-On Sneakers]
11 Facts You Never Knew About J. Crew
Treat Yourself To Three Sales Happening At J.Crew Today–Including 25% Off Your Purchase
It's a good day when J.Crew has a sale, but it's a phenomenal day when J.Crew has three sales! Yes, that's right. J.Crew currently has three epic sales going on. Here's what they are: 25% off full-price styles, extra 40% off final sale items and an extra 50% off select final sale items. Use code SALETREAT for the ultimate savings. Plus, free shipping for today only! SHOP NOW Lace Applique Sweater ($96, down from $128)  Toothpick Jean ($86.25, down from $115) Don't miss your chance to buy Kourtney Kardashian's rag + bone fedora and these are the best "As Seen On TV" products! [Photo: Double-Cloth Collarless Coat, Stadium-Cloth Cocoon Coat, Classic Felt Hat with Leather Band, Leather Envelope Clutch]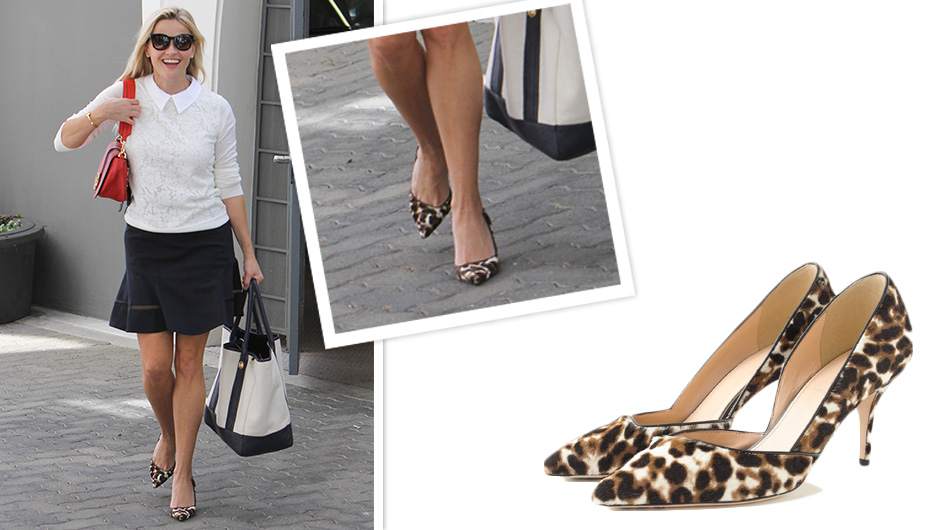 Reese Witherspoon's J. Crew Heels Are Still Available In Almost Every Size!
Consider this our way of sounding the alarm. Reese Witherspoon always looks amazing, but that's usually because she's wearing some fancy, schmancy designer item. Not this time, though. Reese was spotted out and about in L.A. wearing shoes from J. Crew! Yes, really! Those leopard print pumps on her feet are the J. Crew Collection Colette calf hair d'Orsay pumps ($378), which are currently still in stock in almost every size. Get to it! J. Crew Collection Colette calf hair d'Orsay pumps ($378) Don't miss Kerry Washington's leather jacket and Gigi Hadid's cool circle bag. [Photo: Splash News]
J.Crew's Beloved Cece Ballet Flat Is 30% Off For Today Only!
In honor of fall, J.Crew is letting customers enjoy a surprise sale each day this week. Today's surprise sale is an extra 30% off your entire purchase! That means your favorite J.Crew items are an extra 30% off for today only. Yes, even the coveted Cece Ballet Flat. Use code DAYTHREE at checkout! SHOP NOW Cece Ballet Flat ($87.50, down from $125) Don't miss an extra 20% at the Outnet for today only and shop Anne Hathaway's cool "lips" blouse! [Photo: Cece Ballet Flat]
J.Crew Fans: Mark Your Calendars For September 14
It's no secret that J.Crew has been struggling to make customers happy recently. In a conference call to analysts yesterday, CEO Mickey Drexler announced the company would be focusing more on their "heritage" items like the ballet flats, the Jackie cardigans, the Regent blazers and cashmere, plus washed shirts and denim. According to WWD, the new delivery is set to hit store floors on September 14. "Entering fall, we feel good about the assortments in stores and online, which reflect more emphasis on the key product categories that our customers love J. Crew for," Drexler said. "At the same time, our team has taken a hard look at the business and made changes to drive greater efficiency and profitability. We're focused on our performance in the second half of the year and positioning the business for sustained growth." J.Crew will also not be putting so much attention on J.Crew Collection products, which has been their focus over the past few years to increase press attention and visibility to J.Crew's creative director Jenna Lyons. Drexler did stress, however, "calibration of product, not a change in direction." Well, this is exciting! Don't miss Jenna Lyons' career advice and Madewell recalls over 50,000 sandals! [Photo: Flickr]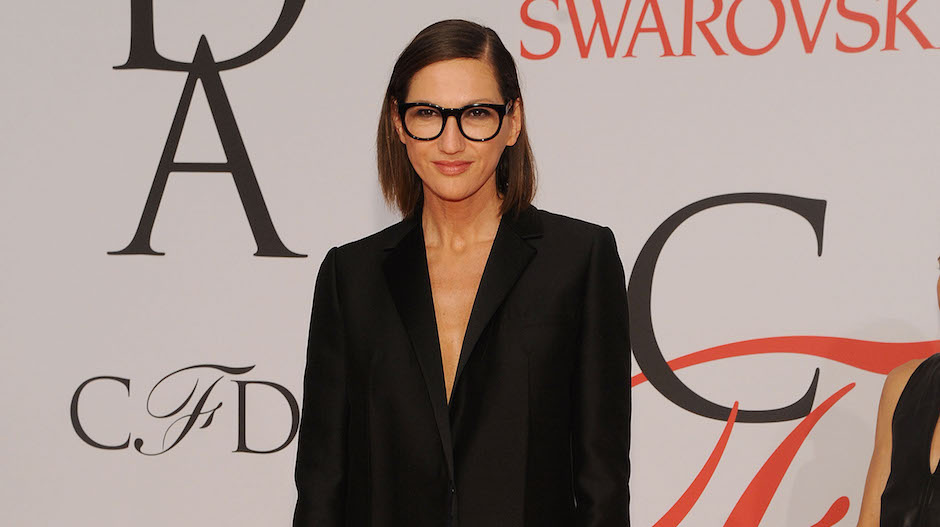 If You Want A Job At J.Crew This Is What You Shouldn't Do
When most people think of J.Crew they think of their classic and preppy clothes, and others think of Jenna Lyons. For those of you who don't know, Jenna Lyons is the executive creative director at J.Crew so she's kind of a big deal. As Glamour's September cover girl, Jenna discusses career advice and what it takes to get a job at J.Crew. When asked about advice for a woman who wants to work for her, Jenna responded, "Send me some of your work or a nice letter, and tell me why you're interested in working here. Don't send me an email.... You have to be old-school. Be professional." And if you want a promotion, just be you. "The person who makes herself indispensable, that's the person you want to promote. But when someone comes in and starts asking—it's such a disease. Demanding, "I've done all this and I want X," doesn't work for me so much. [Instead] ask questions: "I'm ready to take it to the next step. What is it that I can do better?" That, to me, is an engaged, collaborative way to get somebody to the next level. You're not going to get there just because you think you're ready or because someone else got promoted. We don't sit here and create a scale where we carefully ratchet everyone up evenly. Because if that were the case, we'd all be drones. No one is a drone.... You are you," Jenna said. It's nice to know some people still appreciate an old school way of applying to jobs. Read Jenna's full Glamour interview. Don't miss these Rag & Bone jeans for under $100 and shop the best shoes for commuting! [Photo: Splash News]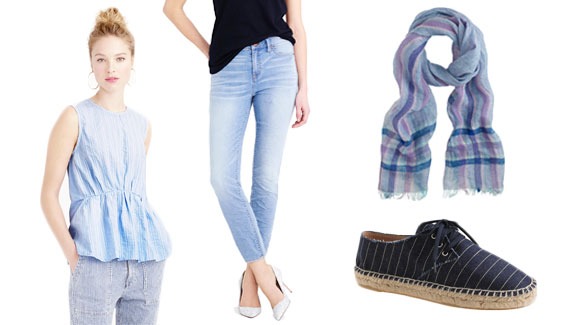 Select Sale Items At J.Crew Are An Additional 75% Off–No, This Isn't A Joke
I know it's Monday and all but here's your saving grace: select sale items at J.Crew are an extra 75% off! This sale is online only and applies to select final sale styles. In addition, select full-price styles are an extra 40% off. For both offers, use code: SUMMERSALE at checkout. SHOP NOW Don't miss 15 headbands that will solve your summer hair problems and shop Karlie Kloss' classic and cool sneakers! [Photo: Cinched Tank Top, Lookout High-Rise Crop Jean, Italian Linen Scarf, Printed Lace-Up Espadrilles]
J.Crew Announces A New Budget-Friendly Store Called J.Crew Mercantile
Good news, J.Crew fans! The retailer recently announced the opening of a brand new, budget-friendly store called J.Crew Mercantile. This is a step in the right direction after J.Crew has faced recent backlash regarding their prices and product quality. According to the company's official statement, J.Crew Mercantile will feature clothes that were "once only available in J.Crew Factory stores." Customers can shop J.Crew Mercantile on the J.Crew Factory website and at their first retail location in Dallas, Texas, opening in late July. The company plans to add additional J.Crew Mercantile shops as well. It will "feature a collection of value-driven merchandise with classic J.Crew style for women, men and children." How exciting! I hope they open stores in New York soon. UPDATE: J.Crew has opened the very first Mercantile store in Dallas as of today, July 22. According to Racked, stores include "options included women's, men's, and children's sections as well as a women's petite section. J.Crew Mercantile's store selection in Dallas offered jewelry, shoes, and sunglasses, as well as grab-bag items like to-go cups and "kits of fake mustaches." Shoppers seemed happy with the overall results. Here's a peek at what the outside of the store looks like: https://twitter.com/MariaHalkias/status/623896326938296320 Don't miss Eddie Borgo for Target is here and shop the best and brightest printed dresses for summer! [Photo: Mike Mozart, Flickr]
Take An Extra 60% Off Selected J Crew Items–Permission To Freak Out
Umm...J Crew is having a killer sale right now. You can buy selected sale items for an extra 60% off! I know, I know. Sales like this don't come very often, so take advantage of it! Use code: SUMMERSTYLE at checkout for the extra (and amazing!) savings. SHOP NOW Don't miss 3 no-fail outfit ideas for your next summer date and get Gigi Hadid's awesome platform sneakers! [Photo: Henley Tank Dress, Stacked Sequin Sweater, Lockout High-Rise Jean]
Hack J Crew's Sales Using This Website–You're Welcome
There's a new website called ThreadStats that basically stalks every J Crew product and alerts you when something is lowered (or raised) in price. Say it isn't so! Prices are updated daily and 100% accuracy is guaranteed. ThreadStats even lets shoppers get alerts about a specific product they've been keeping an eye on. You can search by percentage off, material, fit type, price range and 30-day low, which means it "flags items that are at their lowest advertised price over the previous 30 days," explains Business Insider, who was the first to report this awesome site. "The J.Crew store was one of his favorite places to shop, but it was difficult to figure out the right way and time to buy clothes there, and not end up spending a fortune," it states on the company website. "As a result, he had to use trial and error to get the things he wanted, and for the most sensible price. After a while, he realized that there is demand for creating something that will help other people make similar choices. As a result, this project was born after several months of work." Ladies, you must bookmark this site. Don't miss Melissa Rivers is co-hosting Fashion Police and Madonna's new music video is not what we imagined! [Photo: Mike Mozart, Flickr]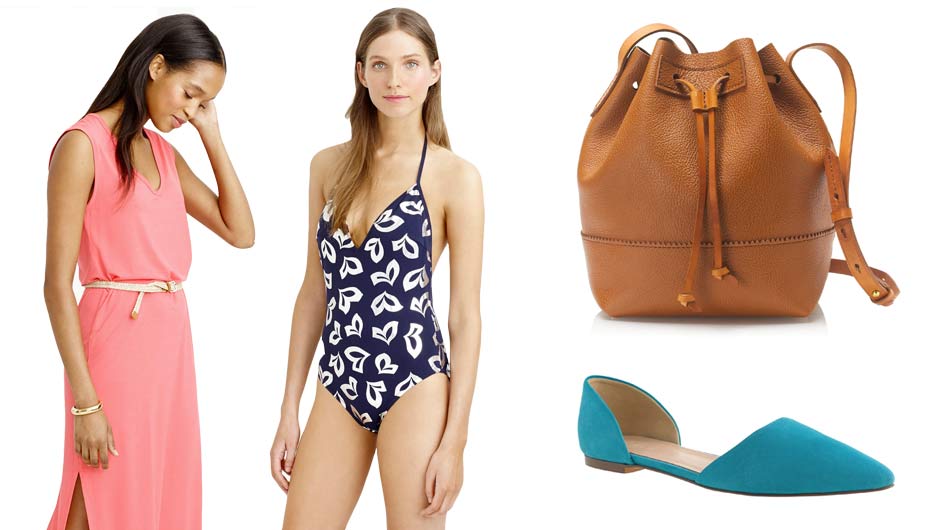 Monday Just Got Tolerable: J.Crew's One-Day Online Sale Started
When J Crew is having a sale, you really have to take advantage of it. Save up to 30% off women's styles (including sale items) online only until midnight! Shop from dresses, denim, shoes, shorts and more! Use code: SHOPNOW at checkout. SHOP NOW Don't miss 28 Chanel bags you can buy online right now and Kim Kardashian's maxi dress is on sale right now! [Photo: Maxi Tank Dress, Metallic Hearts V-Halter One-Piece Swimsuit, Downing Bucket Bag, Suede D'Orsay Flats]
J.Crew Changed The Cece Ballet Flat & Customers Are Not Happy About It
J.Crew made a huge mistake and customers aren't taking it lightly. Before 2014, the preppy retailer was at the top of its game, producing women's clothing in bright colors with flattering silhouettes, and focusing on keeping the shoppers happy. Fast forward a year or so later, and J.Crew seems to have lost its magic touch. Gone are the timeless designs and, most importantly, the must-have ballet flat: Cece. J.Crew not only muddled with its classic women's clothing, but also the acclaimed, customer favorite Cece ballet flat. Cece flats were made in Italy with buttery soft leather, and customers absolutely swore by them. However, after being discontinued in 2014 and then brought back, the ballet flats are now made in America and aren't as good of quality. One customer review noted, "These aren't the same as the old (pre-2014) Cece flats. The leather is lower quality: not as buttery soft as before and stretches out too easily." J.Crew's CEO Mickey Drexler acknowledged the company's "missteps" in women's fashion. He says, "An iPhone looks like an iPhone. And I don't think J.Crew women's looked like J.Crew women's as much as it could have, nor do I think that we marketed it and messaged it as well as we could have." J.Crew noted the style problems and its design team is already hard at work "bringing back more color and refocusing on cool, classic clothes." Hopefully they bring back the old Cece, too! Don't miss 11 celebs in great shape on the cover of fitness magazines and order this Beyoncé-designed shirt to support kids in Haiti! [Photo: Flickr]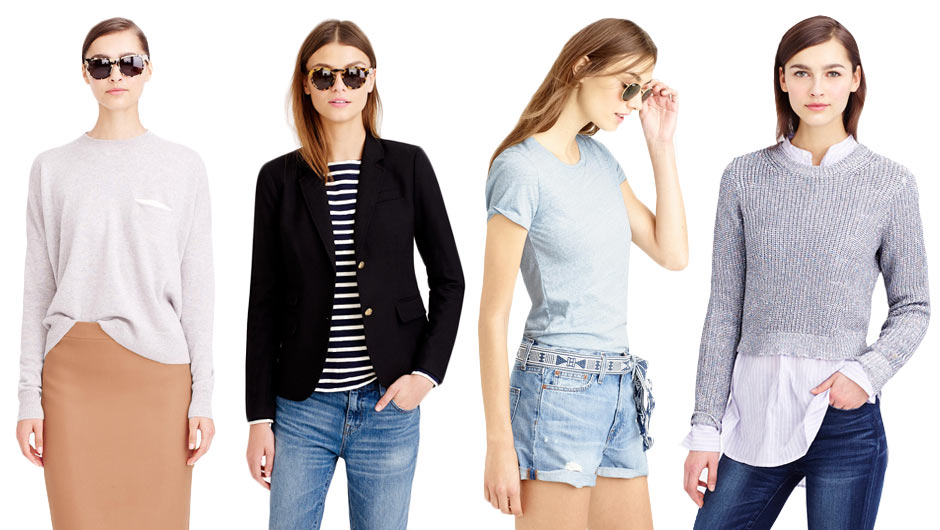 Get An Extra 40% Off Spring Items At J.Crew With This Code
Even though spring just started, J.Crew already put a ton of seasonal items on sale. This news is good--but what's even better is that all the clothing, shoes and accessories on sale are now an extra 40% off. Hooray! Stock up on everything you need for the next couple of months (tees, shorts, sandals), plus timeless basics like this Schoolboy Blazer. Just enter the code SALETHERAPY at checkout and watch the prices go down. SHOP NOW Don't forget to check out: Lord & Taylor's new activewear shop, Rihanna's pizza bikini and 20% off sandals at Amazon [Photo: No. 2 Pencil Skirt In Double-Serge Wool, Schoolboy Blazer in Black, Speckled Cotton Tee, Ribbed Shimmer Sweater]
Mondays Aren't So Bad, Especially When Sale Items At J. Crew Are An Additional 50% Off
J. Crew must know how much Mondays after a holiday weekend suck because they just announced the best pick-me-up ever; final sale items are now an extra 50% off with code SHOPNOW at checkout. That means you're getting another half off those already-reduced prices on shoes, jewelry, dresses, shorts and more. Obviously we're thinking spring, but if you're a planner allow us to point you in the direction of these amazing tall black boots, this super cheap puffer jacket and this festive fair isle sweater. You may not get much use out of them now, but you could totally save them until next fall/winter since these prices are unbeatable. The sale ends tomorrow, so make it your business to shop today! SHOP THE J.CREW SPRING SALE NOW! Be sure to check out Jonathan Adler's new sunglasses collection, how to get custom Kendra Scott jewelry and Kristin Cavallari's off-the-shoulder top. [Photo: Metropolitan ankle boots; Hinged choker; Sleeveless side-zip top; Tile print short]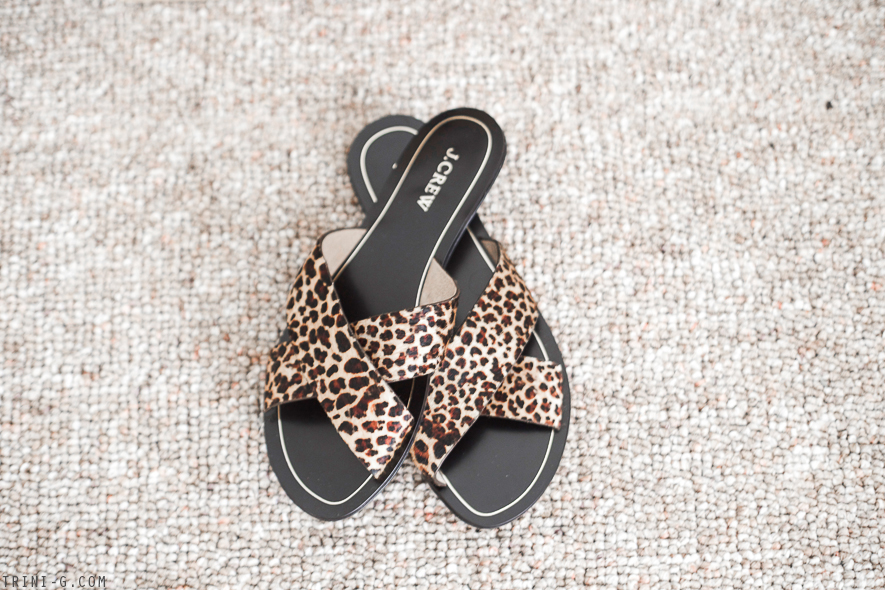 These New J.Crew Slides Are For Leopard Lovers
I'm a leopard lover, so when I came across these new J.Crew slide sandals on one of my favorite style blogs  Trini G, they immediately took a place on my spring shopping list. I'll probably wear them with cropped black pants and colorful skirts. Will you be joining me? J.Crew's Cyprus Calf Hair Sandals are even on sale--get them for 30% off with code SPRINGSTYLE. [Photo: Trini G]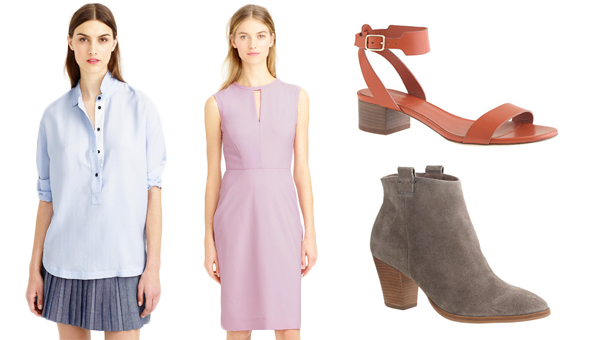 Get An Extra 30% Off Spring Sale Items At J.Crew Before The Season Even Starts
This is not a drill, guys: spring is just around the corner. Looking for a way to celebrate? How does shopping J.Crew's spring sale sound to you? From now through the weekend, you can take an extra 30% off select spring sale items when you use the code SPRINGSALE. Shop the season's biggest trends, including everything from popover tops and maxi dresses to ankle boots and low, chunky heels. Act fast before all the good things are gone! SHOP THE J.CREW SALE NOW And don't forget to check out: Jennifer Garner's booties, why Fashion Police is going on hiatus and Jessica Alba's French Connection pants [Photo: Petite Drapey Oxford Crepe Popover, Keyhole Dress in Italian Stretch Wool, Evie Midheel Sandals, Eaton Suede Ankle Boots]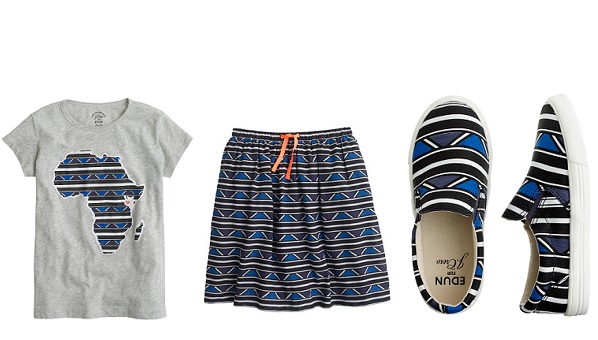 The Crewcuts Collabs Just Keep Coming–Shop EDUN For J. Crew Now
Let me just say, this is a good time to be a kid. Not only did J. Crew recently team up with the American Museum of Natural History on a collection of kids tees, but they just debuted a brand new Crewcuts collab with EDUN. The 7-piece collection marks the first time EDUN has ventured into childrenswear and it's all for a great cause; 50% of the proceeds from the EDUN for J. Crew line will be used to benefit St. Ann's Orphanage in Kenya. Here's what Jenny Cooper, the head designer for Crewcuts had to say about the collab: "Designed by Danielle Sherman for EDUN, the collection uses classic "crewcut" shapes as the basis for each piece. Each clothing item from the collaboration has been constructed at a factory located close to St Ann's Orphanage in Nakuru, Kenya. As the factory also produces school uniforms for children, they introduced EDUN to St Ann's Orphanage and a partnership was subsequently established for several fundraising projects. With this collection, the fact that "crewcuts" is supporting commerce, manufacturing and education in Africa is extremely important to us." Be the first to shop these stunning pieces by clicking through the slideshow. SHOP EDUN FOR J.CREW NOW Shop cute cricket sweaters, plus The Outnet's clearance sale.
J. Crew Just Debuted An Exclusive Collection Of Iconic Lacoste Polo Shirts
Just in time for spring, J. Crew just debuted a new collab with iconic French clothing company, Lacoste. For a limited-time only J. Crew will be selling brand's signature polo shirts that all bear an exclusive 1983 archive version of the Lacoste alligator logo in blue. The shirts are available for women, men, children and even babies. Of the new collab, Tom Mora, head of women's design J. Crew said, "Lacoste is an iconic heritage brand with a long company history which we admire. We were honored to collaborate with the Lacoste team to bring back  an archival crocodile which will be exclusively for J.Crew." Click through the slideshow to shop the shirts before they're gone. Be sure to check out the Nordstrom clearance sale, splurge-worthy designer bags and Reese Witherspoon's skinny jeans.
J.Crew's Annual Wedding Event Is ON: 20% Off Gowns, Bridesmaid Dresses, More
Is it a coincidence that J.Crew is running their annual wedding event just after Valentine's Day? Probably not. Okay, definitely not--the code to get 20% off is LOVE! If you're a lucky lady whose man recently put a ring on it, this sale is for you. Gowns, bridesmaids dresses, bridal accessories and even flower girl outfits are all marked down. The sale is running from now until March 3rd, so don't miss out! Like we said, it only happens once a year. SHOP THE J.CREW WEDDING EVENT NOW Don't forget to check out: SJP's sweatpants, Lady Gaga is engaged and shop fuzzy sweaters
Get Over To J. Crew Immediately–Select Sale Items Are An Additional 50% Off
Calling all J. Crew addicts! Select sale items are an additional 50% off with code FINDAFAVE at checkout. Yes, that mean you're getting an additional half off on top of the already-reduced price! Obviously, you should first check out the 50% off sale items, but don't checkout without taking a peek at sale items that are an additional 40% off. There are loads of good deals there, too. SHOP THE MASSIVE J. CREW SALE NOW! Editor's Picks: Paneled lace sweatshirt; Collection shiny puffer jacket; Sequin side-stripe shirt Don't miss the rag & bone boot sale, plus designer scarves on sale.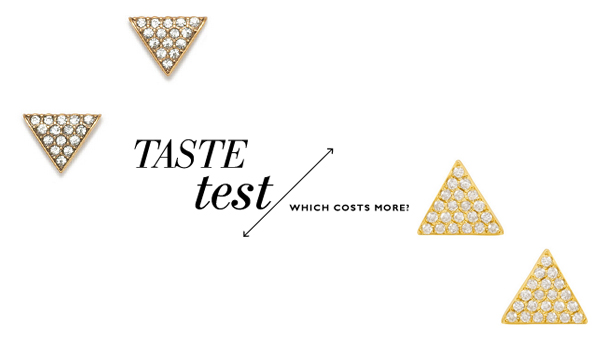 Can You Tell Which Triangle Stud Earrings Cost $1,525 More Than The Other?
Anita Ko really hit it big this year. In fact, she's on our list of fine jewelry designers you need to know. All of her gold pieces have just the right amount of shine without going too over the top. Just be prepared to shell out upwards of $400 for her earrings, rings, bracelets and necklaces. Oh, you're not? That's okay, we found a set of earrings that are identical to Ko's triangle gold diamond studs...for, like, a sixteenth of the price. You'll have to sacrifice the real diamonds for crystals, but as they say, you win some you lose some, right? Can you tell which triangle stud earrings cost more than the other? Answer: The Crystal Triangle Earrings ($24.99, down from $48) from J.Crew are on the left, and the Triangle 18-Karat Gold Diamond Earrings ($1,550) by Anita Ko are on the right. Did you guess correctly? Which do you like more? Let us know in the comments below! For more Taste Tests, check out: platform slip-ons, collar necklaces and metallic moccasins
J. Crew's Bestselling Cece Flats Are Back By Popular Demand
J. Crew is beloved for many reasons, but here's one you may not have been aware of--their Cece ballet flats. Apparently these shoes have a cult following, so much so that J. Crew was pretty much forced to bring them back in new colors because they were inundated with emails, phone calls, tweets and in-store requests. So what makes them so popular? Well for starters, you can tell just from looking at them that they're a perfect everyday shoe. They're easy to toss into your bag when you want a pair of comfy shoes handy, but still sturdy enough to offer foot support. They also have tons of small details that ensure a perfect fit like the elasticized front, the cushioned insole and flexible rubber soles. They're basically the perfect ballet flats for just $125, so go get a pair before the fanatics buy them all up (again). SHOP J. CREW'S CECE FLATS NOW! Be sure to check out Khloe Kardashian's plaid jacket and Nordstrom's massive clearance sale.
Score J. Crew's Cult Jewelry For Less Than $20 Today
Right now J. Crew is offering an additional 40% off sale items, which means you can get tons of great gifts--for yourself and others for less than $20. Don't believe me? You have to see all the amazing jewelry you can get for less than $20! We're in love with these triangle stud earrings that are only $18: Crystal triangle stud earrings ($18, down from $48) But that's not all--there's an amazing fedora on sale for less than $20, shearling slippers for $18, plus tons of amazing tees and swimwear. Click through the slideshow to see all our under -$20 gift picks, then head over to jcrew.com to start shopping. Be sure to use code GIFTNOW at checkout. SHOP J. CREW'S JEWLERY ON SALE NOW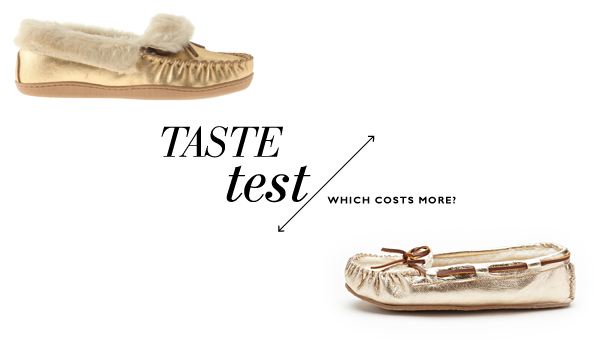 Can You Tell Which Metallic Moccasins Are Forever 21 And Which Are J. Crew?
Comfy and cozy slippers are the cherry on top of a layered-up outfit ready to laze around at home this winter. But instead of the usual neutral-toned materials that color your trusty pair of moccasins, why not mix things up a bit with a hint of metallic? The gilded accent will turn your hoodie and sweats look from drab to fab. After browsing online for our own pair, we realized that a lot of labels are churning out super similar designs. Can you tell which metallic moccs are Forever 21 and which are J. Crew? Answer: The Metallic Faux Leather Moccasin on the right is Forever 21 ($19.90) and the Women's Metallic Shearling Lodge Moccasin on the left is J.Crew ($45, from $55). Now can you tell the difference? For more Taste Test challenges, check out these lace-up heels, Santa sweaters, and plaid ponchos.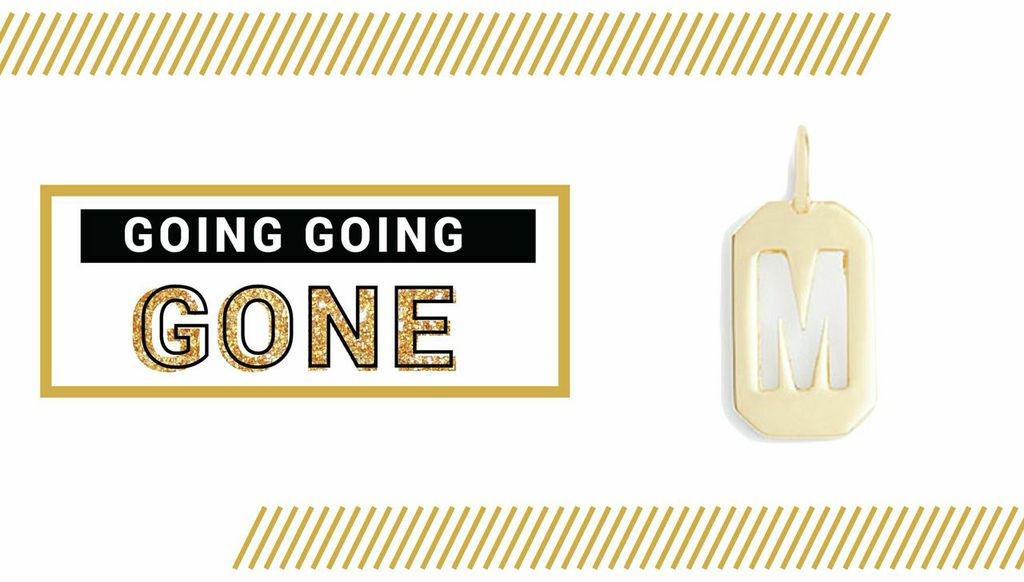 Finally! A Budget-Friendly Jennifer Fisher Tag Charm, Thanks To J. Crew
When Jennifer Fisher announced her collaboration with J. Crew, we couldn't hold our excitement that jewelry designer's signature charms and pendants were finally available to the masses. Now, we could finally add a piece of celebrity-coveted jewelry to our own collection. So when it comes to finding the perfect jewelry gift with a personal touch, we suggest the Jennifer Fisher for J. Crew Letter Tag ($345). After all, the entire collection by Fisher herself stemmed from the idea of making a chic dog tag to commemorate the birth of her first son. There are only a few lucky letters that are available (K, C, A, M, S, and J) from the collab, so we suggest you get yours now before they're all gone. GET THE JENNIFER FISHER FOR J. CREW LETTER TAG NOW
This Is One Way To Get Warm: 25% Off J.Crew's Iconic Winter Coats
J.Crew is running a sale on "fall favorites" today, which is really a misnomer because of all the delicious winter essentials on the list--like a bevvy of warm winter jackets in every shade, style and material. They've got toggle tweed coats, boxy wool coats, bright red peacoats--and even this classic trench that we just featured in our best trenches round-up. J.Crew does winter coats so well, and they are so iconic, that I'm a little surprised they are marked down at the beginning of the season--but, oh well! I won't bite the hand that feeds. SHOP J.CREW'S GET WARM SALE NOW
Sophia Webster & J.Crew Just Dropped A Holiday Collection
Remember back in February when we told you Sophia Webster & J.Crew were teaming up again. Well, we had no idea it was for a holiday collection!!! Seriously, these two can do no wrong. The 5-piece line just dropped today and styles are already sold out, like the Amma Pump ($695) pictured above. So click the slideshow to shop the rest of the collex before it's all gone. Think of it as a super early holiday gift to yourself (aka, how to justify all your purchases now-December 25th). SHOP SOPHIA WEBSTER FOR J.CREW NOW And don't forget to check out: 70% off at ASOS, celebrities caught shoplifting and how to ask your friends to be bridesmaids [Photo: J.Crew]
Get 25% Off At The DVF Friends And Family Sale & Save Up To 70% At 5 Other Stores
Today is the first day of the Diane Von Furstenberg friends and family sale and we're giving you the access code for major savings. With the code FALL25, you'll receive 25% off on full-price and sale items at dvf.com. Though I'm in love with the Mini Rail Quilted Leather Crossbody Bag, which is marked down to $261 (What a steal!), DVF also has plenty of dresses, shoes and outfits that you can get at a discount. Not a Diane kind of gal? Don't worry, there are five other great sales today including: 25% off on fall jackets, shoes and boots at J.Crew, up to 60% off at Nordstrom, up to 70% off designer items at Shopbop, 30% off dressy shoes at Steve Madden and and extra 15% off on sale items at Piperlime. Check out our finds from today's sales in the slideshow. It also has all of the coupon codes and links that will lead you to huge savings. For more deals, check out: 70% off at ASOS, 6 fall sales and $20 graphic tees.
Fall Is One Week Away–Get 25% Off On Everything You Need At J.Crew's Sale
J.Crew has one of the best fall collections we've seen this year, so when we found out that all of their sweaters, jeans and jackets were going to be on sale this week, you can't imagine how excited we were. From now until September 24th, you'll get 25% off select fall styles at J.Crew.com AND and extra 30% off of everything in the sale section with the code SHOPFORFALL. Since the 23rd is the official first day of fall, there is no better time than now to stock up on everything you'll need for the season. You only have one week to prepare yourself, so check out our picks from the sale in the slideshow or just click the link below to shop the entire site. SHOP THE J.CREW FALL SALE NOW And don't forget to check out: the best fall sales, Limited x Scandal and Altuzarra x Target.
Everything You Need For Fall Is 50% Off At J.Crew Right Now
Over the past week, retailers like Madewell, Old Navy, and Banana Republic, have been putting all of their sweaters on sale, but today, J.Crew took the savings to another level. Instead of just marking down fall apparel, J.Crew is discounting everything in their sale section. From today until September 14, you will get an extra 30-50% off on all sale items with the code EASYSALE. It's as simple as that. All you have to do is scroll through pages and pages of tops, tees, jackets, sweaters, jeans, and swimwear, pick what you want and type in the code. Forget stocking up for fall, J.Crew is helping you prepare for every season. So get on it! GET AN EXTRA 30-50% OFF AT THE J.CREW SALE NOW For more deals, check out: Beyonce's $19 top, 75% off at 6pm.com and extra 20% off at Bloomingdale's.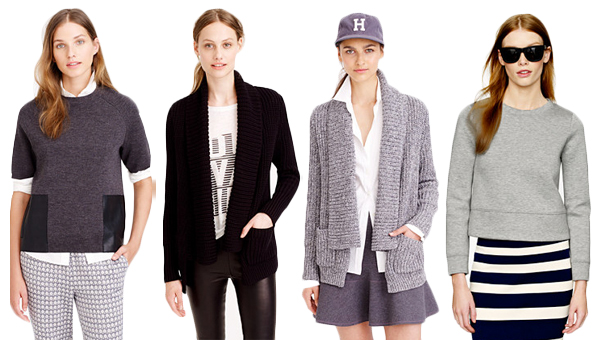 It's Only September 2nd And J.Crew's Fall Collection Is Already 25% Off
I'm not even going to lie. When I woke up this morning, I had a bad case of the post holiday weekend blues. But as soon as I checked my email, my mood took a turn for the better. Sitting right there in my inbox was the coupon code (SHOPTIME) for J.Crew's 25% off sale today. After shopping all 32 Labor Day sales, you're probably burnt out on buying everyone's left-overs from summer, but don't worry. This sale is different. From now until September 8th, all of J.Crew's fall "must-haves" are on sale including sweaters, tops, blouses, skirts, pants and jeans. This is a great opportunity to add to your fall wardrobe since everything is marked down. And if you haven't seen J.Crew's fall collection yet, I can assure your that you won't be able to resist. I couldn't. Also, don't forget to sign up for J.Crew's email list. You'll recieve info about all the sales like I did, and you'll get an extra 15% off for signing up! For more sales, be sure to check out: 32 Labor Day sales, rag & bone on sale and ASOS clearance.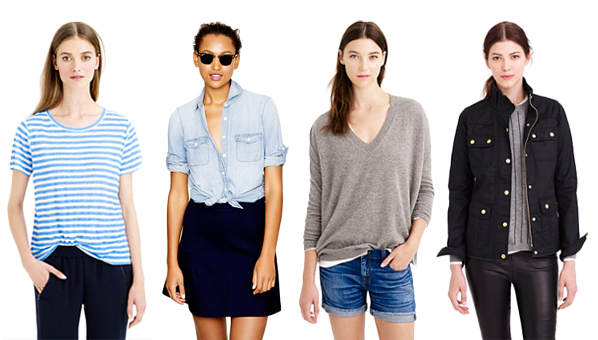 Hit Up J.Crew's Summer-To-Fall Sale With The Obvious Code NOWANDLATER
It's a weird time right now for shopping. You're over buying new bathing suits and sandals, but not quite ready to jump into fall. We get it. But when a good deal presents itself, like J.Crew's 25% off sale, all rational thought goes out the window. The store just marked down tons of items you can wear now through fall, like chambray shirts, light sweaters and cut out flats. All you have to do is type in the obvious code NOWANDLATER at checkout and watch the prices go down. It's that easy. Click the slideshow to see our picks and get to it before the sale ends this Thursday. SHOP THE J.CREW SALE NOW And don't forget to check out: August collaborations to know, 6 leather jackets that should be on your radar and Reese Witherspoon's dress is 50% off 
This Is Why J.Crew Released All Of Those Jewelry Collabs Last Week
Last week, we saw J.Crew jewelry collabs from Maya Brenner, Jennifer Fisher and Catbird. It's pretty rare for a retailer to launch more than one designer collection on the same day, let alone three, so we knew something was up. Turns out, not only did J.Crew launch their own fine jewelry line, they also teamed up with six other designers as well. So why fine jewelry now? Here's what we found out about the in-house line and the collaborations: First, J.Crew's 15-piece collection is nothing like the costume jewelry you're used to seeing from the brand. Instead, the 14K gold and rose gold signet rings, stackable bracelets, charm necklaces and hoop earrings have a more minimalistic vibe. Now, moving on to all those collaborations. J.Crew selected a group of 9 indie designers to partner with: Jennifer Fisher, BRVTVS, James Colarusso, Monica Rich, Mociun, Lulu Frost, Maya Brenner, Catbird and Gabriela Artigas. According to a press release from J.Crew, the store "wanted to create a full line of jewelry, separate from the more trendy pieces on the market right now." So they turned to these specific brands who are known for their simple, yet elegant designs. Now that you know about J.Crew's own fine jewelry line and all their partnerships, here's how it all connects. J.Crew wants this jewelry to be what you put on and never take off. Something that feels really special with a personal touch. All of the J.Crew pieces are engravable, and you can buy a Jennifer Fisher or Maya Brenner item with your initials. To sum things up: J.Crew did a multi-designer collab, launched their own collection AND made it all meaningful to the wearer. Now that's pretty maj. And it's no wonder they brand picked now to launch fine jewelry, sales online are looking up! Well, according to the Wall Street Journal. Click the slideshow to shop our fave pieces. SHOP J.CREW FINE JEWELRY NOW And don't forget to check out: ASOS's summer sale, the bracelet assistant and what Taylor Swift looks like "leaving the gym"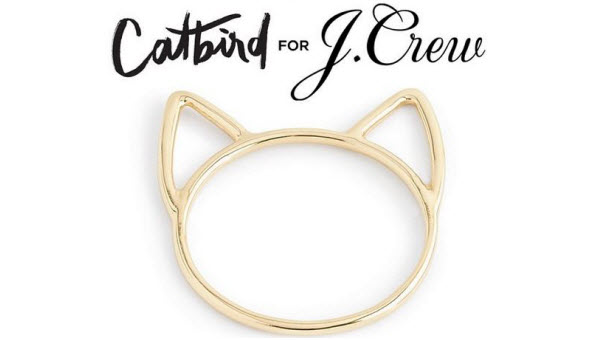 J.Crew Can't Stop, Won't Stop Doing Jewelry Collabs & The Latest Is With Catbird
Yesterday, J.Crew debuted not one, not two, but THREE new jewelry collaborations. Even we couldn't keep up! We knew about Maya Brenner ahead of time and Insta-stalked Jennifer Fisher, but the last one came out of nowhere. So our apologies for being a day late on this but it's too good not to write about. This collab comes courtesy of Catbird, the Williamsburg-based boutique that's known for their extremely dainty pieces. If you're not familar with this awesome brand (get to know them), think thin gold midi rings and tiny diamond stud earrings, aka the perfect everyday jewelry. J.Crew is now carrying 9 Catbird pieces, including the exclusive Gold Lovecat Ring ($242). So cute! SHOP CATBIRD AT J.CREW NOW And don't forget to check out: Celebrity style under $100, Starbuck's new app and the Fifty Shades Of Grey trailer [Photo: Instagram]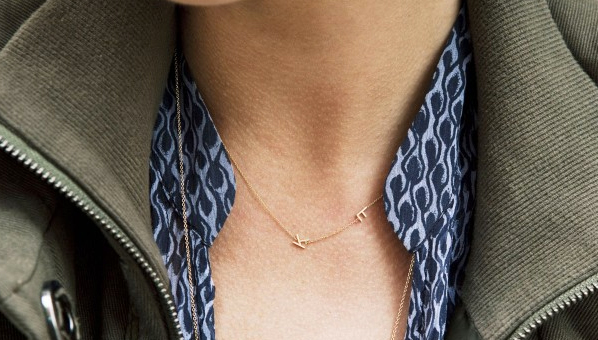 Maya Brenner, The Celeb-Approved Jewelry Brand, Is Now Sold At J.Crew
Maya Brenner is known for her simple, yet elegant jewelry worn by a ton of celebs. Girlfriend started her business inside her NYC apartment and now look at her! She's a mom and jeweler who sells to people like Reese Witherspoon, January Jones, Emma Roberts, Julianne Hough and so many more. Now if you don't know who we're talking about yet, Maya Brenner is the genius behind those very simple state necklaces and the asymmetrical letter necklaces. Yeah, that's who Brenner is. And now, you can find her jewelry at J.Crew! You can shop the Maya Brenner 14K Gold Asymmetrical Letter Necklace and the Maya Brenner Letter Earrings in the letters J, S, M, A, C, K and L, which are the letters she sells the most. Brenner's jewelry is the perfect every day piece to wear, not to mention a great way to layer your necklaces! Maya Brenner 14K Gold Asymmetrical Letter Necklace ($240) Maya Brenner Letter Earrings ($98) Be sure to know which food is good for your skin, why Zella workout leggings are amazing and light sweaters that are good for summer and fall. [Photo: Splash News]