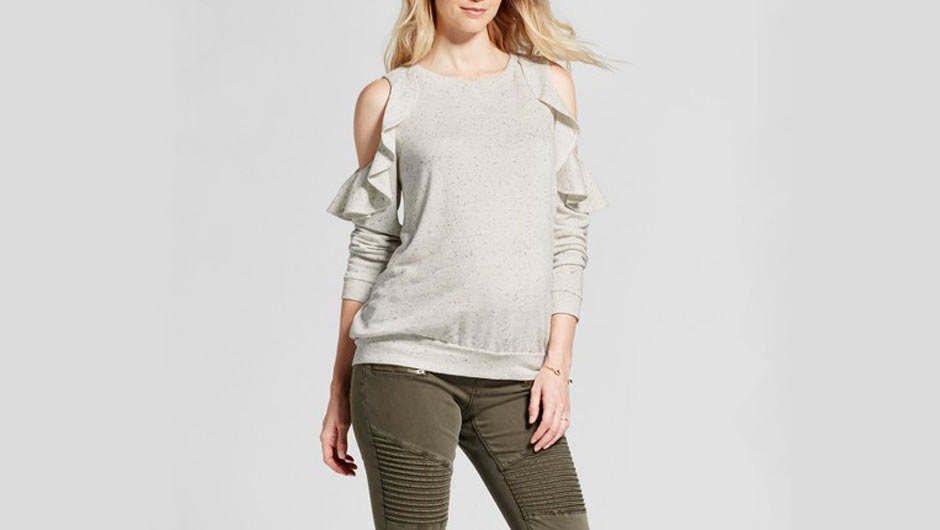 7 Questions With Ingrid, The Designer Whose Stylish Maternity Collection Just Hit Target
It's hard to find clothes that fit right in general, but when your pregnant, forget it! That is unless you know the right brands to shop. But even then, investing in a whole new maternity wardrobe can be frustrating, not to mention expensive! Well, to all the expecting mamas out there that are struggling to find clothes to fit their style, your clothing worries are now over! This is not a joke. Ingrid & Isabel--the fashion brand designed for and inspired by moms-- just launched an exclusive collection with Target, and we're sure that it's about to be your next obsession. After all, the company that hit stores back in 2003 with the popular BellaBand, which helps keep your pants up at all stages of pregnancy, has been a staple in the maternity market with their stylish-yet-functional clothing options that moms-to-be love. As their new Isabel Maternity collection is probably everything that you've been waiting for, we caught up with Ingrid & Isabel founder, Ingrid Carney, about this latest collaboration. SF: What are your go-to style tips for women who are expecting? Ingrid Carney: Assess your closet first: Some styles, like flowy dresses and knit tops, may still fit through the first stages of pregnancy. Others, like jeans and skirts, can fit with Bellaband or Bellaband for Target. But don't wear anything that's not comfortable: Fit and comfort are so important for expecting mamas, and maternity clothes should offer a custom fit. When we're fitting clothing on pregnant moms, we ask them about their comfort. We have them sit, stand, walk around, and we make sure that everything stays in place comfortably. If you're uncomfortable, it's hard to feel beautiful. You look beautiful: Seriously, yes, you. 100%. If you want to wear more body conscious styles, try it. If you like a flowy fit, go for it. Sometimes in pregnancy, women feel more comfortable in styles they wouldn't normally try. You look beautiful, and I think you should feel confident in embracing something new if you want to. Stay healthy: Be sure to keep hydrated and get rest and exercise. But also be sure to take stock of how you're feeling mentally and emotionally. Pregnancy (and parenthood) is a journey that's not always easy. Taking care of your health, physically and mentally, is so important for so many reasons, but one of them is that it will help you feel and look your best. SF: What instigated the collaboration with Target? Ingrid Carney: As Ingrid & Isabel has been partnering with Target since 2009, this new collection was an obvious fit. I'm excited to build on and expand this relationship by collaborating on an exclusive collection that brings our high-quality maternity offerings of Ingrid & Isabel to expecting women all around the country. SF: What's the price range/how many pieces? Ingrid Carney: The Isabel Maternity by Ingrid & Isabel collection includes 120 pieces at launch, ranging in price from $9.99 - $39.99, with most pieces under $25. SF: Tell us about Isabel Maternity and the clothes you offer. Ingrid Carney: Isabel Maternity ranges from solution-based maternity and nursing pieces to on-trend fashion items. The collection includes key essentials like denim, core tops, leggings and nursing bras and camisoles, as well as fashion statement pieces including off-the-shoulder dresses and sweaters. There's something for every mom-to-be! Target will also be introducing the new BellaBand® for Target, an exclusive maternity band for Target, and launching Afterband® for Target, Target's exclusive band for shaping and smoothing after baby. SF: How does this brand compare to the other maternity lines on the market? Ingrid Carney: Isabel Maternity's focus is on building confidence through fit, function and fashion. To achieve this, every single item is fitted on real, pregnant women to produce a reliable and flattering fit for every stage of pregnancy and beyond. The process is highly detailed and in-depth, revolving around nine key principles, including customized fit, silhouette, fabrics and versatility. This collaboration is the perfect meeting of Ingrid & Isabel's deep and long-term connection with moms and Target's high-quality and value. SF: What was your design vision when putting together these pieces? Ingrid Carney: We know expecting women want to maintain their sense of style and feel beautiful without having to heavily invest in a new wardrobe. Isabel Maternity was designed for and inspired by moms, striving to solve the wardrobe challenges expecting women face as their bodies change by offering moms-to-be an easy experience to express their own style confidently and comfortably during and after pregnancy. SF: What are some common mistakes that women usually make when shopping for maternity clothes and how does Isabel Maternity solve them? Ingrid Carney: While we encourage mamas to look to their own closets first, we do hear from some moms who waited as long as they could to transition into maternity wear. I would suggest transitioning to maternity clothes (and bras!) as soon as current pieces feel snug. There's no reason to be uncomfortable! I think Isabel Maternity by Ingrid & Isabel helps solve that with a focus on fit at every stage of pregnancy and after. As just one example, our patented Crossover Panel®, available on activewear and denim, fits from early in pregnancy all the way to after baby. It can be worn folded over early in pregnancy or full panel later in pregnancy, and as her belly grows, mom will get some added lower back support. SHOP INGRID & ISABEL AT TARGET NOW Be sure to check out these jeans Nordstrom shoppers love and the fall transition dress you need in your closet.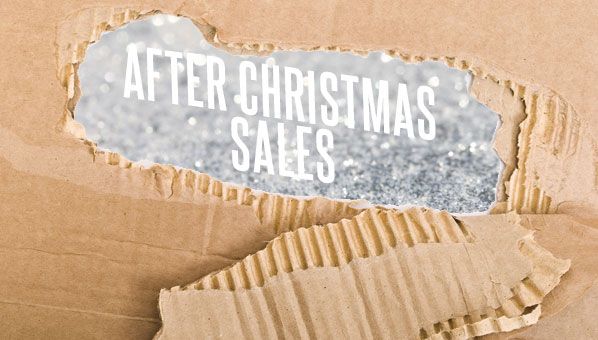 Who's Ready for Round Two? Shop These Awesome After-Christmas Sales!
I know, I know. Just when you thought you'd get a break, nope! The retailers are back with more amazing sales to close out 2012 and you don't want to miss them. Here are a few of the best after-Christmas sales we've found. Found others? Share the love--in the comments. Save up to 50% on trendy maternity clothes at ASOS. Take 50% off tons of winter maternity clothes Destination Maternity. Take 30% off sale items at Gap with code GAPSALE. Save up to 50% on the most popular styles at Isabella Oliver. Save 25% on sale items at J. Crew with code TINSEL. Save 25% on sale items at Kate Spade with code 25SALE. Take 40% off tons of cute styles at Tea Collection. (more…)
Best. Monday. Ever! Shop These Awesome Green Monday Sales Before Midnight
Cyber Monday was good, but Green Monday is shaping up to be even better. Oh yeah, Green Monday is totally a thing and it's today! Tons of stores are offering discounts today only to help you get the last of your holiday shopping done. Make sure you hit up these good Green Monday sales before the day is over. Save an extra 25% on all orders at Baublebar with code HOLIDAY25. Take 30% off all orders at C. Wonder with code SHEFINDS30. Plus, get free ground shipping on orders of $100 or more. Take 25% off your Carter's order with code ONLINE25. Save 30% sitewide at Crocs with code CROCS30. Save up to 50% on festive holiday styles at Destination Maternity. Save 50% on bedding at DwellStudio, plus get free shipping with code DAYFIVE. Take an extra 20% off your Gap order with code GAPGIFT. Take 25% off at J. Crew with code MERRY. Take 15% off all holiday cards with code TWINKLE at Minted. Save an extra 15% at Old Navy with code ONGIFT. Take an extra 25% off at Osh Kosh B'gosh with code ONLINE25. Enjoy 25% off at Serena & Lily with code SHIPTODAY25 at checkout. Take up to 50% off dresses, tees and more at Tea Collection. Take 20% off your holiday card order from Tiny Prints with code DECSW20. (more…)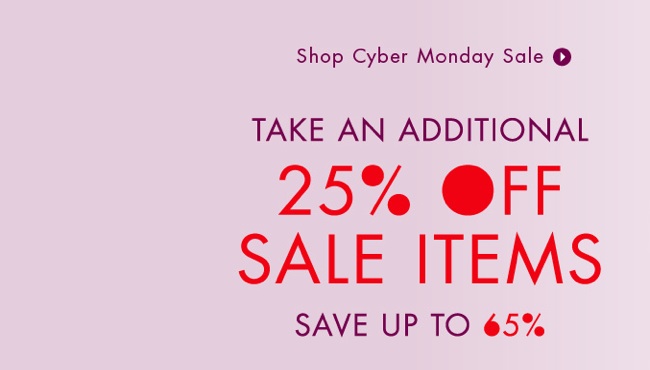 It's Our Favorite Day of the Year–Cyber Monday! Shop The Best Deals Now…
We couldn't be more excited--it's Cyber Monday! Now we know you probably braved the stores this weekend and hopefully you got some good deals. But the shopping doesn't end just because the weekend is over. Tons of stores are offering insane deals online only today and you can't miss out. Whether you're looking for toys or holiday cards, here are the Cyber Monday sales you shouldn't miss: (more…)
Start The Weekend Off Right–With Sales, Sales and More Amazing Sales!
Just got paid? We would normally tell you to bank that paycheck for next week--Black Friday, baby!--but there are so many good sales now, why wait? Here are five you shouldn't miss: Sale items at Destination Maternity are an extra 30% off! Take 20% off all orders at Giggle with code FF12 at checkout. Take 30% off sale items at J. Crew with code MUSTHAVE and 30% off everything at J. Crew Factory with code SCOREMORE. Save 15% on holiday card orders of $150 or more and 10% on holiday card orders of $100 at Minted. (more…)
10 Online Veterans Day Sales Too Good To Miss
Whether you're enjoying your day off or counting down the hours until you get off (work, that is), here's a fun way to pass the time: Veterans Day sales! All of our favorite retailers are hosting can't-miss sales today so spend a few hours stocking up on holiday toys, holiday party dresses and other winter must-haves. Start with these online Veterans Day sales: Shop tons of festive holiday party dresses starting at just $30 at ASOS. Save 20% during the Bloomingdale's friends and family sale with code  FANDF at checkout. Take 25% off all Crocs order with code VETERANS at checkout. Stock up on maternity essentials at Destination Maternity where select tops are buy 3, get one free. Save 30% on all Gap orders with code GAPFRIENDS at checkout. Take 30% off all sale items at J. Crew with code MUSTHAVE at checkout. All LeapPad2 bundles are on sale at Leapfrog. Save 20% on all orders at Old Navy with code ONGIFT at checkout. Score an extra 15% off your Macy's order with code VETDAY, plus all orders over $99 ship for free. Order your holiday cards during the Tiny Prints sale--all orders over $49 qualify for 20% off with code NOV25SW. (more…)
Bring on the Holiday Parties! There's An Outfit for Every Occasion in the Latest Installment of Jessica Simpson Maternity
When Jessica Simpson's maternity collection first debuted in September, we were not disappointed. There were tons of cute tunics and figure-flattering skinny jeans. But with the holiday season upon us, Jess is back for round two with some new party-worthy pieces moms-to-be can wear to every occasion in the coming months. From a fab sequin blazer to leather leggings, you'll probably want to buy one of everything. Check out the latest from Jessica Simpson maternity: [slideshow] (more…)
Spotted! Gisele Bundchen Flaunts Her Baby Bump in an Animal Print Bikini
Supermodel Gisele Bundchen is pregnant with her second child, but that didn't stop her from strutting her stuff in a sexy animal print bikini in Miami over the weekend. The mom-to-be appears to be in her third trimester, but holy smokes she looks as good as ever! (more…)
Finally! Shopbop Adds More Maternity Clothes and They're Amazing…
Shopbop's been a go-to for the best designer maternity jeans and maternity pants, but we've long wondered WTH they don't sell any other maternity clothes. They're already known for their amazing selection, so you know they'd find the best maternity clothes. Well the days of wondering are over because guess what? Shopbop now has more maternity clothes. They just introduced the HATCH maternity collection and it's amazing. There are beautifully draped dresses, flattering blous-y tops and even a gorgeous wear-everywhere coat. Check out the collection below: [slideshow] (more…)
Sofia Strikes Again! Check Out The Latest Must-Have Maternity Dress She Wore on Modern Family
The new season of Modern Family may have just started, but we're already looking forward to Gloria's (aka Sofia Vergara) maternity fashion. We already hunted down the sexy blue wrap dress she wore while filming last week and today we found another. (more…)
Spotted! Gisele Bundchen Shows Off Her Baby Bump In a Sexy LBD
Ooh la la! As if we'd expect anything less from Gisele Bundchen, the mom-to-be showed off her growing baby bump in a sexy black dress last night at a event honoring Mario Testino in Boston. And obviously she looked amazing! (more…)
Ask and You Shall Receive… Nordstrom Maternity Clothes Are Back!
Last summer we were super bummed when nordstrom.com just all of a sudden stopped carrying maternity clothes. They'd always been a go-to for fab maternity dresses and tops, so it was a real bummer. But there's good news: Nordstrom maternity is back! The website is not only restocked with our favorite maternity brands like Olian Maternity and Maternal America, but also with newbies like Topshop maternity. How exciting! Hopefully, Nordstrom maternity is here to stay, but in case not, snatch up these goodies we love ASAP. [slideshow] (more…)
Spotted! Amber Rose Is Pregnant & Pretty in Polka Dots On Her Birthday
How great does mom-to-be Amber Rose look? She shared the pic above on Instagram over the weekend after her surprise birthday celebration and she is working that polka dot dress. (more…)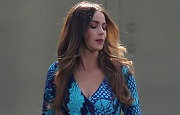 Score The Sexy Blue Maternity Dress Sofia Vergara Wore on Modern Family…
Actually, the episode hasn't aired yet and the dress isn't even maternity. But still! We got a sneak peek of an upcoming episode of Modern Family and we've got the scoop on where you can get that exact dress Sofia Vergara (who's pregnant!--on the show) is wearing. (more…)
Spotted! Sexy Mom-to-Be Amber Rose Shows Off Her Baby Bump in Black Lace
Yeah, we're kind of late, but we recently came across this pic of expectant mom Amber Rose from the 2012 MTV VMAs and we just had to share. Why? Because Amber looks amazing! (more…)
Okay, This Kinda Makes Us Forgive Gisele Bundchen for That Garbage Disposal Comment…
Remember right after Gisele had her first son, Benjamin Rein Brady, she said the secret to getting her body back was not treating it like a "garbage disposal" like some women? Yeah, ever since then she's been on our sh*t list. And then she claimed that her 6-month-old son was potty trained and didn't eat any unhealthy foods? Is it any wonder we find her so annoying? But Gisele may have just redeemed herself (a little). She was snapped out in NYC over the weekend and what do you know? She's wearing actual maternity clothes! (more…)
It's Here! Shop Jessica Simpson's Maternity Collection Now
The day has finally come! Jessica Simpson's maternity collection has arrived at destinationmaternity.com and it's just as good as we expected! The line is made up of just over 20 stylish maternity essentials like cozy maternity sweaters, cute tunics and even comfy leggings. Take a peek at Jessica Simpson's maternity clothes here: [slideshow] (more…)
Sneak Peek! Check Out 6 More Must-Have Looks From Jessica Simpson's Upcoming Maternity Collection (Which Launches In 1 Week!)
While most people are excited to see Jessica Simpson's big weight loss reveal, we're more excited to see her complete maternity collection next week! Jessica Simpson Maternity arrives September 14 at Destination Maternity, Motherhood Maternity and select Macy's stores and we've got another sneak peek! (more…)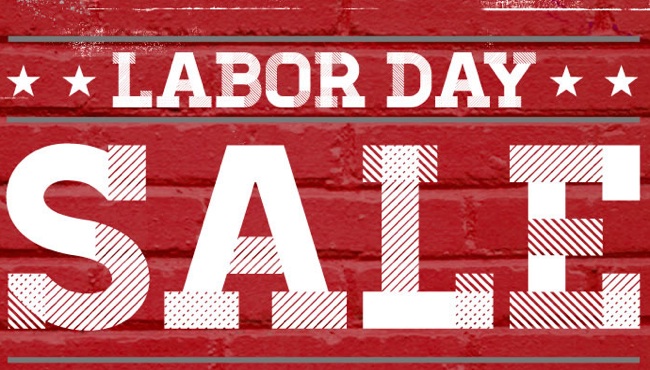 Hooray for Labor Day! Take a Load Off And Shop These 20 Amazing Labor Day Sales
Whether you're finishing up your back to school shopping, updating your wardrobe for fall or looking for summer deals to store away for next year, it doesn't get much better than Labor sales. The deals are so amazing, you're sure to score everything on your list--plus a little something extra!--without blowing your budget. The even better news? The sales start now! You don't have to wait until the weekend to start shopping--here are 20 Labor Day sales you should check out ASAP! (more…)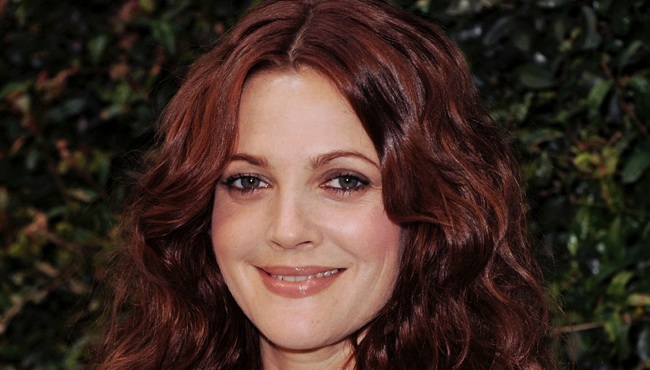 Okay, Drew Barrymore, Enough Is Enough!
When I saw this pic of Drew Barrymore today, I couldn't help but think, "WTH does she have against maternity jeans?" First there was the tie around her waist and now she's just walking around with her pants unbuttoned? What gives? I'm guessing Drew is nearing the end of her pregnancy and she probably doesn't want to invest in pricey maternity jeans--not like she doesn't have the money, though--but there are plenty of cute, cheap maternity jeans out there. Don't believe me? Just head over to Motherhood Maternity where all maternity denim is buy one get one 50% off. Here are 5 styles we love: [slideshow] (more…)
Looking for a Pregnant Halloween Costume? We Have a Feeling You'll Like These Hilarious Maternity Skeleton Tees…
Worried your baby bump is gonna hold you back from celebrating Halloween this year? Don't! Maternity Halloween costumes can be a little lame, but we think these maternity skeleton tees from Etsy are amazing. Just pair one with a pair of black maternity jeans or leggings and we guarantee you'll be the center of attention on October 31. [slideshow] (more…)
Permission Granted! Go A Little Crazy On Some Nice Things Just For YOU at Shopbop's 1 Day Sale
Kids all ready to go back to school? Good for you! Feeling like you deserve a reward? You totally do! So head over to Shopbop's 1 day ASAP because all items that are already marked 50-70% off are an additional 20% off today only with code EXTRA20 at checkout. Here are some just-for-mom finds we love: (more…)
Hey, Drew Barrymore–Is That a Tie Around Your Waist??
It sure looks like it, right? Drew Barrymore--who is pregnant with her first child--was spotted leaving the doctor's office last week with her husband and we're almost positive her jeans are being held up by a tie. Now we're all for making fashion statements, but doesn't Drew know there are so many good maternity jeans out there now? And if it's that big belly panel she's trying to avoid, there are tons of maternity jeans that have discreet elastic waistbands. So Drew, just for you, check out these maternity jeans--that don't look like maternity jeans--and give your husband back his tie. (more…)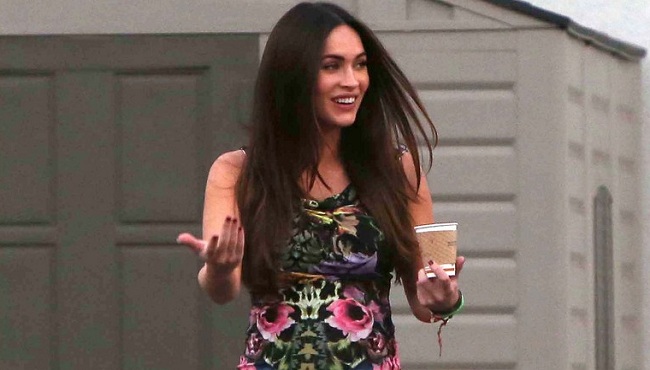 Spotted! Mom-to-Be Megan Fox Shows Off Her Baby Belly in Roberto Cavalli…
She looks good, right? There's no denying actress Megan Fox is pregnant now and it looks like pregnancy suits her. Her hair is just as gorgeous as ever and she's even kept her physique--all she's got is a belly! (more…)
Hey Moms-to-Be! Here's Where You Can Score That Amazing Chevron Maternity Dress Melissa Joan Hart Wore on Good Afternoon America
Did any of you catch Melissa Joan Hart--who is very pregnant!--on Good Afternoon America last week? We only saw a brief clip, but one small glimpse was all it took for us to fall in love with the green chevron maternity dress  she was wearing. Chevron is totally having a fashion moment right now and who doesn't love a good wrap dress? It's a total win-win. (more…)
Maternity Shopping On a Budget? No Problem! Steal Tamera Mowry's Striped Maternity Dress for Just $40
And she does it again! We're so happy Tamera Mowry is pregnant because it's been a blast following her maternity style. From that bold blue colorblock maternity dress she wore to her mint green baby shower dress, she's one stylish mom-to-be! Now let's talk about that gorgeous striped maternity dress she's wearing in the pic above. We found the photo and Instagram and immediately took to finding Tamera's pretty maternity dress. As luck would have it, it's from Motherhood Maternity and it's currently on sale for just $40! Get yours here: (more…)
3 Days Only! Take an Extra 25% Off Sale Items at Motherhood Maternity
The official start of fall is just over one month away, which means it's almost time to swap out those breezy maternity dresses for warmer sweaters and knits. Now if you don't want to spend a fortune on fall clothes, we feel you. So here's our suggestion: head over to the Motherhood Maternity sale where tons of cute maternity clothes are an additional 25% off until 8/9/12. You'll find lots of summer styles there, but if you look closely you'll also spot some great deals on styles you can wear year-round. Check out these deals we found: (more…)
Say What?! Score Tamera Mowry's Amazing Colorblock Maternity Dress for Just $50
How incredible does Tamera Mowry look pregnant? Her skin is glowing, her smile is radiant and that dress she's wearing is fabulous. Turns out that gorgeous colorblock maternity dress Tamera is wearing also happens to be on sale... for just $50! It's perfect for a baby shower or a nice dinner out. Heck, pair it with casual flat sandals and you could even wear it to work. Get yours here: (more…)
So What Do Kourtney Kardashian and Tamera Mowry Have In Common?
Quite a lot as it turns out. They're both reality stars, they both have famous sisters, but that's not what we're talking about. See that dress Tamera is wearing in the pic above? It's Rachel Pally... aka the same designer who made all those amazing maxi dresses Kourtney Kardashian wore when she was pregnant! (more…)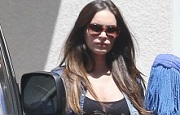 Looks Like Expectant Mom Megan Fox Already Has Her Maternity Style Down to a Science…
We haven't seen much of Megan Fox since she was spotted showing off her baby bump in a bikini, but almost every time we have she's been wearing the same thing: a black maxi dress. First, she was spotted wearing an Everly Grey black maxi and yesterday she was snapped wearing a long black Lauren Moshi dress. Some may call it boring, but we say if you find something that works, stick with it! Megan looks great in her black maxi dresses, but more importantly, they're comfortable! Love the one she's wearing in the pic above? Get it here: (more…)
Moms-to-Be, Take Note! Expectant Mom Anna Paquin Is Letting You In On a Little Secret…
If you've ever heard the myth that moms-to-be shouldn't wear stripes because they only make you look bigger, Anna Paquin is here to set the record straight. That's her in the pic above and you can hardly tell she carrying twins (!) because that striped dress is so flattering. And comfortable, too! It's stretchy so she can move in it, and with those cutie little booties she looks put-together and polished all while being pregnant. So yes, it can be done! (more…)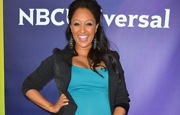 We Can't Promise Tamera Mowry's Mom-to-Be Glow, But You Can Score That Gorgeous Teal Maternity Dress She's Wearing
There's just no other way to say it--Tamera Mowry is pregnant and she looks amazing! The mom-to-be recently stepped out for the NBC press tour and we couldn't get over how gorgeous she looked. Her pregnancy glow definitely has something to do with it, but so does that pretty teal maternity dress she's wearing. Turns out it's by Susana Monaco and you can score the exact same one from Destination Maternity. Get it here: (more…)
She's Almost There… Mom-to-Be Kristin Cavallari Shows Off Her Fully-Blossomed Baby Bump Just Days Away From Giving Birth
Not only is Kristin Cavallari pregnant, but she's due to give birth any day now! The reality star is expecting her first child--a boy!--with Chicago Bears quarterback, Jay Cutler, and we've loved following Kristin's maternity style. From her sexy Isabella Oliver ruched dress to her gorgeous T-Bags baby shower dress, she's definitely been an inspiration for moms-to-be proving you can be pregnant and stylish. (more…)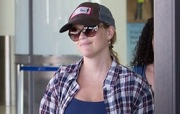 Score Reese Witherspoon's Must-Have Maternity Tank Top… On Sale!
How could you not appreciate Reese Witherspoon's down-to-earth maternity style? I mean, she's wearing a baseball cap, loose jeans and an open button-front shirt--how cool is that? And let's not forget that soft, stretchy maternity tank she's wearing. No surprise, it's an Isabella Oliver layering top and it's one of those pieces every mom-to-be should have. Whether with jeans or a pencil skirt, you can easily dress it up or down and it's guaranteed to be comfortable and flattering. Even better, the layering ruched tank is now on sale! Get yours here: (more…)
Who Knew?! You Don't Have to Be Pregnant to Pull Off Mom-to-Be Kristin Cavallari's Summery Look
Mom-to-be Kristin Cavallari is nearing her due date, so we thought we'd pay one last (err, maybe not...) homage to her fabulous maternity style. (more…)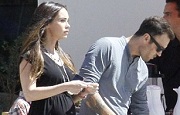 Whoa! That Fab Black Maxi Dress Mom-to-Be Megan Fox Wore Is On Sale for Just $54
Remember that photo we shared of Megan Fox pregnant wearing a black maxi dress yesterday? Well it turns out that dress she's wearing is by Everly Grey and it's only $54! (more…)
She May Be About to Give Birth Any Day Now, But That's Not Cramping Mom-to-Be Kristin Cavallari's Style…
She's in the home stretch! That's Kristin Cavallari--who's pregnant with her first child--and if it looks like she's about to give birth any second that's because she is! (more…)
Walk On the Wild Side! If Camila Alves Can Pull Off Leopard Print While Pregnant, So Can You
It hasn't even been a full week since Matthew McConaughey and Camila Alves announced they were expecting their third child, but the star mom is already sporting a small bump. That's her in the pic above at the London premiere for Matt's new movie, Magic Mike, and she is working that leopard print dress. (more…)
Time to Stock Up! Save an Additional 30% On Sale Items at Gap For 2 Days Only
If your kid still needs a few tanks or shorts to make it through summer, don't miss this perfectly-timed summer sale at Gap. Today and tomorrow only, they're offering an extra 30% off sale items with code GAPHAPPY at checkout. You'll find tons of summer essentials on sale for as low as $9.99 and with the extra discount, you won't feel bad when you have to pack it all away in a few months. Check out these goodies we found: (more…)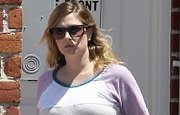 Spotted! Pregnant Drew Barrymore Proves Moms-to-Be Can Still Be Trendy In a Cool Colorblock Top
How cute is Drew Barrymore pregnant? The star mom-to-be was snapped leaving her pedicure appointment in Hollywood, CA yesterday and we'd totally rock her casual maternity look. The khakis and flip flops are easy--what's most important is a cool colorblock top like the one Drew is wearing. If you're expecting, here are a few you should add to your maternity wardrobe. (more…)
Spotted! Mom-to-Be Anna Paquin Slips Into a Sexy Isabella Oliver Maternity Dress
We may not have Kourtney Kardashian's maternity style to covet anymore, but Anna Paquin is looking pretty good herself. Anna Paquin is pregnant with twins and she stepped out this weekend in a gorgeous Isabella Oliver maternity dress. It's the ruched tank dress we've seen tons of expectant celeb moms wear, except that Anna paired hers with a sleek blazer and black clutch. (more…)
Finally! Maternity Dresses from T-Bags, French Connection, BCBG & More of Your Favorite Designers… And They're On Sale!
Maternity clothes have definitely gotten more stylish over the years, but there's still pretty slim pickings in terms of designer maternity clothes. But thanks to one of our favorite maternity retailers, Destination Maternity, that's all about to change. How? Just head over to destinationmaternity.com and you'll find gorgeous maternity clothes from designers like T-Bags Los Angeles, French Connection, BCBG and even Catherine Malandrino. Amazing, right?! Take a peek at some of the designer maternity dresses we found: [slideshow] (more…)
Spotted! Mom-to-Be Vanessa Lachey Rocking a Rosie Pope for A Pea In the Pod Maternity Dress
Don't you just love that printed shirtdress Vanessa Lachey (who is pregnant, BTW) is wearing? We do too, which is why we featured it earlier this week. It's from Rosie Pope's gorgeous new collection for A Pea in the Pod and as Vanessa illustrates it's so flattering. Vanessa wore hers to run errands around L.A., but we think you could also dress it up with some statement jewelry and heels. Now that a star mom-to-be has worn it, it's only a matter of time before this dress sells out. Go get yours now! (more…)
Found! A Pretty Way for Moms-to-Be To Get Patriotic This Fourth of July
Think only kids can get festive in red, white and blue on the Fourth of July? Think again! (more…)
Ooh La La… What Did You Get From Rosie Pope's New Santa Monica Store, Sarah Michelle Gellar?
How cute is Sarah Michelle Gellar pregnant? She was recently snapped in Santa Monica, California and it looks like she just picked up some goodies from Rosie Pope's brand new Santa Monica shop. (more…)
Hey Moms-to-Be! We Found The Baby Shower Dress You've Been Looking For and It's Not Even Maternity
If there's one thing we've learned from Kourtney Kardashian's amazing maternity style, it's that moms-to-be shouldn't feel limited to wearing only what's in the maternity department. Plenty of this season's flowing maxi dresses are cut to flatter a little--or big!--bump, so if you're in the market for a showstopping baby shower dress, check out these beauties we found on sale at ASOS. And because they're not maternity, you can totally wear them after the baby arrives [slideshow] (more…)
Attention Moms-to-Be! Your Dream Maternity Wardrobe Is Now On Sale at Isabella Oliver
There's a reason why star moms-to-be like Angelina Jolie, Gwen Stefani and Reese Witherspoon all love Isabella Oliver maternity clothes. They're stylish, flattering and versatile enough for you to wear just about anywhere. And for a limited time, they're on sale! Isabella Oliver just kicked off an amazing sale and their wildly popular dresses are on sale for less than $100. Even better, they've got flattering maternity tops and comfy maternity pants on sale for 50% off. Hurry! Start Shopping: isabellaoliver.com (more…)
Way to Go Out With a Bang, Kourtney Kardashian…
Since there's a good chance we won't be seeing her fab maternity ensembles any more, we decided to pay one last homage to Kourtney Kardashian's maternity style. Earlier this week she was spotted out shopping for Scott's Father's day gift wearing a super cute bird print dress. It's a departure from the flowing, maxi dresses she'd been wearing, but she still looks awesome. (more…)
It's Here! Shop Rosie Pope's A Pea In the Pod Maternity Collection Now
Looks like good things come to those who wait. We first announced the Rosie Pope's collaboration with A Pea in the Pod back in April and it's finally here. Even better, it's just as gorgeous as we anticipated. There are colorful tops and flattering dresses, plus work-friendly trousers and capris. Take a look: (more…)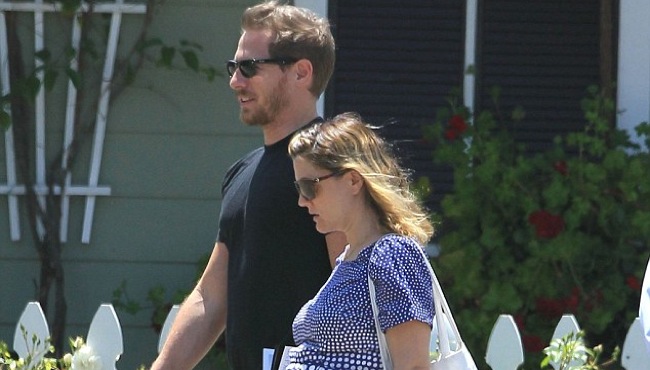 There's No Hiding It Now… Drew Barrymore Flaunts Her Growing Baby Bump In Polka Dots
How cute does Drew Barrymore look pregnant? The mom-to-be (and newlywed!) was spotted honeymooning with her husband in California and rather than hiding her baby bump like before the nuptials, it looks like Drew is showing her bump off. And good for her because she looks awesome. Drew totally makes the case for polka dots in that cute blue and white top, so if you don't already have one treat yourself to a dotted maternity top for summer. Here are 5 we love: (more…)