19-year-old Miley Cyrus just announced her engagement to actor and boyfriend of 3 years Liam Hemsworth yesterday, and one diamond retailer is already touting a replica of her 3-carat Neil Lane engagement ring.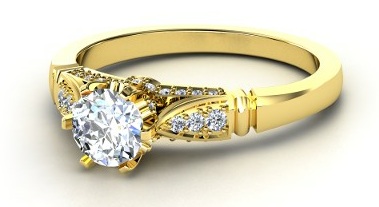 Gemvara is now advertising their 14K gold Elizabeth Ring ($3,029) as a replica of Miley's round diamond and gold stunner. If you're in love with Miley's ring, no matter what age, this is a great look-alike (not exact, but pretty darn close).
For more celebrity weddings news, shop Kate Middleton blue Issa engagement dress, see the first official photos of Drew Barrymore, and photos of Ashley Biden's wedding.