Radiant and glowing skin is the beauty trend that's not going anywhere anytime soon — it's the reason we continue to be obsessed with applying highlighter for a gorgeous glow.  The skincare products we choose to use have as much to do with bringing on a serious glow and the latest buzz mask — Too Faced Glow Job Radiance-Boosting Glitter Face Mask (which retails for $42) — is one product that's guaranteed to deliver seriously dewy skin.
Infused with actual gold, this glittery peel-off mask doesn't just make for swoon-worthy Instagram photos, it really works. After cleansing and toning, mix the mask and glitter with a spatula and apply it to clean skin for 30 minutes. Peel it off when it's hardened and you'll see a brand new complexion: one that's smoother, more toned and boasts a natural glow.
Too Faced glitter mask has caused such a sensation that, naturally, it is sold out practically everywhere and will probably continue to be for a few months. But that doesn't mean you have to give up on the glow-from-within complexion of your dreams. These five Too Faced Glow Job dupes provide similar results and won't break the bank. 
Miss Spa 24K Gold Créme Mask
This creamy mask costs less than $10 but is a luxurious treatment rich with ingredients like peptides and pure 24K gold. Use it when your complexion feels more parched than usual and allow the cream to soak right into your skin and help with elasticity and hydration. Apply it in a thin layer, leave it on for 15 minutes, and rinse it off with warm water.
Miss Spa 24K Gold Créme Mask, $6.99
Too Cool For School Pumpkin 24K Gold Sheet Mask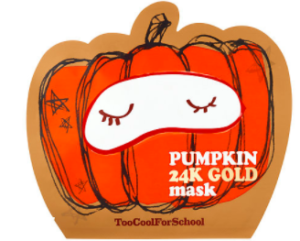 Prefer mess-free and portable sheet masks to peel-off or rinse-off formulas? This affordable mask is infused with skin brightening 24K gold and pumpkin extracts and is designed to relive dullness, dryness, and rough texture. It's also perfect for all skin types — even sensitive skin — and its beta carotene content helps form a barrier on your skin, lock moisture within, and make you even more radiant.
Too Cool For School Pumpkin 24K Gold Sheet Mask, $8
Shangpree Gold Premium Modeling Rubber Mask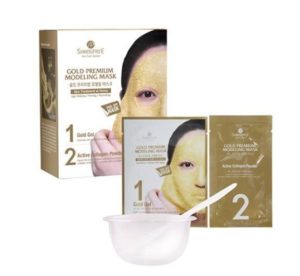 This Korean beauty rubber mask is fun and effective at hydrating skin. Mix it up in a bowl with a spatula, apply to your skin, and wait for it to form a thick rubber mask that you then peel off. In the interim, ingredients like gold, active collagen, essential oils, and botanical extracts work together to give your skin a vibrant, healthy, phenomenal glow.
Shangpree Gold Premium Modeling Rubber Mask, $20
111Skin Rose Gold Brightening Facial Treatment Mask
Yet another gold-drench sheet mask, this rose-gold beauty combines 24K gold, rosa damascena, and hydrogel for a soothing, cooling, utterly moisturizing treatment that brightens your complexion. You won't miss out on Instagram opportunities with this one, either — it shimmers while it works its magic on any and all skin types.
111Skin Rose Gold Brightening Facial Treatment Mask, $25
Oh K! Glowing Skin Gold Leaf Gel Mask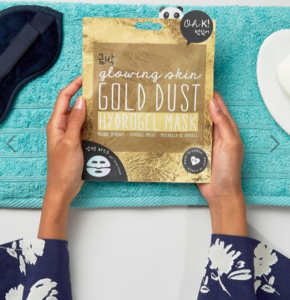 This Korean beauty facial mask has a gel-like consistency that's perfect for dry, sensitive skin. It's made with gold dust and hydrogel and is worn for 30 minutes to create glowing, gorgeous skin. But here's the kicker: you don't have to rinse it off — after your treatment is complete, treat this mask like a serum and massage the residue into your skin.
Oh K! Glowing Skin Gold Leaf Gel Mask, $9.50