In case you weren't aware – April 22nd is Earth Day (and April itself is Earth Month), so to celebrate, we're offering up a healthy helping of tips for making your wedding a lot more earth-friendly. From writing your menu on a chalkboard (in lieu of printed menus) to wearing Ivanka Trump's sustainable diamonds — there are incredibly chic and non-granola ways to be green on your big day. Even if you're only able to incorporate 1 or 2 of our tips, you've already got great wedding karma!
Attire
1. Exchange recycled wedding bands. Silver, gold, or platinum can all be recycled. These Recycled Silver Hand Forged Wedding Bands ($95) from Etsy are super affordable AND eco-friendly.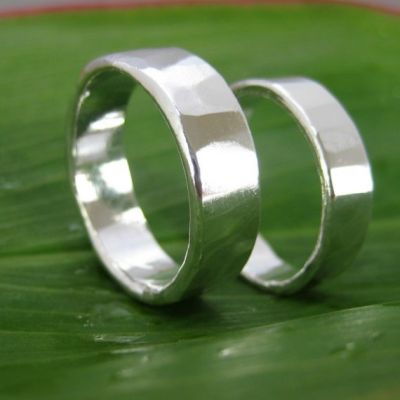 2. Wear a vintage dress or jewelry. It'll be your "Something Borrowed."

3. Buy or sell your dress on a second-hand site. Like our new favorite wedding dress destination, Nearly Newlywed, perhaps? Plus, this is a great way to get designer gowns (Vera Wang, Oscar de le Renta and more) for up to 75% off. OnceWed, Recycled Bride and Pre-Owned Wedding Dresses are also good sites for this.
4. Choose eco-friendly bridesmaid dresses. Materials like organic cotton, tencil, or hemp silk are more earth-friendly than polyester blends or even regular cotton (which is a surprisingly toxic offender!). We love this ecoSkin Brisbane Dress ($165):
ecoSkin's 'Brisbane' bridesmaid dress ($165)
5. Wear eco-friendly makeup. We're big fan's of Josie Maran's organic beauty line. Buy eco-friendly cosmetics ahead of time and provide them to your stylist, or better yet — find an eco artist, like San Francisco's The Green Makeup Artist.

6. Wear sustainable diamonds. Ivanka Trump's fine jewelry collection is made out of sustainable diamonds, recycled platinum. Who doesn't love that?
7. Wear TOMS. For every pair of these stylish flats sold, a pair is given to a child in need. We especially love this white crochet ($57) pair: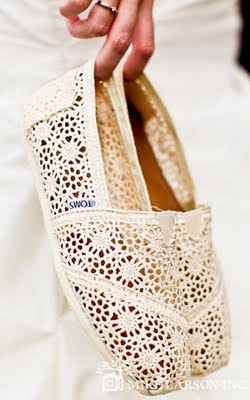 8. Choose an eco-friendly dress designer. Minna, Adele Weschler, Olivia Luca and others make specialty eco-friendly wedding dresses.
Planning & Decor
9. Send paperless invitations. Save big on stationery and stamps, AND save a few trees in the process. OR…
10. Use plantable wedding invitations. Once your wedding is over, your invitations will bloom into wildflowers. We LOVE the contemporary invite designs at Botanical Paperworks.
11. Create an eco-friendly wedding registry. Trust us: It can be done without having to register for burlap bath towels. (Ick.) The Green Bride Guide is an amazing eco registry site — check it out!
12. Copy Amy Smart's wedding.  Her gorgeous wedding to Carter Oosterhouse last year was eco-friendly to the max: all the materials used were recyclable or compostable, and the entire event only produced half a garbage bag of trash. See how she did it.
13. Have your wedding in a park. Pick a city, state, or national park as your venue and you won't even need decorations!
14. Illuminate your event with pretty Solar-Powered Lanterns ($49.95).
15. Donate to an earth-friendly cause. You can do this in lieu of wedding favors, or request that your guests do so in lieu of wedding gifts! eBay's World of Good, Greenpeace, and Friends of the Earth are among the many great eco-charities out there.
16. Have your reception and ceremony in the same locale. This will reduce guest's carbon emission by driving from one place to another. No cranky guests, no maps and no fuel emissions!
17. Have guests throw plantable seed confetti or bird seed instead of rice.
Food
18. Write the menu on a chalkboard instead of printing out paper menus. If you need chalkboard inspiration – there is a-plenty on Pinterest.
19. Have a vegetarian or vegan dinner. Factory farming is a huge drain on the earth's resources. (Fun fact: Raising animals for food generates more greenhouse gases than all the cars and trucks combined.) If going veg on your wedding day doesn't sound appealing, then…
20. Choose local entrees. Nosh on farm-raised chicken if you live in the country, or fresh seafood if you live by the ocean. (Make sure your seafood choices are sustainable as well!)
21. Select free-range or organic foods for the menu.
22. Find an organic baker. Organic cupcakes and desserts are "so hot right now." Since caterers and cake chefs are local, check Wedding Wire for vendors in your area.
23. Use recycled cocktail napkins, OR rent cloth napkins! These Personalized Eco-friendly Napkins ($19.99 for 100) are a nice option.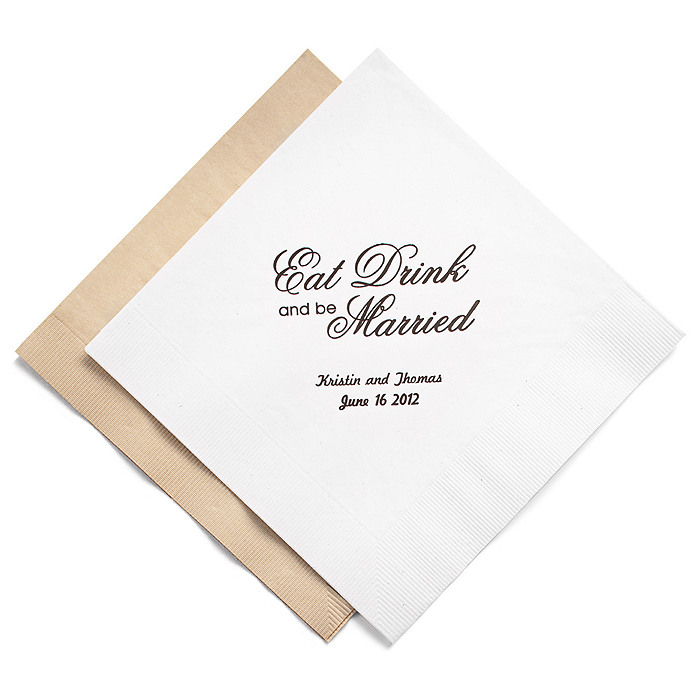 24. Use reusable bamboo utensils or biodegradable flatware, NOT plastic, if you're having a casual, outdoor reception dinner.
25. Recycle! Don't let beer and wine bottles get mixed in with regular trash! Be sure to provide on-site recycling for your guests.
Do you have any tips to share with fellow earth friendly brides? Let us know in the comments!
Need even more bridal inspiration? Check out our guides to outdoor wedding dresses, unique wedding invitations, and eco-friendly wedding favors!