Comfortable High Heels
Browse The Most Comfortable High Heels
Hey, we all want to be model height with long, lean legs but not at the price of aching feet and awkward posture. If you want to wear heels (and trust us, we understand the desire) make sure you are going after the most comfortable heels and comfortable dress shoes that look great and don't feel too bad, either.  Comfortable high heel shoes aren't an oxymoron; it's just a matter of weeding out those killer shoes that won't actually give you blisters. The best comfortable heels are platform pumps, kitten heels and pumps with a chunky heel. Comfortable heels brands include Aerosoles, Cole Haan, Clarks and more. No matter which brand you choose, we have rounded up the most comfortable pairs of heels for you!
[youtube]https://www.youtube.com/watch?v=SUZx4FjoZls[/youtube]
Kitten Heel Shoes
Kitten heeled shoes are by far the most comfortable pair of heels a woman can wear. Why? They have a barely-there heel of about two inches aka they are essentially like flats. Kitten heel shoes are perfect for a woman on-the-go because they are easy to walk in. They are also great for anyone who works in a corporate office environment because they look professional, yet stylish. If you think kitten shoes aren't the most trendy of heels, think again! Celebrities like Taylor Swift, Michelle Obama, Kate Middleton, Mary-Kate Olsen and more love kitten heels! One of our favorite places to buy kitten heels is Zappos because they offer a wide variety of styles.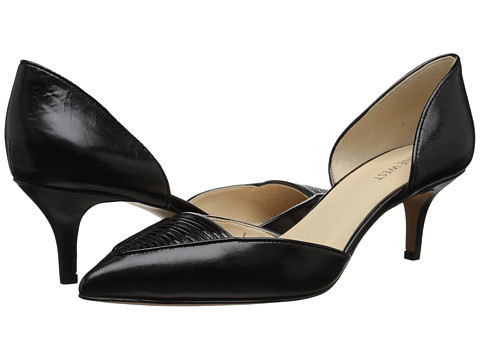 Nine West Xrazy Kitten Heels ($79)
[youtube]https://www.youtube.com/watch?v=dN3iy1mJhTA[/youtube]
Chunky Heel Pumps
If you aren't a fan of kitten heels, chunky high heels may be a better option for you. Chunky heel sandals are a great option for spring or transitioning into fall. We especially love peep toe chunky sandal heels in a neutral leather because they match a lot of things that already exist in your wardrobe. Plus, they can either dress an outfit down or up! Another style of these shoes is chunky platform heels, which are great for going out because they are a bit more fun. It can be difficult to get away with wearing chunky platform shoes during the day but if you style your outfit correctly, you can definitely make it happen.
Vince Faye Open-Toe Leather Booties ($395)
Dolce Vita Tildah Heels ($170)
Platform Pumps for Women
Black platform pumps are the go-to shoe for going out for a night on the town. Why? They are sexy, make your legs look long and lean and instantly dress up an outfit.  You might think comfortable platform pumps may not exist, but trust us, they do! In fact, women's platform heels can be more comfortable than heels without a platform because it adds some support to the balls of your feet. With a platform, your foot won't be fully vertical so the shoes should be more bearable to wear for long periods of time.
Chinese Laundry Wow Platform Pump ($69.95)
[youtube]https://www.youtube.com/watch?v=bKHPD391F_0&nohtml5=False[/youtube]
Low Heels
Low-heeled shoes are perfect for an office environment because they are professional, yet comfortable and trendy. You can wear low heel shoes with a silk blouse and a pencil skirt or leather pants and a button down. This type of shoe is also a fantastic option for a special evening, like a wedding or gala. Low heel evening shoes are a must-have for any woman's wardrobe because they are timeless and appropriate for almost any occasion. Low-heeled pumps have a little bit of a higher heel than kitten heels. Most women's low heel pumps are between two and four inches. Brands like Ivanka Trump and Kate Spade make beautiful low heel pumps.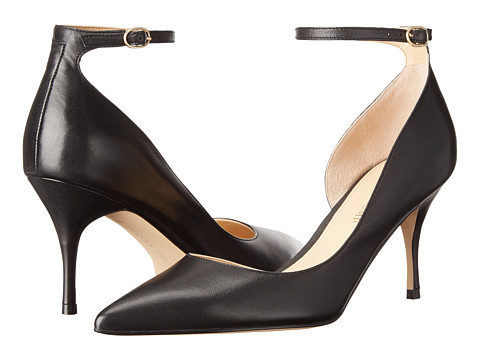 Ivanka Trump Brita Heel ($140)
[youtube]https://www.youtube.com/watch?v=T3-UsqIPEwY&nohtml5=False[/youtube]
[Photo: Imaxtree]