We all know just how transformative a good under-eye concealer can be, especially when you're dealing with tired-looking, dark circles, but not every formula works the way it says it will. Experts say that opting for a hydrating under-eye concealer is a good way to ensure that the product will not only provide the coverage and wear that you need, but also prevent unsightly caking, creasing, and settling. In fact, Honey Artists MUA Azra Red recommends prepping the under-eyes with a hydrating moisturizer, eye cream, or primer to really keep your concealer in place. "Hydrating sensitive skin around the eye would not only help with lines but it will make your concealer stay on better," she tells Byrdie. "Otherwise, your skin will absorb moisture from the concealer and leave not-so-attractive powdery residue under the eye."
Need help finding the best hydrating concealer for mature skin? Then Benefit Cosmetics' new Boi-ing Cakeless Concealer definitely needs to be on your radar. This multi-purpose, full-coverage liquid concealer is designed to hide everything from dark under-eye circles to blemishes to discoloration to help you achieve a flawless, radiant complexion–all without the caking!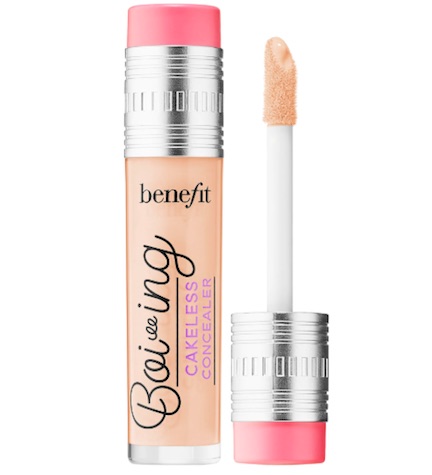 Benefit Cosmetics Boi-Ing Cakeless Concealer ($22)
Shutterstock
Everything You Need To Know About The Best Hydrating Concealer For Mature Skin:
-Full-coverage, lightweight formula doesn't cake, crack, or settle into fine lines.
-Includes algae-derived ingredients to smooth the look of skin and specially-coated pigments that leave a natural finish.
-Works to brighten, illuminate, and lift tired-looking under-eyes and instantly hides dark circles.
Shutterstock
Promising Boi-ing Cakeless Concealer Reviews:
"I really like this concealer. It has good coverage, didn't crease or crack. Didn't look cakey at all. I found it didn't stay all day like it claims but I did only apply a light layer and it's summer so I'll continue testing it. Love it so far!" - MrsShropshire
"I received this product for free from Influenster in exchange for my honest review, with that said, I really, really love this concealer. I am nearly 40 and I have fine lines and it doesn't get that cakey look under my eyes that most get, that both highlights those wrinkles and makes it look all powdery. When I run out of the free one, I will definitely be buying another!!!" - aimeames
"Non-cakey full coverage! I was super excited to try this concealer, since I naturally have very dark circles that I have a hard time covering up. My usual go-to is the MUFE Self-Setting concealer, which I love, but this Benefit one is more full coverage! I tried out setting it with my Fenty setting powder and also the Becca Hydrating powder and it looked flawless with both! I always get some form of creasing with my under eyes, but with this Benefit concealer I just saw minimal creasing after 9 or so hours of wear! The formula is very smooth, not drying or thick at all! The applicator is nice because it doesn't hold on to more product than you need, which can cause you to over apply. And the color and undertone was perfect! I will definitely be keeping this concealer in my current rotation! I received this product free for testing purchases, but my opinions are my own." - AdaG89
SheFinds receives commissions for purchases made through the links in this post.