Everyone's skin weakens over time and leads to concerns like loss of firmness and visible wrinkles, which is why dermatologists stress the importance of following a nourishing and reparative skincare routine with products that strengthen the skin barrier. "A healthy barrier means healthy skin," Dr. Carl Thornfeldt, a dermatologist and the founder of Epionce, says, noting that symptoms like scaling, inflammation, irritation, dryness, and the overproduction of oil are common signs that your skin is trying to repair itself. Thankfully, there are several products available that are designed to promote healthier, stronger skin and deliver essential ingredients straight to the cells. One serum that should be on everyone's radar is Eighteen-B's new B-Silk Protein Firm + Protect Serum, a formula that replenishes skin by forming a protective barrier that helps lock in moisture and other restorative ingredients using the brand's innovative b-silk™ protein. This product already has a 5-star rating and is even being dubbed the best serum for wrinkles and firming! Keep scrolling to learn how it works:
Try The Best Serum For Wrinkles And Firming:
Eighteen-B B-Silk Protein Firm + Replenish Serum ($105)
Shutterstock
Key Benefits:
-Helps reestablish skin's barrier after cleansing and exfoliating.
-Forms a lightweight barrier that locks restorative ingredients in and keeps environmental stressors at bay.
-Keeps skin hydrated and delivers a firmer, lifted, more youthful-looking complexion by reducing the appearance of wrinkles and improving texture and tone.
Shutterstock
Promising Eighteen-B Firm + Replenish Serum Reviews:
"I am 62 and after two weeks of using Eighteen B serum, the skin around my face and neck visibly firmed up. Any woman my age would love this product!" - Emmy VanderZwaag
"Light and refreshing feeling going on and tightens my skin overnight. My face has never looked and felt better. I don't want to use any other ant-aging products again." - Robin Butler
"I have never experienced a serum like this- not only is it a dream to apply, but I see real, visible results. It pairs so well with my retinol and vitamin C serums- as if it locks in the treatment while keeping my skin noticeably hydrated. I feel naked without applying it." - Ashley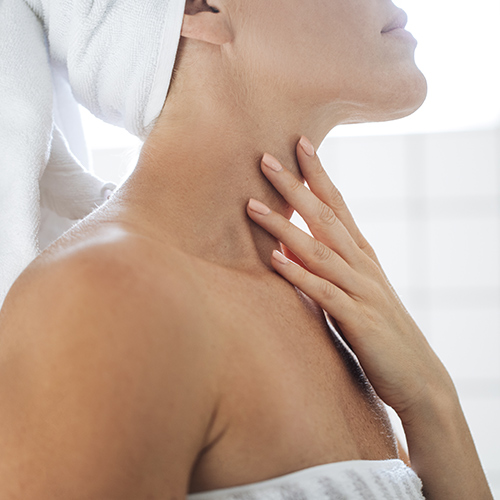 Shutterstock
Other Ways To Tell If Your Skin Barrier Needs Repairing
Experts say that most people aren't educated on the symptoms of a weakened skin barrier and confuse their skin's sensitivity with having sensitive skin. "I say, 'Your skin isn't sensitive, your skin barrier is just really weak,'" Nicolas Travis, the founder of the skin-care brand Allies of Skin, explains, who credits poor skincare routines and formulas with breaking down the skin barrier. But, Dr. Thornfeldt says that there are plenty of environmental factors that can contribute as well.
"Airborne pollution, UV sunlight, cigarette smoke, flying for more than six hours, washing hands too frequently, physical and emotional stress, or even a lack of sleep can damage the barrier," he tells Teen Vogue.
Rebecca Kazin, a dermatologist at the Washington Institute of Dermatologic Laser Surgery and the Johns Hopkins Department of Dermatology, says that those with rosacea and very dry skin and thoe who are constantly exposed to harsh climates are prone to barrier issues and recommends bulking up their skincare routines with SPF and products that are formulated with ceramides, antioxidants, and niacinamide. "This is critical for healthy, bright skin. Additionally, it helps reduce redness, skin yellowing, and promotes an even skin tone," she says.
SheFinds receives commissions for purchases made through the links in this post.