Establishing a healthy nighttime routine is crucial, especially when it comes to your skin. Those suffering from dry, aging skin can benefit from incorporating a nourishing night cream into their existing nighttime skin regimen. These powerful products are designed to target the skin during its regeneration period and deliver reparative ingredients to the cells, allowing you to wake up with visibly refreshed and more radiant skin. Need help finding a quality night cream with an effective formula and a small price tag? There's one on Amazon that you need to know about–it's the Buha Night Moisturizer!
READ MORE: The One Skincare Product That Almost Sold Out On Amazon Prime Day
This night cream is formulated with retinol, peptides, and other anti-aging ingredients to help promote healthy and hydrated skin while you sleep. Here's everything you need to know about this best-selling Amazon night cream: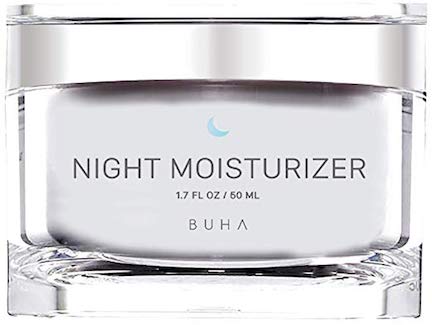 TRY IT: Buha Night Moisturizer ($22.79)
Shutterstock
Key Benefits:
-Uses a 2.5% retinol complex that is packed with collagen and peptides to reduce the signs of aging.
-Boosts hydration, increases cellular turnover, and promotes collagen production while smoothing fine lines and wrinkles and improving elasticity in the skin.
-Reduces hyperpigmentation and evens skin tone and texture.
Shutterstock
See Why Amazon Shoppers Have Given It A 5-Star Rating:
"I finally decided, at 32, that I should start taking care of my skin, but I really didn't want to break the bank doing so! I found this night cream about a week ago and have fallen in love with it! I can feel it working when I put it on at night, it smells so good, leaves my skin soft, and I'm impressed with how far it goes! I just started dipping into the actual container last night, because for the first week, I was just using what was on the cap. I'm also really happy to report that I haven't had any breakouts since starting to use it, which I was nervous about. Will definitely be buying this again and recommending to my friends!" - Meganbg
"I am really enjoying this cream! I have been using if for over a week and can already feel and see a difference in my skin! This winter air is dry and rough,but this night cream is revitalizing my skin! A nice lightweight feel with great moisture, plus the collagen and peptides!" - kali denbeste
"This makes my skin feel so soft. At first I didn't think I was going to like it when I put it on. But, I just needed to give it a minute to sink in and I also used a little too much the first time. You really don't need to use much at all. The directions say a pea-sized amount. I have been using it every other night so far and my skin feels great. I can't believe I was using such inferior moisturizer for so long. I've read that it takes about 3 months to see the effects of retinol. So, I'll have to update my review later as to whether this helps with wrinkles, etc." - Lindsay
"I love this face cream! I have used many moisturizers and I can say this is one of the best! Silky smooth application and I can see a reduction in those pesky fine lines!" - Linda Shaffer
SheFinds receives commissions for purchases made through the links in this post.