The tastiest treats are usually those that are filled with calories, sugar, and fat. And, while it's totally fine to indulge in moderation and enjoy the most chocolatey, creamy, buttery desserts imaginable, there are also times when you want to satisfy your sweet tooth without worrying about what it's doing to your weight loss goals.
Here are five low-fat desserts that won't slow your weight loss, according to nutritionists.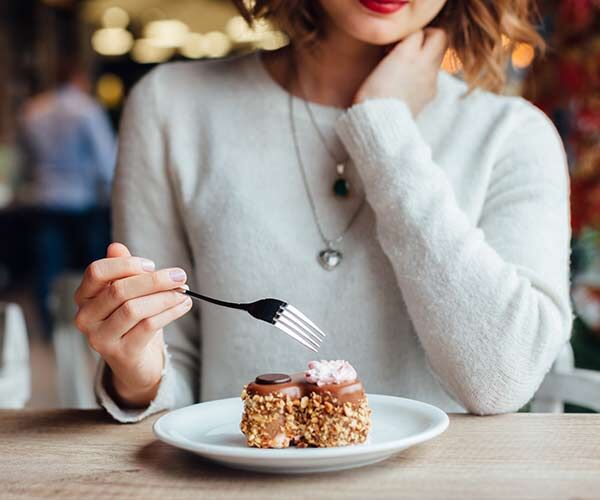 Shutterstock
It can be such a challenge thinking up healthy, low-fat desserts that taste amazing and won't blow your weight loss goals. But, believe it or not, even nutritionists recommend taking pleasure in a delicious treat every now and again.

"It's not realistic to go through life never enjoying dessert, so let go of any guilt," Cynthia Sass, RD, CSSD told Well + Good. "Choose desserts you enjoy that offer some nourishment, and won't make you feel completely sluggish or bloated afterward, and let your body guide you."

Here are five great low-fat desserts to consider.
Shutterstock
Dark Chocolate

It's one of the more popular desserts you'll hear nutritionists rave about, and it's one Sass told Well + Good she reaches for when she needs a sugar fix: dark chocolate. This antioxidant-rich treat gets healthier as you go up in the percentage of cacao content you choose (of course, it also gets more bitter, but that can be a whole other kind of delicious).

If you find the taste of dark chocolate just a bit too bitter, try pairing it with a few almonds or berries (which will increase the amount of antioxidants you consume).
Shutterstock
Matcha Chia Pudding

Brooke Alpert, M.S., R.D., C.D.N, author of The Diet Detox, told Aaptiv that matcha chia pudding is one of the most delish and healthy desserts you can choose: "Matcha is one of my favorite flavors, so I always try to incorporate it into new recipes, even if it's just sprinkled over plain yogurt. This matcha-chia pudding combination is perfect for when you're craving a dessert. It's not super-sweet and it's packed with fiber, Omega-3 fatty acids, and antioxidants. If I really have a sweet tooth, I like to add a little bit of high-quality dark chocolate—at least 80 percent cocoa, which means there is much less added sugar and greater health benefits."

This matcha chia pudding recipe requires the following ingredients:

Cashew milk
Chia seeds
Matcha green tea
Almond extract
Vanilla extract
Maple syrup
Shutterstock

A banana slush is a simple recipe that contains a wealth of potassium and is favored by Yasi Ansari, MS, RD, CSSD, according to Aaptiv. "One of my favorite go-to desserts is one with limited ingredients," Ansari said. "This one is rich in fiber—perfect to curb sweet cravings without all the other added ingredients!"

The best part: you'll need just three ingredients:

Bananas
Water
Honey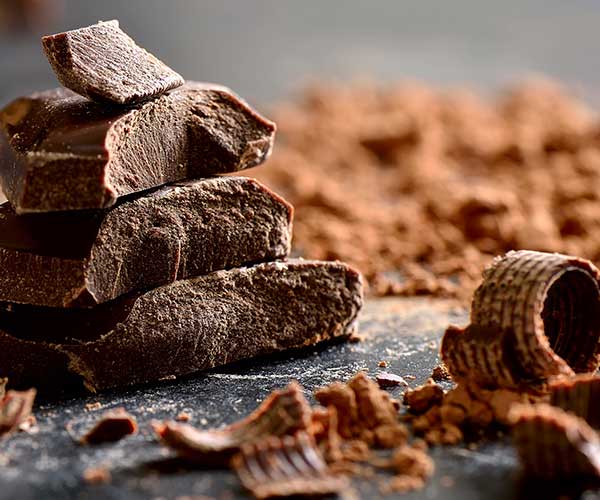 Shutterstock
Dark Chocolate Hummus

What do you get when you take antioxidant-rich dark chocolate and add protein-rich chickpeas to the mix? Dark chocolate hummus, a dessert treat that Jennifer Kanikula, RD, CD told Eat This, Not That she considers her go-to treat.

"While chocolate hummus may sound like a strange combination, it actually is magical. Still made from chickpeas, the nutrient content is nearly identical to regular hummus. Two tablespoons pack in 3 grams of fiber, 1 gram of protein, and only 80 calories. And the best part is that you still get your chocolate fix! Similar to chocolate mousse, you can eat dark chocolate hummus alone or pair it with your favorite fruit."
Shutterstock
Homemade Popsicles

Unlike store-bought popsicles that can be diluted, whipping up a batch of homemade popsicles ensures that you are basically eating frozen fruit and getting plenty of vitamins and minerals with your tasty dessert. Don't be afraid to experiments with a variety of fruits, veggies, and even herbs like basil.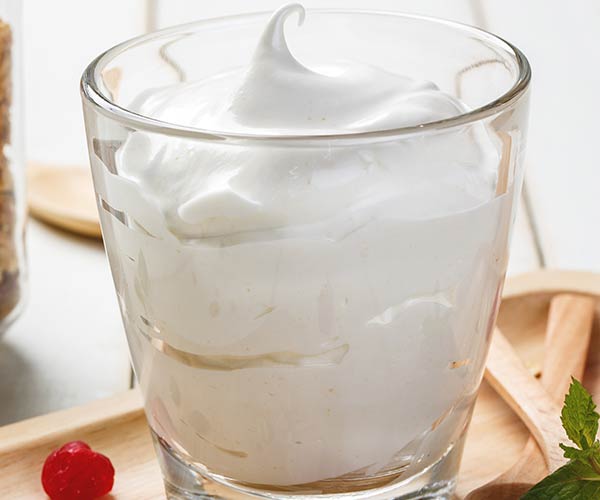 Shutterstock
Vanilla Yogurt With Coconut

You don't have to go out and buy a million ingredients when two will suffice. Dr. Frank Benedetto, Certified Precision Nutrition Coach, a double board-certified Doctor of Physical Therapy, and Certified Strength and Conditioning Specialist, told Eat This, Not That that vanilla yogurt, which contains protein and probiotics, is the perfect dessert treat — just add a bit of peanut powder and coconut to it.

"Mix a low-calorie vanilla yogurt with low-fat powdered peanut butter. Top with coconut flakes (if the diet allows). This is my go-to dessert because it tastes like ice cream and the mixture expands and creates enough volume to make you feel [satiated]. The [sweetness] satisfies the taste buds and the brain, giving you the fulfillment of eating."