Meghan Markle's wedding to Prince Harry is just a few weeks away and we can barely contain our excitement. The former actress and youngest prince will wed on May 19 at St. George's Chapel in Windsor Castle, in a celebration that is not your traditional British Royal wedding, to say the least. As more news of their nuptials starts to trickle in, we are getting a glimpse of what to expect.
However, there are still a few exciting details that are being kept under wraps. Namely, what will Meghan Markle's wedding gown and wedding heels look like? No one has been able to crack that code just yet.
Chances are, we'll have to wait until their wedding day for the big Meghan Markle wedding fashion reveal. While spoilers are always fun, getting to ooh and ahh as the bride walks down the aisle is sometimes even better. Based on Meghan's past fashion choices, her overall style, and some of the other details of their wedding, we can only take a guess at the kind of wedding shoes Meghan will wear on her big day.
We've pulled a few wedding day shoe styles that are likely contenders as the wedding heels Meghan will choose when she marries Prince Harry. Of course, there are a few things to remember when it comes to any royal wedding. It isn't very likely that Meghan will buy a pair of heels she finds kicking around at any old store, no matter how high end it is. When Kate Middleton married Prince William, she wore hand-stitched white lace pumps that were specially designed for her by Alexander McQueen's Sarah Burton, according to Town & Country. Sadly, she didn't exactly lift up her wedding gown to give the public a peek at her shoes. They were only revealed when they went on display at Buckingham Palace in an exhibit that opened a few months after their wedding.
While you may not be able to purchase the exact pair of shoes Meghan sports on her wedding day, we can all be inspired by her choice. Here are four of our best Meghan Markle wedding shoe predictions.
Aquazurra Bon Bon Leather Sandals ($995)
First up is a wild card choice. This heel is certainly not in line with other royal footwear, but we have to remember that Meghan Markle is bringing a certain Hollywood flair with her. Aquazurra is one of Meghan's favorite shoe brands and she has been spotted in their heels on more than occasion. Given the fact that she and Prince Harry have planned a warm weather wedding and she adores this brand, it's not out of the realm of possibility that Meghan will shake things up on her wedding day by sporting a pair of beaded embellished sandals with an open toe, ankle strap, and comfy padded insole.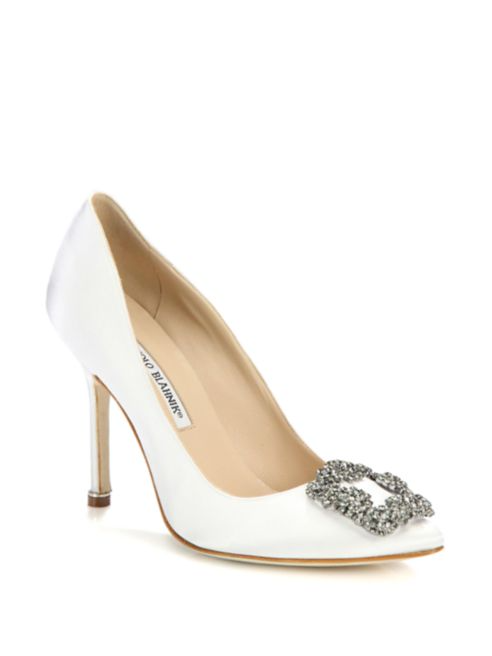 Manolo Blahnik Hangisi Satin Pumps ($995)
Meghan is a fan of classic pumps and she wears them well. A more traditional wedding shoe choice for the future royal is this pair of Manolo Blahnik satin pumps. They feature a four-inch self-covered heel, a satin and crystal-embellished upper, and a leather lining and sole. These pumps go with nearly every wedding gown you can imagine and are always a chic choice, no matter what the season.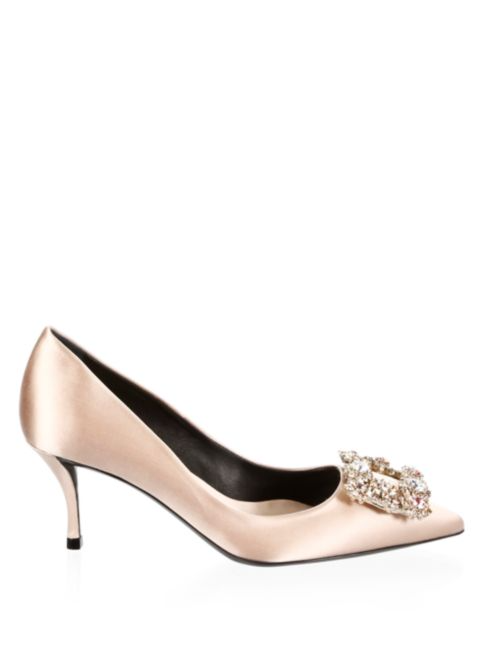 Roger Vivier Crystal-Embellished Satin Pump ($1,750)
The second pair of satin pump shoes chosen for Meghan on her wedding day were designed by Roger Vivier. The brand has a long history with the royal family that includes designing shoes for Queen Elizabeth on her coronation day. In fact, Vivier was the only French designer invited to attend the crowning ceremony. Choosing this brand on her big day would be a sweet way for Meghan to pay homage to her new husband's grandmother. It certainly doesn't hurt that these crystal-embellished satin pumps are gorgeous and stand out slightly in nude.
Christian Louboutin Follies Embellished Mesh Pumps ($1,195)
Meghan Markle's everyday style can be summed up as classic, but with a twist. When it comes to her wedding day heels, that "twist" can easily be the gorgeous sheer mesh sprinkled with crystals on these point-toe pumps. These heels have a four-inch heel and leather lining. Most importantly, they will make Meghan stand apart as a fashionista in the royal family, thanks to their signature red leather soles.
When it comes to choosing her wedding day heels, we can't be too sure whether Meghan will opt for completely classic and subdued or shake things up with a few trendy details that remind the world she's her own person—one with a Hollywood pedigree.
For more Meghan Markle news on SHEfinds, check out:
--All The Details On Meghan Markle's Wedding Day Tiara
--Prince Harry & Meghan Markle Have Picked Their Wedding Cake Baker
--Here's What Meghan Markle's Wedding Dress Will Look Like
--PHOTOS: Take A Glimpse At The Royal Wedding Invitations
SheFinds receives commissions for purchases made through the links in this post.