Celebrities like Gigi Hadid and Alicia Vikander always have such a gorgeous glow about them. If you're dying to know their secret and obtain the look of healthy bronzed skin all year long, you're not the only one. While the ability to jet-set off on a tropical vacation at a moments notice definitely helps, the celebrity secret to looking sun-kissed, even when you haven't seen the beach in months, is a quality self-tanner.
The one self-tanner that so many celebrities swear by for perfectly tanned skin is actually surprisingly affordable!
Bronzed goddesses like Kim Kardashian and Emily Ratajkowski absolutely love the brand St. Tropez Tanning Essentials. Specifically, their Self Tan Classic Bronzing Mousse is a fan favorite. The tanning mouse is known for its high-quality results and amazing smell (and anyone who's ever used a harsh smelling self-tanner knows how huge this is).
The St. Tropez tanning mousse is a "must-try celeb secret," according to Katie Rosen Kitchens, Editor-in-Chief of FabFitFun. "The super light, airy formula creates an instant long-lasting tan and unlike most tanners, the light fresh fragrance won't leave you smelling like chemicals."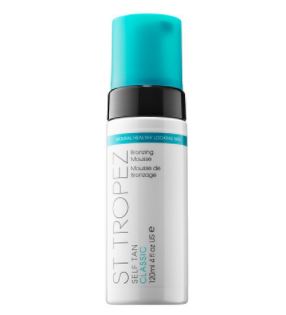 St. Tropez Tanning Essentials Self Tan Classic Bronzing Mousse ($32)
The St. Tropez Tanning Essentials Self Tan Classic Bronzing Mousse has a lightweight, easy to apply mousse formula that drives quickly and without feeling sticky. The results are a natural, healthy-looking tan that fits your skin tone. No orangey fake-bake results, here. With this mousse, you'll get a long-lasting, streak-free tan that makes you look like you just spend the weekend laying on the beach.
Another added bonus to the St. Tropez tanning mousse: It's made without parabens, sulfates, and phthalates--meaning you can feel and look good with this self-tanner. Using self-tanner is a healthy way to obtain a radiant glow, without exposing yourself to the sun's harmful, cancer-causing UV rays.
St. Tropez Tanning Essentials Tan Applicator Mitt ($6.50)
To help with the application of the St. Tropez tanning mousse (or with any self-tanner, for that matter) use a tan applicator mitt. A mitt will give you a streak-free, even tan and keep your hands from being stained orange from the product.
[Photos: Splash]
SheFinds receives commissions for purchases made through the links in this post.