Camille Kostek's might have just stolen boyfriend Rob Gronkowski's moment.
Even though the football player's team The New England Patriots won the Super Bowl on February 3, it was Kostek's PVC pants that she wore in the victory post that everyone is talking about.
Or at least everyone in the SheFinds fashion department (we're not big sports fans, admittedly). But seriously–can we talk about them? We need a pair immediately, as do her Instagram followers, who flooded her  post with comments like "Where r those pants from?"
READ MORE: We Never Thought Celebs Would Wear Tops Like THIS In The Winter–They're SO Tiny!
"Tastes like a champion," Camille captioned the pic:
But she's not the only fan of the look. Kim Kardashian also wore a similar pair to a celebrity poker tournament earlier this year.
Elle Macpherson rocked Beaufille's Veritas kick trousers ($517) in New York City earlier this year:
Need them!! Shop the trend now:
Commando Faux Patent Leather Legging ($98)
I.AM.GIA Winona 2.0 Pants ($120)
Farfetch Tufi Duek Vinyl Panelled Stirrup Trousers ($194, down from $388)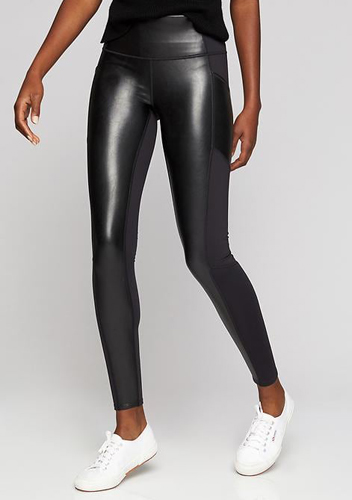 Athleta Gleam Chaturanga™ to Town Tight ($63.99, down from $79)
Dolls Kill Through The Smoke Full Zip Leggings ($52)
Asos Design Lisbon Mid Rise Skinny Jeans In Vinyl ($27, down from $48)