Plus-size fashion brand Woman Within is making history with a campaign that's both size and age inclusive.
Every Body Is Beautiful is a photo campaign that features influencers and real women ages 25-75 and sizes 14-34 in the brand's new spring/summer 2019 collection.
Representation is a major theme for fashion brands today, with increased pressure to create campaign imagery and product lines for all women—or face social media backlash.
Woman Within has been an industry leader on the topic; the 100-year-old brand has been selling clothing in sizes 12W to 44W since before inclusion was "all the rage," a rep confirms.
The latest campaign shows that the brand's core belief is still "every body is beautiful" and a sign that more and more companies will be willing to expand their definition of "inclusivity" beyond size.
Influencers in the space, such as Glitters And Lazers, Allison Kimmey, Suits Heels Curves and other participated in the campaign. Stunning!
Shop the featured styles below.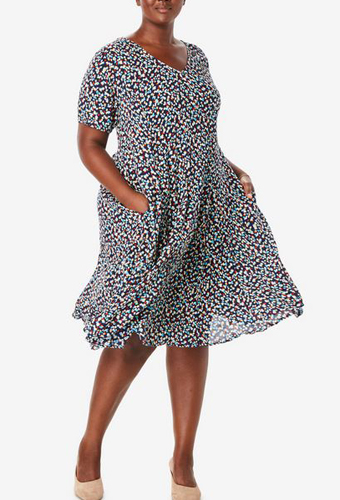 Woman Within Short Crinkle Dress ($26.99, down from $54.99)
Woman Within Crinkle Shirtdress ($44.99, down from $64.99)
Woman Within Striped Linen Sleeveless Shirtdress ($49.99, down from $69.99)