We've been obsessed with live stream this year–no lines, no tickets, no travel: just the good stuff. This is the scene at Louis Vuitton's Paris show right now. We know because we're watching it live on Facebook–it starts at 8:30am. Today is the last day of Paris Fashion Week, and Louis Vuitton and Miu Miu will both stream their shows live at 8:30am EST and 1pm EST respectively. Don't miss them!
You can find Louis Vuitton on Facebook or watch the show on your iPhone at fashionshow.louisvuitton.com.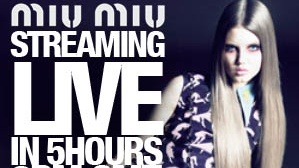 See the Miu Miu fashion show at 1pm today at Dazed Digital.
Let us know what you think! Check out all of our Paris Fashion Week coverage, via Twitter.