Our resident expert Amanda Russell. Damn, girl!
Jiggly arms, love handles, and cottage cheese thighs = 3 things you don't want at your wedding. But endless reps and total body makeovers are so last year; Amanda Russell, celebrity fitness expert, spokesmodel, and founder of the AR Program (a targeted dynamic workout program) says you only have to focus on 1 area: the section highlighted by your dress. Duh! Read on for Amanda's easy and effective moves, based on dress type:

Your Dress: Mermaid or Trumpet
Halston Heritage Ruched silk gown ($695); Nicole Miller Faille Trumpet Gown ($1,035);  J.Crew Lidia gown ($2,000).
Target: Abs
Amanda's Exercise: The Plank
Amanda walks The Plank (and so should you)
1. Lie on your stomach with legs fully extended behind you; hold elbows alongside the ribcage and place hands on the floor with palms facing down. Flex the feet and tuck the toes under.

2. Engage abdominal muscles and press up into a "plank," aligning the top of your head with your shoulders, hips and legs. Continue to press the palms into the floor or clasp your hands together. Ensure that your elbows remain on the floor and are in line with your shoulders.

3. Check in the mirror to ensure that the head, shoulders, back, buttocks, and legs remain aligned. Resist arching or dipping the back and raising or lowering the buttocks. Continually pull the belly-button into the spine and fully engage the muscles of the back, buttocks and legs.
Your Dress: Short or Cocktail
BCBGMAXAZRIA Strapless Cocktail Dress ($398, down from $278.60); Lanvin Tiered silk-gazar dress ($4,960); ABS by Allen Schwartz Beaded-Shoulder Draped Dress ($363).
Target: Legs
Amanda's Exercise: Step Ups
1. Find a sturdy bench, box or stairs. Face the object so you are looking directly at it.

2. Step up with one foot, and drive your knee up to a 90 degree angle with the other leg.

3. Step back down, and repeat – 15 reps each leg.

Optional: For this exercise you can choose to hold light dumbells (optional).
Your Dress: Ballgown or Full Skirt
J.Crew Sascha gown in silk taffeta ($1,500); Reem Acra Virtue Gown ($2,800); Alberta Ferretti Silk-radzmir strapless gown ($7,385).
Target: Arms
Amanda's Exercise: Tricep Dips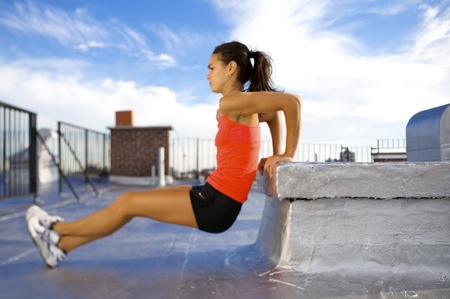 Amanda shows how Tricep Dips are done
1. Find a sturdy dining room chair, a low bench or a wooden coffee table that will hold your weight.

2. Sit on the furniture and place your hands on either side of your hips so your palms are resting on the furniture and your fingers are hanging over the edge. Place your feet together firmly on the floor, as far in front of you as possible.

3. Tighten your abdominal muscles to prevent injuring your back during the exercise. Carefully move your backside off the furniture, leaving your hands in place. Keep your back straight and your head up.

4. Slowly lower your hips as far as you're able, bending your elbows backward so your arms remain close to your sides. Then lift yourself up, and repeat. Start with 3 sets of 12-15.
If you're still in search of the perfect gown, shop our guides to inexpensive wedding dresses, short wedding dresses, and strapless wedding dresses now.