When Kim Kardashian debuted her jaw-dropping 20-carat engagement ring from NBA Kris Humphries, we had to laugh because the thing was so massive and so gaudy and equaled 3.41 carats for each month they'd known each other (6). Now comes news that you can actually shop replicas of the ridiculous ring.
….In ring pop form! Bazooka Joe (yes, it's the same candy brand from your childhood) created a Ring Pop version of Kim's bling, the Swarovski Encrusted Bling Pop Ring: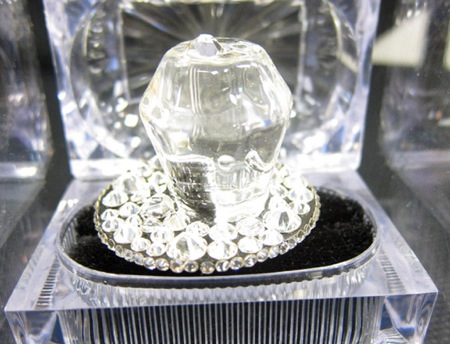 Three lucky winners will get the ring through a contest on Bazooka Joe's Facebook page. Funny that the comically-sized candy version is closer to the Kim's Loraine Schwartz stunner than any other replicas we've seen. We're digging this idea for bachelorette party gag gifts and bridal shower party favors – the joke's on Kim.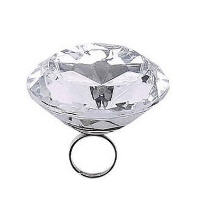 You could also go for this Georges Fun Factory 10,000 Carat Ring ($12.99) from Ricky's.
Shop our guides to the best strapless wedding dresses, white wedding shoes, and inexpensive wedding dresses.