I love painting my nails while on vacay, but it's a pain in the arse sometimes to find polish remover and all that jazz. I once tried packing remover in my suitcase and it ended up exploding all over my clothes, which was traumatic to say the least. This weekend, while QVC-cruisin' (yep, I do that), I found this amazing problem-solving product : Lori Greiner's brand new Nail Pak All n' 1 Polish, Remover and File Set ($21.36). The set contains 2 nail polish colors (in dark and light red or pink), polish remover and a nail file.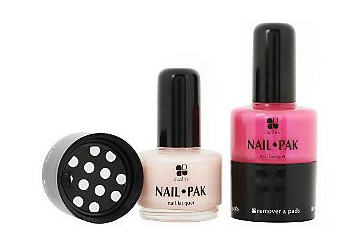 All n' 1 Polish, Remover & File in Hot and Light Pink ($21.36)
You can throw these bad boys in your purse, suitcase, take them on road trips, and more for an impromptu manicure. Each set includes  two bottles of nail polish, each with a nail file and 40 presoaked non-acetone polish remover pads. Available in Red & Sheer (above), Hot & Light Pink, and Purple & Blue. How genius.
Keep up with the latest nail trends now and check out Chanel's Limited Edition polishes, Ciate's Caviar polish and Thakoon x NARS.