By now you've probs all seen the Kim Kardashian elaborate wedding photos surfacing the internet, so we thought we'd introduce you to the brains behind her wedding: Sharon Sacks of Sacks Productions in LA. Responsible for some of the most gorgeous weddings and parties in Hollywood (including Khloe's wedding, and Kourtney's baby shower) she worked alongside of  Rrivre Works, who is responsible for installations and prop styling for top Hollywood functions, including the MTV Movie Awards, and many others.
Sharon's work (not too shabby):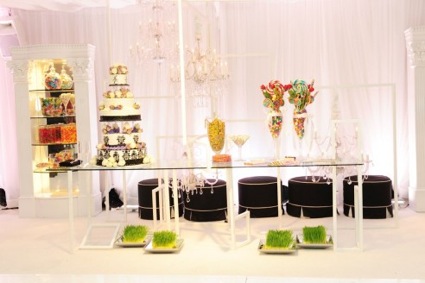 Kourtney Kardashian's Baby Shower
Khloe Kardashian's Wedding
"Kim loves black and white and so does Kris. They have this Hollywood royalty feeling and the black and white represented formality. But tradition was very important to them, " Sharon told People. And we think she did a pretty awesome job from the pictures we've gotten our hands on.
Shop our guides to long bridesmaid dresses, inexpensive wedding dresses, and short wedding dresses now.