We've been perfecting our winged eyeliner for so many seasons now that it's natural to wonder whether our favorite eye makeup product has outworn its welcome. Never fear, eyeliner enthusiasts, that's not about to happen anytime soon — and the thumbprint eyeliner trend is proof that gel, pencil, and powder eyeliners are here to stay (indefinitely).
When Selena Gomez and Lady Gaga were spotted in September with what appeared to be moon-like dots of eye makeup extending upward and way past their lids, we knew it couldn't be a mistake because goddesses don't make mistakes. So, what exactly was going on? They were simply ushering in the thumbprint eyeliner beauty trend — one I'm thrilled to say you can easily recreate at home without the help of a celebrity makeup artist.
It's graphic, cool, slightly edgy, and imperfect — here's how to get this fall's thumbprint eyeliner look.
1) Ditch Your Liquid Eyeliner And Go With Shadows, Gels, And Brushes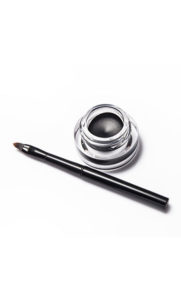 The first rule when creating thumbprint eyeliner that immediately proves it's nothing at all like a classic cat eye is that you won't need liquid eyeliner. Remember: this look requires a slightly messy touch, so ditch precision eyeliner pens in favor of tools like a rounded eye brush and gel eyeliner or seriously pigmented eye shadow. Be ready to wet your brush before applying the shadow in order to make it inky and be able to manipulate it just right.
2) Apply Primer And Eye Shadow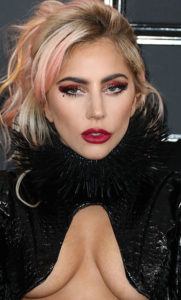 The first step to ensuring your thumbprint eyeliner will stay safely in place is to apply a layer of shadow primer, which prevents colors from fading, slipping, and melting by lunchtime. Next, brush on a light, neutral shade below your brow bone and the inner corner of your eye to make your eye color pop. When it comes to your crease shadow shade, the sky is the limit. Feel free to experiment and work in any shade you desire — thumbprint eyeliner will be the real star here, so you can choose whether you want it to stand out against a neutral background or look even more dramatic paired with jewel or copper-shaded lids. There's no wrong move here.
3) Eye Stencils Are Your Friend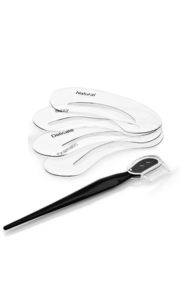 Dip your round brush in water until it's damp, work the bristles into a gorgeous, deep shadow, and sweep the color along your top lashes as if you were making a cat eye. If your hand isn't particularly steady with a brush, no worries: there are a number of eye stencils on the market that adhere to your lids and provide a fool-proof guide for you to follow. When creating thumbprint eyeliner, try to find a stencil with a rounded curve at the edge — we aren't going for a perfectly straight line this time around.
4) Smudge And Keep Smudging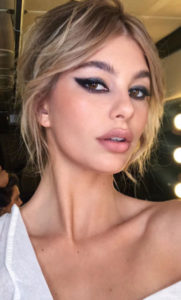 Using your finger or a brush, drag the color up and outward past the corner of your eye, smudge it until it's imperfectly gorgeous, and don't be afraid to flatten it slightly with your pinky to create an enviable "thumbprint." You can even apply a bit of gloss to your liner, which will help you nail this slick, sleek look.