You're Missing It! UGGs Are Crazy Cheap At Nordstrom Rack Today
Whether you haven't invested in new UGGs in a few years or you ruined your newest pair in the winter snow and slush, here's your chance to treat yourself to another pair for super cheap. Nordstrom Rack just opened their UGG Australia event and the prices are unbelievable! Cozy shearling slippers are under $50, pretty flats are just $69 and boots are less than $100. Shop now because styles are selling fast! UGG Australia Netta Genuine Shearling Lined Slipper ($49.97, down from $80) UGG Australia Karlina Genuine Shearling Lined Perforated Flat ($69.97, down from $105) UGG Australia Keely Genuine Shearling Lined Boot ($109.97, down from $170) UGG Australia Classic Short UGGpure(TM) Lined Boot ($119.97, down from $175) UGG Australia McKay Genuine Shearling Lined Water Resistant Bootie ($99.97, down from $150) SHOP THE UGGS SALE AT NORDSTROM RACK NOW Be sure to check out more great sales, plus cheap Movado watches. [Photo: Nordstrom Rack]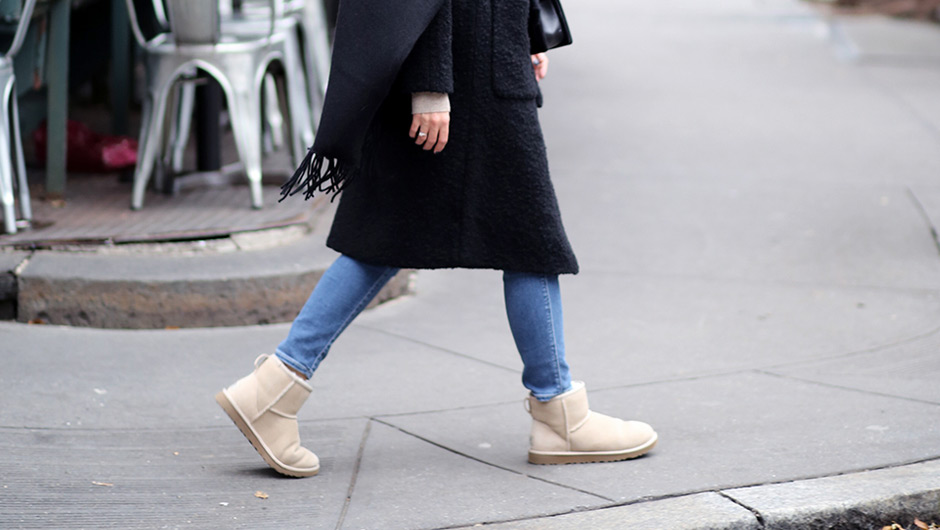 UGGs Are Now Water Resistant–YAS!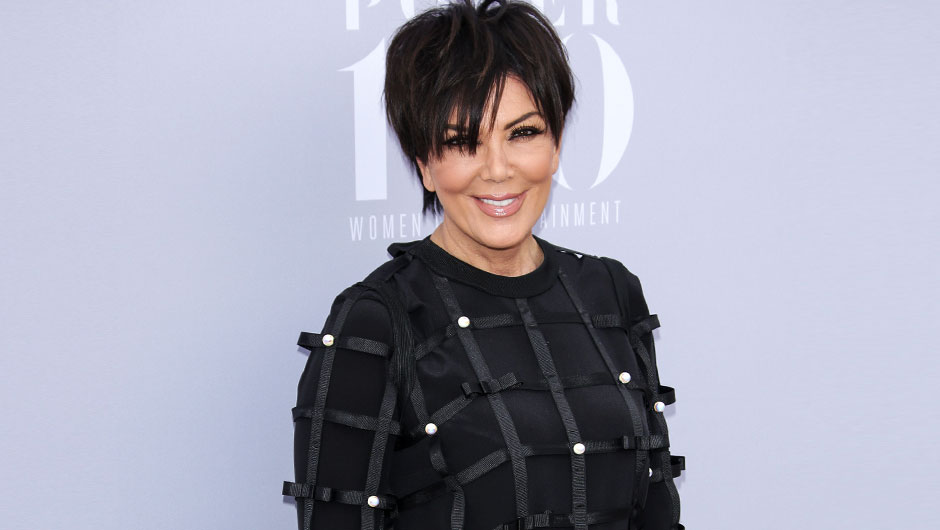 Every 'Smart Girl' Needs To Know Kris Jenner's Shoe Hack
Kardashian matriarch Kris Jenner knows a thing or two when it comes to fashion. She's (literally) birthed five fashion icons. If it weren't for Kris, we wouldn't have Kendall Jenner, which means we might not have lived through the rise of bridging! Dare I say, a Kardashian-free world would be calamitous for the fashion industry. Who would wear weird leotard-shaped tanks if  Kourtney Kardashian hadn't set the trend? Who would keep lip-injections in style if it weren't for Kylie Jenner? Lisa Rinna?? Point taken, Kris Jenner is strangely influential. At 60 years old, she's keeping up with all the Kardashians and then some. We regard her as something of an authority on the matter of functional fashion, and her recent advice for Caitlyn Jenner only proves our point. On a recent episode of Keeping Up With The Kardashians, Kris told Caitlyn that constantly wearing heels will aggravate her preexisting knee trouble. Woman-to-woman, Kris told her ex, "A smart girl always has Uggs in her car." We couldn't agree more, Kris! Do you keep a pair of Uggs in your car? Women's Classic Short ($130) Don't forget to check out: Blake Lively's Shoe Storage Hack Makes Her The Martha Stewart For Millennials and Oprah's Closet Cleaning Hack Revealed (It's Totally An Aha Moment!) [Photo: Splash News]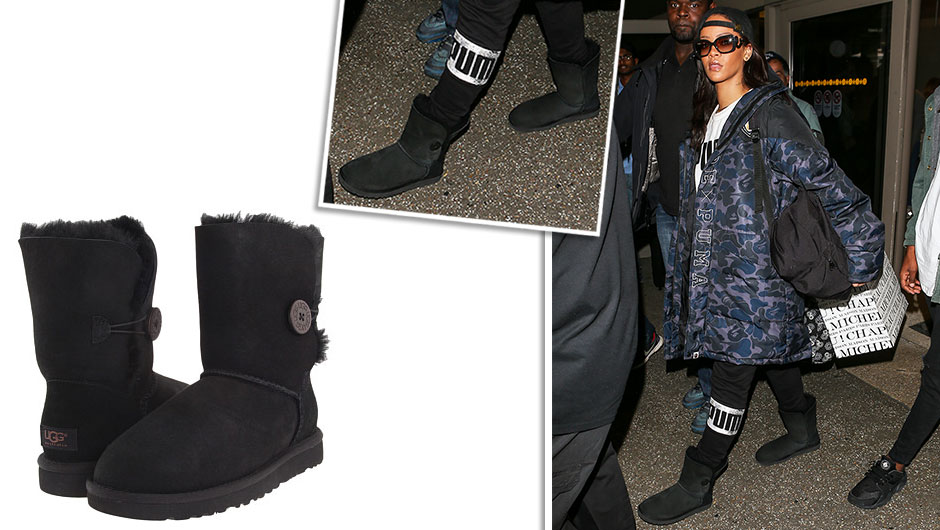 Rihanna Is The Latest Celeb Jumping On The UGG Bandwagon–Now, It's Your Turn
Many people might not be fans of UGG boots, but there is no denying how soft, cozy and warm they are. We won't lie - we look for any excuse to wear the plush boots so when Rihanna was spotted at LAX wearing her UGG Bailey Button Boot ($129), we thought SCORE! There is no easier on-the-go winter boot around and with all the recent celebrity endorsements, now including RiRi, you need to get a pair for yourself. Shop them below and savor every warm moment! UGG Bailey Button Boot ($129) Don't miss the chance to shop Reese Witherspoon's classic peacoat or Bella Hadid's chic leggings. [Photo: Splash News]
UGGs Are Officially Back, Thanks To An Endorsement From Kendall And Kylie Jenner
The fashion world and women everywhere have very strong opinions about UGG, whether it be good or bad. The amazing people over at E! decided to do some investigative work regarding UGGs ever growing popularity, and, according to their findings, UGGs are "here to stay". Ever since the brand's birth in 1978, they've been on the up and up. Celebrity endorsements are essential and UGG has been backed by Oprah, Kendall Jenner, Beyoncé and Kate Moss, just to name a few. However, in the early 2000s, UGG boots and lookalikes became overwhelmingly popular. Even if celebrities were rockin' these boots on movie sets, they were available just about anywhere so the appeal started to decline. After falling off everyone's radar for a bit in the late 2000s, Vogue wrote an article stating UGGs were making a comeback. "It" girls like Kendall and Kylie Jenner and Gigi Hadid were spotted wearing them. In that instant, UGGs were suddenly cool again because of the "it girl" endorsement. Shop a Kylie, Kendall and Gigi's favorite styles below! Mini Bailey Button ($107.99, down from $135) Bethany Boots ($160) Classic Tall ($165, down from $195) Find out what lampshading is and shop Gigi Hadid's black skinny jeans! [Photo: Splash News]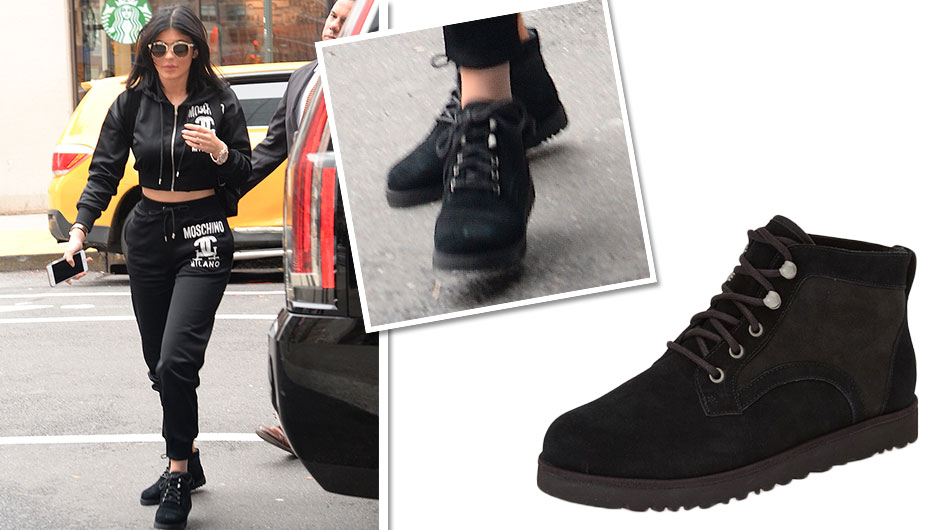 Kylie Jenner's Cool UGG Boots Are Still Available In Every. Single. Size. #Hurry
When Kylie Jenner does comfortable, she does it in style. The reality star visited the UGG store while in NYC and came out with a pair that makes us question why the UGG hate in the first place. These UGG Australia Bethany Slim Classic Water Resistant Chukka Boot ($159) defy all UGG-spectations (ha!). The slim look and super warm interior make these a great winter find for staying warm, stomping through wet/snowy/icy streets, and looking stylish. Plus, they're waterproof! What's not to love? Shop them below. UGG Australia Bethany Slim Classic Water Resistant Chukka Boot ($159) Shop Jessica Alba's $70 sneakers and Jennifer Garner's on-sale rag & bone look. [Photo: Splash News]
Nothing Says 'Peace Out, Summer' More Than A New Pair Of UGGs: Shop Their Sale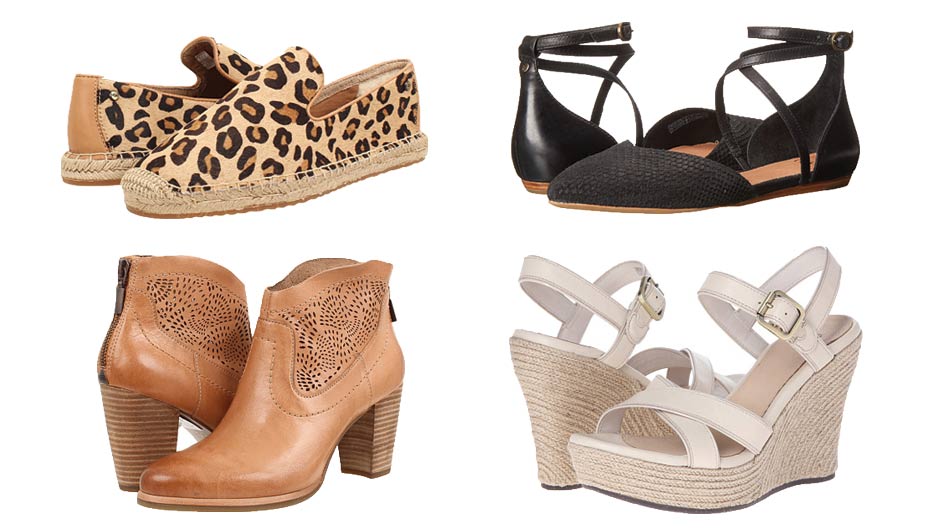 UGG's Aren't Only Good For Winter Boots–Shop Wedges, Sandals, Flats & More Up To 75% Off
Don't limit yourself to only wearing UGG's in the winter, there are plenty of adorable summer styles calling your name! Enjoy up to 75% off a wide variety of UGG styles at 6PM.com. Shop from wedges, flats, sandals, booties and more. I'm kind of in love with all the stack-heeled booties, plus it's a great time to stock up on them for the fall. SHOP NOW Don't miss designers to shop on Amazon for under $100 and 10 rompers that are appropriate to wear to work! [Photo: Sandrinne Calf Hair Leopard Flats, Charlotte Seaweed Perf Booties, Isabel Mar Sandals, Jackilyn Wedges]
8 Pairs Of Water-Resistant UGGs That Will Handle Rain And Snow Like A #Boss
Say what you want about UGGs, but nothing really compares on a cold winter day. They're warm, comfortable and basically the only shoes that make freezing cold semi-bearable. Of course, all of that goes out the window the minute there's precipitation in the forecast. Everyone knows UGGs and rain don't mix. Until now, that is. UGG Australia now has tons of water-resistant styles and the best part? You'd never know the difference just by looking at them. They look just like the UGGs you already own (or have on your wish list) except they are made with new fabrications on the outside that repel water so you can wear them in the rain and snow without destroying them. #genius Shop the new water resistant UGG boots in the slideshow. Be sure to check out the best faux fur scarves and all of the stores offering free shipping for the holidays. [Photo: UGG Australia]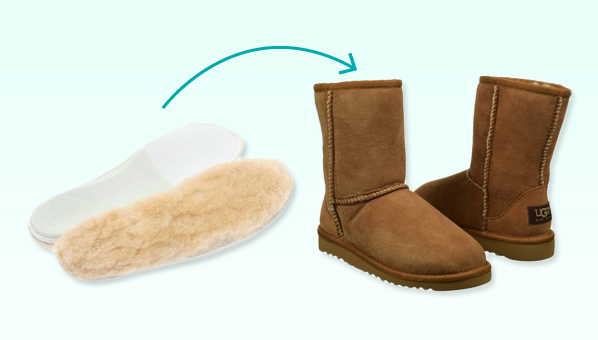 These Replacement Soles Are The Best Thing Ever If Your UGGs Need New Life
If you're a devoted UGG wearer (ain't no shame!), then you know the shoes don't stay fresh and fluffy forever. It's not uncommon for the shearling to wear out after a few seasons--especially on the inside sole. That's why these replacement insoles are a total game changer. Instead of dropping $150 on another pair of UGGs, you can just get these inserts for a tenth of the price (read: more money to spend on PSLs). Your shoes get new life and don't need to be broken in all over again. Um, amazing much? UGG Replacement Insoles ($14.95) For more tips, check out: what to buy every day of holiday shopping season, how to half tuck shirts and holiday shopping perks for loyal customers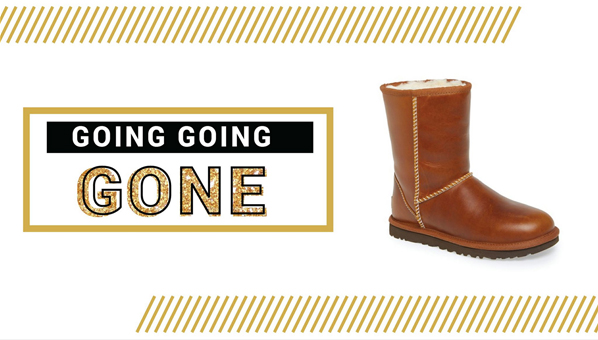 Waterproof UGGs Are A Lazy Girl's Best Friend This Winter
An experience wearing UGG boots is like no other, unless you know what it feels like if your feet were wrapped in tiny Tempur-Pedic mattresses. When we first slipped into those puppies as a teen, it was a revelation. Could it be that we found a pair of shoes that are super cozy AND go with everything in our wardrobe? (At least back then we thought they did.) And just when we tried to brave the elements in quite possibly the comfiest pair of boots ever, your favorite footwear ends up sopping wet after only a few minutes of rainy or snowy weather. A temporary fix included waterproof sprays but weathered damage to our dear UGGs were forever. Luckily, the Aussie boot gods answered our prayers with these UGG Australia Waterproof Boots ($164.95), which means we'll be wearing this trusty pair straight through the holidays, whether it's a long travel home to visit the family or a day of lounging around by the fireplace to avoid that dreadful polar vortex. Did our anticipated winter just get lazier? You bet—but drier. GET UGG AUSTRALIA WATERPROOF BOOTS NOW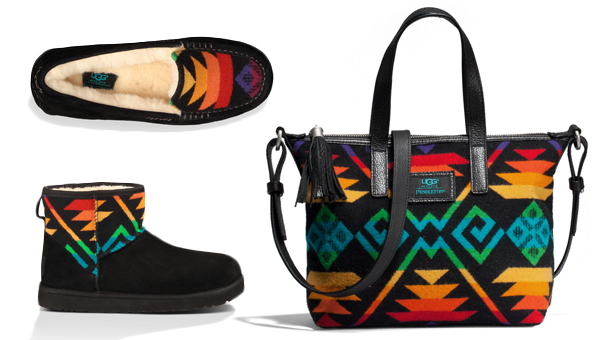 Game Over: UGG x Pendleton Just Won Holiday Gifting
It's not even November and the BEST holiday gifts of the season just dropped: UGG x Pendleton. Yes, the brands that make shearling boots and supremely cozy blankets teamed up on a five piece collection. The limited edition range includes four shoes and one handbag, combining classic UGG styles with Pendleton jacquard fabric. TOO GOOD. If one, if not all, of these items aren't on the top of your holiday wishlist, you need to check your self. We're kidding, but we do really want everything in this collab (hint hint). SHOP UGG X PENDLETON NOW And don't forget to check out: shop Vans shoes, Vince's first-ever handbag collection and the best lace-up heels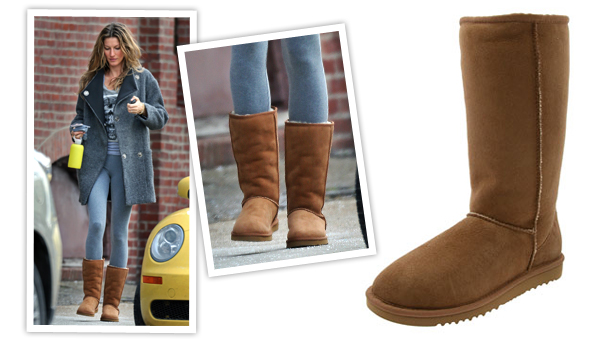 If Gisele Bündchen Gives UGGs Her Seal Of Approval, Who Are We To Disagree?
If you are suffering through this massive cold front like most of us, you are probably down to wear any and all things warm and fuzzy. Even UGGs. Especially since we have seen some of our favorite A-listers sporting the warm boots without shame, like Gisele Bündchen. The leggy mother of two wore the UGG Australia Classic Tall Boot ($194.95) with her workout gear. If she can snag Tom Brady in these fugly boots, you can do anything in them (like staying warm). Don't worry, we don't judge and neither will Gisele. Grab the classic boot - clearly, it is not going anywhere! UGG Australia Classic Tall Boot ($194.95) Shop more celebrity style such as Jessica Alba's red leather skirt, Beyonce's Topshop skirt,  Kourtney Kardashian's flattering sweats and Alessandra Ambrosio's booties. [Photo Credit: Splash News]
Black Friday 2004 Was The Same As Black Friday 2013: Everyone Wanted UGGs
It's no surprise that the iPad sold out on Black Friday, or that tech products were the number one sellers, but we were a little shocked to hear what fashion item people searched the most for online: UGGs. Yes, it's true. People still love the sheepskin boots no matter how much crap they get for wearing them. According to Google's research which was shared with the Huffington Post, UGG boots were #4 on the complete list of trending items on Black Friday, following video game consoles, tablets, and Minecraft Legos. The only other fashion items that made the top 10 were North Face and Nike Air Jordan retro sneakers. Based on that list, we can pretty much assume that UGGs will be around for a long, long time. You better find a way to put your aversion aside. Don't forget to check out 100+ Cyber Monday deals, the Kindle Fire sale, and celebrity Thanksgiving Instagrams
Don't Wait Until Black Friday–UGG Boots Are On Sale Now And Going Fast
If you're one of those people that cringes at the thought of shopping on Black Friday, you're not alone. And because there are so many of you, retailers aren't waiting to slash prices. There are loads of early Black Friday sales happening today!  Our fave, however, is going down at UGG Australia where boots and flats are 30% off. Now if you've ever tried to score UGGs on sale, you know this basically never happens. So hurry and take advantage of this opportunity because it probs won't happen again for a long, long time. SHOP UGG AUSTRALIA SALE NOW Also make sure to check out beauty product ornaments, the coolest Nike sneakers, and nostalgic winter trends.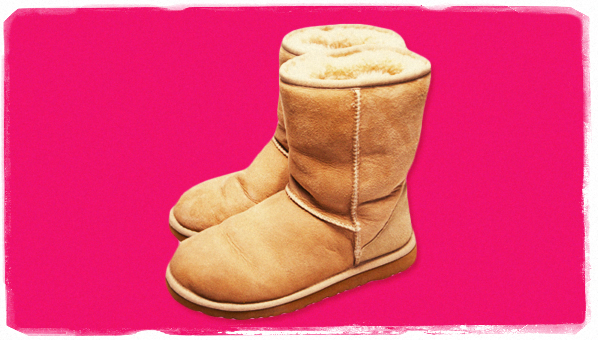 Hey UGG Diehards, Will You Still Wear The Sheepskin Boots NOW?
Deny it all you want, but we know you secretly have one pair of UGGs stashed in the back of your closet. Maybe you just wear them around the house, or maybe you're someone who has no shame and rocks them in public. Hey, if celebs like Blake Lively and Cameron Diaz do it, they can't be soooo bad, right? But, if you think one of the best-selling boots of all time (if not THE best) can do no wrong with their comfy sheepskin lining, you need to get some facts. Sure the 35 Classics for 35 Years anniversary collection, and the new customization tool give us even more UGG options, but we're not sure you're going to want them after you hear this. Do you know what you're really wearing (and funding) when you put on those Classic Tall UGGS? According to Yahoo News, the real and not widely known reputation of UGGs is the awful treatment of sheep to provide buyers with wool. It's horrible and inhumane. Not to be too graphic, but to give you all the info: they actually remove the skin of the sheep WITH the wool. It sounds painful just typing it. So that means the wool on the shoe is still attached to the sheep's skin, and therefore sheep are killed to make the shoes. Even Pamela Anderson, whose claim to UGG fame is starting the whole trend, is horrified by how the boots are actually made. She tells People Magazine: "I feel so guilty for that craze being started around Baywatch days – I used to wear them with my red swimsuit to keep warm – never realizing that they were SKIN!" She's not alone. Most people think that the boots' wool lining is attached to a synthetic back. But, now we know that's not true. And even buying a pair of fake UGGs isn't the answer. Those boots use the same methods to make their shoes too. So is the UGG label and hefty price tag really worth it? What do you guys think? Will you still buy UGGs now that you know how they're made? Let us know in the comments below! If you're STILL looking for a pair of UGGs, try some of these non-shearling options. UPDATE: UGG has reached out and shared this link with us. According to Deckers, the company that owns UGG, "UGG does not use sheepskin unless it is a byproduct of the meat industry". Read more to find out how UGG treats the sheep used for their boots. For more news, check out: Kelly Clarkson is pregnant, Rebecca Minkoff headphones and Calre Vivier x Apple and beauty advent calendars
Shearling Wedges: Because All Shoes Should Feel Like UGGs On The Inside
Your feet have a rough life. It's true! They're forced into shoes that don't fit (but look soooo good), resulting in aches, pains, and blisters. You also experience stubbed and stepped-on toes. (Even worse if they're getting stepped on by a stiletto heel.) When the freezing chill sets in, your feet are the first ones to show notice (or numbness, rather). So it's safe to say that it's pretty tough out there for feet. So why not treat them to something special? Sure, you can schedule a spa pedicure or buy a pair of wooly socks but how about when you need your own two feet for a day full of trekking? That's where these shearling wedge sneakers come in. We already know how comfy a pair of wedge sneakers are, so adding that extra layer of super soft, extra warm shearling is a solid upgrade. It's like your favorite pair of UGG boots (but way more stylish), made to last in the grueling winter weather. The design is pretty niche at the moment but we did the work for you on finding the most stylish pairs available right now in our slideshow. Read more fashion stories and trends: what not to wear if you're petite, stylish boots with fringe, and coats under $200.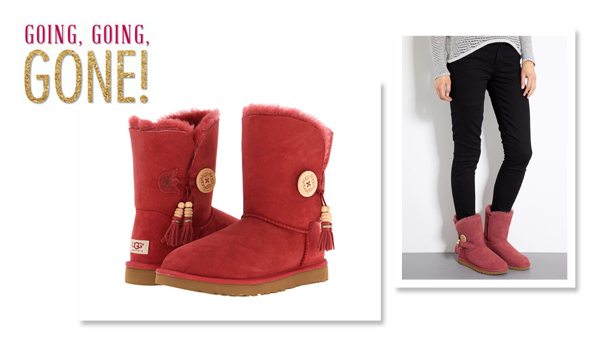 The Bailey Charm Boot Is The Coolest UGG Since…Ever
Skeptical that an UGG boot is going to do anything other than go on clearance this holiday season? Well, you probably don't know this but the Bailey Charm Boot ($184.95) sold out earlier this year when it was't even winter. We're not lying. That's why it's on our 2013 Going Going Gone Guide. Any UGG owner will tell you that they wear the boot more for comfort than style (just ask these celebs). The ease of the shoe, especially in colder weather, seem to trump all logical thoughts about whether or not it actually "looks" good. After all, if it feels right, how can it be wrong? And this new UGG is stepping up its game with the addition of the boho-esque Bailey charm. So instead of wearing the same boots everyone's had since 2002, why not be different with the Bailey Charm Boot? Yeah, get on that. Like now. SHOP THE UGG BAILEY CHARM BOOT NOW And don't forget to check out our annual Going Going Gone Gift Guide for more great gift ideas!
Leave Your UGG Guilt Behind–Celebrities Wear The Fuzzy Boots All The Time
We get it. It's cold, you don't want to risk slipping on the ice in heeled boots and UGGs are just so freakin' comfortable. So why do we all feel so guilty wearing them? No, they aren't the cutest boots out there, but if stars like Blake Lively, Kate Upton and Cameron Diaz can get away with wearing, certainly so can you. Don't believe that these celebs--and tons more!--wear UGG boots? Click through the slideshow for your proof. And wear your UGGs with pride, girl! Score more A-list style such as  Rihanna's sexy black bikini, Jessica Alba's jeans and Reese Witherspoon's quilted jacket. [Photo: Splash News]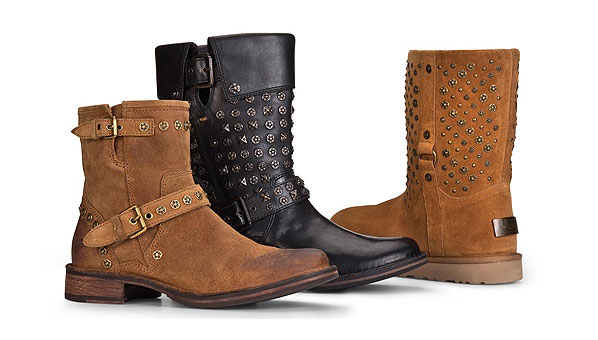 8 Boots That Don't Have Shearling, But Swear They're Still UGGs.
For years, those who hated the UGG had to sit back and shake their heads at the hoards of people buying the boot, wearing the boot and often doing so in temperatures much higher than 50 degrees. Now, however, not only has the trend finally seemed to wane, even the company -- UGG Australia -- is looking for a new revenue stream via new products. And, this time, they aren't ugly ones. Sure, the name UGG might send a chill down your spine, but their new boots are anything but the UGGs of the past. Plus, celebrities like Amy Adams and Hayden Panettiere have already signed on to the new boot. Oh, you didn't have time to point out the ugliness that they chose for footwear recently? That's probably because you didn't even notice they were wearing UGGs. That's right, UGGs have done a 180 and now, the boot is simple, classic, useful and, might I even say, stylish. In the spirit of giving everything a second chance and wiping away first impressions with seriously impressive second iterations, check out these UGG boots that will certainly keep your feet warm and cozy without forcing you to sacrifice everything you know to be true about fashion. SHOP UGG BOOTS NOW Want more shoes we love? Check out: Kim Kardashian's 3.1 Phillip Lim boots, shop the cut-out boot trend and the new collection from ALDO RISE x Preen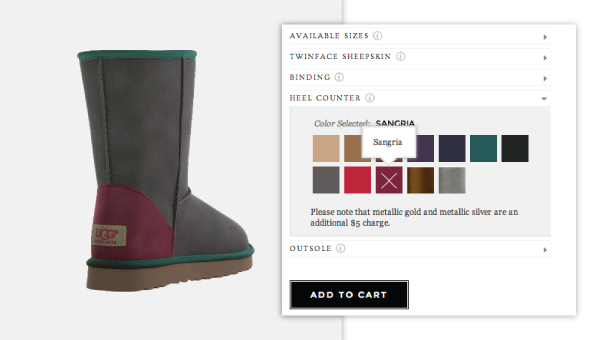 UGG's New Customization Tool Lets You Get 4 Different Colors In One Boot #Score
When fall rolls around, we always get really pumped to see what new styles UGG comes up with (admit it, you do too). And let's be honest, it's always a hit or miss if we like them. But with UGG's new UGG by You feature, you can customize your own boots without waiting for a new season, and without being afraid of hating the new styles, because you get to choose! You can design two different options, either the Classic Short Boot or the Fluff Flip Flop. Pick your style, then choose from a selection of colors for the sheepskin, binding, and heel. And you can even make the bottom of the shoe a different color too. When it's all done, you can get a whopping four different colors in one boot. And this seasons options are neutrals and dark shades of blue, green, and red. The entire process takes less than two minutes, and it costs $220. Talk about the perfect holiday gift ever? We think so. DESIGN YOUR OWN UGGS NOW In other news, you can design your own Harry Winston diamond, OPI has a new collab with Gwen Stafani, and MIA's collab with Versace looks like knock-offs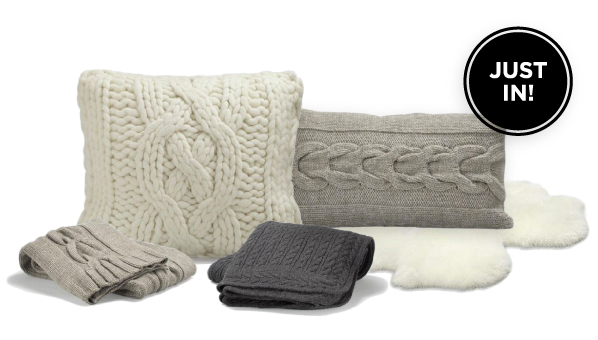 UGG's New Home Collection Is Here And Completely Colorless
We know that there are some of you out there who still can't stand the sight of UGG boots. But even so, there is no denying their coziness. And because their sheepskin fur has become so popular, UGG decided to expand into a home collection. You can now get sheepskin rugs, pillows and a cover for a pouf, which might be useful if you have any idea what a pouf is. If the idea of being covered in sheepskin freaks you out a bit, don't worry because they sell cable knit items too. But don't except any color in these new home products. Every piece is either gray or cream, making it seem like UGG Australia went very basic and took no risks with this collection. They have so many different shoes styles now, so we were definitely expecting a little more from their home collection.  I don't know about you, but we're hoping a second wave of some colorful stuff will show up soon! To check out the collection and shop the new products, click through the slideshow below. SHOP UGG HOME COLLECTION NOW In other news, check out Kate Moss's surprise collab with Topshop, 25 products that support Breast Cancer Awareness, and Sephora's new Formula X collection
Shop 35 UGG Best-Sellers For The Brand's 35th Anniversary
Who knew UGGs have been around since 1978? Or that the inspiration for the brand came from the beaches of Southern California? Those iconic sheepskin boots just turned 35 years old last month, which means they're almost twice Miley Cyrus's age. Whoa. To celebrate the big birthday, UGG is giving you the chance to shop 35 of their best selling shoes. There's everything from the classic Tall and Short styles, to a mini black patent boot. The one thing all these shoes do have in common is what has defined the brand since 1978: sheepskin that feels like nothing else. As much as we all talk about getting knock-offs from Target or wherever, nothing compares to an actual UGG boot. They're just all you want to put on your feet during the winter. Show the shoe brand you've been wearing since middle school some birthday love and click the slideshow to shop UGG's best-sellers now! SHOP UGGS BEST SELLING SHOES NOW And don't forget to check out: Saks Off 5th launches e-commerce, Sephora's Formula X nail polish collection and shop Katy Perry's plaid skirt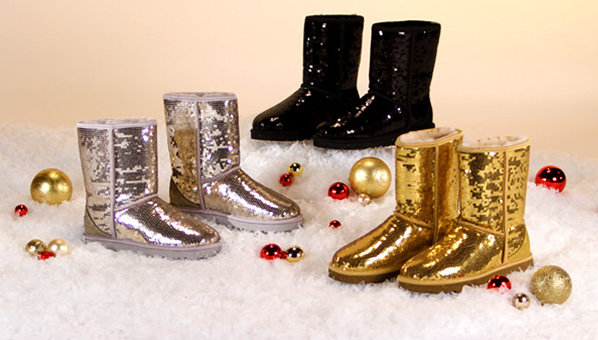 Despite Early Predictions (And Droves Of Haters), UGGs Were The #1 Gift Of 2012
Don't count them out just yet. Though it was recently reported that the polarizing shearling boot's sales were down, UGG boots once again topped the most-gifted list this holiday season—even beating out the iPad and Barbie. UGGs may be the joke of the fashion industry, with style-setters like Alexa Chung ripping on the soft boots, but clearly the public has had the final word. One reason for the boot's success this season might be the decision by parent company Deckers to roll back prices after the dip in sales. The standard price of the Classic UGGs dropped $10-15, along with many markdowns on other styles. The brand was also featured on a few flash sale sites. And it's no surprise that people love themselves a good sale. That said, what do you think about continuing popularity of the (f)UGG boot? Did you receive or give a pair this holiday season? Sound off in the comments below. And if you're beginning to reconsider your hatred of UGGs, click through the slideshow to check out a bunch we found on sale. Some are the classic fuzzy style, but there are a few cute surprises in there, too. For other holiday bestsellers, check out WWD's 10 top sellers and what sold on Black Friday this season. And for more shoe news, check out Prabal Gurung and Casadei's pre-fall collaboration.
UGG Sales Dip To New Low. The End Of An Era — Or Best News Ever?
Love them or hate them, UGG boots have been a mainstay of the market for several years now. The only shoe to share both a "Best Selling" and "Most Hated" title is (finally) on the decline: shares of parent company Deckers Outdoor Corp. dropped 16% last week, reaching a 3-year low. The downward trend comes at a bad time for the boot, which normally reports huge holiday sales. According to HuffPo, Deckers blamed "years of price increases," such as the launch of the $500-$1,000 UGG Collection, for turning off the mall-shopping UGG consumer. While the anti-UGG set may be thrilled that the shearling boot's 5+ year reign is coming to an end, the decline is also good news for its fans. Deckers plans to react to the dip by rolling back prices. That means your beloved sheepskin slip-ons will be marked down -- just in time for holiday and any inclement weather we may have this unseasonably-warm winter. So, what do you think: is this the end of an era, or the best day EVER?! Leave a comment below. For more shoe news, check out this Hunter x J. Mendel collaboration, Matthew Williamson x Havaianas, and the best weatherproof boots.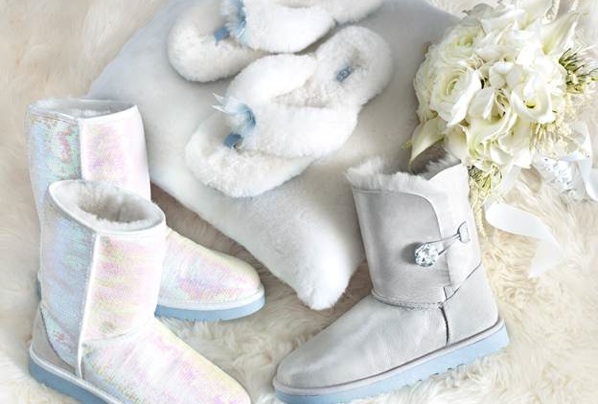 UGG Launched A Bridal Collection. Thoughts?
UGG Australia just launched a collection of bridal boots and fuzzy flip flops. Get the full scoop on the "I Do!" line on BRIDEfinds now, including pictures of the iridescent sequin boots that the brand thinks you can totally "wear down the aisle." SEE THE FULL COLLECTION For more shoe news, check out Soludos x Mara Hoffman, Loeffler Randall x J.Crew and Chloe Green for Topshop.
Finally, Slippers You Can Wear In Public: UGG Dakota Moccasins Are My New Obsession
As stylish as it is comfy, these UGG Dakota Moccasins ($100) are the perfect remedy for all your heel obsessed friends and they're aching feet.  The best part? They're made with buttery suede and plush shearling lining. With comfort like this, your other shoes will feel neglected in no time and your boyfriend will be caught giving them a try. And yes, you absolutely can wear them in public. (more…)
Hmm, A Cute Pair Of UGGs You're Probably Actually Going To Want
Earlier this week, we asked you if you needed the UGG Vaccine, but you might want to re-think that. These UGG Dakota moccasins ($100) look like suede moccasins, but have that tell-tale shearling lining that made UGG boots famous. The more fashion-forward pair feel like slippers but can be worn both inside and outside. (more…)
Busted Boot Of The Week: The UGG Australia Classic Sparkles Boot (Yes, It's For Adults)
The UGG Australia Classic Sparkles Boot, $195 Call me conventional, but there's just something amiss about using the word "classic" to describe a pair of gold lamé sequined UGGs. (more…)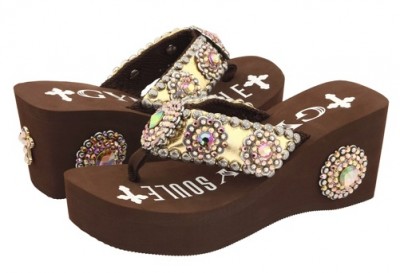 UGG Denim Sneakers And 5 Other Much-Needed Shoe Interventions
Some people believe that a trend is no longer cool once it reaches full saturation---when stores from all ranks of location, taste level, and quality sell permutations of the style. What I take issue with, though, is when one product represents WAY too many trends---like the denim/sneaker/Ugg Boot situation going on above.  My advice to the much-needed shoe interventions from the Zappos sale section (pictured above)? A good rule of thumb is if you can spot more than 3 trends on a particular item, you're better off skipping it all together. Be sure to check out the rest of our designers on crack posts, coverage of bizarre UGG shoes, and other fashion news.
From Crocs To Tevas: The 5 Shoes That Should Never, Under Any Circumstance, Be High-Heeled
Remember when ugly footwear was marketed on the sole token that it was comfortable? Because let's be honest, uggs, tevas, and crocs did not initially get by on their looks alone. But what I really can't seem to remember, however, is when it became okay for these so-called comfort-based brands to manufacture high heels. Doesn't something about utilitarian comfort heels reek of irony? And we at SHEfinds love a good oxymoronic trend (read: summer scarves, dry-clean only bathing suits, and fingerless gloves), so we've compiled a list of our 5 favorites. See our picks below: Want something more, um, sophisticated? Check our our spring guides to colorblock heels, comfortable heels, and printed wedges.
$1,200 UGGs – Coming To A Store Near You
For those of you who wear UGGs everyday of your lives, the brand wants you to class it up a bit. They just announced the launch of the Ugg Collection - a high end line of handbags and shoes ($500 to $1,195) that hits in September. And we're not talking about studded, leopard print style (hello Jimmy Choo for UGGs), this collection will include knee high boots, pony hair satchels, olive green strap booties, and more. (more…)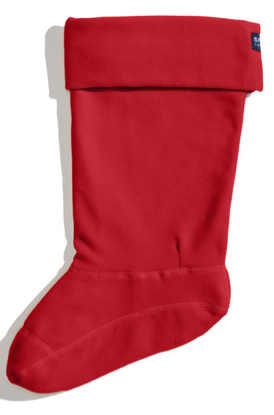 5 Ways To Winterize Your Wardrobe Without Spending A Small Fortune
There might be snow on the ground, but that's no excuse to leave your summer dress and rain boots to collect dust. Between boot liners and fur scarves, we can now turn our go-to summer staples into year round outfits. So what are you waiting for? It's time to pimp out your warm weather wardrobe with these affordable style converters: 1. Transform Your Rain Boots Into Winter Boots: Slip these cozy Sperry Top-Sider Rain Boot Sock Liners ($24.95) into your favorite rain boots to turn them into lined winter boots and to keep feet toasty. 2. Keep Legs Warms, Even On Skirt Days: Inside of boring knee socks, try adding a stylishly warm finish to any dress with a pair of DKNY Hosiery Pointelle Boot Toppers ($22).They hug your legs from the ankle up in sweet pointelle. 3. Weather-ize Your UGGs: Don't let your UGGs fear the snow with this UGG® Australia's Sheepskin Stain and Water Repellent spray ($8) that protect your boots (and clogs) from any unwanted weather. 4. Add An Instant Fur Collar For Any Coat: There's a chance you might actually enjoy the cold while wearing this Shopbop Basics' Faux Fur Neck Warmer ($78). This fully lined stole works under ever coat. 6. Wear Moisturizing Leggings Under Your Jeans Since we hate how dry our legs get in the winter, thanks to these mango butter and almond oil Lytess Micro Massaging Lift Leggings ($110), which layer under pants, we can have smooth legs all day. Jonesing for more winter ideas? Shop more accessories including rain boots, leggings and more. Sign up for SHEFindsMail for exclusive SHEFinds news.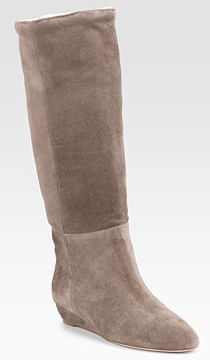 Shearling Boots: Not Just For Weekends And Leisure Suits Anymore
If you're Uggs have never seen the light of day, tt's time to upgrade to a pair of shearling boots that don't embarrass you in public. We're talking seriously cute insulated and fur lined boots. So grab your favorite skinny jeans and leggings because you're definitely going to want to show these furry babies off (and not just to the grocery story). Grab a pair: These Loefller Randall Suede and Shearling Boots ($698) might be more of a splurge, but you'll keep your feet toasty for years and seasons to come. If you dare you rock platforms in this weather, you're definitely going to need these Elie Tahari "Shelly" Shearling Booties ($167.16, down from $398). They're also perfect for next fall.  For a twist on the classic snow boot, try on a pair of these Juicy Couture Sarabeth Boots ($100), which are completely lined in faux fur.  Since we love UGG boots so much, we have fallen in love with these UGG Sundance II Boots ($225) that have the original UGG shearling on the outside and the inside. These Topshop Dakota Boots ($170) just look insanely warm with its faux fur on the inside and outside, so we can only imagine how wonderful they'll be for even the heaviest snowfalls. Sorel, a reliable winter boot company, stepped up their game this year with these Joan of Artic Boots ($130). They're waterproof and guaranteed to keep your digits safe and dry all winter long.  When Hunter boots, over the knee boots, and shearling all came together, these Hunter Over The Knee Cervina Boots ($329.90, down from $495) were born to keep not just your feet, but your whole leg extra warm. Shop more of our favorite boots. Take a peek at our guides to the best winter gloves and the best heavy scarves. Join our e-mail list for exclusive updates.
Forget The Frost Bite: 8 Gloves Too Pretty For Shoveling Snow
It's really freakin' cold out and it's only getting worse. Since we won't be feeling the sun anytime soon, there's no reason to let your hands suffer. You're going to want to grab some heavy lotion and a warm pair of gloves to get you through this season. But there's no reason to sacrifice style for warmth - check out these awesome gloves that are as cozy as they are cute: Check out more winter trends. Shop our guides to the best winter gloves, the best heavy scarves, and the best winter hats. Join our e-mail list for stylish SHEFinds updates.
Beat The Black Friday Rush: Grab These Tall Leather UGG Boots Before The Masses Do
UGGs are the comfiest freakin' boots out there, and this year we're thankful for these UGG "Broome II" Tall Leather Boots ($220), which made our Holiday Sold Out List. They have molded rubber soles with special traction, so you'll want to snatch up a pair before the ice and snow arrive. Stop at UGG Australia, Island Surf, Dillards, or The Walking Guide to grab yourself a pair before they sell out! You can't say we didn't warn you. For more gift ideas, check our holiday sold out list, then check out the perfect gifts for your party girl friend, your reality-TV obsessed friend and your man. If you're still stumped, hit up Part 1 of Oprah's Favorite Things for 2010. Then see all of our sales and deals, best find of the day posts, and online sample sales, too.
If She Prefers PJ's Over Party Dresses: Gifts For Your Homebody Friend
It's starting to get really cold out there and let's face it: cozy nights on the couch are starting to sound a lot better than bar-hopping until the wee hours. If you have a girlfriend who prefers Netflix and popcorn to dancing and martinis, more power to her! We've rounded up the very best gifts for your homebody hommies: Need more great gift ideas? We've rounded up the best gifts for your party girl friend, your reality-TV obsessed friend and your man. Then check out complete 2010 Sold Out list of gifts and Part 1 of Oprah's Favorite Things for 2010. Then see all of our sales and deals, best find of the day posts, and online sample sales, too.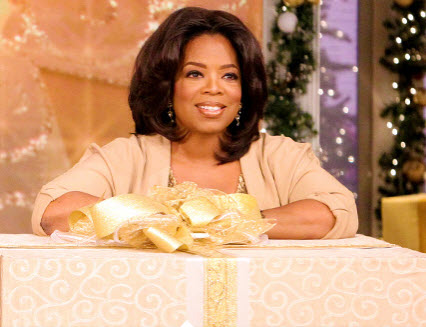 Oprah's Favorite Things 2010 Part 2: Volkswagens, iPads, Diamonds And More
When Oprah's Favorite Things 2010 Part 1 show aired on Friday, the audience was showered with 24 amazing gifts we'd kill for. Today, November 22, Oprah aired Favorite Things 2010 Part 2, catching another entire audience by complete surprise and causing mayhem (in a good way). Here's where to buy all of her Favorite Things now: See Part 1 of Oprah's Favorite Things for 2010, plus her favorite things from last year, too. Then see all of our sales and deals, best find of the day posts, and online sample sales, too.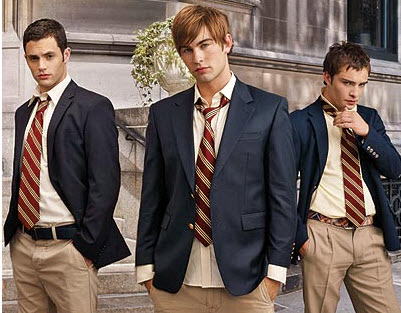 Enough With The Ties Already: Gifts Your Man Actually Wants
What is it with men that whenever we ask them what they want for the holidays, they can never give us a straight answer? Obviously, buying gifts for the guy in your life is tricky enough but when they don't play golf or wear ties, it's even harder. From the nerdy husband to the horny boyfriend, we've found the perfect gifts for him: For the guy who thinks he's Bobby Flay-vor Flav: For the man who loves to bust a move and sing as much as he does grill and cook, the The Tong Song ($14.99) is pretty much the perfect gift. If he thinks he's Steve Jobs: The Apple IPad (starts at $499) is THE hot gift for the holidays this year and it's really no surprise because it houses music, books, the internet, and thousands of apps. Your man will probably be too busy playing with this to thank you but you'll know he's grateful. If he's prettier than you (ahem, metrosexuals): He won't admit it but he likes to channel his inner glamazon from time to time so by getting him this Ralph Lauren 'Polo Black' Holiday Set ($75), he'll get to feel pretty while smelling (and looking) like a man. If he's unemployed: If he spends his days in a bath robe and slippers, he'll love the gift of these super-soft UGG Slippers ($99.95) for men. Now he can send out resumes and watch Maury in comfort. If he just loves that mustache: Don't feel guilty about making him clean up his scruff with the Too Hot To Handlebar Mug ($23.99). He'll get the manly 'stache he loves and his morning cup of joe. If he's always in the mood: Guys are simple creatures and seeing you in this Betsey Johnson Nightie ($75) will be his most exciting gift this year. Plus, you'll be his favorite gift to unwrap - trust us. Check out the 21 gifts we guarantee will sell out this year in our Sold Out List, plus see all of our sales and deals. If you're in the market for yourself, not your man, check out our guides to the best boots under $100, handbags under $250 and cheap jewelry. Subscribe to our virtual newsletter for fashion news in your e-mail.
Latest From MOMfinds: UGG Sale, What Are Bobbles, More
30% Off Warm UGG Boots Winter is UGG season, have you bought yours yet? Win A Set Of Bobbles Leave a comment on MOMfinds and enter to win a set of these cool, eco-friendly water bottles. Kid-Friendly Hanukkah Decor It's only two weeks away - are you ready? Shopping for yourself and not your little one? Check out our guides to the best over the knee boots, handbags under $250, and peacoats.
Holiday 2010's Hottest UGGs: The Convertible Clog Bootie
As we continue to add to our holiday sold out list, we need to make room for this season's hottest (literally) clogs. Ugg strikes again with their Lynnea Clog ($180) which doubles as a fur lined ankle bootie. Available in black or brown, these shoes will walk their way off the shelves in a matter of minutes. So click above, and make sure these bad boys make their way under your tree. Check out more of our favorite holiday picks. Shop our guides to the best clogs, the best faux fur, and the best wedges. Join our e-mail list for exclusive fashion updates.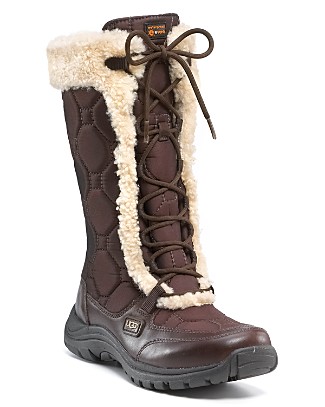 Wet Feet Are So Last Year – Finally, Snow Boots That Aren't Fug
As much as we love our fuzzy UGG boots, we don't love how they aren't waterproof. With winter approaching, wet toes are the last thing we want. But , alas, most proper snow boots are just as fug as they are water-proof. We don't want you to be left in the cold, so check out these 6 stylish snow boots for your fashionable feet this winter: Since we still do love Uggs, we're so excited about these all weather-proof Capstone Nylon Snow Boots ($240). The tall style is surprisingly chic - for a snow boot, that is. These Hunter Summit Waterproof Boots ($295) were designed for slushy and snowy days. Wear them all year round, too - they double as a stylish rain boot, in any of the 3 colors available. These Adirondack Snow Boots ($250) are perfect because the fur will keep you warm for winters to come, and the totally waterproof boot means no more wet socks ever again. Snow boots cute enough to wear out were definitely the idea behind these Ugg Lonnie Nylon Boots ($230). The nylon and rubber combo ensures dryness, no matter how hard the snow falls. Made of waterproof suede with a cute lace-up front, these The North Fact Alycia Boots ($125) are guaranteed to last for years with its warm insulation and gripping soles. Sorel is known for making quality boots and we just can't stop obsessing over these Joan of Arctic Boots ($130). Not only are they filled with faux fur, but something about them screams foreign snow bunny. Get ready for winter with our favorite winter fashions. Shop for the best gloves, the best puffy coats, and the best rain boots. Subscribe to our e-mail list for exclusive fashion updates.
Week in Review: Fashion Week, Jimmy Choo Uggs, Backstage Beauty, More
Must Reads: Leopard, grommets, and fringe  - oh my! Jimmy Choo and Ugg team up to make an interesting collection. Christian Louboutin's Outnet sale - run, don't walk, to snatch these babies up. Backstage beauty at Fashion Week has us dying to try some new trends. SHEfinds on Better.tv - 4 best fall trends under $100. J. Crew has launched an online factory store - but only for the weekend! Taste Tests: Can you tell which faux fur scarf is $35 more than the other? Which wedge boot is Steve Madden and which is Express? Can you tell which denim top is Ralph Lauren and which is Topshop? Sale Alert: We love that the Oprah- approved CJ by Cookie Johnson pants are 50% off. Shoeaficinado.com has just launched – get up to 75% off Steve Maddens! Celebrity Style: We're crazy about Rachel Bilson's pretty prints. 'Twilight'-er Ashley Greene rocks turquoise during Fashion Week. Kelly Osbourne is fast becoming a quirky style icon in this LBD. Guides to check out: Step into fall with our only the best in desert boots, jeggings, and self-tanners, thanks to our guides.
Real Housewives Of NJ Grab Your Credit Cards: Jimmy Choo UGG Collection On Pre-Sale
Thanks to a little tweet by Nicky Hilton, the first fringed boot from the Jimmy Choo for UGG Australia collection hit the web a little earlier than planned. At the time, we called the gaudy, studded black boot something only a Hilton sister could love. Now that we've seen the full collection, which includes leopard styles like the Kaia ($595), we realized it is also suited for the Real Housewives casts of New Jersey and California, like Teresa Giudice. Who else could afford $600 lounge boots and has this taste level of leopard studding? If you can/want to, pre-order the boots now on Nordstrom: Get the boot that Nicky Hilton tweeted about - the Limited Edition UGG® Australia & Jimmy Choo 'Sora' boots ($695). These Limited Edition UGG® Australia & Jimmy Choo 'Mandah' boots ($795) have enough metal studs to light up a rock concert. Get a little grommet, a little studding and a little zebra with these Limited Edition UGG® Australia & Jimmy Choo 'Kaia' boots ($595).
Ugg And Jimmy Choo Make A Shoe Only A Hilton Sister Could Love
Nicky Hilton Tweeted this photo over the weekend, with the caption "Love my new Jimmy Choo Uggs!" Yes, you read correctly: as we told you back in January, Jimmy Choo actually collaborated with the Australian sheepskiner on this $795 boot. At that price, and with cheesy star studding, this gaudy leisure boot is truly one that only a Hilton sister could love. Nicky's been a fashion victim before, and with this ugly pair in her arsenal, she's sure to be a subject of our red carpet re-do's all fall. Now check out some black flat boots for fall that we can get behind: Over the knee boots are hands-down our favorite fall shoe trend this year, and these Jeffrey Campbell Lubbock Black Suede ($156, down from $240) are super sexy and already marked. You cannot beat that. Pair these Cole Haan 'Air Liberty' Flat Boot ($298) with skinny jeans and you are good to go for outdoor events, shopping, brunch - you name it. These Steve Madden Bonanza ($79.95) slip on easily, are made of a super-soft slouchy suede, and have a rounded toe and heel that make them super comfortable and all-day wearable. If you can't tell, I have a pair and live in them. For more tips on what to wear (and what not to wear) this fall on your feet, check out our guides to the best booties, clogs, over the knee boots and flat boots.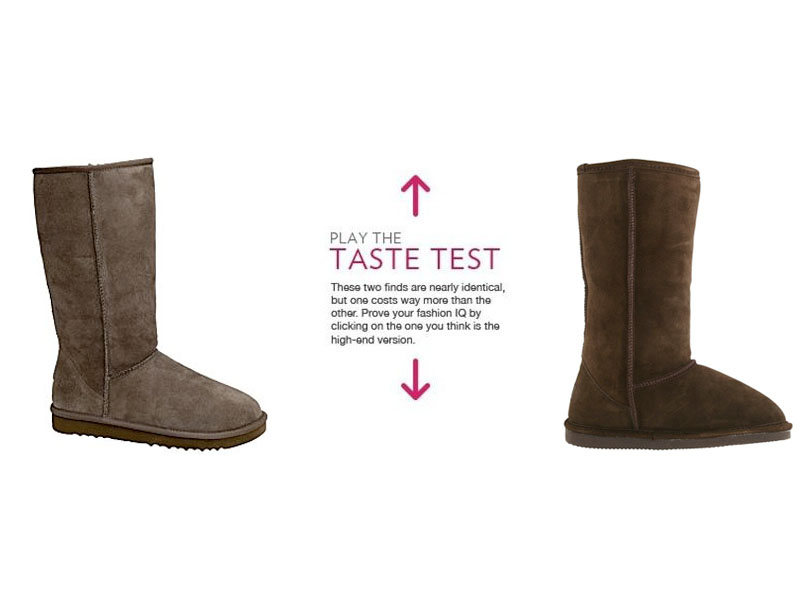 Can You Tell Which Brown Sheepskin Boots Are UGGs And Cost $113 More?
Sharpen your fashion skills with more of our Taste Tests. Shop our guides to the best Ugg boots, the best Stylish Rain Boots, and the best flat boots. Subscribe now for exclusive fashion and style news.
The Early Bird Gets The Best New Leather UGGs–On Sale At Nordstrom
UGG got a new grown-up makeover--now you can get them before they're all sold out in the fall at Nordstrom's Anniversary sale for much less. Shopping off season  has its benefits. Check out the new leather (!) UGG styles: Incorporate the cutout trend with these suede UGG Abilene boots ($139.90, from $199.95) with a shearling footbed, and these UGG Kensington leather boots ($139.90, from $199.95) with shearling inside are cozy, without looking like the UGGs you wore in college. The UGG Abbie clogs ($89.90, from $129.95) are comfortable, with a rubber sole, and are less expensive than most of the new clogs on the market  These UGG Lenox shoes ($99.99, from $149.99) look like a cool version of men's desert boots, but the cozy inside makes them stand out. More sales and deals: Gap's Mega Sale Is Still Happening More From Nordstrom's Anniversary sale: Get 50% off new fall styles now Take 30% off underwear at the Bare Necessities clearance sale 20% off J.Crew's final sale, plus free shipping on orders over $150 (with code EXTRA 20) 40% off tons of styles at Old Navy Vera Bradley: Get a large Vera Bradley backpack for just $40 (down from $92), plus free shipping on orders over $75 Check out all of this week's sales and deals plus all of our best find of the day picks, and our favorite clogs, nude shoes, and flat sandals.
Shopping Off Season: Snow Boots That Are Stylish And Discounted
The biggest problem with snow boots is that they either look like something for a senior citizen, or they're way out of our budget.  We might be getting pedicures every other week  to go with our flat sandals now, but this is actually the best time to get your hands on a pair of discounted, chic winter boots. Here are our favorites: Buy these Uggs now while they are discounted and in stock. They're perfect to keep your feet warm while running errands, or just relaxing around your house. We like the Classic Cardy Boots in Tawny Brown ($98, down from $148) for a comfortable, chic look. For extra warmth, try the Classic Tall Wool Boot ($148.84, down from $200). A waterproof boot is a definite winter staple. The Baffin Women's Nima Winter Boot ($54.97, down from $99.95) will keep your feet dry, and the black color and fur trim makes them  sophisticated. Annie Shoes' Brandi Wide Calf Strap Boots ($39.95, down from $84.95) are ideal for work. Or make a splash on rainy days with Pour La Victoire Rus Croc Rain Boots ($110, down from $220). Save more money on fall and winter fashion with our Shopping Off Season posts. Check out our guides to the best rain boots and the best UGG boots. Subscribe to our newsletter for weekly updates.
The New Oprah Store–Verbal Affirmations Not For Sale
Everything that Oprah touches turns to gold, so the fact that Chicago's gearing up for the opening of The Oprah Store, isn't really surprising. The store will only include Oprah memorabilia, that you can get here, but wouldn't it be cool if you could shop all of Oprah's favorite things in one place? We're making it easier for you with our roundup of Oprah endorsed products that we love, too. Oprah store, take note: CJ by Cookie Johnson Jeans Oprah loves CJ by Cookie Johnson jeans. These CJ by Cookie Johnson 'Beautiful' Bootcut Jeans ($115) have magical slimming properties, but are super comfortable, too. They recently launched in plus sizes, and they just released a white trouser jean that we want to wear all summer long. J. Crew Julienne Leather Heels When J.Crew's Creative Director Jenna Lyons appeared on Oprah, the talk show host blabbed about how much she loved her J.Crew Julienne Leather Heels ($198). The shoes are comfortable and have a great architectural detail. Uggs Oprah is all about comfort, and whether Uggs are a fashion faux pas or not, she wears them religiously. For a summer option, these Ugg Australia Marema Cork Flip Flops ($80) are pretty cute. Carol's Daughter Oprah swears by Carol's Daughter beauty products (so do Mary J. Blige and Jada Pinkett), and we understand why. They smell delicious and they work. Try out this Carol's Daughter Mini Manicure and Cuticle Oil Hand Care Kit ($21) to see what the big deal is. Stay up-to-date by checking out our news section, and then check out our guides to the best bras, the best underwear, and the best cheap underwear. er Heels $198
When the Weather Outside is Frightful, Pull on a Pair of New UGGs
Remember the days of dreading going outside in the dead of winter because you had no cute shoes that would keep your feet warm.? That was, of course, before UGG Boots became a phenomenon.  For those skeptics out there, though,  UGG has gotten a makeover. Check out a few of the new (grown-up) additions to UGG Australia we're loving (all with the genius signature lining) : UGG has a bunch of sleeker tall boots—like the Highkoo style, shown here—that are cute enough to wear for night out with a nice top and skinny jeans. In search of the perfect winter flat? The Rime flats are super stylish on the outside, but have a sherpa-lined footbed for added warmth inside. And because you should still have warm feel while hanging out at home, check out the Dakota slippers. We like the mocassin style. Check out our complete guide to UGG boots, plus coats, gloves and hats to help get you through this winter.