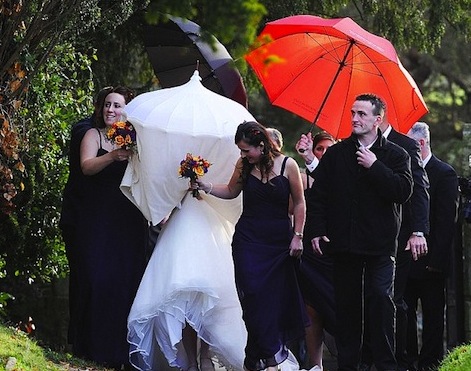 Back in July, one gutsy British woman took the phrase "mother-in-law from hell" to a whole new level when she sent her future daughter-in-law this cruel email. The daughter-in-law then forwarded the outrageous thing to her friends, and soon enough the email was viral gold. Despite the publicity and ensuing family feud, Heidi and her fiance forged ahead with wedding plans, and the two were married this past Saturday.
She wore a parasol and veil to the ceremony – aka, what celebrities do when they have an exclusive magazine deal/want to hide from paparazzi. This makes us wonder if the whole email thing just was a scam for publicity? Either way, she looks ridiculous in her celeb-wannabe getup. Maybe her mother-in-law wasn't too far off the mark with that email after all?
Shop our guides to wedding veils, bridal hair accessories, and best wedding invitations.