Pinterest is a fantastic resource for inspiration – of the visual variety. It occasionally falls short on factual accuracy, though, which leaves us wondering what the names of some of are favorite new flowers actually are. So while you probably have a Pinterest file solely devoted to wedding bouquets (guilty!), can you actually name any of these gorgeous flowers?  We've compiled a handy slideshow for you full of all the big, lush blooms you love – like billy balls, delphinium, anemones, and more.
Atlanta florist and event designer Juli Vaughn of Juli Vaughn Designs says that the number one flower request she's gotten from 2012 brides is for peonies. "The funny thing is, when most brides show me pictures of the peony bouquet their wedding can't survive without, it's normally a bouquet full of ranunculus, not peonies."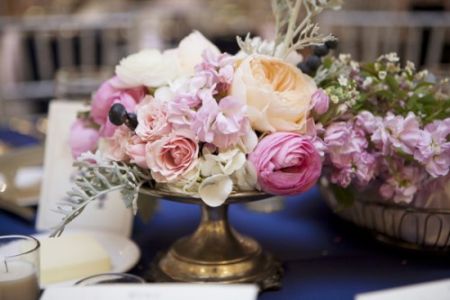 Peony & ranunculus.
"I tend to think one of the reasons ranunculus are so often mislabeled on Pinterest is that they just have such a fussy name!" says Vaughn. "Here's the best way to remember how to say their tricky name and how to identify them: Ranunculus (run-UHN-cu-lus)'s name is 'ridunkulous.'" See the rest in our slideshow, below.
Shop our guides to the best wedding centerpiece decorations, unique wedding invitations, and simple wedding dresses!