Pearls, a traditional status symbol of aristocratic grannies, and country clubbettes, are going through their rebellious phase, and challenging society's accepted notions of what it means to be a pearl. Bored with their "one look wonder" status, pearls are finally coming out of their shell, and experimenting with cut, color, and shape. This isn't Jackie-O's string'o pearls.
Try the Trend:
With layered necklaces hanging around every trendsetting neck this season, try a youthful, modern merging of two current trends in a Layered Sterling Silver & Pearl Necklace found at SmartBargains.com.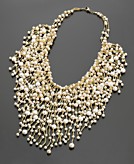 This gives a whole new meaning to the bib. The Cultured Freshwater Pearl Bib Necklace
is an elegant cascade of freshwater pearls but it won't protect you from flying lobster bits.

It's easy being green when you're a Light Green Freshwater Pearl and Sterling Branch Bracelet
, $60 from Erica Zap.
Carolee Glass Pearl Stud Earrings, available at Nordstrom.com
for only $25, are simple enough to wear to the office, and the metallic bronze makes them a great fall accessory for a night out.