You may want to sit down because we have some VERY sad news to break to you. Urban Decay has announced they are discontinuing one of their most popular, best-selling eyeshadow palettes ever. RIP to the Urban Decay Naked Palette. It's officially time to say goodbye to the OG Naked Palette. We're not crying, you are!
If you're like us, then the Urban Decay Naked Palette was one of — if not the only one — your very first eyeshadow palettes. The palette was first launched back in 2010 and has been highly coveted ever since.
With the original Urban Decay Naked Palette selling out seemingly everywhere so rapidly with the announcement of this sad, sad news, veteran beauty gurus and makeup novices alike are scrambling to find Urban Decay Naked Palette dupes, or risk losing this treasured eyeshadow palette forever.
Urban Decay Naked Palette ($27, down from $54)
The 12-shadow palette contains beautiful neutral matte and shimmery finish shades that have become a staple in our beauty routine for many reasons. It's the one palette we need to tie together any eye look, from a subtle day glow for brunch to an all-nighter rave. It's a timeless classic!
Following the OG Naked Palette's success, Urban Decay created their Naked 2, Naked 3, and Naked Heat palettes. In lieu of the news about discounting the palette, retailers are giving a major markdown on the Urban Decay Naked Palette which was originally sold for $54, by pricing it at just $27. The Urban Decay Naked Palette is currently sold out at Sephora, but you can still snag one from Ulta–but who knows for how long! Just in case (aka when) the Urban Decay Naked Palette does sell out entirely at every — and it will — we rounded up some amazing dupes for the Urban Decay Naked Palette.
Urban Decay Naked Palette Dupes To Shop Now
1. L'Oreal Paris
L'Oreal® Paris Colour Riche La Palette Nude Eye Shadow ($15.99)
This eyeshadow palette from the drugstore beauty giant L'Oreal Paris comes with shades that are almost exact replicas to those in the Urban Decay Naked palette–it even follows the same shade layout! Although this palette only has 10 shades, it makes up for its losses in its gorgeous, shimmery nude hues. This palette comes with just about every shade you need: light mattes for highlighting, subtle bases, and deep colors for defining and cut-creasing. They're perfect for giving your eyes a simple pop of color, or even for creating a sultry smoky eye for a hot date night. Pair these colors with a bold lip color, and you have a sexy, timeless look to get heads turning and jaws dropping.
2. e.l.f. Cosmetics
e.l.f. Total Eyeshadow Palette ($15)
E.l.f. cosmetics has been one of the hottest makeup brands within the past few years for its inexpensive products that are pro-quality. Their Total Eyeshadow Palette may not look like an exact Urban Decay Naked Palette dupe at first, but that's just because this massive palette comes with WAY more. It blows Urban Decay's Naked palette out of the water for two major reasons: the most obvious being its abundance of shades, and the second for its quality pigment and application. For just 15 bucks, you get 100 shades! They're extremely pigmented, so just a few swipes will have your eyes shining bright with these beautiful nude hues. There's just about an exact dupe for each shade on the Naked palette within this e.l.f. Cosmetics palette, so you're guaranteed to fall in love with this product!
3. Maybelline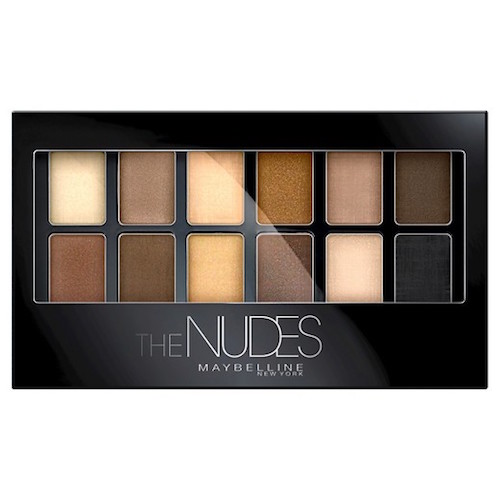 Maybelline® Eyeshadow Palette – The Nudes ($6.39)
Maybelline's The Nudes palette is basically a clone of Urban Decay's Naked Palette, at the fraction of the cost. It comes with a combination of 12 matte and shimmering shades, all in the medium nude tones you've known and loved with Urban Decay's signature eyeshadow palette. These sandy and earth-toned colors last all day long, so no need to worry about creasing or smudging throughout the day. So, go ahead and make the switch to this bargain beauty essential while it's still around! You'll find this 12-shade palette to be a great dupe for the Urban Decay Naked Palette once it sells out!
4. NYX Professional Makeup
NYX Professional Makeup Dream Catcher Shadow Palette – Dust Till Dawn ($10.39)
If you're really looking for a budget-friendly drugstore beauty brand that offers you top-notch products, look no futher than NYX Professional Makeup. This Dream Catcher Shadow Palette is a great dupe for the Urban Decay Naked palette. It comes with 10 eyeshadow shades that will help you create numerous makeup looks, perfect for both day and night. The palette consists of a mix of nudes and matte shades in a soft and highly pigmented formula. If you end up loving this palette, the makeup brand makes it in two other styles, as well.
SheFinds receives commissions for purchases made through the links in this post.