Want To Be The Best Dressed Woman In The Cold? Splurge On Kim K.'s Chloe Coat
So what if Kanye dresses her? Kim Kardashian has been #killing it during all the fashion weeks (Paris being our fave to watch her shine – with little North!). Recently, Kim wore a gorgeous Chloe Long Ruffle Front Drape Coat ($2,450) which may be a little premature (it is only October) but we find it is never too late to find that perfect coat to get you through the miserable cold months ahead. Plus, with this fresh color, you will be a vision of light among all the dark winter coats everyone else will be wearing. Yes, the price is steep but you can't put a price on being the most well-dressed woman on the street! Shop the beautiful coat below.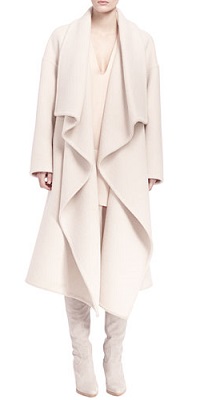 Chloe Long Ruffle Front Drape Coat ($2,450)
Don't miss Jessica Alba's Sweatshirt, Gwen Stefani's black and white jeans and Jaime King's chunky sweater.
[Photo: Splash News]