With so many steps involved in planning a wedding, where do you even begin? You've got a million things on your mind and your to-do list for the big day is a mile long, but don't fret. We made a timeline of the crucial items you need to cross off your list and how close to the wedding you should plan them. Brace yourself for one extremely booked (but well-organized) Google calendar.
Post-Engagement:
Pick a wedding date. Have at least three potential days as backups. Choosing a date a year or more in advance will give you plenty of time to plan. Keep the seasons and weather in mind, too.
Set a budget and have some flexibility in case something falls through.
Create a Pinterest board or get a binder to organize all your planning info and inspirations.
Establish the guest list and determine what size venue you need.
Reserve venues for the ceremony and reception.
Pick your color scheme and stick to it. Deciding this early on will make your life a whole lot easier as you proceed with planning flowers, bridesmaids dresses, table settings, etc., so choose wisely. A Pinterest board will be especially helpful to combine your favorite colors and see how they look together.
Choose a bridal party. Four is the average number of bridesmaids, but pick as many or as little as you want.
Meet with potential vendors for cake, catering, photography, etc. If you want to hire a wedding planner, now's the time to do so.
10-12 Months Before:
Hire a photographer, DJ, florist, and caterer. Act fast—many companies get booked way in advance for weddings.
Start dress shopping! Give yourself plenty of time to find the dress of your dreams and get alterations. Don't be discouraged if you don't find your dress right away. Shop at several different stores before you say yes to THE dress. Don't forget a veil, too.
Buy shoes and jewelry.
Take engagement photos and send out save the dates.
Book an officiant.
9 Months Before:
Register for gifts.
Pick out bridesmaids dresses and accessories.
Find hotels close to your venue and reserve a block for traveling wedding guests.
Start planning your honeymoon!
Work it out. Now's the time to start dieting/getting in your best shape.
Look into wedding invitation styles. Hold off on sending them until closer to the date, but start rounding up addresses for your guests.
Research music for the wedding. Pick out songs for your first dance and the father/daughter dance.
Finalize a wedding cake flavor and style.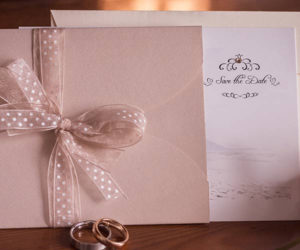 6 Months Before:
Research beauty ideas, then hire hair and makeup stylists to be your glam squad for the big day.
Book the venue for your rehearsal dinner.
Order attire for the groomsmen.
Pick out clothes and accessories for the ring bearer and flower girl.
Arrange transportation from the ceremony to the reception.
Purchase wedding favors. Popular favors include koozies, candles, and matches.
4-5 Months Before:
Officially order your wedding invitations. By this point, you should have a finalized guest list.
Book your honeymoon arrangements.
Attend bridal showers.
Decide on flowers for bouquets and the ceremony/reception.
Set a menu for the reception with the caterer.
Order wedding rings.
1-2 Months Before:
Now you can finally bite the bullet and send out the invitations. Figure out a system to organize your RSVPs.
Finalize the wedding ceremony. Make sure you have all readings picked out, and have selected friends or family for roles during the service.
Double check with all your vendors to confirm the date and time.
Buy gifts for your bridesmaids, parents of the bride and groom, and your fiancé.
Establish a seating chart for the reception.
Order programs for the wedding.
Get your marriage license.
Write your wedding vows.
Order alcohol for the reception. Pro tip: wedding guests LOVE open bars.
Have one last dress fitting. All your hard workouts should be paying off by now!
Attend your bachelorette party as your last fling before the ring.
2 Weeks Before:
Prep your hair. Get one final cut and dye before the big day.
Have tips ready for all vendors.
Give an official head count to the caterer.
Pack for your honeymoon.
1 Day Before:
Get your nails done. This day is all about you and your primping needs.
Have your rehearsal and rehearsal dinner.
SLEEP. You're going to be a bundle of nerves and anxiety, but you need your beauty sleep the night before your wedding more than ever.
Don't be overwhelmed by this massive list. Your engagement period will fly by, and it'll be time to tie the knot before you know it. Plus, you have a relaxing honeymoon and a new husband to look forward to at the end of this process!
[Photos: Shutterstock]