Mini cupcakes, mason jar signature cocktails, calla lily bouquets… am I talking about every wedding you've been to in the last 2 years? Yea, me too. We're sick of seeing the same good ideas repeated over and over again; these passe trends need some updating:
Over It: Mini Food
From mini cupcakes to sliders, wedding food keeps getting smaller and smaller, but surprisingly the catering bill stays the same size.
Try Instead: Big-Girl Portions
Serve your guests a whole meal – thus dramatically reducing the chance for black-outs later in the evening. Trending now in wedding food: live-grills, where your guests can see and smell their food cooking up!
Over it: Calla Lily Bouquets
The white, elongated flower had its moment — but the flower gods are telling me there are new trends to try.
Try Instead: Wildflowers
Wildflowers aren't just for hippie weddings anymore — a good florist can make a wildflower bouquet look as refined and feminine as any rare flower.
Over It: Round Paper Lanterns
Once a beautiful summer lighting idea, this trend now gets the award for "Most Overused."
Try Instead: Chandeliers Outdoors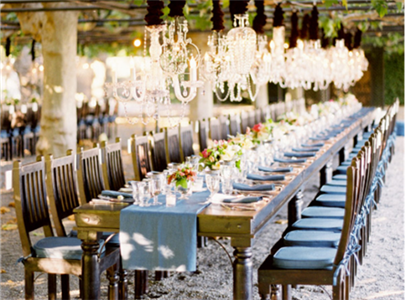 There's something about elegant, indoor chandeliers hanging from trees or outdoor tents that we just love. Make sure you don't skimp on the lighting guy, though!
Over It: Candy Bars
Yes, it's photo-friendly — but everyone and their sweet little mama has done it.
Try Instead: Ice Cream Trucks
Food trucks are so hot right now (Zoolander voice), and ice cream trucks are an even cooler way to serve your guests dessert.
Over It: Mason Jars for Cocktails
Ok, full disclosure: I had mason jars at my wedding, like 2 months ago. But even I can admit they are so played out — especially for lemonade signature cocktails and candy favors. Sorry!
Try Instead: Mason Jars for Lighting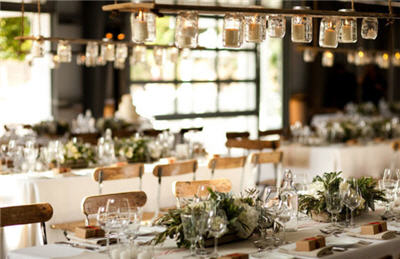 We're seen some very inspired assembly jobs when it comes to mason jar chandeliers and lighting. Check out Etsy seller, Treasure Again, who has over 20 pieces for sale.
Over It: Whoopie Pies
These clever, cream-filled treats have had their day.
Try Instead: Croquembouche
A glazed doughnut pyramid. What about that sentence DON'T you like?
Over It: Hand-Fan Favors
Personalized Hand Fans ($50 for 20) are a summer favor staple, but let's face it: you can do better.
Try Instead: Sunglasses

The new must-have summer favor? Give your guests colorful Wayfarer Sunglasses ($69.99 for 24) — they'll look great on the dancefloor!
Over It: Bunting
Banners or bunting are all over Etsy, which can only mean one thing: they've been done a million times since Sunday. They can be pretty, but there are so many other things to string — from mini lanterns to fresh flowers.
Try instead: Floral Garlands
This BHLDN Floral Garland ($1,150) may be pricey, but take a photo of it to your florist and see if she can make something will real flowers for less.
Over It: Photo Booths
This idea is a bit dated; photo booths peaked in 2008, and since then brides have had to get more and more creative with how they take pictures. Plus, have you heard how much these things cost?!
Try Instead: Photo Props
Get your guests to clown around for pictures by providing props – everything from pinwheels to pirate hats. Seeing your little grandmother with a mustache on is good for a few laughs; who doesn't like to ham it up for photos?!
Over It: Signature Cocktail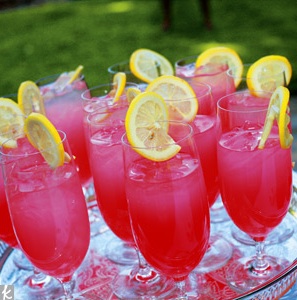 Every bride thinks she's cute and clever to do this – and if you do come up with something yummy, guests can really go for it – but it is so done.
Try Instead: Signature Dance Move
Instead of spending dough on first dance lessons, have your instructor create a signature dance move to teach guests on the dancefloor. This is one of our sillier ideas – but it's pretty amazing. And definitely better than the macarena.
Shop our guides to the best strapless wedding dresses, white wedding shoes, and inexpensive wedding dresses.