Summer's coming! Don't stress about trying to lose weight in time for a swimsuit. Instead, shift your attention to all of the amazing, healthy meals you can eat that will make you feel great. You don't have to spend hours planning anti-inflammatory meals that will help you lose weight and get healthy — break out your Instant Pot and cut cooking time in half (or more).
Here are seven anti-inflammatory Instant Pot recipes you should make this month to kick-start fat loss for summer.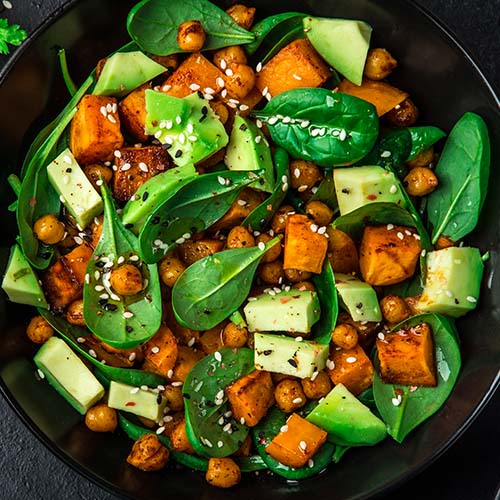 Shutterstock

This flavorful salad makes good use out of protein-rich chickpeas, adding low-fat feta cheese and anti-inflammatory lemon and olive oil to the mix.

Here's what you'll need:

Extra virgin olive oil
Lemon
Honey
Salt
Ground black pepper
English cucumber
Feta cheese
Chickpeas
Fresh dill
Shutterstock
Instant Pot Stuffed Bell Peppers

These hearty stuffed peppers make an equally great lunchtime or dinner meal. Substitute white rice for brown rice and you'll add more fiber into the mix, which is ideal for weight loss.

You'll need:
Medium bell peppers
Onion
Ground beef
Cooked rice
Marjoram
Salt
Black pepper
Garlic cloves
Breadcrumbs
Canned tomatoes
Water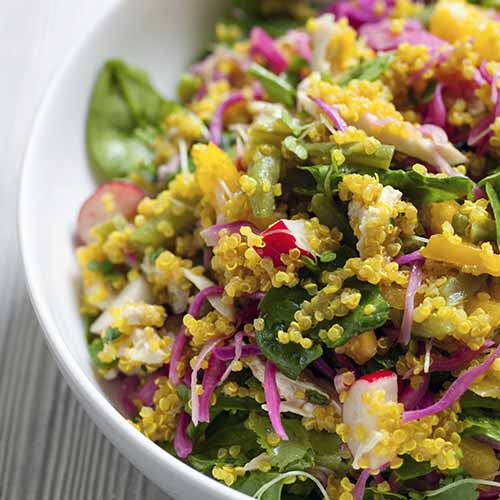 Shutterstock
Instant Pot Spiced Quinoa And Cauliflower Rice Bowls

This satisfying vegan meal combines a number of superfoods and anti-inflammatory ingredients in one pot — including quinoa, turmeric, garlic, and cauliflower rice as a carb-light substitute for rice.

Here are the ingredients:

Olive oil
Onion
Quinoa
Garlic cloves
Fresh ginger
Turmeric
Cumin
Coriander
Vegetable broth
Tofu (firm)
Bell peppers
Cauliflower rice
Cilantro leaves
Slices almonds
Lemon juice
Salt and pepper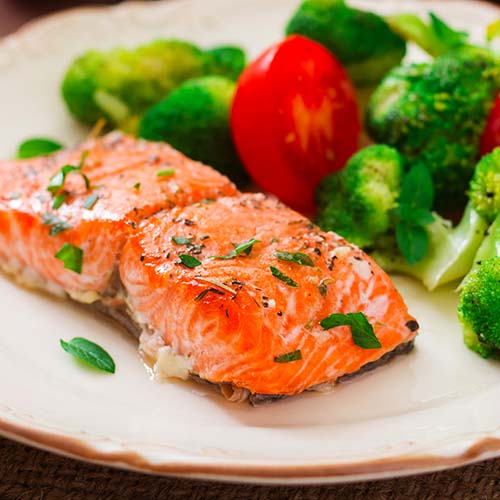 Shutterstock
Instant Pot Soy-Ginger Salmon With Broccoli

Savory, sweet, and packed with omega-3 fatty acids and plenty of vitamins and minerals, this is one of the healthiest dinners you can make.

You'll need:

Wild Alaskan salmon
Sea salt and ground pepper
Extra-virgin olive oil
Soy sauce
Raw apple cider vinegar
Fresh ginger
Garlic
Pure maple syrup
Toasted sesame oil
Broccoli
Sesame seeds
Chopped green onions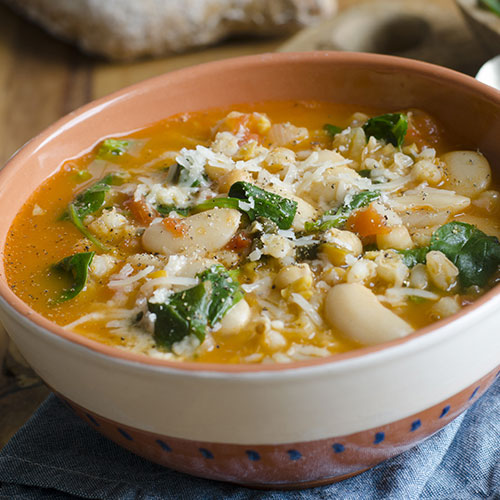 Shutterstock
Instant Pot Vegan Vegetable and Barley Soup

Don't cut out all carbs when you're trying to lose weight — just reduce or eliminate refined carbs and go for more healthy, fiber-rich whole grains like the barley in this vegan soup.

The ingredients include:

Vegetable broth
Barley
Canned diced tomatoes
Carrots
Celery
Zucchini
Onion
Frozen corn
Bay leaves
Salt
Sugar
Ground black pepper
Garlic powder
Shutterstock

Start your day right — with a bowl of steel-cut or rolled oats, mixed with fruits like berries or bananas and a handful of nuts, a rich source of healthy fats that keep you full for longer.

Make a big Instant Pot of oatmeal using these ingredients:

Steel cut oats
Water
Almond milk
Cinnamon stick
Kosher salt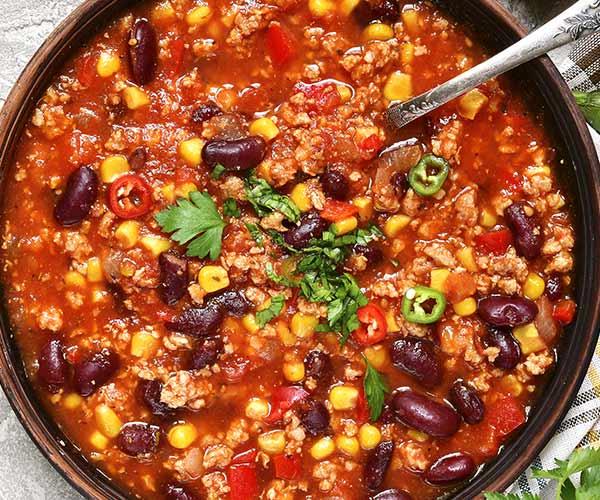 Shutterstock

This Instant Pot turkey chili recipe has it all — including protein-packed, low-fat turkey meat, anti-inflammatory chili powder, fiber-rich beans, and a number of veggies.

You'll need:

Ground turkey
Turkey bacon
Pinto beans
Black beans
Fire roasted diced tomatoes
Tomato paste
Red onion
Red bell pepper
Orange bell pepper
Jalapeño
Chicken stock
Dried oregano
Ground cumin
Kosher salt
Ground black pepper
Smoked paprika
Chili powder
Worcestershire sauce
Minced garlic