It's easy to envy celebrities with their access to top-notch chefs, trainers, and nutritionists… But it isn't all roses for stars like Beyoncé, Gwyneth Paltrow, and company, especially since the pressure is constantly on them to look their best on red carpets and in countless paparazzi photos. 
How do they manage? 
In addition to having a star-studded team of experts on their side, many celebs rely on detox diets to help keep their metabolism running smoothly to burn calories efficiently.
Shutterstock
Before delving into our favorite celebrities' favorite foods, you may have questions about what, exactly, is a detox food or diet and how it can help.
There is some evidence (though not much) that a detox diet that consists mainly of veggies, fruits, supplements, and herbs that cleanse your digestive tract and other organs can remove toxins from the body, according to registered dietitian Katherine Zeratsky at the Mayo Clinic.
"Some people report feeling more focused and energetic during and after detox diets," Zeratsky says. "However, there's little evidence that detox diets actually remove toxins from the body. Indeed, the kidneys and liver are generally quite effective at filtering and eliminating most ingested toxins."
One way a detox diet might help your body, even if you aren't experiencing transcendent energy levels, is because it eliminates highly processed foods that have solid fats and added sugar, Zeratsky says.
"Simply avoiding these high-calorie low-nutrition foods for a few days may be part of why people feel better," according to Zeratsky.

If you're curious about detox diets and foods, follow the lead of these five celebs, who rely on specific foods to kickstart their detox diet.
Shutterstock
Beyoncé — Avocado
In preparation for her huge Coachella performance last year, Beyoncé took to Instagram to share the details of her raw foods vegan detox diet, in which she partnered with 22 Days Nutrition. Not only did she completely eliminate meat, dairy, and eggs from her diet, but Bey relied on raw foods like avocado on whole grain toast to provide enough energy for her incredible performances.
Shutterstock
Gwyneth Paltrow — Zucchini
It comes as no shock that the celebrity behind Goop and all of its wellness trends likes a good detox cleanse. Gwyneth Paltrow is so passionate about detox that she wrote a detox cookbook called The Clean Plate. One of her tips: swap nightshades for veggies like zucchini.
"There are some people who would say you can't make a clean eggplant parmesan because it's a nightshade," Paltrow told Bravo. "But you could do a take on it, you could do zucchini — it depends on how clean you want to go!" She added, wryly, "You could do zucchini with Nomato sauce and cashew cheese, and then watch me commit suicide."
Shutterstock
Alicia Silverstone — Mochi Waffles
Like Paltrow, Alicia Silverstone wrote a cookbook called The Kind Diet, in which she discusses the benefits of her detoxing vegan diet, which she says gives you off-the-charts energy.
One food she allows herself in the morning, albeit it not with whipped cream and not in any traditional sense: waffles. Silverstone's Mochi Waffles Drizzled With Lemon-Walnut-Rice Syrup uses rice flour to make the dough and contains far more protein than your typical waffle breakfast.
In her cookbook, Silverstone writes: "These are delicious. Mochi waffles are fun and easy for everyday eating, but they're also great to offer guests. Serve with a bowl of steamed collards and some tempeh bacon or Smart Bacon, and you have a quick, fantastic brunch."
Shutterstock
Bella Hadid — Veggies And Olive Oil
Supermodel Bella Hadid follows a detox plan created by Dr. Charles Passler. You may think her exclusive nutritionist's plan is only for the very wealthy, but as Passler explained to CR Fashion Book, it's more assessable than that:
"I define detox as removing unhealthy items from the diet and providing potential nutritional support for the process. Removing all processed foods and focusing on protein and vegetables is the best way to start for the first week to ten days. Adding foods back in a systematic, organized way allows the individual to have a sense of the foods they do or do not do well with. Initially, a plate should be filled three-quarters of the way with non-starch vegetables, three to six ounces of protein, and a sprinkling of olive oil."
Eat like Bella and fill up a plate with non-starchy veggies like kale, arugula, and artichokes (yep, even in the morning!) — and don't forget a drizzle of heart-healthy olive oil on top.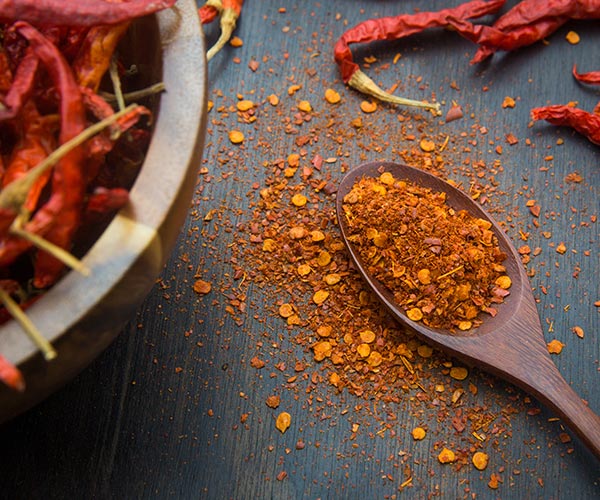 Shutterstock
Anne Hathaway — Cayenne Pepper Drink
Anne Hathaway is among several celebrities who rely on Dr. Hirsch's 48-hour detox cleanse to get red carpet ready. The detox is actually a drink that resembles lemonade and is designed to reduce bloating and help you get a flatter stomach.
The drink contains cayenne pepper and maple syrup and celebs like Hathaway drink four ounces of it every four hours for two days.