Hair growth products are big news these days — and big business. The good news and not-so-good news is that the hair growth trend has resulted in numerous supplements, oils, shampoos, serums, and even pricey gadgets and in-office treatments, all promising to deliver thicker, longer, healthier hair — but not all are able to fulfill those vows.
Hair density changes over time and can be affected by hormones, genetics, diet, and medications. But there are ingredients that can make a difference in the health of your hair (though we'd remain cautious about any product that promises to give you 6 inches of growth in six days).
As for those that don't deserve your time and money: this is the one hair growth product no one should be buying anymore because it's SO bad for your hair.
When it comes to hair products, times have changed — for the better.

Even though it may be daunting to approach shelves upon shelves of topical treatments and supplements, it's actually pretty easy to know which to stay far away from — because they'll contain one of these 10 ingredients that are terrible for your hair's health.
Shutterstock
With so many natural products that boast ingredients like Ashwagandha, Jamaican black castor oil, rosemary oil, keratin, biotin, zinc, and even caffeine, there's absolutely no reason to rely on any shampoo or serum that contains harmful chemicals like isopropyl alcohol, mineral oil, chlorine, sulfates, FD & C color pigments, fragrance, PEG-polyethylene glycol, propylene glycol, DEA, or Imdiazolidinyl Urea and DMDM Hydantoin.

Be sure to read labels in their entirety — often times, these ingredients are listed last in the hopes that you miss them.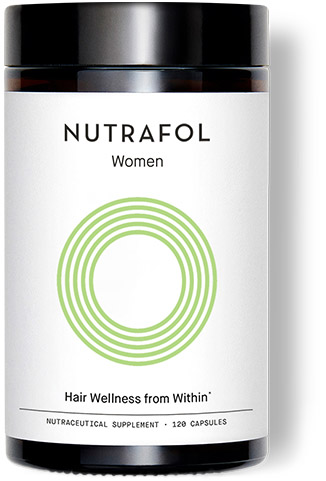 Wondering what hair growth products you can rely on?

Nutrafol is one supplement that is growing in popularity. It contains a blend of ingredients that address causes of hair shedding not traditionally discussed, like stress, hormonal imbalances, poor nutrition, allergens, and overstyling. The company offers three types of supplements: for women, men, and one called Women's Balance that addresses changes that are specific to menopause.

Nutrafol, $79
If you prefer a topical treatment, Pura D'or Anti-Thinning Shampoo is free of sulfates and contains nettle extract, biotin, pumpkin seed, and black cumin seed — plus it's vegan and hypoallergenic.

One of more than 10,800 reviewers raves: "About two years ago my hair started falling a lot and I became incredibly concerned. I was using expensive Sephora shampoos but it became worse. So I started researching and I learned about this product. Not only did my hair stop falling but the conditioner made it soft and shiny. I naturally have frizzy and dull hair so it really did wonders to my hair and saved me from going bald. I highly recommend this product. It is a bit pricey but your investment is worth it."