Taylor Swift and Katy Perry have a history of not getting along. In 2014, Swift told Rolling Stone that "Bad Blood" was about one of her fellow female musicians. Although she didn't name names, it was easy for fans of Swift and Perry to connect the dots. Especially after Swift made this comment, "She basically tried to sabotage an entire arena tour. She tried to hire a bunch of people out from under me. So now I have to avoid her. It's awkward, and I don't like it." Allegedly, Perry hired some of Swift's backup dancers for her Prismatic World Tour while they are still on The Red Tour.
OK, so now let's fast-forward to 2017. Perry is dropping her first album in four years, and since "Bad Blood" was released, so everyone is wondering whether or not she will have a response track. She told Entertainment Weekly on Monday, May 8, "I think [my new album] is a very empowered record. There is no one thing that's calling out any one person."
She continued, "One thing to note is: You can't mistake kindness for weakness and don't come for me. Anyone. Anyone. Anyone. And that's not to any one person and don't quote me that it is, because it's not. It's not about that. Honestly, when women come together and they decide to unite, this world is going to be a better place. Period, end of story."
She ended, "But let me say this: Everything has a reaction or a consequence, so don't forget about that, OK, honey. We got to keep it real, honey. This record is not about anyone else! This record is about me being seen and heard so that I can see and hear everyone else! It's not even about me! It's about everything that I see out there that I digest. I think there's a healing in it for me and vulnerability. If people want to connect and be healed and feel vulnerable and feel empowered and strong, God bless and here it is."
So there probably won't be anything Swift-related on the album, but look out for a "reaction" from the singer!
For a complete timeline of the Taylor Swift-Katy Perry feud, click here.
[Photos: Splash News]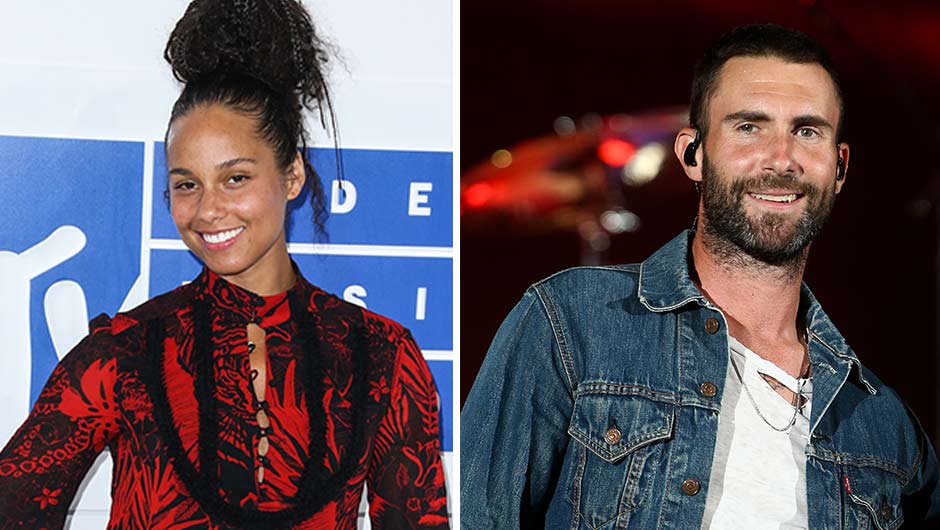 In 2016, Alicia Keys wrote about her decision to stop caring about what people think and start going makeup-free sometimes for Lenny Letter. Never did she say she wouldn't touch makeup again, just that she would go bare faced from time to time.
Fast-forward to a few weeks ago when her fellow The Voice judge Adam Levine was on the Howard Stern Show and asked, "What do you make of this Alicia Keys making a big deal about not wearing makeup?" She never said it was a "big deal," but OK, Howard Stern.
Anyways, Levine proceeded to tell a story about one time when he "joked" with Alicia about wearing makeup. "I joked around with her — she's, by the way, so great — she was putting on a little bit of makeup and I was like, 'Oh, I thought Alicia doesn't wear makeup?" Her response? Well, it's pretty epic. "I do what the f**k I want." To which Levine replied, "I love you so much."
This seems like a joke between friends--the bigger problem here, and where the "feud" might lie, is between Howard Stern and every woman who DGAF about wearing makeup 24/7.
[Photos: Splash News]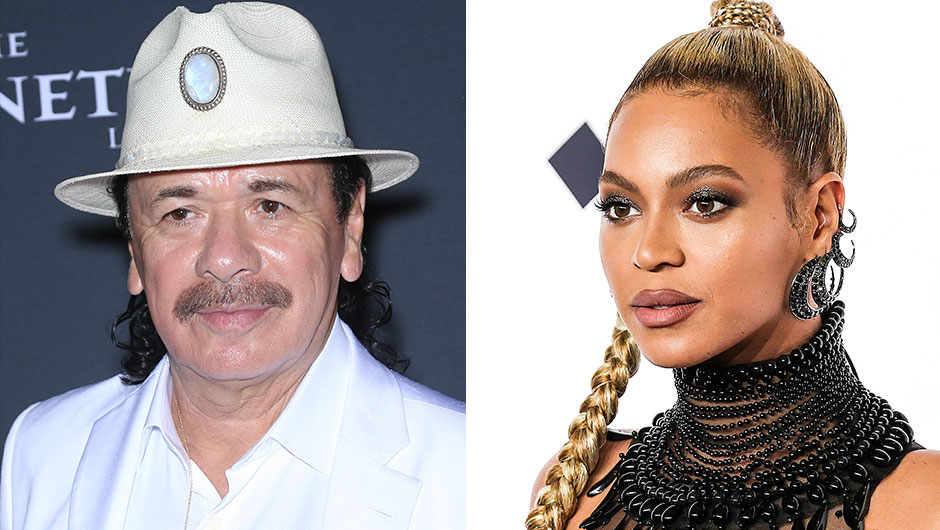 During an interview with the New Zealand Herald, Carlos Santana weighed in on why Beyoncé lost the Album of the Year Grammy to Adele.
"I think Adele won because she can sing," Santana said. "She doesn't bring all the dancers and props, she can just stand there, and she just stood there and sang the song and that's it, and this is why she wins."
He went on to explain, "With all respect to our sister Beyoncé, Beyoncé is very beautiful to look at, it's just more like modeling kind of music—music to model a dress. She's not a singer, with all respect to her."
Beyoncé and Santana performed together during a preshow for Super Bowl XXXVII in 2003 and, I mean, she sounds pretty good to me. Definitely could not hit those notes myself.
Just after making those comments (and stirring sh*t up in the Beyhive), Santana posted a message to Facebook clarifying what he meant "I would like to clarify a comment that was reported when I was doing an interview for some upcoming shows in Australia & New Zealand. My intent was to congratulate Adele on her amazing night at the Grammies. My comment about Beyonce was regretfully taken out of context. I have the utmost respect for her as an artist and a person. She deserves all the accolades that come her way. I wish Beyonce and her family all the best."
How about we just leave it at both women are talented singers and let's stop pitting them against each other.
[Photos: Splash News]
On the Grammys red carpet, Katy Perry told Ryan Secrest that she took a break from music for her mental health. When he asked how that went, she responded, "I haven't shaved my head yet." Clearly a dig at Britney Spears who went through a very public mental health struggle in 2007 which resulted in her shaving her head.
Many Britney fans called out Perry on Twitter and even got #KatyPerryIsOverParty trending.
The Teenage Dream singer has yet to address the moment, but we think she definitely owes Britney an apology. No one's mental health should be a joke.
[Photos: Splash News]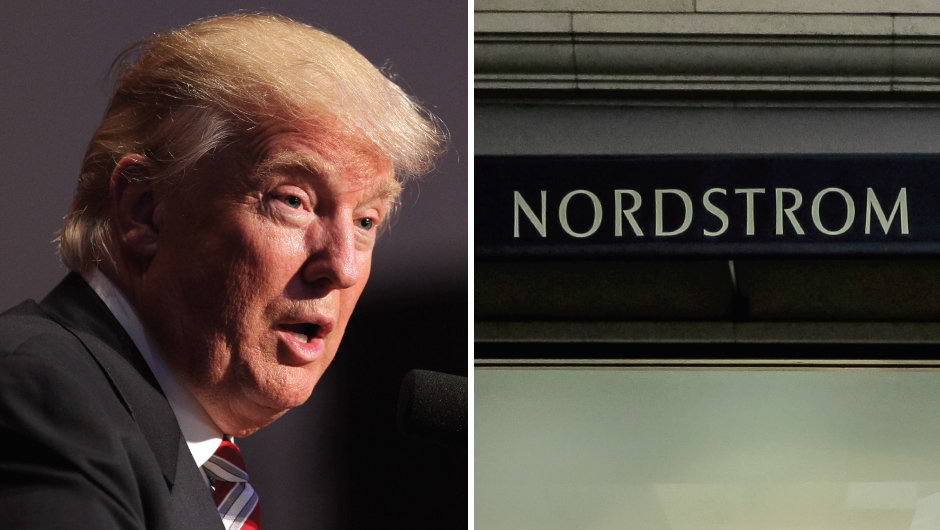 Just a few days after Nordstrom announced it would no longer carry Ivanka Trump's fashion line, her father, President Donald Trump, is calling out the retailer.
"My daughter Ivanka has been treated so unfairly [email protected]," he tweeted (what else is new?). "She is a great person -- always pushing me to do the right thing! Terrible!"
A spokeswoman for Nordstrom released this statement last week. "We've said all along we make buying decisions based on performance. In this case, based on the brand's performance, we've decided not to buy it for this season."
While Nordstrom dropped the Trump line purely for business reasons, it seems like boycotts by shoppers of Trump family business are working. The #grabyourwallet movement encourages those who disagree with the President's policies to not spend any money with companies that benefit from the Trump name.
Other retailers that have also dropped Ivanka's line, but have yet to comment, include Neiman Marcus, Belk, Jet, ShopStyle and Home Shopping Network. All are listed on the Grab Your Wallet movement site.
[Photos: Splash News, Shutterstock]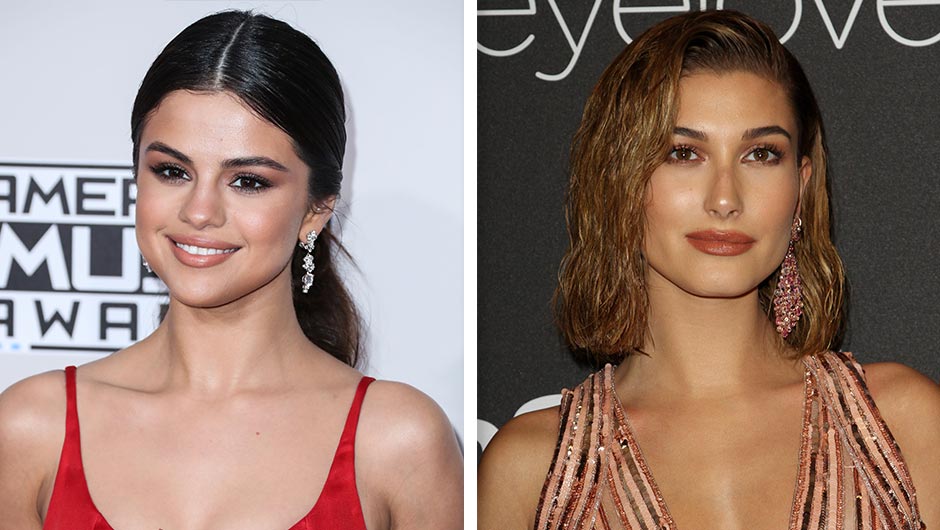 That is one shady tweet, Hailey Baldwin!
The model, who dated Justin Bieber, is well aware that Selena Gomez, who also dated Justin Beiber, is now with The Weeknd (aka, Abel Tesfaye). She shared her opinion of the new relationship via one shady AF tweet about her friend/ex-girlfriend of The Weeknd, Bella Hadid: "Wait sorry, WHO could possibly be cuter than @bellahadid ... literally nobody." She also included a link to a video of the model chilling in a bubble bath. Clearly we know whose side she's taking!
[Photos: Splash News]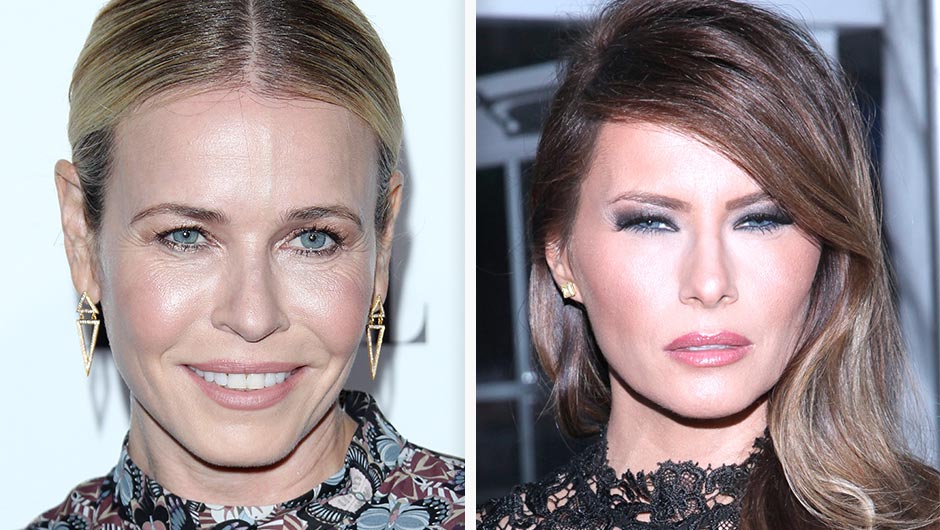 Don't expect to see Donald and Melania Trump on Chelsea.

In an interview with Variety, Chelsea Handler said she would not have the new President or First Lady on her Netflix talk show. "No, [I would not interview Trump]," she told the interviewer. Handler then went on to say, "No. Melania? Talk about what? She can barely speak English!"
Melania speaks five languages, actually: French, Italian, German, Slovene and English. And she absolutely should not be shammed for being an immigrant.
I didn't even know this feud existed but I am LIVING for it.
Apparently, back in 2014, Sheen was dining with his then-fiancée, Scottine Sheen, at the same restaurant as Rihanna. He sent a request to RiRi's table asking if he could introduce Scottine, who was a huge fan of the pop star.
Rihanna said no because there were too many paparazzi outside and Sheen's fiancée was upset. The actor tweeted later about the incident, writing, "See ya on the way down...and actually, it was a pleasure NOT meeting you. Clearly we have NOTHING in common when it comes to respect for those who've gone before you. I'm guessing you needed those precious 84 seconds to situate that bad wig before you left the restaurant."
Rihanna, aka, Queen of Pettiness, responded by changing her Twitter cover photo to an image of her signing an autograph for a fan with Sheen's head Photoshopped on the fan! I mean, that's funny.
Fast-forward to January 2017, Sheen is on Bravo's Watch What Happens Live and Andy Cohen brings up the feud. "Oh, that b*tch," was his response as his fellow guest Craig Robinson shook his head and said, "No, no, no." Our thoughts exactly, Craig. "I think you just made it worse," Cohen commented. Nah, RiRi definitely doesn't have time for this dude.
[Photos: Splash News]
Yikes! Mariah Carey is not having the best 2017 so far. After an epic lip sync fail during her performance on Dick Clark's New Year's Rockin' Eve, the singer is now being dissed by her ex-husband and former manager, Tommy Mottola.
Mottola wrote in a letter published by Page Six that Carey needs to hire "more seasoned and respected professionals" to guide her career.
While he admits that she is "arguably the greatest pop voice to come along in the last three decades," he also explains that she isn't surrounding herself with the best support team right now. "Her technical people should've helped pay more attention to all of it so that there was no chance of that happening."
The former Sony Music chairman also takes a swing at the star's E! reality show, Mariah's World. "I would never have encouraged her or guided her to do something like a reality television show!!!!! I don't get it!!" He adds, "That does absolutely nothing for her integrity, her credibility, or her massive talent!! She should take a step back, think carefully and figure out what to do next." Wow, dude's got a lot of opinions!
Do you think Mariah should take Tommy's advice? Let us know in the comments!
[Photos: Splash News]
Remember when Kanye West called out Jay Z and Beyoncé during his Saint Pablo Tour? Well, according to Radar Online (which isn't the most reliable source of celeb gossip, just FYI), Kim Kardashian called Bey to "soothe tensions after [his] hospitalization," and the singer was not too happy about it.
A source tells the site, "Basically she told Kim to never, ever, contact her or her husband again and said stuff like she thought that the two of them are made for each other because they are both talentless and pathetic!" Yikes!
Do you think this is really true? Let us know in the comments!
[Photo: Splash News]
There are reports that Donald Trump is having a hard time finding performers for his inauguration, with both Celine Dion and Andrea Bocelli turning down his offer.
However, the President-elect is claiming that A-list celebrities are trying to get tickets to his big day, but he wants to keep it about "the people." He tweeted, "The so-called "A" list celebrities are all wanting tixs to the inauguration, but look what they did for Hillary, NOTHING. I want the PEOPLE!"
This tweet did not sit well with Chrissy Teigen, who called out the former business mogul. She reminded him that celebrities are people too. "Hi - we are people. You are our president too. I don't want you to be, but u are. Also we ALL know you are dying without the approval, dear," she wrote.
After receiving backlash for not being an "A-lister" (seriously, that's the problem??), Teigen clarified with a follow-up tweet: "Would just like to add no, i do not think I am a-list. Was referring to John, as I am not a performer of music."
Shouldn't Trump focus on his inauguration rather than starting drama on Twitter? Just a thought...
Brad Pitt and Angelina Jolie announced their divorce a few months ago, but are still working through the details. Most recently, Pitt filed a memorandum requesting that documents pertaining to their custody battle be sealed. He claimed that Jolie revealed private information about their six children in the public court documents.
Jolie "appears to be determined to ignore even agreed upon standards relating to the children's best interest," according to documents obtained by PEOPLE. Pitt also said that his ex-wife "exposed the children by making public the names of their therapists and other mental health professionals" and that she has "no self-regulating mechanism" when it comes to sensitive information being released to the public.
It's sad to see the family go through this. We wish them all the best.
[Photo: Splash News]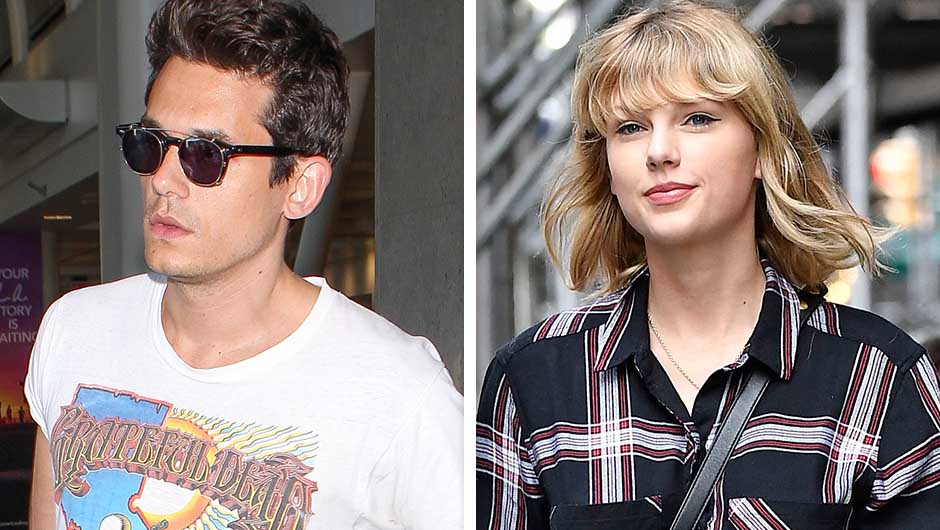 Many moons (albums) ago, John Mayer and Taylor Swift dated. Fast-forward to 2016 and the 39-year-old singer tweeted, then deleted, this message on Swift's 27th birthday: "Tuesday, December 13 may be the lamest day of the year, conceptually."
After being called out by Swift's fans, Mayer took to Twitter again to respond, writing, "NOPE. No. Nuh-uh. People I am 39. I am deleting those tweets. Come right at me for doing so. Absolutely no shade." He eventually deleted that tweet too. He must really want to stay off Taylor's next album, huh?
[Photos: Splash News]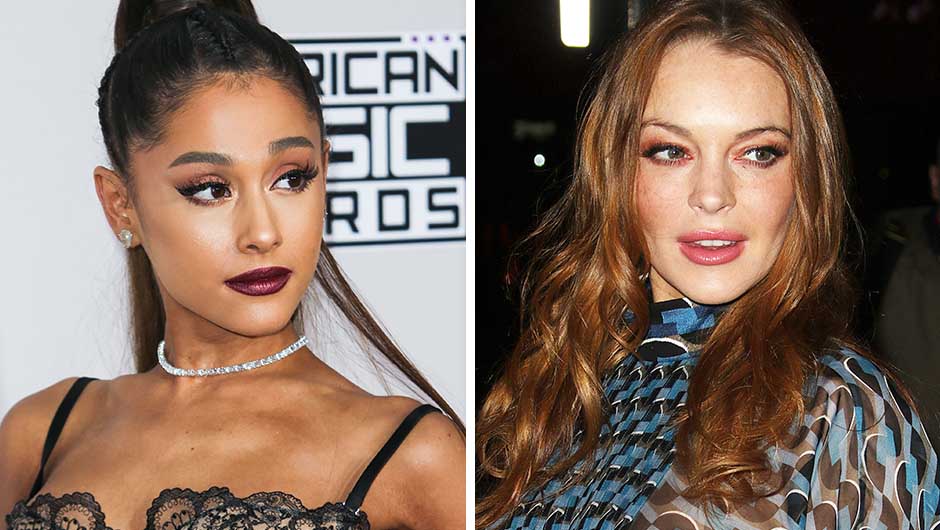 Over the weekend, Lindsay Lohan commented "too much makeup" on three of Ariana Grande's Instagram photos. This shade is so random coming from the 30-year-old actress that there's no other way to describe it than just plain mean.
While Grande hasn't responded to the comments, she did take home the American Music Award for Artist of the Year on Sunday night. So we have a feeling she's doing just fine.
However, the popstar's fans are taking it upon themselves to clap back at Lohan with comments of their own.
I wish we could all get along like we used to in middle school... I wish I could bake a cake filled with rainbows and smiles and everyone would eat and be happy!
[Photos: Splash News]
Justin Theroux posted this photo to Instagram of graffiti done by Berlin artist Nick Flatt as a statement about the 2016 presidential election. The spray-painted wall features a woman giving the middle finger with phrases in the background like "f*ck politics" and "f*ck haters." Oh, and it also says "f*ck Brad Pitt" (it's written in pink on the right). Hmm...
Of course, the Internet thought Theroux was subtly shading his wife, Jennifer Aniston's, ex, Brad Pitt. Not so. The caption makes it pretty clear that the actor was not calling out Pitt: #currentelectionmood #berlin #graffiti #fuckingnickflatt #andNOthispostisNOT'shading'anyonebecauseimnotelevemyearsoldimeanseriously #okaymaybepickles. Yeah, Justin doesn't have time for that!
[Photos: Splash News]
Watch the throne! Kanye West called out Jay Z for not visiting or after Kim Kardashian's scary Paris robbery. During a recent stop on his Saint Pablo tour, the rapper told the audience, "Don't call me after the robbery and say, 'How you feelin'?' You wanna know how I'm feeling? Come by the house … Bring the kids by the house, like we're brothers." He even went on to say that North West and Blue Ivy have never even played together... awks.
[Photos: Splash News]
Teresa Giudice just posted a photo to Twitter with former Real Housewives of New Jersey star Danielle Staub and everyone is freaking out! Why? Oh, IDK, maybe because the last time we saw the two together, Tre called Danielle a "prostitution whore" and flipped a table. NBD.
It looks like time, and maybe Teresa's new yoga-inspired outlook on life, might have brought the former enemies back together. Teresa captioned the photo "Loved catching up & bonding this am with @daniellestaub at JZT Dance & Yoga .. #RHONJ #OG'S #NAMASTE" Andy Cohen, are you seeing this?!
[Photo: Twitter]
UPDATE: In an interview with Glamour, Demi Lovato was asked about being a feminist and, again, why she doesn't think Taylor Swift is one." And you've said before, in regard to Taylor Swift, 'Don't brand yourself a feminist if you don't do the work.' How do you see yourself doing the work?"
"Just speaking out," Lovato responded. "I'm not afraid to talk about the fact that women get paid less than men in the United States and how unfair that is. Talking about it at all is doing the work. And I think every woman does her part in some way. But I think in certain situations, certain people could be doing more if they're going to claim that as part of their brand. To be honest, and this will probably get me in trouble, I don't see anybody in any sort of squad that has a normal body. It's kind of this false image of what people should look like. And what they should be like, and it's not real."
The pop star also commented on Swift's "Bad Blood" video. "And I think that having a song and a video about tearing Katy Perry down, that's not women's empowerment. We all do things that aren't, but I have to ask myself, Am I content with calling myself a feminist? Yes, because I speak out." She has a point! What do you guys think?
After Demi Lovato snapped back at angry Taylor Swift fans for allegedly calling her out, she is clearing the air. "As most people know, I tend to get fired up about the things I believe in, and although my heart and intentions are always in the right place, unfortunately sometimes my passion gets the best of me and causes me to say things that I probably shouldn't say," she captioned an Instagram picture. "And when doing so it takes away from the real reason I am speaking up in the first place. Our focus should be on the topic of victims of sexual and physical abuse being afraid to come forward with their stories."
Following Taylor Swift's $250K donation to Kesha amid her legal battles, Demi Lovato spoke out in regards to the issue. "Take something to Capitol Hill or actually speak out about something and then I'll be impressed," Lovato tweeted.
One Instagram user was suggesting Lovato was making the story about her and taking the focus away from Kesha. "How the f--k am I making this about myself?" Lovato fired back. "At least I'm talking about it. Not everyone has 250k to just give to people. Would love to but I didn't grow up with money and def haven't made as much as her. At least I speak up about s--t that's uncomfortable to talk about rather than trying to be politically correct 24/7." She continued, "There's no 'rivalry' I just give more f--ks than other people and would rather start a dialogue ABOUT WOMEN COMING FORWARD ABOUT BEING RAPED than throw money at one person."
[Photo: Splash News]
Amber Rose danced salsa to J.Lo's "Booty" on Dancing With The Stars this week. During the performance, judge Julianne Hough whispered to fellow judge Bruno Toniolo that she felt "a little uncomfortable." Amber then later admitted on her podcast that she felt body-shamed.
"It was a point in the dance where I had to lift my leg up, and [partner Maksim Chmerkovskiy] dipped me, and she said, 'Ooh, I'm uncomfortable.' And I instantly I felt, I did feel body-shamed. Because, you know, all the beautiful, professional dancers that are on Dancing With the Stars, I mean, they dress very sexy. And they do splits. And they grind up on these guys, and they look absolutely stunning. And they get a standing ovation, and for me and my body, my hips, my ass, my breasts, made her feel uncomfortable."
Julianne responded to Amber's claims, blaming editing for misrepresenting what she really meant. She released this statement to E! News:
"To be clear, that was a produced package, not live coverage, and they can put those sound bites anywhere. My 'uncomfortable' comment was about the fact that I felt like I wanted more out of the performance—when someone is doing a hot, sexy dance like that without the right amount of energy that is required, it can be uncomfortable to watch. Trust me, I'm ALL for a sexy booty dance!! We all know that!! And any kind of body shaming goes against everything I believe in."
Hmm, but she also said on the show that Amber "really came out and gave it her all." So I'm confused about her "not enough energy" comment. It seems like Julianne actually had a problem with the song selection. She critiqued that it wasn't a traditional routine, but what do you expect when you have to salsa to a pop song? Also, according to a blog post by Amber's partner Maks, the duo "got" the song. Now, I don't watch DWTS, but to me, that reads as the couple dancing doesn't get to pick the song, but is assigned by production or someone else connected to the show. This whole thing just seems like a huge misunderstanding, but I totally get why Amber would feel like she was being body-shamed. What do you guys think?
[Photo: Splash News]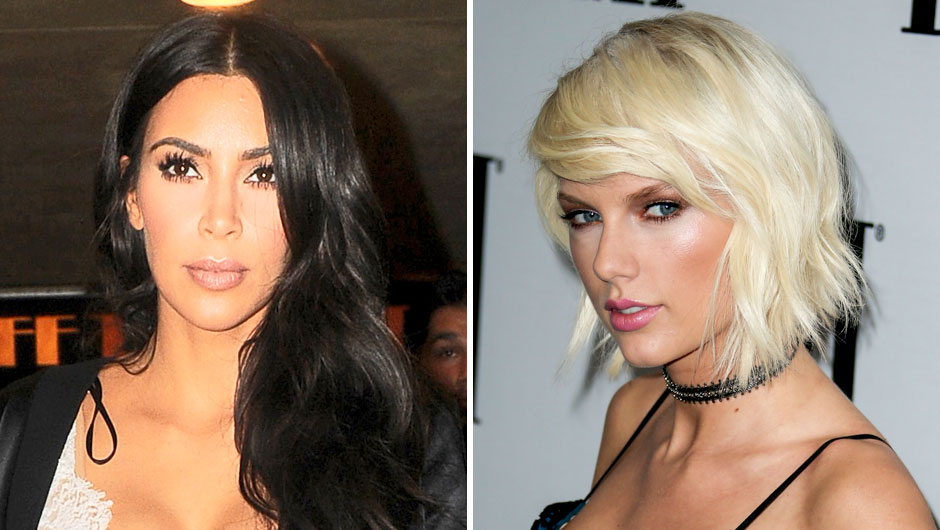 UPDATE: Kim Kardashian, who is not a musician, somehow managed to snag the cover of this week's issue of Billboard. K. Anyways, when asked about a certain popstar who she exposed to be fake AF this summer, she responds "Ugh, do we really have to talk about Taylor Swift?" She adds, "I'm so over it." Same Kim, same.
Kim also shares that if it were up to Kanye, the infamous phone call would've never been released. "He can handle it, he has no hard feelings. He doesn't even really care," she says. "I just wanted to protect my husband. I saw him getting a lot of shit. It wasn't even about a look or anything, or to have this feud — it was like, 'OK, here's the truth.' Done. Let's all move on. I feel like I don't want to talk about her anymore." Yes, until the next #KimExposedParty.
She has the receipts!!! Remember when Kim said she had video footage of Taylor approving of Kanye West's "I feel like me and Taylor might still have sex" lyrics?! Well, guys, the tapes were released. Kim just posted a series of Snapchats where Taylor seemingly gives her blessing to Kanye to use the lyrics. "I really appreciate you telling me about it, that's really nice," the singer says. Taylor also told Kanye that if the press asks, she will say it's all good and that she was in on it! "If people ask me about it, I think it would be great for me to be like, 'Look he called me and told me the line before it came out. Joke's on you guys, we're fine." YO.
After Kim's Snapchat went viral, Taylor posted a message to Instagram, "Where is the video of Kanye telling me he was going to call me 'that bitch' in his song? It doesn't exist because it never happened. You don't get to control someone's emotional response to being called 'that bitch' in front of the entire world. Of course I wanted to like the song. I wanted to believe Kanye when he told me that I would love the song. I wanted us to have a friendly relationship. He promised to play the song for me, but he never did. While I wanted to be supportive of Kanye on the phone call, you cannot 'approve' a song you haven't heard. Being falsely painted as a liar when I was never given the full story or played any part of the song is character assassination. I would very much like to be excluded from this narrative, one that I have never asked to be a part of, since 2009." Where were you when you found out the truth about Taylor Swift???
Kim Kardashian just dropped a major truth bomb: Taylor Swift knew AND approved of Kanye West's "I feel like me and Taylor might still have sex. Why? I made that b*tch famous" lyrics. Kim tells GQ for her cover story, "She totally approved that. She totally knew that that was coming out. She wanted to all of a sudden act like she didn't. I swear, my husband gets so much shit for things [when] he really was doing proper protocol and even called to get it approved. What rapper would call a girl that he was rapping a line about to get approval?" You know what, I believe her. Kim usually lets Kanye be Kanye and doesn't interfere, but the fact that she's stepping in speaks volumes.
She continues, "Rick Rubin was there. So many respected people in the music business heard that [conversation] and knew. I mean, he's called me a bitch in his songs. That's just, like, what they say. I never once think, [gasping] 'What a derogatory word! How dare he?' Not in a million years. I don't know why she just, you know, flipped all of a sudden.… It was funny because [on the call with Kanye, Taylor] said, 'When I get on the Grammy red carpet, all the media is going to think that I'm so against this, and I'll just laugh and say, 'The joke's on you, guys. I was in on it the whole time.' And I'm like, wait, but [in] your Grammy speech, you completely dissed my husband just to play the victim again."
But wait, it gets even better. No surprise, Kanye has a videographer following him whenever he records an album (shocking!!!! When's TLOP documentary hitting, Ye?!) and therefore video proof of the exchange between Taylor and Kanye exists! Kim even claims Taylor's lawyers sent a letter to destroy the footage. "No. Maybe an attorney's letter she sent saying, 'Don't ever let that footage come out of me saying that. Destroy it." When the interviewer asks if Taylor really sent one, Kim confirms "Yeah."
I'll just be over here eating popcorn and watching the Internet actually break today.
[Photos: Splash News]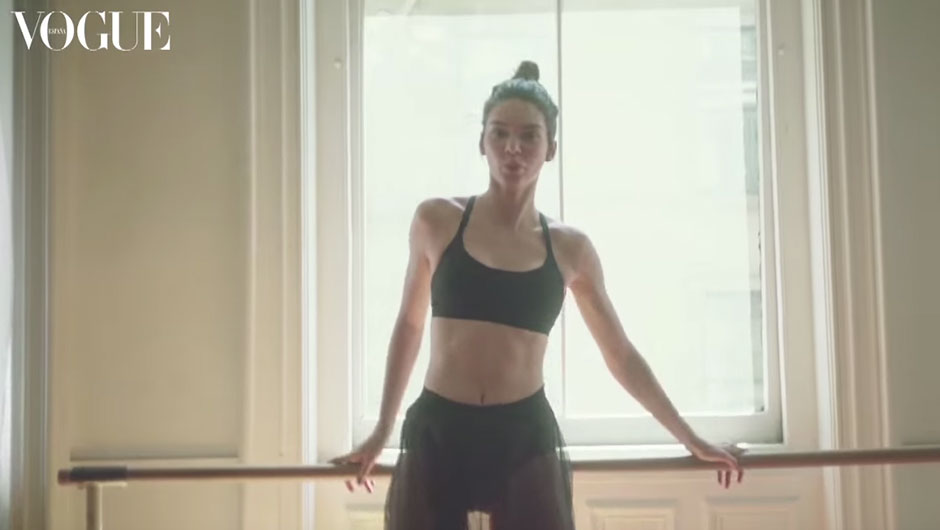 Classically trained dancers are NOT happy with Kendall Jenner's ballet-themed video for Vogue España. Not only is her technique so bad it's considered "mocking" the art of dance, it's also dangerous. Fashionista notes, "Going en pointe and twirling around with turned-in legs and sickled feet is a one-way ticket to injury."
Dance Moms star Abby Lee Miller is also calling out the supermodel for her poor technique. She writes in a since-deleted Instagram post (but caught by The Shade Room so lives on forever muhaha), "I don't make it a habit of commenting on all the dancers that post pic with incorrect technique. I would never get anything else done! But I cannot be a fan of this shoot. There are so many amazing dancers in the world... Kendall Jenner is not one of them!" It's true, and they even could've used a model who is a trained dancer like Karlie Kloss, you might have heard of her.
[Photo: Vogue España/Youtube]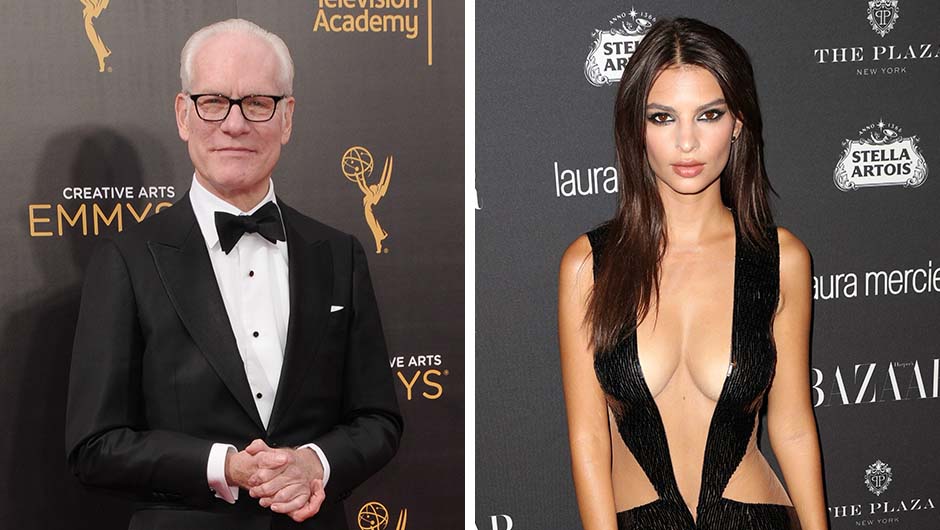 Emily Ratajkowski attended a fashion week party wearing an incredibly low-cut dress by Julien Macdonald. She seemed to love the look, posting a selfie in the dress on Instagram. However, Timm Gunn didn't feel the same way.
As a guest on E!'s Fashion Police, Gunn called her look "appalingly vulgar" and "repugnant." Hey, isn't this 2016? Can't women make their own fashion choices?
The model/actress took to Twitter to defend herself. She noted similarities with the burkini controversy in France."Western men in 2016: Want to ban women abroad from voluntarily covering themselves at the beach then want women to cover up their "vulgar" bodies at home," she wrote. "Who controls women's bodies in 2016? It's 2016. Why keep trying to dictate what women can wear?"
Ratajkowski actually addressed this issue before in an essay for Glamour this year. "When I wrote my Glamour article, I was just thinking of men who call women attention seeking for being sexy," she also tweeted. "I wasn't even thinking of the hosts of nationally televised shows who call women 'vulgar' because they can see their stomachs."
Whose side are you on? Let us know in the comments!
[Photos: Splash News]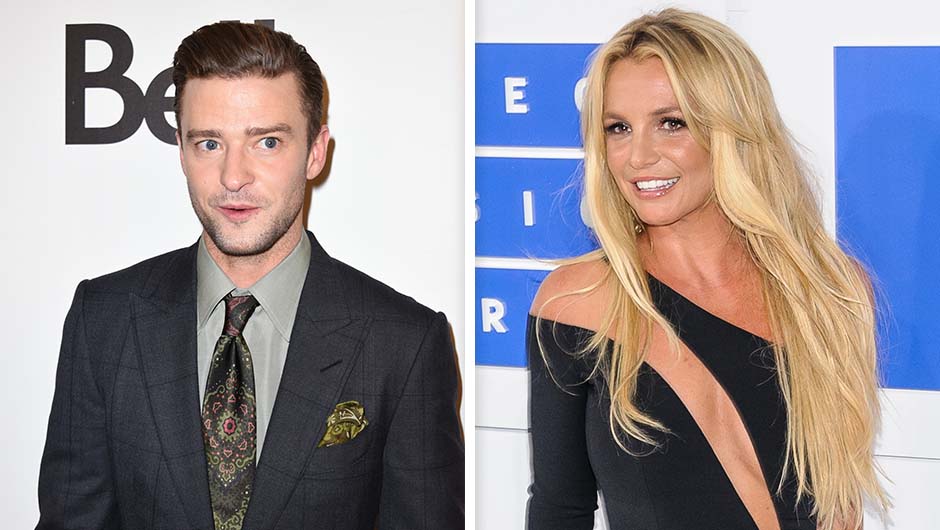 Whoa! Here's an unexpected update in the decade-long feud between Justin Timberlake and Britney Spears: the two want to work together!
What?! Yes, it's true: even though they had a really messy break-up back in 2002 (remember "Cry Me A River"?!), Britney Spears recently told E! News that she wanted to collaborate with Justin on a song (when asked who her dream collaborators would be, Britney replied "Justin Timberlake is very good." OMG!).
Then E! caught up with Justin at the Toronto International Film Festival, told him what Britney had said and asked if he would be interested in collaborating... His response? "She did? Sure! Absolutely, absolutely."
WHOA, GUYS! This is insane. We can officially bury the hatchet on this feud. And look out for a new track from Britney and Justin in 2017?
Glee ended in 2015 but we are just now learning more details about Lea Michele and Naya Rivera's feud.
In her new memoir, Sorry Not Sorry: Dreams, Mistakes , and Growing Up, Naya makes some stunning claims about her costar. "I think Rachel — erm, I mean Lea — didn't like sharing the spotlight," she writes. "On top of that, she had a hard time seperating work from our outside friendship."
The tension was high on set, Naya reveals: "It seemed like she blamed me for anything and everything that went wrong. If I'd complained about anyone or anything, she assumed I was bitching about her. Soon she started to ignore me, and eventually it got to the point where she didn't say a word to me for all of season six."
Naya also reveals that Lea was the reason why her friendship with Corey Monteith changed. "The more serious they got, the less Cory hung out with us and the more he seemed like a different person." She does credit Lea for being a positive influence for Corey. "My personal feelings for Lea aside, I knew that she wasn't a partier, so I felt like maybe their relationship could actually be good for him." She continues, "I was happy for Cory to have a stable influence in his life, wherever it was he found it."
[Photos: Splash News]
Chloe Grace Moretz was not afraid to call out Kim Kardashian for posting a nude selfie back in March. "I truly hope you realize how important setting goals are for young women, teaching them we have so much more to offer than just our bodies," she tweeted. Then, the 19-year-old actress defended Taylor Swift after Kim exposed the singer back in July, leading Khloe Kardashian to post a VERY NSFW photo of Chloe on Twitter.
Fast-forward a few months later, and Chloe is opening up about her feud with the famous family. "I realized if I stop talking about the negativity then it can't thrive. And that's something I came to very, very recently," she said in an interview with The Hollywood Reporter. "I think I gave my attention to people that didn't deserve my attention. So in some ways, I think I regret giving them the attention, [though] I don't regret what I said." Chloe made this revelation because of Democratic Presidential nominee, Hillary Clinton. "But also I realized that being the most opinionated and loud person in the room is not always the most impactful. I learned that from Hillary. 'It's great to be feisty.' Those were her exact words. But sometimes the smartest way to get into the psyche of people is to be the quietest person in the room. Let everyone else bicker and throw their words around and then you come in with the quiet voice and that will be the most impactful."
[Photos: Splash News]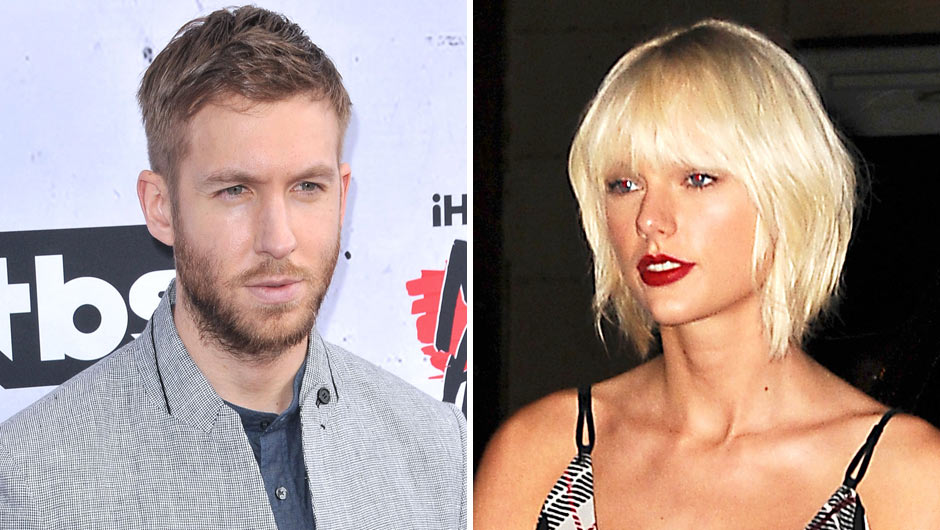 UPDATE: In round 24923705429 of Calvin Harris vs. Taylor Swift, the DJ threw major shade at his ex while accepting a VMA for "This Is What You Came For." Calvin won Best Male Video and thanked a lot of people: Rihanna, Emil Nava (the video director), anyone who supported the song and even the people who watched the video. But one person he left out was the song's co-writer, Taylor Swift. I kind of get it since this was an award for the video, not necessarily the song. However, we bet Taylor was none too pleased after hearing his acceptance speech.
The rumors are true. Taylor Swift did write Calvin Harris and Rihanna's summer hit "This Is What You Came For," confirmed by her team and the DJ himself. She used the pseudonym Nils Sjoberg for the writing credit and even did some vocals (we're assuming it's those long "Oohs" because they sound exactly like the pop star). Swift promoting the track at Coachella makes even more sense.
Now, Harris, in an epic Twitter rant, is calling out his ex for leaking the story. "Amazing lyric writer and she smashed it as usual. I wrote the music, produced the song, arranged it and cut the vocals though. And initially she wanted it kept secret, hence the pseudonym." Seems pretty sketchy that now Taylor is revealing this info without Calvin's knowledge, amirite?
But here come the kickers, "Hurtful to me at this point that her and her team would go so far out of their way to try and make ME look bad at this stage though. I figure if you're happy in your new relationship you should focus on that instead of trying to tear your ex bf down for something to do," he also tweeted. Then, wait for it, "I know you're off tour and you need someone new to try and bury like Katy ETC but I'm not that guy, sorry. I won't allow it." OH, SNAP. Sorry but Team Calvin for life.
Wow, it really is about to go down. On the same day that the world was introduced to #Swiddleston, Calvin Harris and Taylor Swift deleted all evidence of their relationship on social media. No more swan goals or PDA-filled vacay pics.
According to Elle, Calvin made the first move and unfollowed Taylor and her brother, Austin Swift, on Twitter. He blocked her fan accounts and deleted that sweet break-up tweet. The DJ also tweeted and deleted, "Oh boy it's about to go down" after photos of Taylor and Tom Hiddleston getting cozy were released. You know what, I don't blame the guy. It was obvious to anyone who watched this video of Taylor and Tom dancing at last month's Met Gala that the two were totally vibing, so who knows what really contributed to the end of Talvin, nah mean??
Taylor also unfollowed Calvin on social media and deleted all photos of him from her Instagram, according to Us Weekly. Guess that's young love in the digital age for ya!
[Photos: Splash News]
Bethenny Frankel and Luann de Lesseps were at odds for most of the recent season of Real Housewives of New York City. However, it sounds like things between the two have gotten even worse since the explosive finale.
***Spoiler Alert****
Bethenny had the difficult task of telling Luann that her fiance, Tom D'Agostino, cheated on her. At first, Luann didn't want to hear the truth, but then she came around. However, she was not happy when Bethenny went on a mission by calling the Regency hotel to find out more about the night in question.
Now, the two are still at odds. Luann told PEOPLE that the Skinnygirl mogul will not be invited to her upcoming wedding. "It's hard to invite people that tried to do you harm," she told the mag. She also discussed Bethenny's decision to tell her about Tom's actions. "It was disgusting. Her handling of the situation – and I go over this at the reunion – was terrible." What Luann had the biggest problem with was that Bethenny shared the news with castmates Carole Radziwill and Ramona Singer before coming to her. "[They] don't have my back. She could have went to Dorinda, who introduced us, and said 'Look I have this.' [But] she was like the cat who got the canary. Does a good friend do that to you? Someone who has your best interest in mind? No." She continued, "It's not authentic. It's made for television. And that's what she is." Yikes, guess B was too "uncool" for the Countess.
[Photos: Splash News]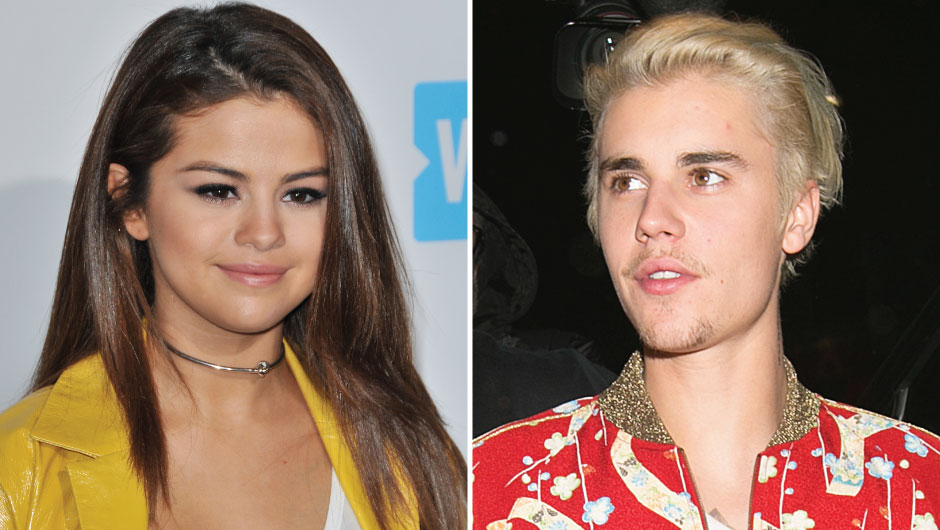 Justin Bieber threatened to make his Instagram account private after his followers verbally attacked his maybe girlfriend Sofia Richie, and Selena Gomez had something to say about it.
The singer slammed her ex for being mad at his fans. She commented on his post, "If you can't handle the hate then stop posting pictures of your girlfriend lol -it should be special between you two only. Don't be mad at your fans. They love you and supported you before any one ever did."
Shortly after, Justin fired back at Selena by commenting on the same post, "It's funny to see people that used me for attention and still try to point the finger this way. Sad. All love." While he's not directly addressing someone, it's v. clear who this comment is meant for.
And this is where things get ugly. Selena responded to Justin's comment by accusing him of cheating... multiple times. "Funny how the ones that cheated multiple times, are pointing the finger at the ones that were forgiving and supportive, no wonder fans are mad. Sad. All love." YIKES. She even mocks the words from his clap back. Where will Jelena go from here?
If Selena is trying to distance herself from the Biebs, as she recently told Vogue Australia, shouldn't she not get involved with him in any way, especially with his love life? As you say Sel, kill 'em with kindness!
[Photos: Splash News]
Earlier this week, The Rock wrote a lengthy Instagram post calling out his male costars for being unprofessional on the set of Fast 8. Since he didn't name names, the Internet started speculating who it might be. Well, it turns out, it's Vin Diesel.
According to TMZ, the two actors have been feuding during the entire film shoot. "Our sources say earlier in the day, Vin confronted Rock over the disparaging comments he made about his male co-stars. Although Rock didn't name names, we know he was referring to Vin." The source continues, "We're told Vin went to Rock's trailer and demanded to know why he was talking trash. The 2 spoke privately inside but we're told they did not squash their beef. One source intimately familiar with the actors tells us it's all about big egos."
Now in an Instagram post of his own, Vin Diesel is promising to tell us "everything." This feels like when dads fight, no?
[Photos: Splash News, Ralph Notaro / Splash News ]
Katherine Heigl and Seth Rogen co-starred in the 2007 rom-com "Knocked Up." Almost 10 years after the film was released, the two are still in a bit of a feud.
In 2008, Heigl told Vanity Fair that she didn't like the way the movie "paints the women as shrews" and the men as "lovable." She also said, "It was hard for me to love the movie." At the time, Seth and the movie's director, Judd Apatow, admitted to being totally blindsided by her opinion of the film.
Fast-forward to 2016 and Heigl admitted to Howard Stern that her comments were "an immature dumb-ass moment." A few months later, Rogen stopped by Stern's SiriusXM radio show and said again that he was surprised by her words since they got along so well on set. "As we were making the movie, honestly, I was like, 'I would make a dozen movies with her. I would be whatever the s---ty version of Tom Hanks and Meg Ryan is.' I thought we had a great dynamic. People seemed to like it. We were funny together. I was having a really good time, and then when I heard afterward that she didn't like it, that she seemed to not like the process, and she didn't like the end product either. I think when that happens — also your trust feels somewhat betrayed. We have a very open process. We're like, 'You have the ability to say anything at any moment. I don't like this scene. I don't like how I'm coming across here.'" He also touched on the fact that her comments hurt her career, "I respect the fact that perhaps she realizes that it hurt her career, and I don't want that to have happened to her at all. I've said a thousand stupid things and I really like her. A thing like that, especially if she's being honest … the only people who in this situation that it should take away from in this situation is me and Judd." Some beefs never die, huh?
[Photo: INFphoto.com, Curtis Sabir / Splash News]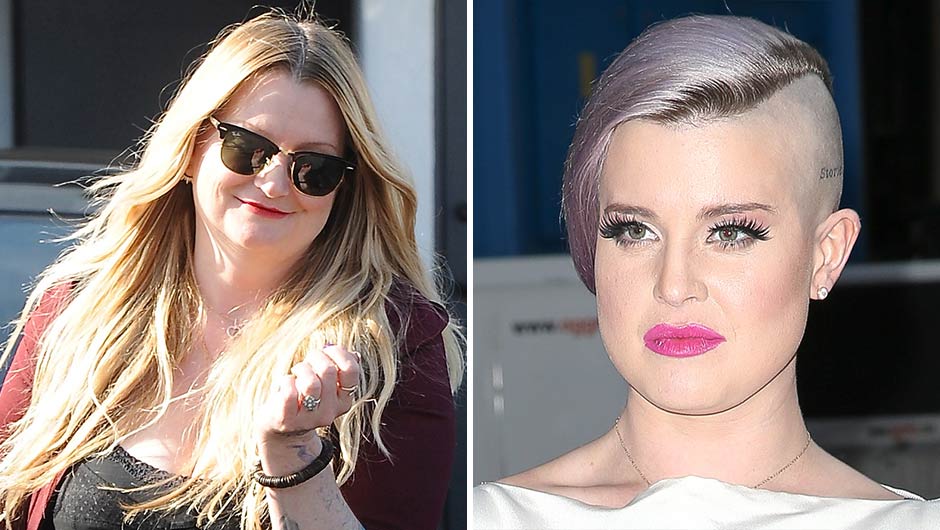 Let me catch you up on Ozzy Osbourne's love life. Apparently, he had a 3-year affair with celebrity hairstylist, Michelle Pugh. He and Sharon Osbourne separated briefly earlier this year but are now back together.
Kelly Osbourne went on a Twitter rand about Michelle when news of the affair first went public. "Anyone looking for cheap chunky LOW-lights a blow out and a b***job call," she tweeted. Then, she also accused Michelle of abusing her father, tweeting, "My father is almost 70 ever heard of elder abuse?"
Michelle was NOT happy about Kelly's comments and is now suing her. The lawsuit claims she was "slut-shamed, bullied, and harassed." She claims her relationship with Ozzy was "more than just sex," going against Ozzy's rep's statement to PEOPLE that she "took their sexual relationship out of context."
Michelle says Kelly's words left her "emotionally damaged" and she lost business because of her tweets. Also, she notes Ozzy and Sharon split up because of money issues, not the affair. And Michelle claims she did not get any type of financial support from Ozzy. Wowza, she's on a mission it sounds like!
[Photos: Aficionado Group / Splash News, Felipe Ramales / Splash News]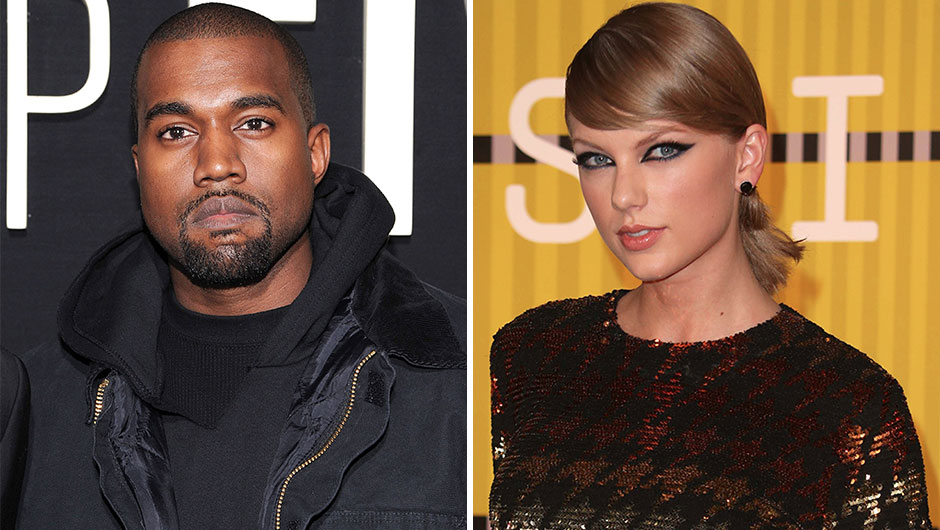 UPDATE: I won't go over the details of Kim Kardashian destroying Taylor Swift on Snapchat--you can read that here. However, Kanye West has finally spoken out about his wife's actions.
Drake invited Kanye on stage in his hometown of Chicago to perform some songs from The Life Of Pablo. Afterwards, Kanye finally addressed #Snapchatgate, "I am so glad my wife has Snapchat. Cause now y'all can know the truth. And can't nobody talk shit about Ye no more." Of course, "Famous" starts to play right after he made this statement. Word.
In part 3855738 of the Swift-West feud, Kanye has responded to Taylor Swift's Grammy speech. Paparazzi asked the rapper whether Swift should show him more respect and his answer was "no." In a video, he says, "It's like, I want the best for that person, but there's people going through real issues out here. There's people out of work. There's people in debt that can't make it out of the debt. There's people that's in debt that don't have a shoe. There's people that are in debt that don't have a hit album out also — you know what I'm saying? … I don't think people care about me or her in that way. People care about their families, their kids. If you like my music, listen to it. If you like her music, listen to it." Hopefully, this puts an end to any bad blood between the two artists.
At last night's Grammys, Taylor Swift fired back at Kanye West during her acceptance speech for Album of the Year for 1989. She said with a shaky voice, "I want to say to all the young women out there, there are going to be people along the way who will try to undercut your success or take credit for your accomplishments or your fame." I mean, clearly that was aimed directly at Yeezus.
Uh oh...here we go again. Yesterday Kanye West presented Yeezy Season 3 at Madison Square Garden and it was quite the event. West debuted his new album The Life of Pablo and a new song called "Famous" in which he raps about Taylor Swift. "I made that b---- famous," he rapped about Swift, among other things. In defense of his sister, Austin Swift, published a video on Instagram of him throwing a pair of Yeezy sneakers in the garbage.
Swift's rep was quick to respond to the song, saying, "Kanye did not call for approval, but to ask Taylor to release his single "Famous" on her Twitter account. She declined and cautioned him about releasing a song with such a strong misogynistic message. Taylor was never made aware of the actual lyric, 'I made that b---- famous.'"
West then fired back on Twitter saying that he did not "diss Taylor Swift." He tweeted, "I called Taylor and had a hour long convo with her about the line and she thought it was funny and gave her blessings." He also claims Swift was the one who came up with the idea and "she thought it was funny."
Oh boy...
[Photo: Splash News]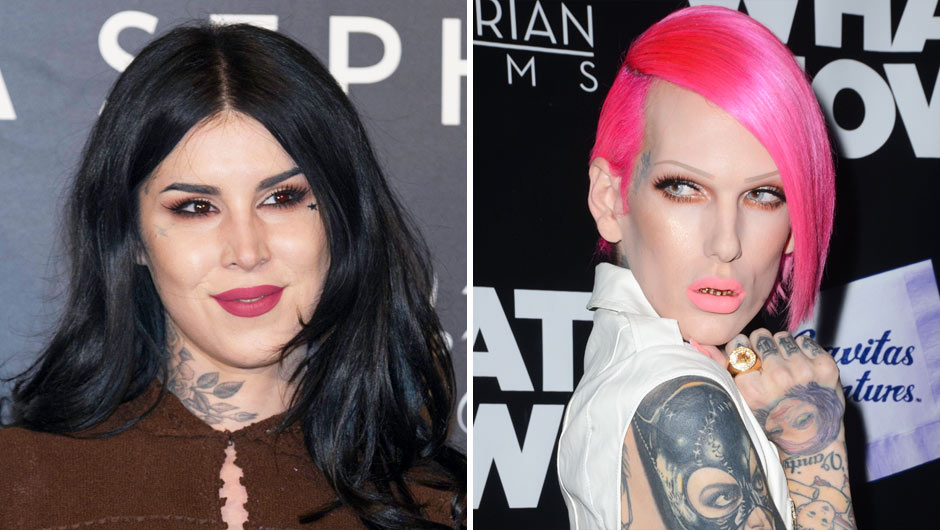 Former friends and cosmetics moguls Kat Von D and Jeffree Star are in a heated feud right now. It all started on Tuesday when Kat made a statement on her Facebook page that she was cutting ties with Jeffree. "After years of making excuses for, and rationalizing Jeffree's inappropriate behavior (including, promoting drug use, racism, and bullying) I can no longer hold my tongue after recent events," she wrote.
In a video follow-up, Kat explained that Jeffree's failure to pay her friend BJ, who helped design graphics for his cosmetics line, was the final straw for her. "The minute I found out about that, which was this last Saturday, I texted Jeffree and said, 'Hey Jeffree, can you explain to me why you haven't paid BJ?' And he basically told me to go f–k myself and then blocked my number." Yikes.
Jeffree responded back with a firestorm of tweets, "There are 2 sides to every story. The truth will come out later today." He then released his own video claiming that there is no truth to Kat's accusations. Whose side are you on?
[Photos: Splash News]
The only thing more iconic than Cher's voice is her Twitter account. The singer took to the social media platform to express her, ahem, feelings about Kate Hudson's activewear line Fabletics. "Made mistake of going2 Fabletics. What a pain in the ass," she tweeted. "won't even let u see anything Till u give them ur 1st born !! Felt I Was Being Conned." She is referring to the brand's get-to-know-you survey which helps personalize clothing options.
Fabletics tweeted back, keeping things friendly, "We LOVE you @Cher! Please know our quiz is to personalize shopping and so we can eliminate waste by only creating clothing people want." Maybe Cher will give it another try now? Only time will tell...
[Photo: Splash News]
David Foster's daughters, Sara and Erin Foster, are promoting the second season of their hilarious show Barley Famous (seriously, watch). During an interview, they defended their dad against the bad rep he got for divorcing Yolanda Hadid during her battle with Lyme disease.
"To be honest with you, our loyalty is to our dad, he's a really good guy," Sara said. "For no one to come to his defense, it was unfortunate. … [My dad] will give the shirt off his back to you, to you, to you. To anyone in this room."
She continued, "It's not for us to comment on, only she knows her journey, but what I will say is, if you're capable of continuing to be on a reality show, you're not dying — let's be honest,"
Younger sis Erin said they, "don't wish anyone ill will of any kind," but hinted that she and her sister felt uneasy about Yolanda's social media posts amid her struggle, similar to concerns of some of Yolanda's Real Housewives of Beverly Hills costars on the last season.
[Photos: Splash News]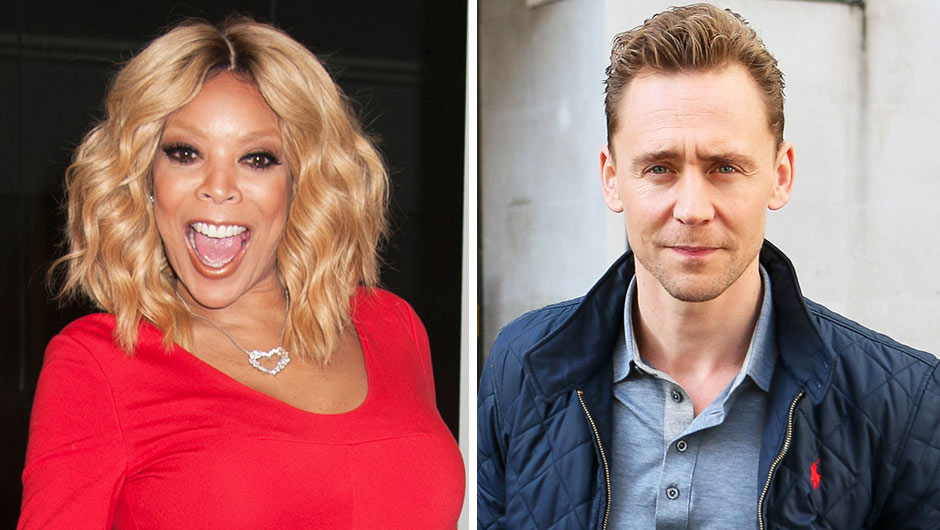 Wendy Williams has some choice words about Tom Hiddleston. The host of The Wendy Williams Show called the actor an "opportunist" for dating Taylor Swift. Hmm...
"I suspect he's a bit of an opportunist," she said in this clip (fast forward to the 11:09 mark). "I'm going to tell you why: First of all, he wants to be the next James Bond, and he's English. And I suspect — because I'd never heard of this guy before, you see — so how do you drum up votes? By getting on Hot Topics. I'm just saying! And how do you get on Hot Topics? By dating somebody that we talk about."
OK, so many things. First, just because you haven't heard of the guy, Wendy, doesn't mean nobody else knows who he is either. Now, I'm no expert on the Tom Hiddleston Internet community, but it's kind of a big deal--see this article from November 2013 with the headline " Why The Internet (Including SNSD) Is Obsessed With Loki AKA Tom Hiddleston." So there's that.
Also, pretty sure the target audience for James Bond isn't a fan of Taylor Swift's... or watching the "Hot Topics" segment on a daytime talk show. I'm just saying!
[Photos: Janet Mayer / Splash News, Splash News]
I've always liked Kendall Jenner, the least dramatic and plastic of the KarJenners, but this just scored her one million more points in my book. The supermodel (ya, calling her that!) wrote an open letter on her website in response to Stephanie Seymour's comments that Kendall and Gigi are not supermodels, but "bitches of the moment."
Kendall started off her response by writing, "If you choose to be a cyberbully, I'm going to stick up for myself." She continued, "No one is trying to steal Stephanie Seymour's thing, or trying to be her. I actually looked up to her. She has a daughter! I guarantee you that she didn't imagine someone so publicly shaming her daughter when she made those comments about us being 'bitches of the moment.'"
"If people want to call Gigi and I supermodels now, it doesn't take anything away from supermodels of the past. Obviously, I have so much respect for those women, but right now, we're the models of this time. Significant? Maybe. Hardworking? For sure," she added. Kendall also mentioned that she's received a ton of support from OG supers "who give me tips and build up my confidence, sending me notes after a spread comes out, saying, 'You're killing it.' That's the classy way to behave and I fully intend on being a positive influence on anyone younger than me, my entire life." Agreed, Kenny! Let's stop tearing each other down and focus on building each other up.
[Photos: Splash News]
Mariah Carey was in true diva form on Watch What Happens Live. Host Andy Cohen asked, "Do you know each other?" about Carey and Lopez. The singer's response? "You know what? I'm very forgetful."Apparently I'm forgetful, because I don't remember the fact that it was just like, 'Hi, I'm so-and-so,' and then move on."
Cohen then continued to dig (of course), "Does she seem cool." Long pause from Mariah, and then, "I don't know her, what am I supposed to say?" We're back to square one with these two...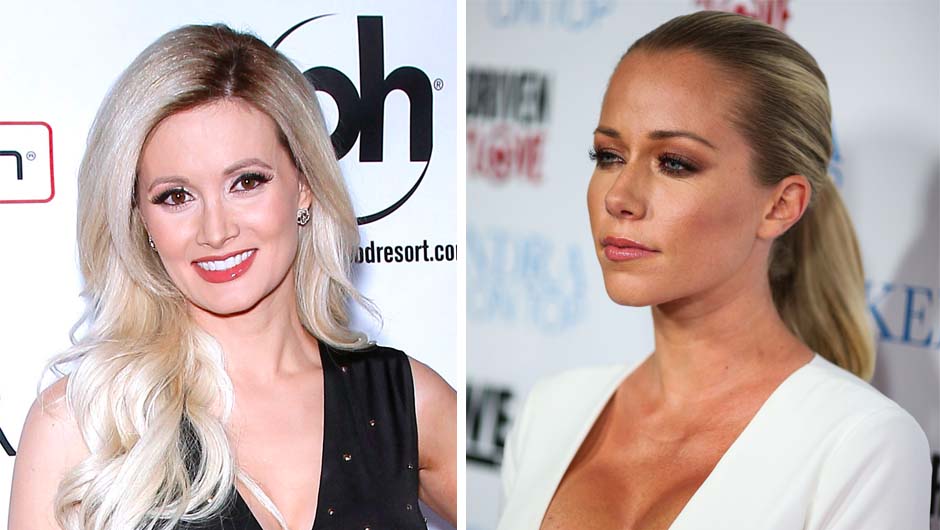 hollymadison_kendra
After former playmate Holly Madison published her memoir Down The Rabbit Hole about life in the Playboy Mansion (which painted a not-so-flattering picture of her time there), she had a major falling out with Kendra Wilkinson, another former playmate who denied many of Holly's claims.
Things got even more heated when Kendra went on a Twitter rant about Holly with some pretty NSFW tweets about Holly's past. She eventually deleted the tweets, apologizing for being "a little over the top."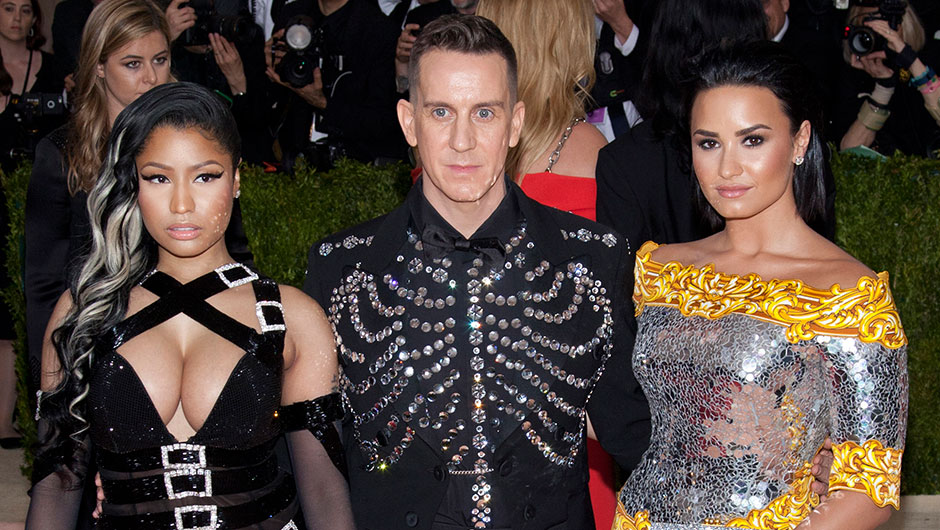 Nicki Minaj might be feuding with Demi Lovato. Apparently, something went down between the two at the Met Ball on Monday night. Both artists were wearing Jeremy Scott for Moschino, and, per event tradition, the designer usually brings whoever they dress as their date (or dates). Meaning, Nicki and Demi were both accompanied by Jeremy.
Nicki posted this picture of her, Jeremy and Demi on the Met steps with the caption, "? @itsjeremyscott @moschino." That's nice , but now mention of Demi?!
Then, Demi posted a more awkward picture of the threesome where Nicki is giving her a "What's good, Miley?" look. She captioned it, "This picture pretty much summed up my first and probably last met ??? #cool #sofuckingawkward #notforme #sweatpants #forensicfiles #whatsgood p.s. some of y'all need to learn how to take a joke.. I'm obviously laughing at the fact that 1. I look incredibly awkward and 2. That the shade being thrown in this picture actually gives me life ???."Apparently, the singer left the gala just after this picture was taken. Then, Demi posted this selfie to Snapchat with the caption, "When you aren't mentioned in a post but didn't do shit to the person..." Seems like Demi is taking this a little too personally, this could be entirely unintentional. What do you think?
[Photo: Splash News]
Lena Dunham and Donald Trump are really getting into it.
Their feud started earlier this week when Dunham, a supporter of Hillary Clinton, said she would move to Canada if Trump was elected. "I know a lot of people have been threatening to do this, but I really will," she told Andy Cohen at a luncheon. "I know a lovely place in Vancouver and I can get my work done from there."
In a phone interview with Fox & Friends the next day, Trump reportedly said, "Now I have to get elected because I'll be doing a great service to our country...Now it's much more important. In fact, I'll immediately get off this call and start campaigning right now." The Republican presidential candidate also called Dunham a "B actor" and said "she has no mojo," whatever that means.
[Photo: Splash News]
Yesterday, it was Rachel Roy (and unintentionally Ray) and today the Beyhive thinks Rita Ora is "Becky with the good hair." A selfie may prove that Ora is, in fact, the REAL Becky, the woman Beyonce calls out as Jay Z's mistress on Lemonade.
On Sunday, the day after Beyonce dropped her visual album, Ora posted this image to Snapchat wearing a bra with lemon appliques and what looks to be a "J" necklace. SHADY. Now the Beyhive thinks she is "Becky with the good hair" and is flooding her Instagram comments sections with bee and lemon emojis. Eek.
[Photo: Splash News]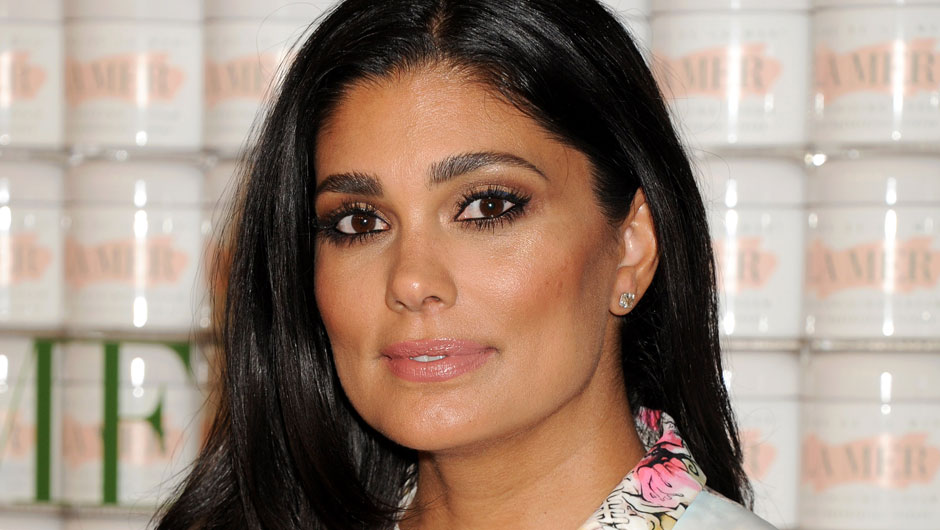 ICYMI, Beyonce dropped a visual album/masterpiece on Saturday night called "Lemonade." It raised many questions about her marriage with Jay Z (are they OK??) and seems to pretty much confirm that he cheated. On the track "Sorry," Bey sings "He only want me when I'm not there / He better call Becky with the good hair." WHO IS BECKY?! The Beyhive immediately went into investigation mode.
They think it's designer Rachel Roy. The same night, mere hours after Lemonade debuted, Roy posted a photo of herself to Instagram with the caption "Good hair don't care, but we will take good lighting, for selfies, or self truths, always. Live in the light #nodramaqueens." The Beyhive CAME for her and literally destroyed her comments section with lemon and bee emojis and writing, "Stupid b--ch don't you know bees sting !!!!!" and "Your hair smells like wet dog Becky!" Roy immediately deleted the photo and made her account private after.
The Beyhive even changed her name on Wikipedia, first to "Rachel Rat" and then "Rachel Side Hoe."
Roy tweeted yesterday that she respects marriages but does NOT tolerate bullying. "I respect love, marriages, families and strength. What shouldn't be tolerated by anyone, no matter what, is bullying, of any kind."
[Photo: Splash News]
OK, this is actually going to break the Internet. Kylie Jenner, girlfriend of Tyga, posted a Snapchat with her future sister-in-law, Blac Chyna that reads, "When we've been best friends the whole time.."
To get you up to speed, Blac and Tyga used to date and have a son together. Once Tyga started dating Kylie, Blac and the Kardashian family broke all ties--she used to be besties with Kim! Now, Blac is engaged to Rob Kardashian and it looks like the all the ladies are putting any bad blood behind them. So, jokes on us. Mind = blown. Done.
[Photo: Kylie Jenner Snapchat]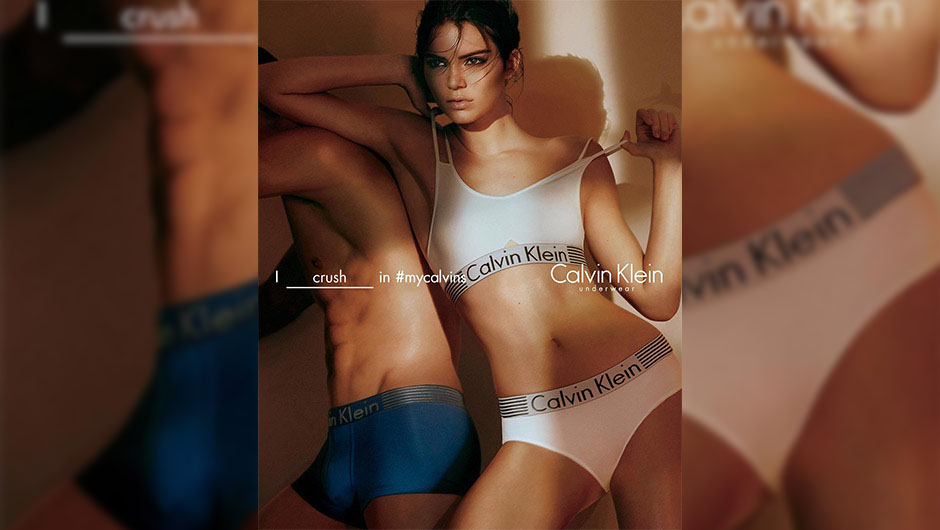 In the past year or two, Kendall Jenner has fronted multiple Calvin Klein campaigns and head designer Francisco Costa even dressed her for last year's Met Gala. However, Calvin Klein himself, who is no longer in charge of his namesake label, is not a fan of the supermodel.
During a recent talk at the Savannah College of Art and Design, Klein commented on Jenner's ads. "You know, I'm really not that familiar with it. I'm honestly not," he said. "I'm sure she's a lovely young woman. It's not the kind of thing I would have done, even today." Shots fired!
OK, but it actually seemed like Klein was more commenting on the "Instagirls" as a whole. "Now, models are paid for how many followers they have. They're booked not because they represent the essence of the designer, which is what I tried to do," he said. "I don't think that, long-term, is going to work. I don't think that's a great formula for success for the product you're trying to sell." He did like Justin Bieber's ads though, so there's that.
[Photos: Instagram]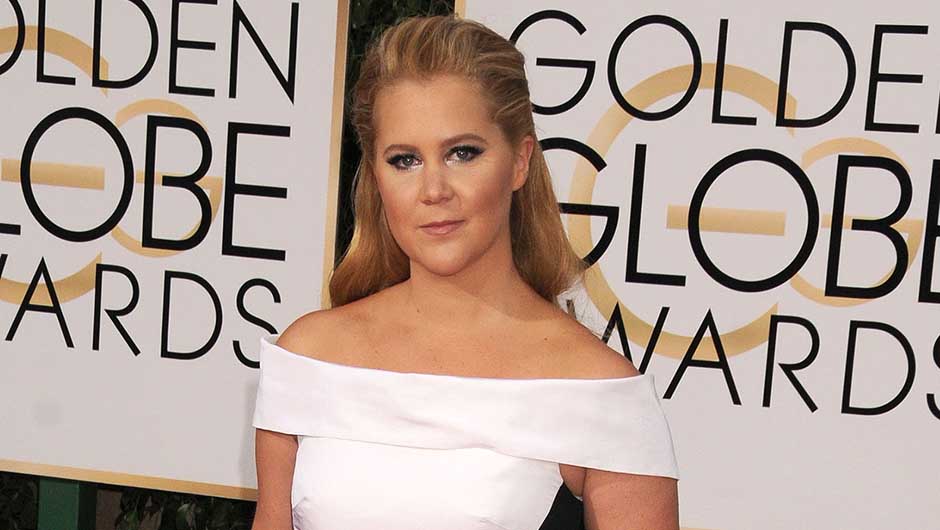 Glamour included Amy Schumer in its plus-size special issue and now the comedienne is speaking out. Why? Well, the magazine failed to tell Schumer beforehand that she would be featured. Sketchy.
The Inside Amy Schumer star, who is between a size 6 and 8, took to Instagram to share her thoughts about this. She wrote, "I think there's nothing wrong with being plus size. Beautiful healthy women. Plus size is considered size 16 in America. I go between a size 6 and an 8. @glamourmag put me in their plus size only issue without asking or letting me know and it doesn't feel right to me. Young girls seeing my body type thinking that is plus size? What are your thoughts? Mine are not cool glamour not glamourous." Then she posted the photo to Twitter asking her followers for their thoughts.
Glamour's editor-in-chief, Cindi Levine, responded to Amy with a series of tweets, reading, "We love Amy Schumer, & would never want to offend her. To be clear, @glamourmag special edition never called her plus-size... Her 2015 cover story was included in the edition, aimed at sizes 12 and up, with the coverline 'Women who Inspire Us' bc... her longtime message of body positivity—& talking back to body haters—IS inspiring. (To me, too!) To be clear, size 6-8 is not plus. (Even size 12—frequent size of "plus" models—is smaller than average American woman!)... But women of all sizes can be inspired by one another's words. So sorry if implication was otherwise, Amy."
Schumer ended the whole thing with one amazing tweet, writing, "Bottom line seems to be we are done with these unnecessary labels which seem to be reserved for women."
This is why we love her!
[Photo: Splash News]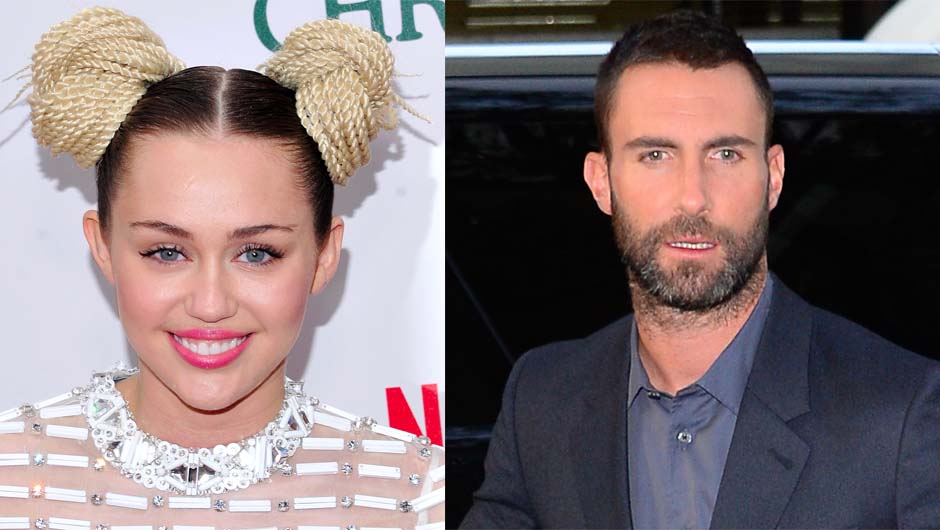 Us Weekly is reporting that Adam Levine and Miley Cyrus did not get along on the set of The Voice. The coach and season 10 key advisor "totally butted heads," which actually makes a ton of sense since they're both so similar. "They both have short attention spans," says a source. "They find each other annoying. Adam would get agitated when Miley would interrupt him, and she enjoyed getting under his skin." This should make season 11 very interesting with both Cyrus and Levine as coaches!
[Photos: Splash News]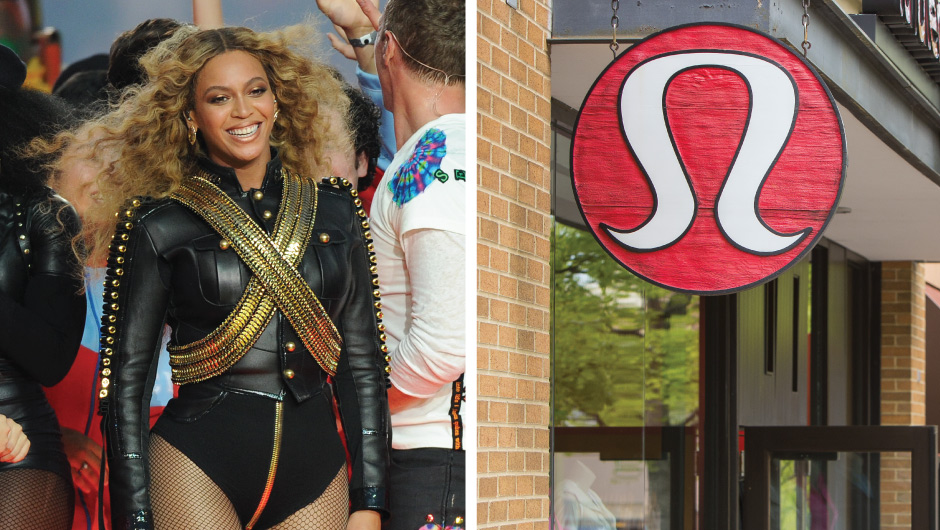 It was a big day for the Beyhive. Queen Bey just announced the launch of her new athleisure line, Ivy Park — it's *flawless,* naturally, but some Yoncé detractors weren't so sure the designs were 100% original. Twitter user SLY (@GoodGuySly) tweeted this leading question:
"is ivy park supposed to be like lululemon?"
Lululemon, always ready to stir the pot, responded with a tweet of their own:
"They do say imitation is the best form of flattery. Maybe Beyonce is so Crazy In Love with our brand, she made her own."
The brand has since deleted the tweet and clarified their intent, tweeting:
"We never meant to throw bows as we're major fans of hers."
Good call, Lululemon. Don't mess with the Beyhive.
[Photo: Splash News, Shutterstock]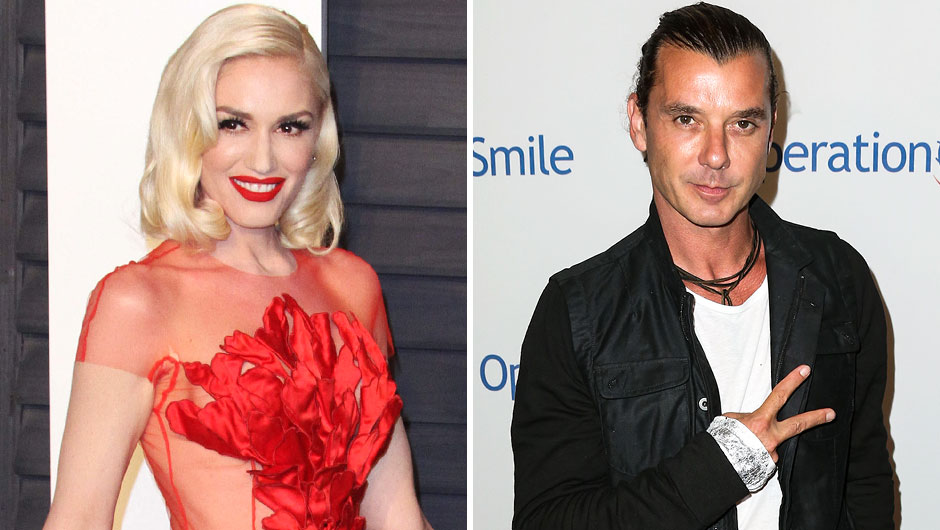 In a recent interview with the New York Times, Gwen Stefani is finally opening up about her split from Gavin Rossdale. She didn't want to share all the details regarding the issue that broke up their 13-year marriage, partly to protect her children, but she did reveal one thing and it's kind of a dig at Rossdale. "If I could, I would just tell you everything, and you would just be in shock. It's a really good, juicy story," she said referring to the rumor that Rossdale was having an affair with their nanny. Well, that's one way to call out your ex! Will Rossdale come forward and fire back?
[Photo: Splash News]
UPDATE: Bette Midler will not back down! She fired back after Kim Kardashian called her out, tweeting, "@KimKardashian: I never tried to fake friend you. Looks like anyone can take a selfie but not everyone can take a joke..." Your move, Kim!
The nude photo Kim Kardashian posted yesterday is stirring up a lot of drama! First, Bette Midler tweeted, "Kim Kardashian tweeted a nude selfie today. If Kim wants us to see a part of her we've never seen, she's gonna have to swallow the camera." Then Kim decided to take to Twitter, a very Kanye West move, to clap back at her haters. She posted yet another naked photo with the caption "#liberated." Next, Kim responded directly to Midler, tweeting, "Hey @BetteMidler I know it's past your bedtime but if you're still up and reading this send nudes #justkidding." She added, "hey @BetteMidler I really didn't want to bring up how you sent me a gift awhile back trying to be a fake friend then come at me #dejavu." Oh, snap! Sounds like this feud is just beginning...
[Photos: Splash News]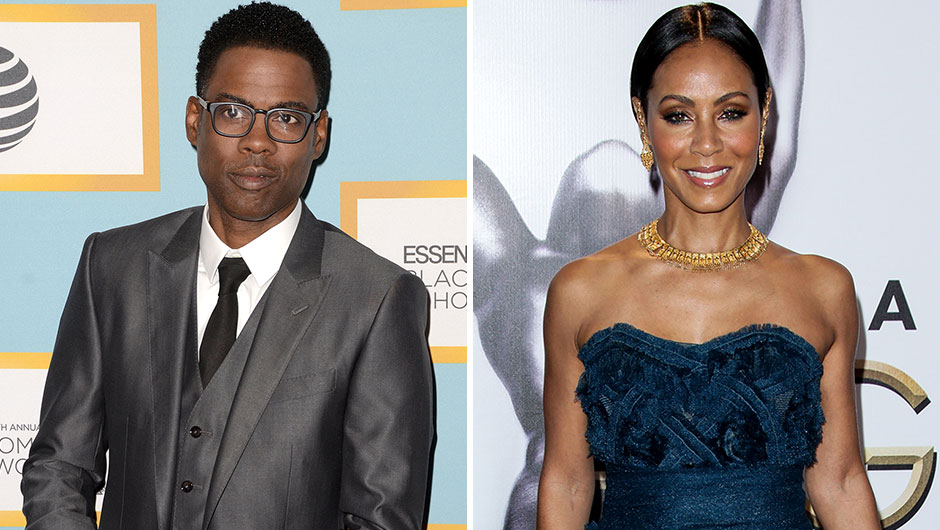 UPDATE: Jada Pinkett Smith responded to Rock's Oscars jab while talking to the paps at LAX. "Hey look it comes with the territory, we gotta keep it moving," she said. "We got a lot of stuff we gotta handle, a lot of stuff going on in our world right now. We gotta keep it moving." Well, you heard her! Time to move on.
Oscars host Chris Rock blasted Jada Pinkett Smith during his opening monologue at the 88th award show. Prior to the show, Pinkett Smith said she was not going to attend the show because of the #OscarsSoWhite controversy. Well, Rock used his entire opening monologue to zero in on the issue and took a jab Pinkett Smith.
"Jada said she's not coming. I was like, 'isn't she on TV show?' Jada's gonna boycott the Oscars? Jada boycotting the Oscars is like me boycotting Rihanna's panties. I wasn't invited!" Rock joked. "Her man Will was not nominated for Concussion. I get it. You get mad. It's not fair that Will was this good and didn't get nominated. You're right," he continued. "It's also not fair that Will was paid $20 million for Wild Wild West!"
Ouch. Will Pinkett Smith let his comments slide or will she respond?!
[Photo: Splash News]
UPDATE: Ashley Graham is finally responding to Tiegs comments regarding her weight. "Cheryl Tiegs may have said what she said and it may have hurt a lot of peoples feelings," Graham told E! News, "but my skin is so thick. I kind of rolled my eyes, I was like, 'Oh whatever, another one of these ladies.' But what's great is that — the fact that she said it — it means that other women think like her. And what that means is that we really need to change the industry."
Cheryl Tiegs is now comparing being overweight to having an eating disorder with her latest statement. She tweeted, "To clarify re bodyweight. Being anorexic/bulimic/overweight all connected to health problems. I want all to be as healthy as they can." Twitter users were quick to call out that she is not a doctor and most definitely should not be giving out medical advice. Commenters are also upset that she is continuing to body-shame.
Following the release of plus-size model Ashley Graham's Sports Illustrated swimsuit cover, former model Cheryl Tiegs spoke to E! News and heavily criticized Graham's "fuller" figure.
"I don't like that we're talking about full-figured women because it's glamorizing them because your waist should be smaller than 35 [inches]. That's what Dr. Oz said, and I'm sticking to it," she explained to Sibley Scoles. "No, I don't think it's healthy. Her face is beautiful. Beautiful. But I don't think it's healthy in the long run."
Graham has yet to respond.
[Photo: Splash News]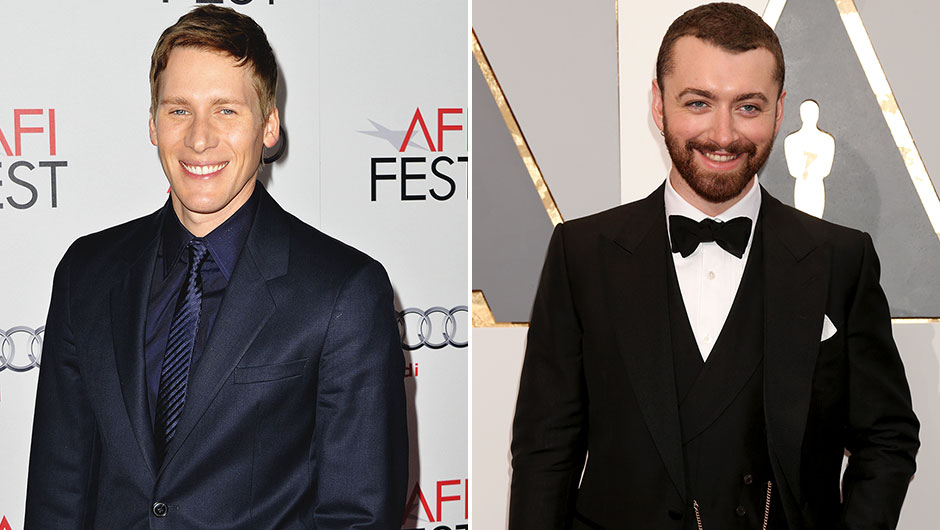 UPDATE: Following his spat with DLB, Smith has announced he's quitting social media for a while. He tweeted, "I'm logging off for a while. Some Martinis shaken not stirred are definitely in order." It's always good to take time for yourself!
Sam Smith took to Twitter to clarify his comment about being the first openly gay man to win an Oscar. "Second openly gay man to win an oscar or third or fourth or 100th, It wasn't my point," Smith tweeted. "My point was to shine some light on the LGBT community who i love so dearly." He also addressed Black's jab at him, tweeting, "Apologies for the mix up @DLanceBlack I'll be sure to check out your films now x Belated Congrats on the Oscar x."
At last night's Oscars, Sam Smith took home the award for Best Original Song and in his acceptance speech he said (er-claimed?) that he might be the first openly gay man to win an Oscar. That fact is not true, which led past Oscar winner and screenwriter Dustin Lance Black to call Smith out on Twitter.
"Hey @SamSmithWorld, if you have no idea who I am, it may be time to stop texting my fiancé," Black tweeted in addition to a link to his 2009 acceptance speech for Milk. Black and Olympic diver Tom Daley got engaged last October. He then followed up with another tweet, writing, "THE POINT: knowing our LGBTQ history is important. We stand on the shoulders of countless brave men and women who paved the way for us."
Sam Smith has yet to respond.
[Photo: Splash News]
UPDATE: Amy Schumer received a bunch of comments from unhappy Taylor Swift fans after her thigh gap picture, so she responded on Instagram and Twitter. "That's not a beard this is a beard," she captioned a picture on Instagram of herself with faux facial hair. "So sorry to anyone with a beard this may offend. I am a comic and should never make fun of myself at the expense of anyone else that I wasn't making fun of in the first place. #relax #beard" She also said on Twitter, "How about everyone takes a deep breath."
Amy Schumer took to Instagram to make a joke about Taylor Swift's Grammys look, in which the singer showed off her legs in a skirt. "Taylor that's not a thigh gap," Schumer captioned the beach picture, along with fellow comedian Bridget Everett. "This is a thigh gap." Many people rushed to Swift's defense, especially after what Kanye West said about her.
However, Schumer's rep says it was simply a joke. Her rep told People, "She loves Taylor and was making a joke because Amy doesn't have a thigh gap."
Let's see What Ms. Swift will say about this. Perhaps she will address it in her next acceptance speech?
[Photo: Splash News]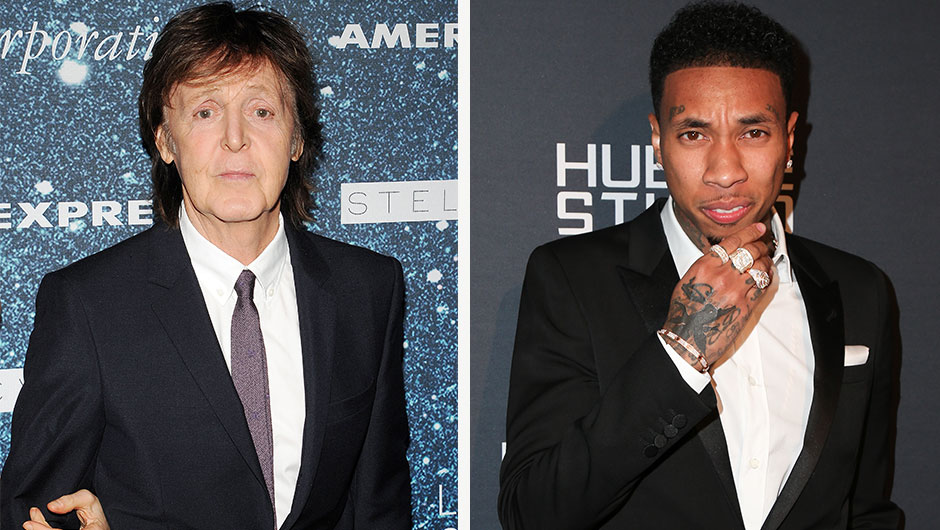 *UPDATE*Tyga went on Jimmy Kimmel Live! to explain that he had no idea Sir Paul McCartney was rejected at his Grammys party. He woke up to a series of texts the next morning about the incident, but really was unaware what had happened. Apparently, his only involvement with the party was performing. He put out an apology tweet and invited McCartney to join him onstage at his concert later this month. TBD on whether or not that will happen!
Sir Paul McCartney was denied at the door to Tyga's post-Grammys party. No, this is not a joke. McCartney showed up with five-time Grammy winner Beck and Foo Fighters drummer Taylor Hawkins and were completely shut out...twice. To make matters worse, the entire incident was caught on video by TMZ. Despite the, uh, rather embarrassing moment, McCartney was a good sport about it. "How VIP do we gotta get? We need another hit," he says in the video. Way to go, Tyga.
[Photo: Splash News]
*UPDATE*: After just six days, the greatest Twitter feud OF ALL TIME is finally over. Kanye West took to Twitter to let the world know that he and Wiz Khalifa had a "great convo" and it was "all positive." Hopefully, this happened while Kim and Amber were in the next room snapping this selfie because that would just be straight up epic.
Uh oh. This recent celebrity feud is quite epic because it involves none other than Kanye West. It all started when West announced he was changing the name of his upcoming album from Swish to Waves. Wiz Khalifa tweeted, "Please don't take the wave." West (surprisingly) remained silent until Khalifa tweeted "Hit this kk and become yourself."
"Like, oh that's Ye and I can put his wife's initials on my twitter @Wizkhalifa," West responded a few hours later. Khalifa then referred to West as a "fool" because "kk" actually means weed and not Kim Kardashian. The Twitter feud continued to escalate and Kanye was bringing Khalifa's child into the picture, along with their mutual ex Amber Rose.
West has since deleted these tweets, saying "it's all about positive energy." He then ended their feud with "I'm happy that I now know that KK means weed… please excuse the confusion … now back to #WAVES" Uhh...what just happened?
[Photo: Splash News]
Two days after Kanye West's ex-girlfriend Amber Rose called him out in an explicit tweet, the rapper is responding. "Exes can be mad but just know I never let them play with my ass," he tweeted. "I don't do that… I stay away from that area all together." Cue Amber Rose's response in 3, 2, 1...
[Photo: Splash News]
Is the feud between Zayn Malik and Louis Tomlinson officially over?! These two besties haven't been on the best of terms since Malik's split from One Direction. The former bandmates have gotten into various Twitter feuds, most notably when Malik joined music producer Naughty Boy. However, things seem like they have simmered after Tomlinson posted a picture of his newborn and Malik liked it! He said in an interview, "We're not talking on friend terms obviously, so that's as far as I can go, by favoriting his picture." Well, that's progress!
[Photo: Splash News]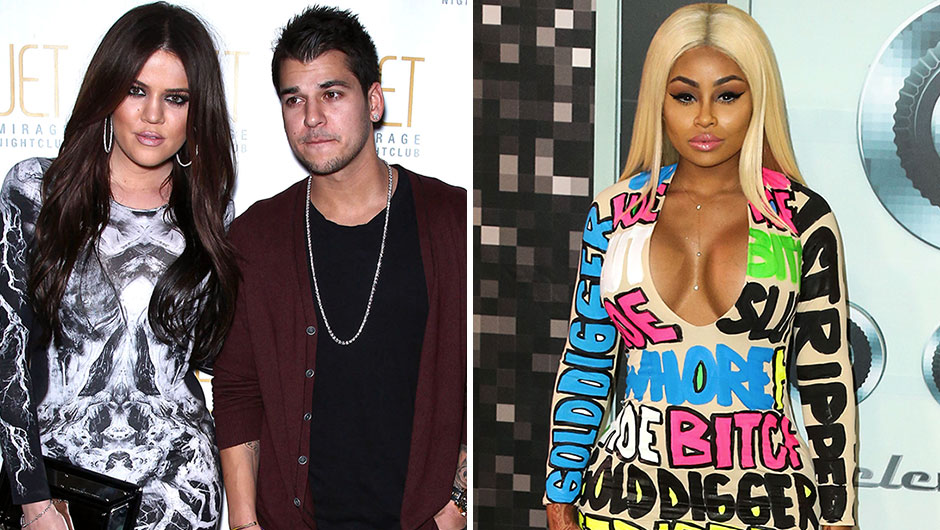 There's a lot of animosity between Blac Chyna and the Kardashian family. Kylie Jenner is dating Tyga, who is Chyna's ex and the father of her child. Kim Kardashian used to be besties with Chyna but cut that off as soon as Kylie was thrown into the mix. Now, Rob Kardashian is dating Chyna and Khloe Kardashian is not feelin' it, especially because Rob lives at her house. According to TMZ, Khloe came home to find Chyna and Rob amongst trash and liquor bottles. She reportedly told them to "get the hell out" of her house. The whole family is concerned that Chyna is preying on Rob, and we all know the Kardashians are very protective of each other.
[Photo: Splash News]
Comedian Heather McDonald commented about her time working on Chelsea Handler's TV show Chelsea Lately and she didn't have anything positive to say. "I lived in fear, 100 percent lived in fear," McDonald said. "I enjoyed my time there, I was happy, but I mean something would happen and my heart would be beating and I would be like, 'Is this it?' – you know? And then somehow I just managed to keep surviving."
Handler fired back and explained to Howard Stern how she cut McDonald out of her life years ago when she found out McDonald was selling stories about her. "I could have fired her. I did not fire her," Handler told Stern. "She had a job for four more years. I never hung out with her personally again. So I hope she was living in fear," said Handler. "It's not an internment camp. If you're living in that much fear, go get another job." Ouch.
[Photos: Splash News]
Khloe Kardashian and Amber Rose got involved with the Kylie vs. Blac Chyna feud on Twitter. Then a radio interview with Amber included her commentary on Khloe's little sister Kylie's underage relationship with Tyga. Khloe responded by lashing out on social media and bringing up Amber's former career as a stripper (ouch). It got so bad that even Khloe's brother-in-law and Amber's ex, Kanye West, was dragged into it.[Photo: Splash News]
It all started with a retweet. Zayn Malik retweeted a post comparing Taylor Swift and Miley Cyrus when it comes to making money. Calvin Harris took this as a dig to his girlfriend and defended her. He basically went on a Twitter rant to which Malik responded with a series of his own tweets. To top it all off, Louis Tomlinson then took Harris' side by favoriting one of his tweets.
[Photo: Splash News]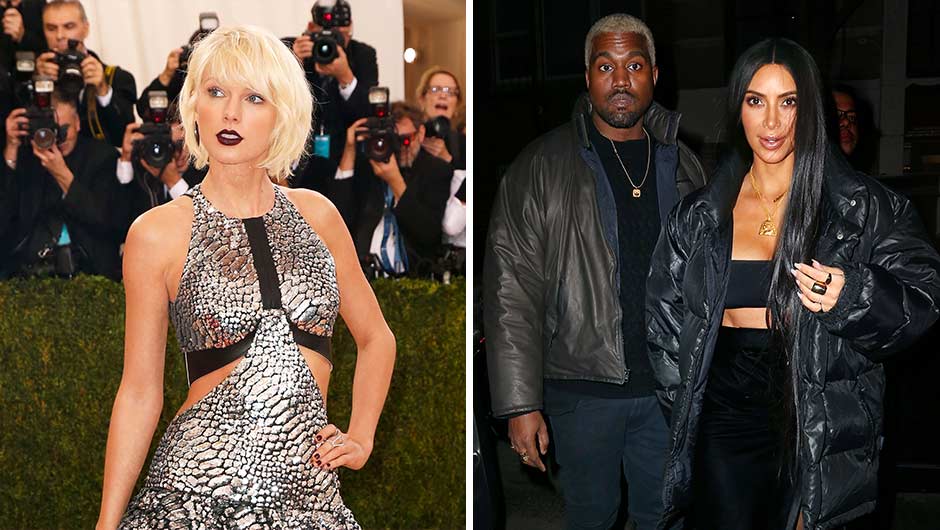 It looks like Swift is going after one of the most popular couples in the world: Kim Kardashian and Kanye West. After West put out his hit song, "Famous," Swift was allegedly extremely upset by the fact that he referred to her as a "bitch" in the song. But, Kim Kardashian was not going to let Swift taint her husband's reputation (as if he hasn't done that to himself already), and released video footage of Swift and West on the phone agreeing to allow him to reference her and use the lyrics in his song.
As a stab back at them, she makes a reference about the situation in her music video for her new chart-topper, "Look What You Made Me Do." How do West and Kardashian feel about this stab at them? Well, according to People's conversation with a close source to the couple, Kardashian thinks it's "pathetic." Yikes!